Budapest is a great place for kids. Even for a city of its size, it's packed with affordable and memorable places to rest, play, explore, and learn. From endless playgrounds to the world's largest railroad run by children to interactive museums, there are plenty of ways to keep everyone happy. We asked two of our local staff, Judit and Norbi who both happen to be parents for their favorite spots, and present them to you below.
Parks and playgrounds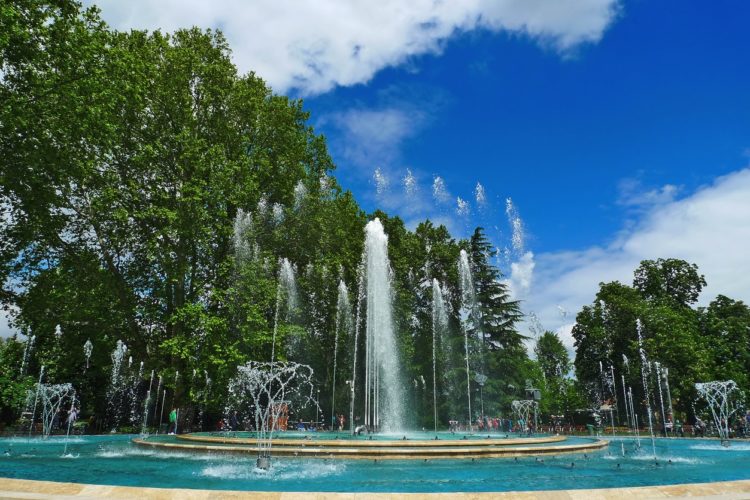 Budapest is a tired parent's dream, as it's packed with modern playgrounds. Each and every major sight in Budapest is located close to a playground, so it's easy to find a free place to rest and let the kids burn through their energy before visiting an attraction, or reward them for good behavior after a visit. If you're visiting the parliament, head to Liberty Square for a playground, as well as a fun fountain in front of the Memorial for Victims of the German Occupation, and its Jewish counter-memorial. Further downtown, you can find playgrounds at Erzsebet Square, Oktober 6 Street, and Karolyi Garden. Across the river, there is a playground on Gellert Hill at the crossroads leading to the Citadel, and another playground beneath the Fisherman's Bastion.
You can find a map of strategically placed playgrounds here: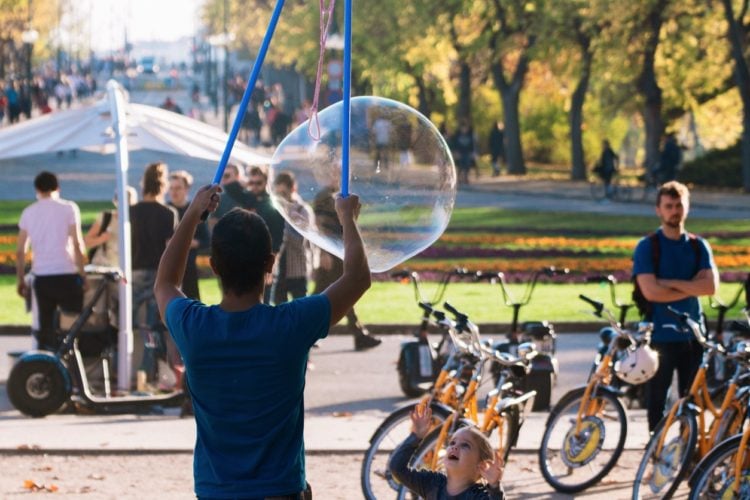 Margaret Island
A long green park in the middle of the Danube, Margaret Island stretches for 1.6 miles, and is scattered with medieval ruins, as well as fountains, swimming pools, gardens, lawns, and playgrounds. Just north of the Parliament, the island is connected to both sides of the river via an unusual y-shaped bridge, making it easily accessible, and a great place for a break. Popular with locals, you can easily find anything from a singing fountain, to ice cream and four-person bikes for rent.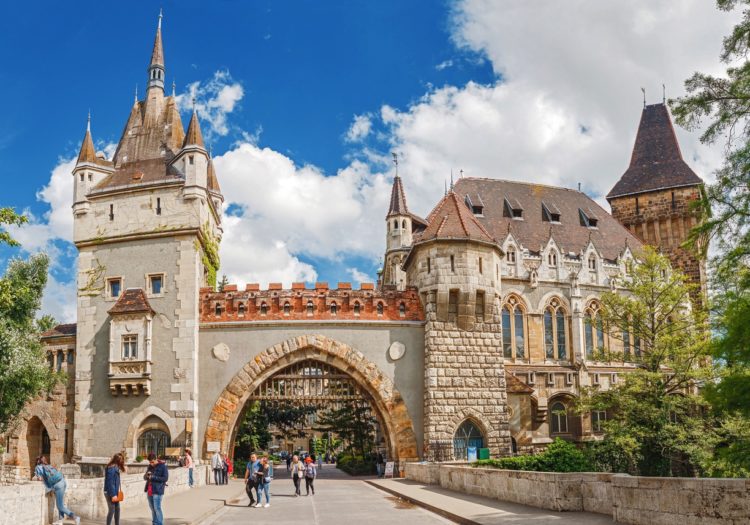 City Park
City Park is a must for a kid-centric day. The stunning Vajdahunyad Castle is home to the Museum of Agriculture, which is surprisingly fun for kids open to taxidermy and an entire cathedral of antlers, but unfortunately isn't very interactive. The park itself is littered with playgrounds, while its lake and pond offer great opportunities for boating or even renting water bicycles. The park is also home to Budapest's zoo and botanical garden, which works well for rainy and sunny days alike. Although one of the world's oldest zoos, and filled with 19th century Art Nouveau architecture, the place is large and modern. The zookeepers themselves are pioneers in their field, as evidenced in 2007 when the first artificially inseminated rhinoceros was born in the zoo. There are also several daily events per hour from mid-April to early November (mostly feedings, but there are also demonstrations from trained animals).
Trains of all sizes
Miniversum Model Railway
From City Park, you can stroll down UNESCO-listed Andrassy Avenue, or take a ride on the world's second oldest subway line (recently restored to its 19th century glory) to the Miniversum, a vast model railroad layout covering Hungary's highlights, plus a bit of Austria and Germany. Unusually, much of the layout is interactive, so kids can control the traffic, and sound and light effects. For younger kids, the Miniversum features a creative playhouse, while there's a cafe for older visitors to rest in. With nearly 100 trains on a kilometer of track, and endless details from scuba divers to skateboarders and mountain climbers, this is sure to keep the kids busy!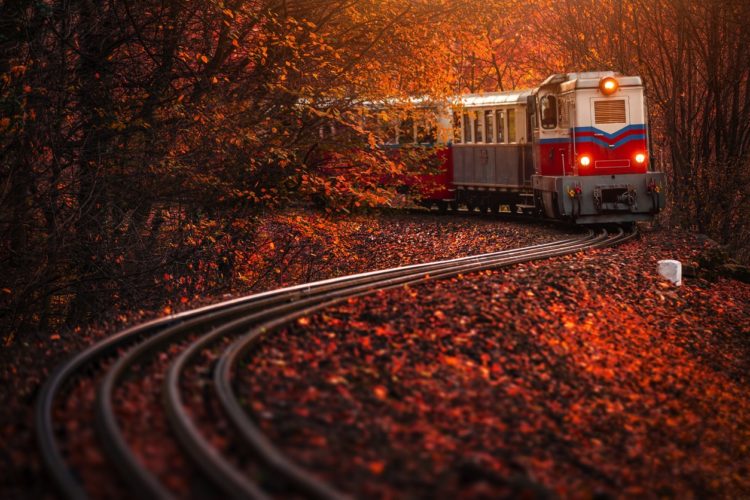 The Children's Railway
Graduate to something a bit bigger, and visit Gyermekvasut ("Children's Railway,") the world's largest railroad run entirely by kids aged 10-14 (save for train engineers and the occasional supervisor). Even the guards, conductors, and signalers are youngsters, dressed up in uniforms! Only the best students get spots on this cherished railroad, which not only looks good on a resume, but serves as a day off from school every fortnight. Running for seven miles through the scenic Buda Hills, this narrow gauge railway was built to teach young teens valuable skills, from working behind a counter to working on engines.
A Soviet idea (the USSR had 52 children's railroads when it broke up), similar railroads were set up from Bulgaria to Berlin to Cuba. Few still run, and none are as large as Budapest's, with its nine stations, most of which connect to public transport. The locomotives and train cars are historic, with some dating back to 1905, but have been meticulously maintained and remain as shiny as ever. If you want to see the steam engines in action, visit on a weekend. The railroad's museum is also worth a visit, with its locomotives, wagons, and interactive games for kids. The stations are all located by popular recreational spots, so you can disembark and enjoy a zoo, adventure park, popular restaurant, or the view from the city's highest hill. The charming stations themselves on this retro railroad are worth a visit, in part for their communist-era murals. If the weather is hot and everyone is tired, this is also a good way to cool down and enjoy 1.5 hours of scenery for a minimal price.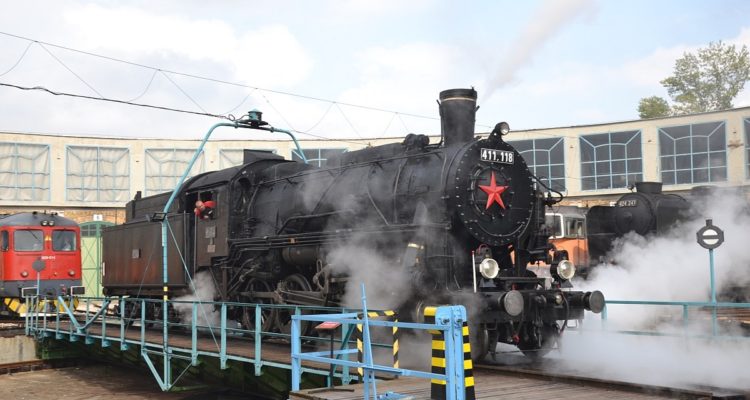 Hungarian Railway History Park
For the real deal, head to the Hungarian Railway History Park. This sprawling site has over 100 exhibits, from steam engines to hand-powered cars. You can also find curiosities, such as a former prime minister's Soviet car, which was later converted to drive on rails, and the original Orient Express' dining car. There are many interactive exhibits, from a simulator to a handcart, plus a model railroad and a ridable miniature railroad for kids.
Memorable mini-golf
Located near Margaret Island, Utos is Budapest's sole mini-golf pub, but is geared towards all ages. The courses are unique and memorable. They are also challenging, but that doesn't stop kids from putting through an apartment (complete with holes in a washing machine and toilet), as well as through a skatepark and a concrete-mixer. The section most popular with kids is lit by blacklight, which reflects off the course and children's smiles! Open from four until late, Utos makes for a good evening activity when the weather isn't very promising.
All of our guests receive access to a Guest Page chock-full with advice, from where to bring tired kids to tipping advice. Our local staff, who our travelers meet and stay in contact with, are great sources of advice, especially in Budapest, where we have more employees than almost anywhere else (we're really fond of the place). We'll take the stress out of planning a trip, and the trip itself, so you and your family can focus on enjoying it.

Born and raised in Wisconsin, Kevin lived in Estonia and Finland for several years, traveling widely through Central and Eastern Europe, before settling down in Berlin. Having studied the cultures, histories, and economics of the countries along the Baltic Sea for his Master's degree, Kevin has the knowledge and experience to help you plan the perfect trip anywhere in the region, and also works as JayWay's main writer and editor.