We've organized small group gourmet and culture tours throughout Italy for several years, but only since last year have we begun to offer guests classic JayWay style tours here. Once you get outside the larger cities like Rome, Venice and Florence (which are wonderful in their own right), there are many smaller villages and regions to discover. One of the most unique is the Cinque Terre, a loose cluster of five villages on the northwest coast of the country.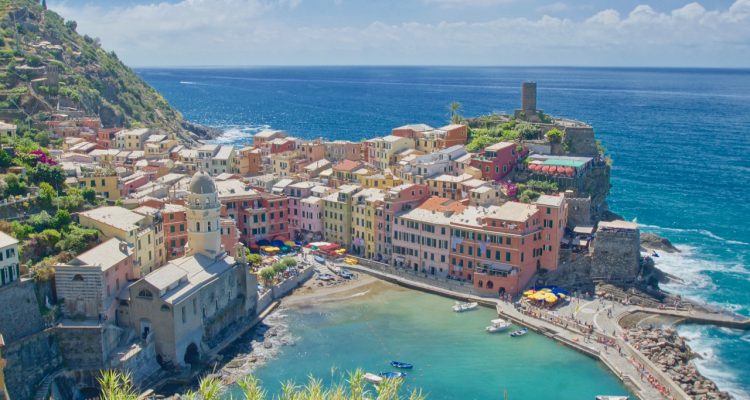 Jump to a section of this article
Visiting the villages
From west to east, the villages that make up the area known as the Cinque Terre are Monterosso, Vernazza, Corniglia, Manarola, and Riomaggiore. Each and every one of them is fantastic, and they all have their own characteristic atmosphere. Let's take a closer look at them.
Monterosso
Monterosso may not be the most stunning of the villages in the Cinque Terre, but it's still pretty fabulous. It's the easiest village to access by car, so it tends to get crowded early in the season and stay that way. With a quaint beach and plenty of delicious seafood (the village is especially known for its anchovies, which have official EU status), it's a great place to get a first taste of the area.
Vernazza
The social and business life of Vernazza is gathered around its small harbor, the only real harbor in the Cinque Terre. The old seaside houses here are breathtaking and one of the most famous sights in the area. Expect amazing views, winding lanes and beauty around every corner.
Corniglia
Corniglia is the highest village in the Cinque Terre and as such it offers the best views in the area, but it's also the only village that doesn't have direct access to the sea. Instead of a beach you'll find an amazing terrace overlooking all of the villages and the sea.
Manarola
Manarola has one of the busiest waterfronts in the area, with fishing boats bobbing up against the scenic promenade. Surrounded by vineyards, Manarola offers great opportunities for hiking or just relaxing and enjoying local vintages and vantages.
Riomaggiore
Known as the "capital" of the Cinque Terre, Riomaggiore is the largest village in the area. It's gathered on a steep ravine with houses practically falling into the sea. A tiny pebbly beach and some of the best examples of the Cinque Terre's signature pastel houses make this one of the most photographed areas in the area, and one of the most unforgettable.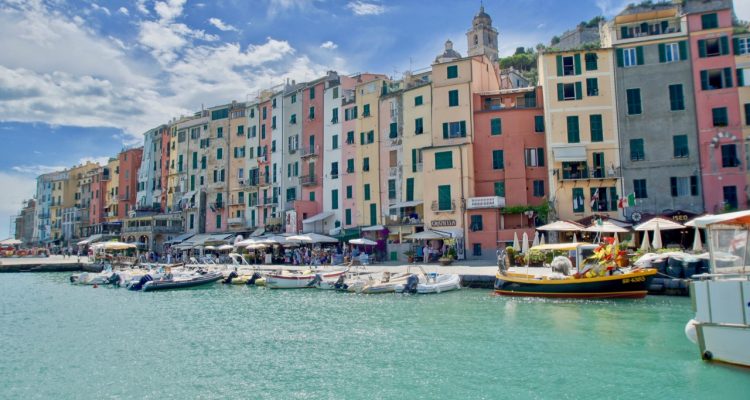 Getting there
The relative remoteness of the Cinque Terre continues to keep it authentic and lends a sense of discovery to travelers here. While the five villages aren't nearly as isolated as they once were, they can still be a challenge to get to, especially if you're driving. In fact we don't recommend driving to Cinque Terre, because the roads twist and turn and can be downright frightening. Plus parking in the villages is hard to come by and is therefore very expensive. If you do have a car, we recommend leaving it at La Spezia's train station. It's nearby and affordable. We can also arrange a private or group day trip from Florence, which certainly simplifies the process.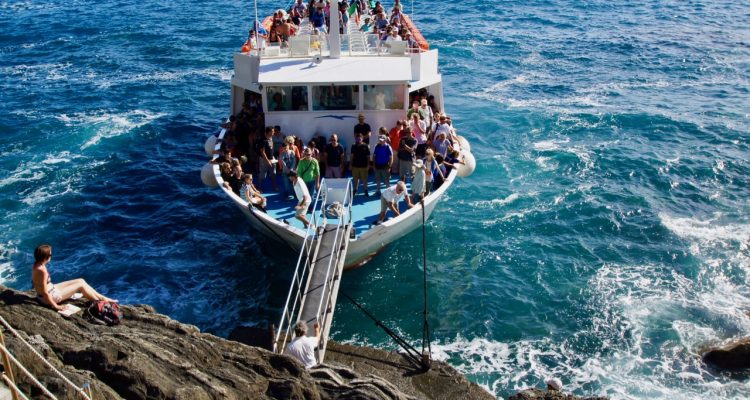 For traveling between the villages, the Cinque Terre Pass gets you on all the trains between La Spezia and Levanto. That's probably your best bet. Between Easter and September, you could also take a ferry from other places on the Northern Italian Riviera such as Portovenere (an oft-overlooked gem in its own right), Portofino and Genoa.
Cinque Terre is also a stop on one of our gourmet tour itineraries, if you want to experience it to the fullest then this is definitely the best way!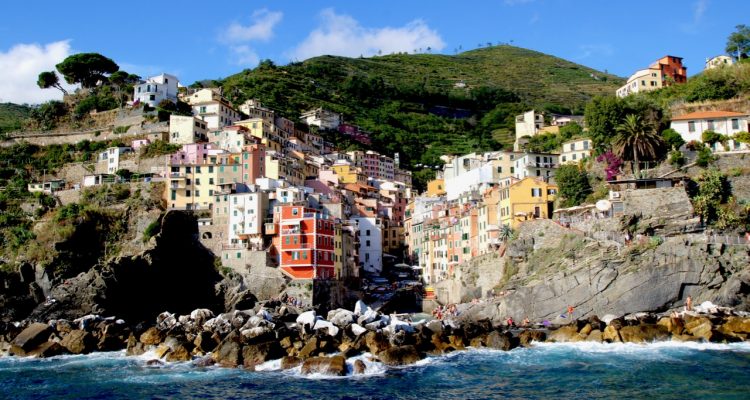 Where to Stay
Let's get this out of the way  – moving around the Cinque Terre with luggage is pure misery. Narrow streets, crowded trains and a lack of elevators make heavy work of it, especially in summer. While there are some cute guesthouse and B&B options in most of the villages, other than in Monterosso al Mare there aren't any hotels. Our accommodation selection concentrates for this reason on the Monterosso al Mare and Levanto, which are both easily accessible by car and from where you can effortlessly take a train or ferry to the other villages.
What to Do
Under ideal circumstances, you would spend four or five days here, settling into the slower pace of local life, swimming, sunbathing, partaking in all of the local delicacies and perhaps doing some hiking (but bring good hiking shoes!). It's fun to wander leisurely through the streets, getting a first-hand look at how locals live. Be sure to bring a camera because everything here is photogenic. You'll need to take a water taxi to reach the best secluded beaches and a boat tour is an excellent way to see the villages in their full glory from the sea.

Where to Eat
There is also plenty of delicious cuisine to sample here, especially if you enjoy fresh seafood. Here are some of our favorite restaurants:
Miky Ristorante
A Cinque Terre institution, Miky Ristorante in Monterosso al Mare has been here under the direction of Chef Miky De Fina since 1980. Check out the bed of ice when you enter, on top of which you'll see the catches of the day displayed. You can't go wrong when the food's this fresh. (Address: Via Fegina, 104)
Trattoria Gianni Franzi
In Piazza Marconi, the center of Vernazza, there seems to be no shortage of restaurants, but choose wisely. Trattoria Gianni Franzi is a safe bet. It's been here for decades, specializing in Ligurian cuisine like anchovies, mussels, fish and delicious homemade pasta. (Address: Via San Giovanni Battista, 47-49)
Taverna del Capitano
Sticking with Vernazza, and right next door in fact, you'll find the terrace of Taverna del Capitano. The seafood pizza is our tip here. (Piazza Marconi 21/24).
Trattoria dal Billy
If you're dining in Manarola, try Trattoria dal Billy. You'll have to climb a bit to find it, but the view, as well as the cuisine, makes it all worthwhile. If you're traveling with someone and you have an appetite, we recommend the antipasti sampler, which gives you a taste of many house specialties, especially the abundance of fresh seafood. (Address: Via Aldo Rollandi, 122)
Our local Italian team knows all of the best accommodations, restaurants and historic sites in and around the Cinque Terre. We'd love to help you plan a visit as part of a visit to Florence or a longer Italian tour. Once you get in touch, we can tailor the perfect holiday for you.

Charlie is head of marketing at JayWay Travel. A long-term Prague resident, his interests are cooking, eating out, cycling, skiing and of course, travel.