What are the great culinary capitals of Europe? You're probably thinking of Paris, Rome, Helsinki… what about
Warsaw
? Polish cuisine isn't only pierogies, and in recent years this lively city has made great leaps, with fantastic new restaurants springing up in unexpected places. But nowhere is the city's dining scene more interesting than the market halls in Warsaw.
Like the more famous markets in Lisbon and Italy, Warsaw's markets are much more than fruit and vegetable stands. Modern, highly developed affairs, they're gastronomic gathering places for the city's best chefs and most fanatic foodies to sample a variety of cuisines all under one roof. Even more than that, they have become full-blown cultural centers, offering concerts, exhibitions and performances to go along with the delectable food and drink. Let's take a closer look at two of the best markets in Warsaw: Hala Gwardii and Hala Koszyki. Both are great spots for shopping, dining and people-watching.
Jump to a section of this article
Hala Gwardii
Hala Gwardii was inspired by legendary markets like the Time Out Market in Lisbon and Mercato Centrale in Rome and Florence. Once the biggest and best of the food market halls in Warsaw, Hala Gwardii is working hard to regain its pre-communist glory. You'll find the shining stars of Warsaw's impressive culinary scene here.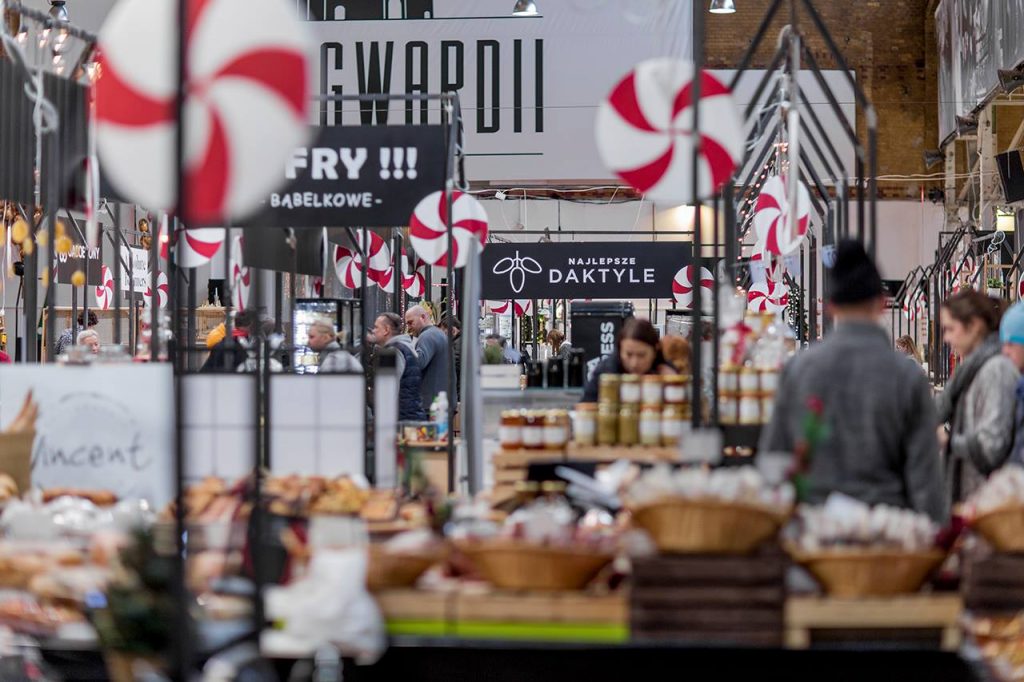 There are 25 vendors and a large dining area in Hala Gwardii, and hungry visitors can look forward to everything from piping hot pierogies to vegan burritos. Besides the fantastic food, the market also hosts numerous cultural events and concerts. It's definitely a must-see for anyone visiting the city. Bring your appetite and your camera, as there's plenty to see and eat here.
Our top tip: The weekend breakfast at Hala Gwardii is a great way to start a day of exploring Warsaw. Stop by Friday, Saturday or Sunday from 10am.
Address: Pl. Mirowska 2. (Open Fri-Sat 9am-1am; Sun 10am-11pm)
Hala Koszyki
What Hala Gwardii has in classic atmosphere, Hala Koszyki has in fresh energy. You'll find no fewer than 18 "restaurant concepts," along with 11 grocery stores and shops where you can buy more goodies. Two well-lit floors offer some of the best dining opportunities in the city, all in one of the most vibrant market halls in Warsaw.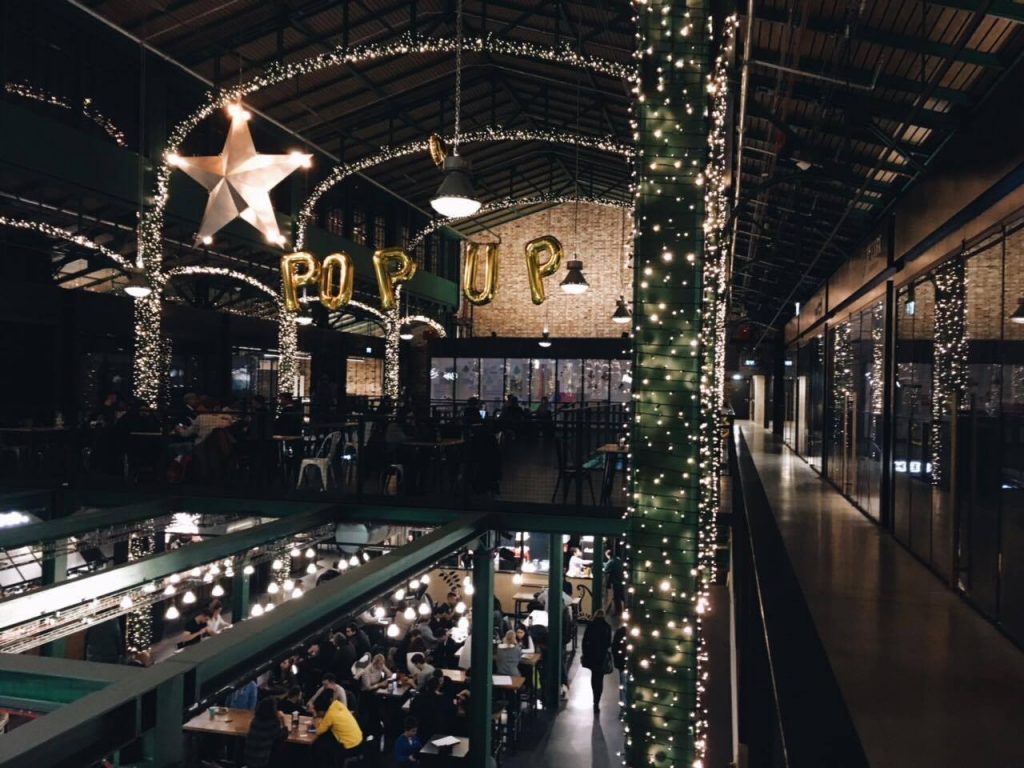 You'll definitely want to take a peek at the program on the website to see what's going on at Hala Koszyki when you visit. The food is always fresh and fantastic, of course, but there's a full schedule of interesting events and happenings. Something unexpected might be happening during your visit.
Our top tip: The restaurant Mango is definitely one of the highlights of Hala Koszyki. The atmosphere is friendly and welcoming and the food is delicious. Try the hummus!
Address: Ul. Koszykowa 63. (open Mon-Sat 8am-1am; Sun 9am-1am) 
After you visit the market halls in Warsaw…
There's so much more to do in Warsaw besides eat. The capital of Poland, Warsaw is also the largest city in the country. The architecture was destroyed during World War II, but much has been rebuilt in recent years. You'll certainly want to see the historic center, which is on UNESCO's World Cultural Heritage List.
While you're visiting Warsaw we can arrange many specific tours. Warsaw is a place where a local guide will come in handy as the city is vast and complex. Whether you like history and architecture, delicious dining, or art and culture, you will find plenty of things to do in Warsaw. Visiting Warsaw also gives you the opportunity to take day trips. There are numerous national parks that are worth visiting. Or, if you'd like to see other cities like Gdansk on the Baltic Sea coast and Krakow, from which you could also make a trip to Auschwitz, Warsaw can be a good first stop on a Polish holiday. Warsaw and all of Poland have so much to offer travelers. Whether you've visited Poland before or you're coming for the first time, you're in for a real treat.
Other excellent restaurants in Warsaw
There's no shortage of great restaurants in Warsaw. Here are a few of our favorites:
U Fukiera: Warsaw's oldest restaurant is also one of its most famous. The famous clientele who frequent this restaurant will impress you, and so will the menu. You can look forward to gourmet takes on hearty Polish classics.  Address: Rynek Starego Miasta 27
Boathouse Restaurant & Wine Lounge: You'll find this trendy spot on the banks of the Vistula river. The ambience is luxurious yet relaxed and the the menu is Mediterranean. This is a favorite of well-heeled locals. Address: Wal Miedzeszyñski 389A
Belvedere Restaurant: This is a place for a special occasion. Situated in the New Orangery of the Warsaw Royal Bath Gardens, the restaurant specializes in traditional Polish fare, served with flare. There's a royal atmosphere and an excellent wine list. Address: Agrykoli 1
Are you planning a trip to Warsaw? We're Poland travel specialists and would love to help you put together a travel itinerary for your holiday in Poland. Just get in touch!

Stephan Delbos is an internationally published writer and editor. Born in the US, he has lived, worked and traveled in Europe for a decade. He's fond of oysters and arid martinis.