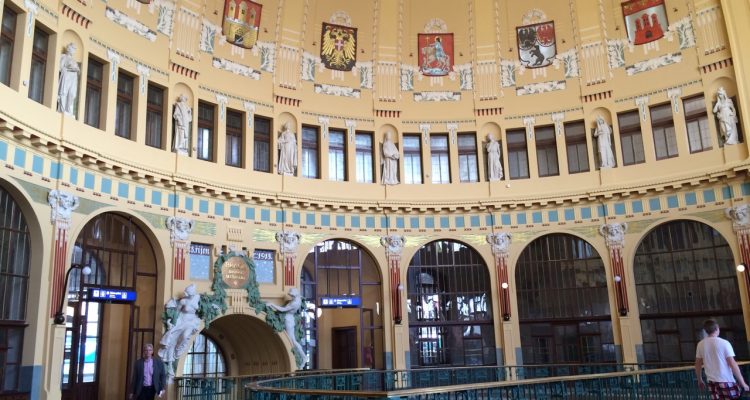 Updated January 2018
If you're making the trip to Europe from the U.S. you might want to divide your time between a number of cities. Here at JayWay we've got you covered on all the top destinations in Central & Eastern Europe so why not combine them into a mini Grand Tour with a multi-city itinerary.
We're often asked how to get between
Prague
and
Krakow
. Up until 2009 there was a direct daytime train service between the Czech capital and Poland's former capital. Then for a whole 9 years there were no direct trains, but in February of 2018 service is resumed. There's one train a day in each direction. The duration is 6 and a half hours. The Prague-Krakow train leaves Prague's Hlavni Nadrazi station at 11 AM. In the other direction the train departs Krakow around 11:45 AM. The service is listed as having wifi and a restaurant car but it's always wise to take precautions. A good book or a tablet loaded with movies, and a few snacks, are always good to have.
There is also a night train, which takes is just over 8 hours, but you'll be asleep for most of that right? (read on for why that's not necessarily true) The only straight through option (you don't want to be changing trains at 2am!) departs Prague late evening, getting in to Krakow early the following morning.
What does it cost?
If you're going one-way on the day train the price is around €15 in Standard Class. We can include train tickets in our custom-tailored vacation packages but we don't sell them separately.
Get in touch
and we'll help plan the perfect Prague, Krakow (and other cities like Vienna, Berlin and Budapest) itinerary for you,
On the Night Train
A lesson we've learnt from bitter experience are that of the two types of sleeping car, if you can get it, the sleeper as opposed to the couchette is worth the extra. With the sleeper you can choose between a single, double or triple – you can only get the single if you've also got a first class ticket. Whilst it's not the best night's sleep you'll ever have, the beds are more comfortable than the six or four to a compartment cots of the couchette. In Czech, the sleeper carriage is referred to as lůžkový and the couchette is lehátkový. In the past there have been concerns over safety, both personal, and of possessions. If you take a sleeper, you've got a lock and chain on the door that can only be opened from the inside (so you only have to worry about the people you're sharing with!) Below are the supplemental costs (on top of the ticket price) for the various types of sleeper compartment.
1 berth in a 6 person Couchette: €9.40
1 berth in a 4 person Couchette: €14
1 berth in a 3 person sleeper: €14
1 berth in a 2 person sleeper: €21
1 berth in a 1 person sleeper: €49
From this you'll note that the 4 person couchette and the 3 person sleeper cost the same. For this reason the 3 person sleeper berths get sold out often. Buy your ticket as early as you can!
Some general tips for the journey – bring water, large bottles of water can be bought cheaply at the Billa supermarket in Prague Main Station, and are more expensive at other shops in the station. Snacks are a good move too, if you're likely to get hungry. This will work out cheaper than buying drinks and food on the train. If you're taking the night train and have a problem with light and noise, pack a blindfold and some ear plugs too. Also bear in mind one big disadvantage of the night train – even if you did manage to sleep, you're arriving hours before you're able to check in to your accommodation, so you might not be feeling your best not being able to shower until the afternoon.
Couldn't I just fly?
If you can't stand the idea of 8 or 9 hours train travel (and we wouldn't blame you) then flying is an option, but there are only two direct flights a week, run by RyanAir (so cancellation is always a worry). The flight time is a little over an hour, but when you add up travel time plus allowing for arriving at the airport at least an hour and a half before your flight to check in, then getting into Krakow from the airport most of the time saved is eroded and given the discomfort of air travel, it becomes not worthwhile.
Our tip
Whilst you're at Prague's main station (Hlavni Nadrazi) take a moment to head up to the street-level original ticket hall, now a cafe and marvel at the early 20th century architecture (pictured top right). Decorated with the coats of arms of many Czech cities. There's a café there, if you have time. If you're open to traveling by road, we can arrange a private car or van, as part of an Central & Eastern Europe vacation package, to take you between these two cities. This way you get to leave when you want and make additional stops along the way, maybe in up-and-coming Olomouc in Moravia. We could even combine some road and rail – there are many more fast trains per day to Ostrava and Bohumin. A transfer between one of those cities and Krakow allows for a stop at Auschwitz along the way (Auschwitz is about an hour west of Krakow), so you can make use of what would otherwise have been purely a travel day.
Planning a trip to Central Europe? We'd love to put together a Central Europe travel package just for you. Get in touch to find out more!