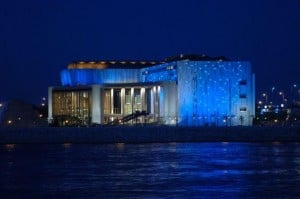 If you're a classical, ballet or opera buff and Budapest is one of the stops on your tour of Eastern Europe then you're going to be very happy.
As part of the Austro-Hungarian empire the city benefitted from a rich tradition of classical music and has the venues from the era to prove it as well as more modern venues celebrating the city's long musical and artistic history.
Without further ado, let's get acquainted with the major classical, opera and ballet venues in the city.
Liszt Academy
Budapest VI., Liszt Ferenc tér 8. (Tel: +36-1 342-0179, www.lfze.hu)
Recently refurbished, this jewel of an art nouveau building is home to the Liszt Ferenc College of Music and the epicentre of classical music concerts in Budapest.
Budapest Operetta Theatre
Budapest VI., Nagymező utca 17. (Tel: +36-1 472-2030, www.operettszinhaz.hu)
If you like your opera a little on the lighter side or your tastes trend to a more up-to-date version of musical theatre, this Austrian architected theatre from the late 19th century puts on a mix operettas and modern musicals.
Danube Palace
Budapest V., Zrínyi u. 5. (Tel: +36-1 235-5500, www.dunapalota.hu)
This neo-Baroque palace, predictably not far from the Danube, is home to the Danube Symphony Orchestra. Concerts aren't every night though, just Saturdays, and the website is only in Hungarian, so you might want to look elsewhere for your dose of classical. The palace is also the permanent home of the Danube Folk Ensemble, with 5 musicians and a 24 strong troupe of dancers.
Hungarian State Opera House
Andrássy ut. 22. (Tel: +36 1 81 47 100 www.opera.hu)
For 'proper' opera it doesn't come much more serious than the State Opera House. With a Repertoire running from Aida to Xerxes by way of Carmen, Don Giovanni, La Traviata, Rigoletto and Tosca and performances most days, you're bound to find something you've been meaning to see. It couldn't be easier to get to either, with its very own metro stop.
Palace of Arts
Budapest IX, Komor Marcell utca 1 (Tel: +36 1 555 3001) mupa.hu/en/)
This vast cultural centre right on the Danube, completed in 2005, combines a concert hall, a theatre and a museum. The programme here features classical and opera alongside modern performances too. And with so many venues under one roof, there's always something going on here.
Getting tickets
You can buy tickets from the venue box offices but many popular performances (and the most affordable tickets) can sell out early. Some venue websites have online ticket purchasing available but if not will link out to ticket agency websites for you to make your purchases.
What to wear?
The Hungarians like to make a special event of going to a classical performance and dress for the occasion. Men usually wear a dark suit and women wear evening dresses. If you want to fit in you'd better pack a set of smart clothes!
When to go
Like many cities the classical scene tails off in high summer, so don't count on any large scale concerts or operas between the beginning of July and the end of August.
Spring Festival
If, however, your time in Budapest coincides with the Budapest Spring Festival then you'll be spoilt for choice with plenty of classical and opera performances, alongside theatre and dance events. The festival usually begins in mid march and lasts for a couple of weeks. More info on the Budapest Spring Festival website.
Planning a trip to Budapest? We'd love to put together a Budapest travel package just for you. Get in touch to find out more!

Charlie is head of marketing at JayWay Travel. A long-term Prague resident, his interests are cooking, eating out, cycling, skiing and of course, travel.