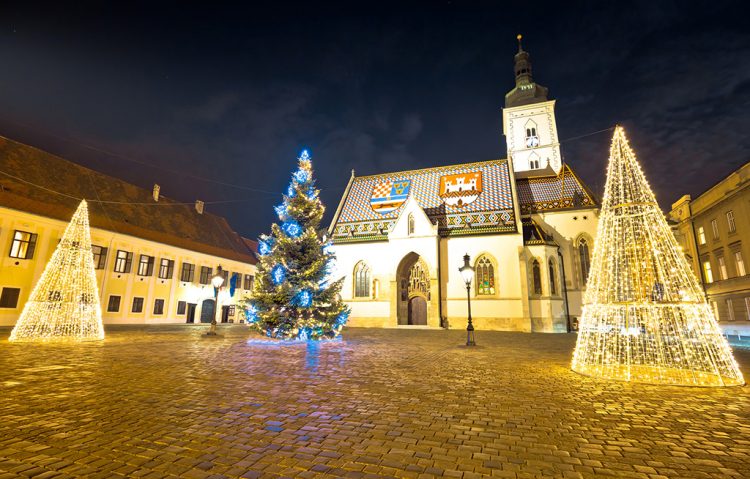 Croatia might not be the first country that springs to mind when you're thinking of European Christmas market destinations. But that's exactly why you should go! The Croatians are very family oriented and they enjoy celebrating Christmas with their loved ones. Especially when their coastal cities aren't thronged with cruise ship passengers and they finally get to enjoy the beauty of these places themselves. You don't want to miss Croatia's best Christmas markets!
Jump to a section of this article
Award-winning Advent in Zagreb
Looking to continue a two-year winning streak as "Europe's Best Christmas Market," the Croatian capital, Zagreb, is again going all out to wow locals and in-the-know vacationers. The city's main market takes place on the large central square in the heart of the city. Ban Jelacic square is right in the thick of things. Well connected by tram but otherwise pedestrianized, it's the perfect setting for a yuletide celebration. Just off it is Ivana Tkalcica street, lined with bars and restaurants. And close by is Dolac market, the city's regular green market, which also takes on a festive flavor. In fact you'll find every little square is home to an event of some sort. One of my favorites is Fuliranje, the street at the bottom of the funicular. That's where the best food stands are. In Upper Town (at the top of the funicular) Stross Promenade and square is where you'll find live music, wine, food and a magnificent view over the city, especially after dark when everything is lit. It's quite something special to behold.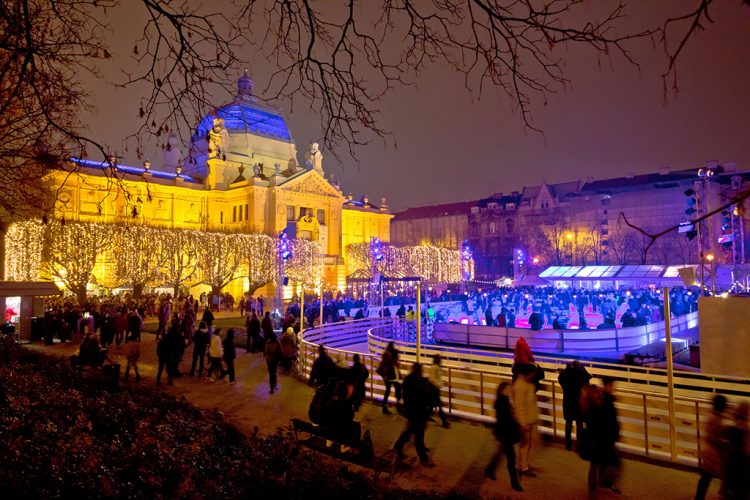 Head to Zrinjevac Park for that old world feeling. There's live music and a big open-air ice skating rink. Don't miss Gric tunnel, with The Christmas Story in 3D all over the walls, set to music. The whole city is one big bowl of light, music and mulled wine aroma!
Our very own Pavla from Split was in Zagreb in December 2017 to see the city's thrice-crowned best in Europe Christmas markets. Here's the video she made about them:
You Might even Get a White Christmas (only in Zagreb)!
Since Zagreb is relatively far north, there's always a chance it might snow. This lends a dusting of traditional Christmas spirit to the proceedings. The main market opens on December 2nd and runs until January 6th. On the coast however the temperatures tend to be much warmer and there's still plenty of sunshine. So during the day the cafe terraces are the perfect place to soak up some winter sun while you enjoy a coffee.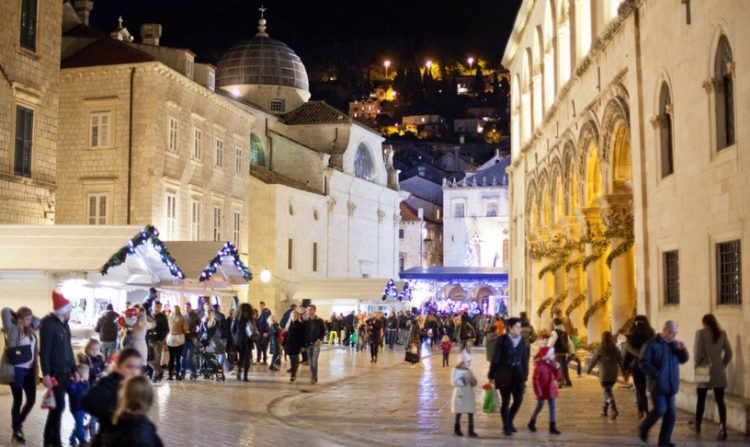 It's Christmas for Locals in Dubrovnik
At the other end of the country the citizens of Dubrovnik enjoy a break after a record summer and getting their calm back. December is still a great time to visit Dubrovnik. They don't turn the waves off and take the impressive medieval walls down for winter! The temperatures are usually quite pleasant and the ease of movement and low season rates make up for the fact that you'll find slightly fewer restaurants open as the locals take advantage of the off-season to do some traveling of their own. The Christmas markets occupy the legendary Stradun, the old walled city's main thoroughfare. You can enjoy Dubrovnik's Winter Festival from 2nd December and a few days into the New Year.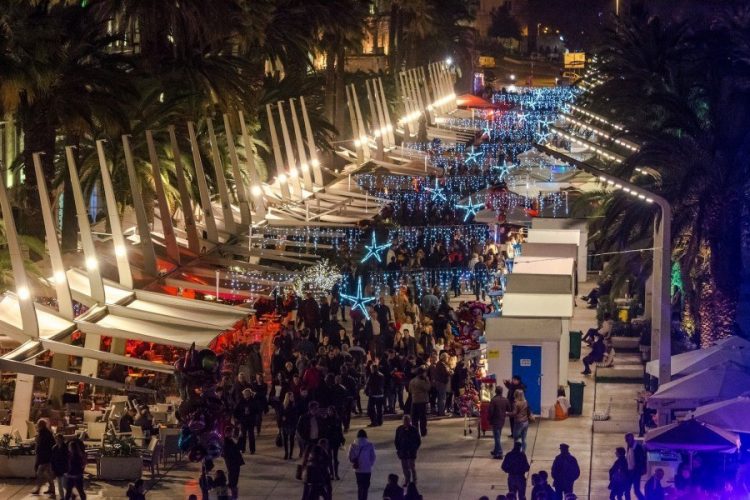 Split Christmas Fair
Another Croatian city worthy of your attention on a Croatian Christmas markets tour is Split. It's the second largest in the country and the locals have a pleasant laid-back atmosphere. This sizeable population means there's plenty of appetite for festivities. The backdrop of Diocletian's Palace adds to the old world feel and the main focal points of Advent in Split are the city's squares and the Riva promenade along the seafront. The Split Christmas Fair begins December 3rd and runs until January 13th.
What Makes a Croatian Christmas Market Different from those in Central Europe?
The archetypal Christmas markets in Germany are all about mulled wine, gingerbread, roasted chestnuts and wooden Christmas ornaments. What can you expect from the Croatian version? Since Croatia doesn't have decades of experience putting on Christmas markets for tourists you'll find things are more authentic and a little less commercial. There are a lot more homemade ornaments, gifts and best of all pastries. There's usually a program of song and dance performances too, so make sure to catch some of those. If you like to get your skates on, you can usually find an outdoor ice skating rink. And watch out for the Croatian Christmas cookies, they're addictive!
Eat (and Drink) like a Local
We Croatians are really into food and wine. Since these markets are mostly meant for locals, you're in for a treat. With picky clientele and the need to win repeat business, food quality in our Christmas markets is second-to-none. And you certainly won't be short of something to go with the food. Croatia produces some very good wines and these go into the mulled wine you'll find everywhere. For something a little harder, there are a million kinds of rakijas (fruit brandies), both normal and hot. If there's one thing that has Croatians looking forward to Christmas more than anything, it's our favorite local Christmas treat, fritule. This is deep fried dough with lots of rakija and raisins. What's not to like?
Packing your Bags already?
We've put together a Croatia Christmas Markets itinerary that includes Zagreb, Dubrovnik and Split with the option of visiting the Plitvice National Park on the way, weather permitting. It won't be as lush as in spring, but having those boardwalks to yourself will be a magical feeling. Interested? Just get in touch!
Image credits – Dubrovnik: Croatia Tourist Board, Split: Split Tourist Board

Lidija is our Split-based City Host. Born and raised there, she also enjoys spending time in Zagreb in the off-season, when the capital is a much more interesting place to be. In summer the lure of the the coast and Split's nearby islands is too strong to resist.