Czech popular culture offers fantastic diversity, from biting satire mocking communism, to nostalgic looks at periods of prosperity and hope, so we've decided to offer an extensive sample platter. From novels universally beloved in Europe, to influential plays and essays, from broad comedies to moving films, we set before you delicacies recommended by our staff in Prague, some of which we hope you will yourself cherish.
Jump to a section of this article
Literature
The Unbearable Lightness of Being (1984) by Milan Kundera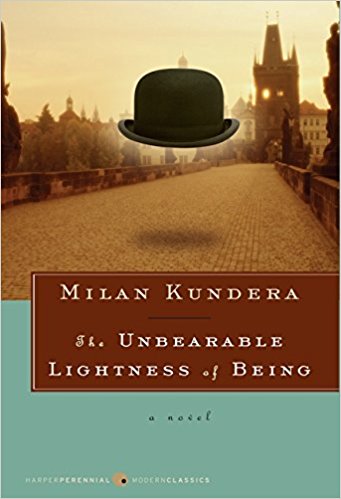 Probably the one book on this list you've already read, this is Milan Kundera's magnum opus, following a couple, their lovers, and their estranged son around the time of the 1968 Prague Spring uprising. Trust us, if you're going to read one book by Kundera, make it this one (Kundera's bibliography can be pretty hit-or-miss). In contrast to the concept of "eternal recurrence" (popularized by Nietzsche) that the universe's events are predestined to repeat forever, Kundera posits that, since we only live one life, everything only happens once, hence the "lightness of being," a sense of freedom which can make the fleeting nature of love "unbearable." Pick up a copy from a local bookstore, or order from Bookshop.org and support local bookstores even though you're buying online.
A quick classic, Lightness was adapted a mere four years after its publishing into a film of the same name, directed and written by Philip Kaufman (of The Right Stuff fame) and starring Daniel Day-Lewis. Filmed in France, (save for some moving archival footage of the Soviet invasion of Prague set to "Hey Jude" covered in Czech), this film received an Academy Award nomination. While popular with reviewers, there is still some debate as to how effectively the film conveyed the book's spirit and philosophical points. Five separate platforms offer the movie for rent or purchase.
The Power of the Powerless (1978) by Vaclav Havel
Abandoning fiction for a bit, here is a lengthy political essay written by Vaclav Havel, the playwright who would serve as the last president of Czechoslovakia, and the first president of the Czech Republic. Blacklisted for his role in the Prague Spring, he became a political dissident, founding several political initiatives and parties, and playing a major role in toppling communism and reforming his homeland. Suppressed by censors, this essay circulated as samizdat, becoming a manifesto for dissidents combating communism, and was eventually released in English as part of a volume of essays. At its heart, this is an essay about how communism affects the lives of its everyday citizens, and how they can unite against it. This is a pricey book to acquire in the US, with a limited print run so strictly for aficionados of communist history.
Saturnin (1942) by Zdenek Jirotka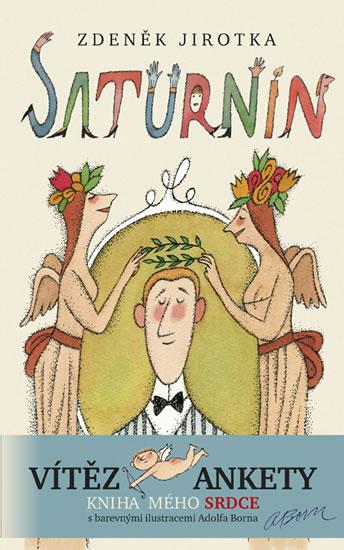 This satirical novel by Zdenek Jirotka is reminscent of P. G. Wodehouse's stories, as it follows Saturnin, a servant caring for characters with eccentric whims. However, Saturnin is a fair bit more mischievous than Wodehouse's Jeeves. One character divides people into three categories: those who stare at donuts in a cafe, those who imagine throwing them at other customers, and those who actually do so. Until 2007, the grand art nouveau Cafe Imperial used to offer a plate of stale donuts, named in Saturnin's honor, which could be thrown at any staff or customers! The cost of dry cleaning was included with the plate's symbolic price of 1942 CZK. Still popular, thanks in part to its wordplay, this fun read gives an idea of life in interwar Czechoslovakia, a prosperous period that many sorely missed under communism. This novel was adapted as a mini-series in 1994. Get your copy from Bookshop.org.
The Good Soldier Švejk (1921) by Jaroslav Hasek
An absolute Czech classic, this unfinished novel by satirist and anarchist Jaroslav Hasek follows Josef Švejk (pronounced "Schvehk"), an Austro-Hungarian soldier during World War I (some characters were based on Hasek's comrades during the war). Suspect by everyone for seemingly being the only loyal Czech in the army, the good-hearted Svejk bumbles from misadventure to misadventure, accidentally sabotaging the war effort and being frequently arrested in the process.
An absurdist, darkly comic anti-war masterpiece in the vein of Catch-22 (which it inspired), this work has been translated into at least 58 languages, and gifted the Czech language with several words. Adapted into ten separate films and TV shows in countries from Finland to the UK, this story has also been made into plays, an opera, a musical, comics, and is the namesake of restaurants and bars across Europe (but especially the Czech Republic). Svejk can be spotted in statue form in Slovakia, Poland, Russia, Ukraine, and the Czech Republic, and Krakow even has a plaque commemorating the fictional character's arrest there for vagrancy. The book also features cartoons by Josef Lada. In our opinion the Cecil Parrott translation is the best.
R.U.R. (1920) by Karel Capek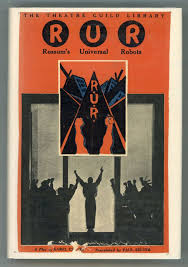 The play that gifted the world with the word "robot," this science fiction work by Karel Capek (who was nominated for the Nobel seven times) follows servants made from artificial flesh and blood who, perhaps inevitably, rebel against their masters. More akin to the lifelike creations in Westworld, Blade Runner, or the Battlestar Galactica reboot than our classic robots, the play's "Roboti" are named for a type of feudal forced labor. A hit quickly translated and adapted around the world, you can find references to this play throughout pop culture. Snap up a paperback copy from Bookshop.org for a few dollars.
The Grandma (1855) by Bozena Nemcova
This classic novella by Bozena Nemcova (who graces 500 CZK notes) is perhaps the most read book in the Czech Republic. This story about a young girl and her grandmother is based on Nemcova's own childhood and beloved grandmother, mixed with agrarian traditions which were fading even during Nemcova's youth. With her father away working in Vienna for much of the year, the protagonist Barunka and her siblings are tended by their grandmother, who is full of maternal wisdom and love. Many Czechs still make a pilgrimage to the Ratiborice Chateau, the beautiful Baroque compound near the Polish border whose grounds are home to the "Old Bleaching Ground," the cottage where the novella is set.
Film
Talks With TGM (2018)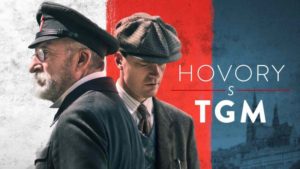 This movie focuses on an extended 1928 meeting between the writer Karel Capek (who coined the word "robot" and was a perennial Nobel Prize candidate) and Tomas Garrigue Masaryk ("TGM"), the philosopher who helped found Czechoslovakia, then served as its first president. The Czech/Slovak counterpart to George Washington, Masaryk led Czechoslovakia for much of its democratic history, and is the namesake of streets throughout Europe and Israel, as well as Brno's main university and a village in Florida. An icon of interwar Czechoslovakia's prosperity and democracy, Masaryk was a symbol of hope and loss during the communist era. A regular guest at Masaryk's weekly garden parties for intellectuals, Capek published his discussions with the president about world affairs and governance, which form the basis for this film. The movie condenses many letters, and a co-written book, into one extended meeting in the gardens of the Topolcianky Castle in Slovakia, where the two discussed their planned joint literary work. While they clashed at times, these two extraordinary friends made for ideal conversation partners.
Angel of the Lord 2 (2016)
A very different film, this kids movie with plenty of more subtle jokes for adults was a Czech box office success. Centered around the screwball angel from 2005's Angel of the Lord, and a demon, this unlikely duo must team up to retrieve an apple from the Tree of Knowledge, which they accidentally drop on Earth, on the eve of St. Nicholas Day (in early December). Along the way, they meet plenty of memorable characters. Shot in Cesky Krumlov, and with a Renaissance, fairy tale atmosphere, this film has become a popular Christmastime family tradition. Angel is available on Netflix.
Czech Dream (2004)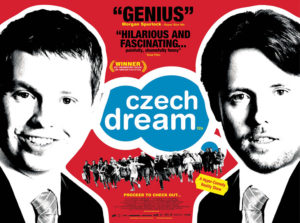 A wildly successful graduation project, this biting, funny documentary by Vit Klusak and Filip Remunda documents the fake big-box superstore the directors set up. Posing as businessmen, they conducted a subtervising campaign, commissioning a major ad agency to purchase with billboards, hundreds of thousands of pamphlets, and a TV ad campaign with a catchy jingle telling people not to come or spend. Naturally, they attracted a crowd of 3,000 shoppers to a meadow, and filmed them hurrying towards what turned out to be a canvas facade held up by scaffolding. The disappointed crowd's reactions were mixed, and not always as positive as the documentary's reception at international film festivals. This memorable movie's name has entered the Czech lexicon, meaning a "false promise." Czech Dream can be rented or purchased on Amazon, Youtube, or Google Play.
Divided We Fall (2000)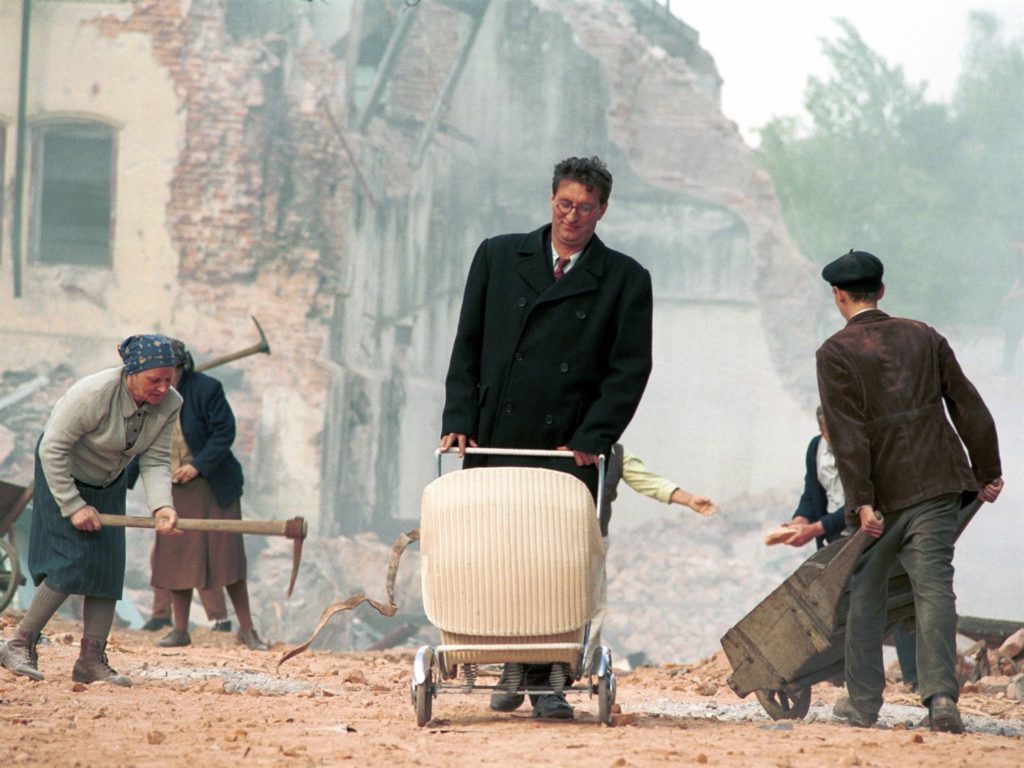 Directed by Jan Hrebejk (who also made "Cozy Dens,") this Oscar-nominated film follows a childless couple hiding a Jewish concentration camp escapee. This color film has few black and white characters, as all of the principle characters, from the Nazi collaborator to the anti-fascist partisan, commit acts of bravery, friendship, and treachery. The immoral acts everyday people are forced to commit in totalitarian systems are clear. As implied by the movie's title, this work's overarching message is one of reconciliation, whether in the wake of the Nazi occupation, or Czechoslovakia's communist regime, as well as (sometimes literal) rebirth. This movie can be rented or purchased on four separate platforms.
Loners (2000)
Set in Prague, this comedy follows a group of friends, and the city's musical and partying subcultures. The protagonist arranges fake "everyday" scenes for Japanese tourist, while playing a matchmaker for his friends, who have their own unusual sub-plots. This movie was solidly made, from its soundtrack to its cinematography and performances. While difficult to find in the US, Amazon tends to have some copies available.
Cosy Dens (1999)
Based on Petr Sabach's memorably named novel Flaming Feces, this beloved film is also popular for its Czech soundtrack. A snapshot of a politically divided family leading up to the 1968 Prague Spring, this film features typically dark and quirky Czech humor. You can watch this movie via Amazon Prime.
Those Wonderful Years That Sucked (1997)
Adapted from a novel of the same name by Michal Viewegh (whose writing is akin to Nick Hornby's), this occasionally sentimental allegorical comedy follows the fate of a family from the early 1960s to the fall of communism. As the son develops into a promising writer, his father's lack of enthusiasm for communism harms his engineering career. You can stream this film on Amazon Prime.
Kolya (1996)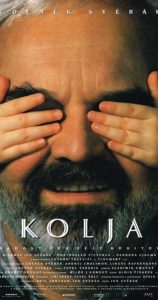 After being nominated for an Academy Award for "The Elementary School," director Jan Sverak finally won one, plus a Golden Globe and six Czech Lions for this moving drama. The director's father, who also wrote the screenplay, delightfully plays Franka Louka, a blacklisted middle-aged cellist, reduced to playing at funerals, shortly before the fall of communism. Through an unlikely series of events, ladies' man Franka ends up having to take care of a five-year old Russian boy, Kolya, although they have no language in common. Rent or buy this movie on Amazon or Apple iTunes.
The Inheritance or Fuckoffguysgoodday (1992)
A bit reminiscent of The Beverly Hillbillies, in this comedy, an alcoholic hillbilly inherits a large amount of ancestral property that had been stolen by communist authorities, and moves to Prague a millionaire. A sendup of life in newly capitalist Czechoslovakia, where everything was possible and the newfound freedom and chaos overwhelming, nothing is sacred in this film, which features as much strong language as the title suggests. This hit is still frequently quoted by Czechs and Slovaks.
The Elementary School (1991)
This acclaimed Oscar nominee was the first of several father-son projects, such as Kolya. Acclaimed humorist, and actor Zdenek Sverak wrote the screenplay, which his son Jan directed. Based on Zdenek's own childhood, his gentle drama follows Eda, a boy whose strict new teacher begins to earn the respect of the classroom full of hooligans that chased their original teacher out. Set in the brief period between World War II and Czechoslovakia's communist takeover, this film gets some good jibes in about the socialist state on the horizon. You can rent or buy this one on iTunes.
Sun, Hay, Strawberries (1983)
In this classic comedy, Simon Planicka, an eager young agricultural student, arrives at a village to conduct an experiment meant to increase milk production. Naturally, his arrival stirs up the local gossip mill, and he attracts the jealousy of the boyfriend of the young woman tasked with keeping an eye on his work. This is part of a trilogy by Zdenek Troska, based on the village where he grew up himself.
Closely Watched Trains (1966)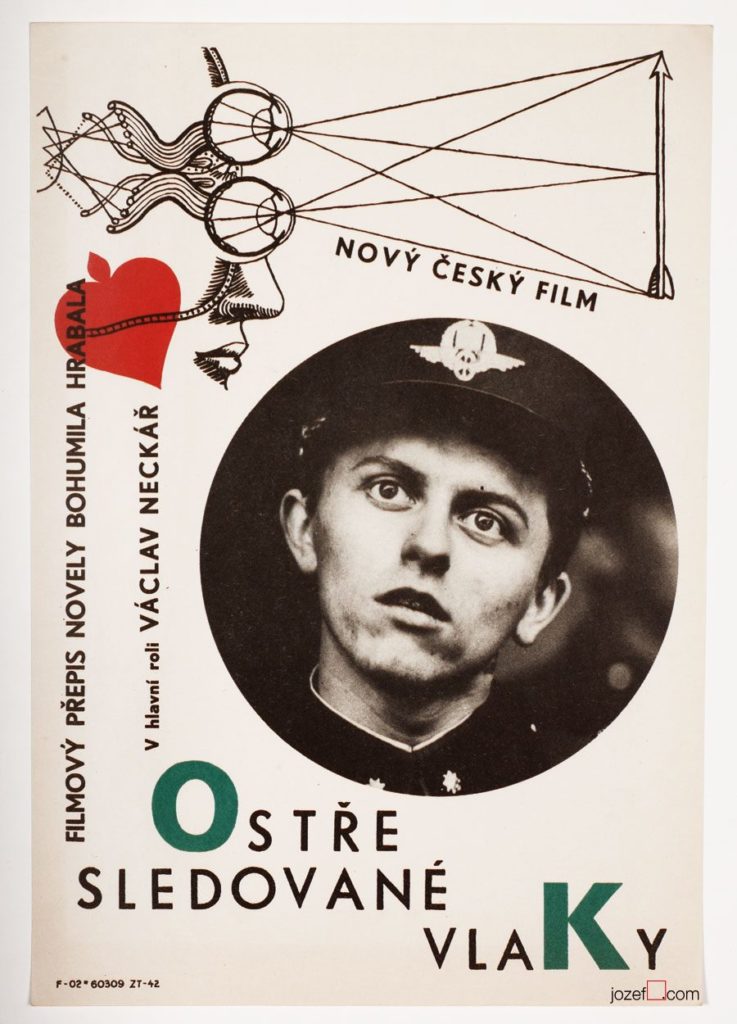 Based on a 1965 novel by the renowned Bohumil Hrabal, this 1966 film by 28-year old Jiri Menzel (in collaboration with Hrabal, sparking a close friendship) won an Academy Award. This Czechoslovak New Wave coming-of-age classic (released in the UK as "Closely Observed Trains") follows Milos Hrma, a young man working at a train station during the German occupation of Czechoslovakia. Chasing after his female coworkers, roped into the schemes of a glamorous partisan, and forced to deal with a Nazi collaborator superior, this bildungsroman is at times reminiscent of The Good Soldier Svejk. Stream it on Kanopy or the Criterion Channel, or rent/buy it on iTunes.
Lemonade Joe (1964)
Wash down the above courses with an unusual icon. This Czechoslovak musical/comedy/Western parody stars a soda-drinking gunslinger ("limonada" in Czech) facing down a town's hard-drinkers. This cult classic mocks both cowboy westerns and Western consumerism (the protagonist's drink of choice, Kolaloka, parodies Coca-Cola), although socialism takes a drubbing as well. Difficult to categorize, down to its eclectic soundtrack, and cinematography (featuring slow motion, film tinting, cartoonish special effects), this film was a hit at home and abroad, and makes a good introduction to the "Red Western" genre. Stream/rent/buy on Amazon, or watch it on Youtube.
Hungry for more? Our staff will be happy to recommend more literature and films, as well as actual morels to snack on or will your stomach with as you consume the best Czech writers and performers have to offer. Book a trip with JayWay today!

Born and raised in Wisconsin, Kevin lived in Estonia and Finland for several years, traveling widely through Central and Eastern Europe, before settling down in Berlin. Having studied the cultures, histories, and economics of the countries along the Baltic Sea for his Master's degree, Kevin has the knowledge and experience to help you plan the perfect trip anywhere in the region, and also works as JayWay's main writer and editor.