While the Croatian coast can seem reminiscent of Italy or the country's Balkan neighbors, cosmopolitan Zagreb is where the country's Austro-Hungarian past is clear. The capital offers excellent cafes and pastries, and architecture that will look familiar (down to the church covered in a colorful tile mosaic) if you've been to Vienna, Budapest, or Lviv. We asked our team member in Zagreb for a three-day tour of her cherished home.
Jump to a section of this article
Arrival Day – Welcome to Zagreb
Get oriented from the get-go with drinks at the Zagreb 360° observation deck. This bar offers spectacular views (see the above image!) of Zagreb's Upper and Lower Town, including many of the city's most important cultural and historic sights…
Enjoy dinner at Lanterna na Dolcu, a family-owned restaurant located in the city center, close to the Dolac Market and central square. The restaurant offers a welcoming atmosphere and traditional fare.
Day 1
Morning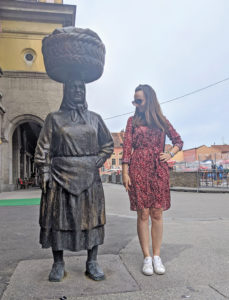 Take a walk in the Upper Town, the hilltop portion of Zagreb's historic core. Start at the central square (Ban Jelačić Square), where you can take a photo of yourselves in front of the statue of Josip Jelacic, a 19th century military hero. Continue towards the Cathedral. En route, stop by Zagreb Welcomes You, a model of the city cast in bronze. Peek inside the Cathedral — if it's not hosting a mass, it's well worth a visit. Either way, take some pictures of the inside, and don't worry if you can't fit the whole building into just one photo, you'll stop by some vantage points good for postcard-worthy photos. Walk to Dolac Market and check out the daily offer of local produce. Not a lot of people know that you can also buy some lovely wooden souvenirs there. Continue to Tkalciceva Street, the most lively street in Zagreb and pick a café for a cup of coffee on the terrace, like a local.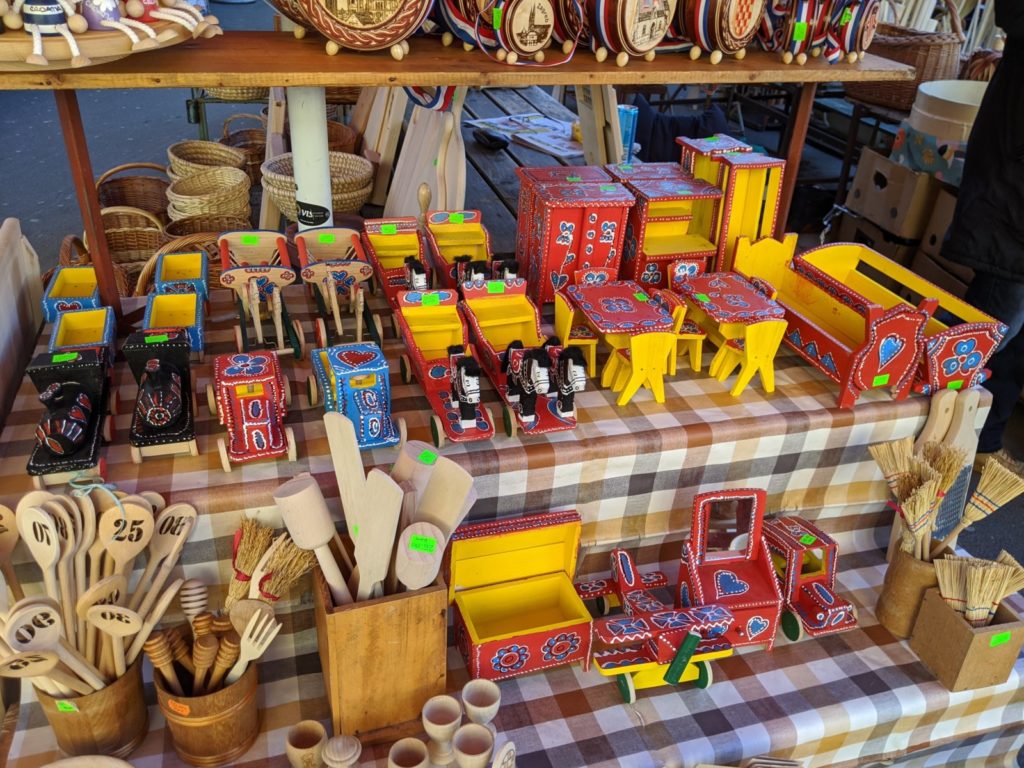 Continue up Radićeva Street to the Stone Gate, the only preserved city gate, now a shrine. Say your prayers if you want to and proceed to one of the most iconic places in Zagreb, St. Mark's Square, home to the beautiful St. Mark's Church, Croatian Parliament and the seat of the Croatian Government.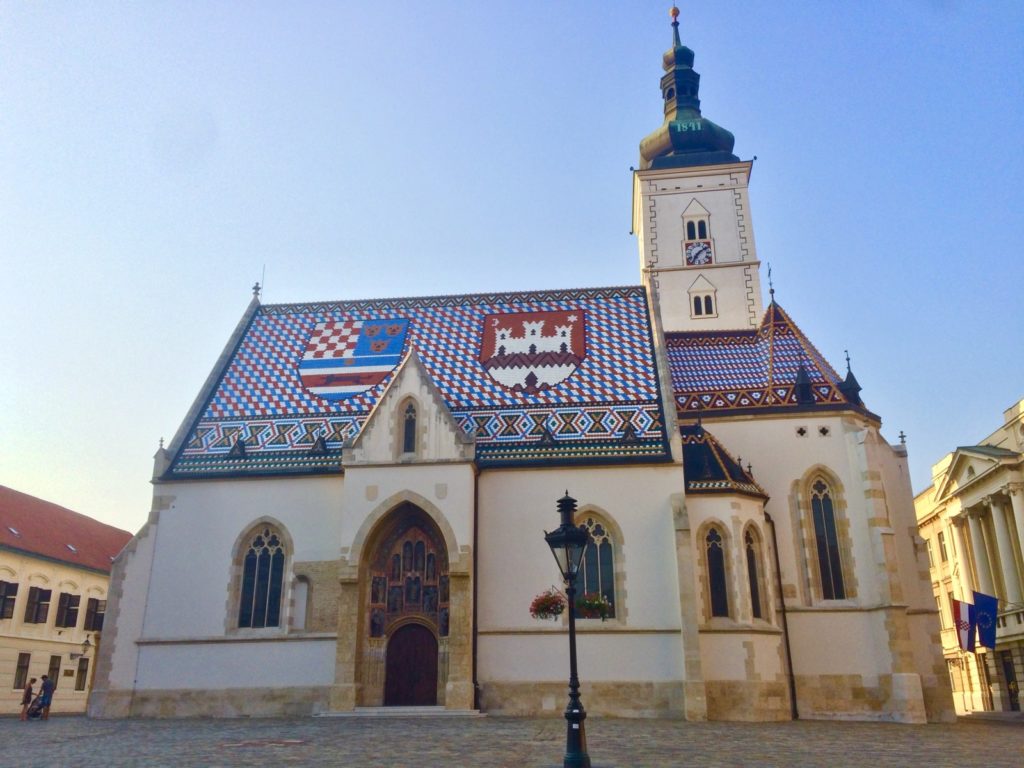 Taking photos of the colorful tiled roof is obligatory! At noon, stand under the Lotrščak Tower and watch the cannon fire. Even if not standing right there, you will hear it, as it fires every day, precisely at noon. The plateau in front of the tower offers a great view of the Lower Town and for even a better one, you can climb the tower itself. If you're up for something different, visit the Museum of Broken Relationships. This kooky museum, dedicated to failed relationships, exhibits personal objects left over from former lovers and family members, accompanied by brief stories. Once done with the museum, walk to the panoramic viewpoint, where you can take great photos of the Cathedral. Walk the beautiful Strossmayer Promenade before you descend from the Upper Town by the funicular next to the Lotrščak Tower. The ride is short but sweet, and takes you to Ilica, Zagreb's busiest and most popular shopping street.
Afternoon
Have lunch at Vinodol, one of Zagreb's most popular restaurants. Then, walk the Lower Town and the Green Horseshoe of Zagreb, a beautiful U-shaped system of parks and squares. Start the walk at Zrinjevac Park, near the central square, and continue further south, away from the city center. Make sure to take beautiful photos of King Tomislav, the first king of Croatia and the imposing Art Pavilion behind it. Take a stroll at the Botanical Garden, before you continue towards the Croatian State Archives and, finally, the Croatian National Theater. Check the Well of Life, the sculpture installed in front of the theater, made by Ivan Meštrović, Croatia's most famous sculptor. Have a glass of wine at Hemingway Lounge Bar or some ice cream served by the spatula at Chocolat 041. If you liked the Well of Life, check the sculptor's Nikola Tesla as well.
Evening
Enjoy dinner on the terrace of Mali Medo Pub on Tkalčićeva Street and enjoy the city's lively evenings.
Morning
There is more to Zagreb than just the city center. Walk south from the main square, past the beautiful green parks of the horseshoe, and once you reach King Tomislav Square and the Main Train Station, walk through Importanne Center to get to the other side of the train station. Continue south and you will get to the Fountains, quite infamous among locals but still a beautiful entrance to the Lower Town district (as opposed to the "Lower Town" part of Zagreb's Old Town from yesterday. Continue further south and you will get to the River Sava. Unlike many other cities, Zagreb does not "live" on its river, so you may be surprised by the quiet nature flanking the riverbanks. Don't get discouraged, there's plenty more on the other side!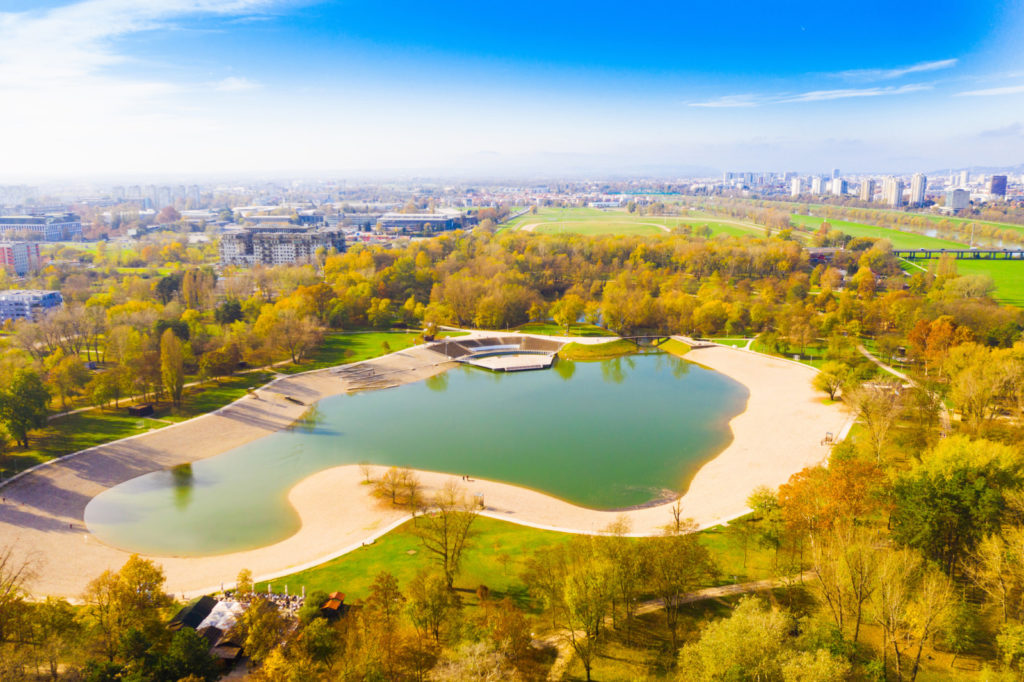 Cross the bridge and visit the nearby Bundek Lake. Welcome to Novi ("New") Zagreb! The lakeside cafés are great places to enjoy a cup of coffee, now that you've gotten accustomed to having coffee Croatian-style. Walk to the Museum of Contemporary Art and admire the modern building and its quirky wall art. Although modern art might not be for everyone, the fact that you can leave via slides is alone worth a visit. You will notice that this area is quite different from the city center. This is where ordinary people live. The streets are wider and there is plenty of green space between the mostly residential buildings. Much of this area was built during the socialist era, so it's not the prettiest, but is a clear reminder of bygone times.
Afternoon
Novi Zagreb is home to, in my opinion, the best restaurant in Zagreb: Il Secondo. The restaurant, although some 200 km away from the sea, serves delicious Mediterranean food in a cozy environment, and never disappoints with its superb service.
If you are tired of concrete, immerse yourself in nature. Hop on tram 7 and ride through Novi Zagreb and the Lower Town to Maksimir Park. The city's oldest park, this is a masterpiece of garden architecture. It consists of an oak forest, meadows, and lakes, and is the perfect place to escape Zagreb's hustle and bustle. The city zoo is located inside the park and blends perfectly with it. Take tram 11 to get back to the main square.
Evening
Treat yourself to some Good Food. This place offers the best street food in Zagreb. And to top it all, it serves fresh cold-pressed juice and smoothies!
Morning
Drive or take the bus to Samobor, a small town 20 kilometers due west of Zagreb, by the Slovenian border. It's a medieval town featuring plenty of baroque architecture, with the ruins of a 13th-century castle perched on the hill above it. This is where people from the city come to unwind. Take a stroll by the shallow Gradna Creek towards the town center and enjoy the sound of cascading water. Once you get to the center, you will realize that Samobor is one of the cutest and most picturesque towns you've ever seen. The bridges over the stream give it a special charm and provide many opportunities for taking photos.
When in Samobor, you must try samoborska kremšnita, a cream cake made of vanilla cream sandwiched between layers of golden flaky crust. The best ones are sold at the U Prolazu pastry shop.
Afternoon
Your newfound carbs need to be spent! If you're feeling adventurous, hike up to the castle or just walk the beautiful forest park under it. It's an hour's hike to a viewpoint above Samobor, but the wonderful views are a fitting reward. Have lunch at Gabreku 1929, a traditional tavern and one of the oldest restaurants in Samobor, serving local food. They take great pride in their mushroom soup.
Evening
After returning to Zagreb, a wine tasting at Bornstein Wine Bar will give you an idea of the sheer quality and variety of Croatia's wines.
Have dinner at La Štruk. They serve only štrukli, a traditional Croatian baked pastry filled with cottage cheese. There are so many varieties: salty or sweet, boiled (traditional), with truffles, peppers, nuts and honey, cinnamon and apples, blueberries… It's the perfect way to finish your stay in Zagreb.
Experience Zagreb!
Zagreb and its surroundings have plenty to offer, from quiet parks to medieval architecture and some great pastries. Reach out to us today, and we'll be happy to help you get to know it for yourself.
Want Some Extra Zagreb Inspiration?
Another of our team from Zagreb published this video in summer 2019.

Originally from a small town in northeastern Croatia, Sanja's life was changed when she went to Poznan in Poland as an exchange student. Surrounded by students sharing their cultures from around the world, Sanja set about visiting her new friends as much as she could, once she returned to Croatia. Unsurprisingly, she picked up the addiction to travel we all share! A licensed tour guide in Zagreb with Master's degrees in both English and history under her belt, Sanja's itchy feet naturally brought her to JayWay, instead of to a classroom job. With her previous experience organizing travel for American premed students, we found Sanja to be a perfect fit, and are sure you will too.