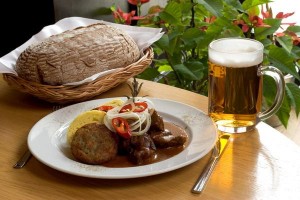 An introduction to Czech food
Prague's status as a cosmopolitan capital city means that there's plenty of variety when it comes to cuisines but it would be a shame to visit Prague and not try any classic Czech dishes. Here's our guide to some things you'll find on the menu at most restaurants specialising in local food.
What to expect
Czech food is probably best summed up as 'hearty'. There's no prize-winning artistry amongst these dishes, and they're best on a cold day and a hungry stomach, and washed down with a half-liter of Pilsner beer.
Soups
Most Czechs start their meal with a soup. Cesnecka (garlic soup) is tastier than it sounds and very popular (though not with your fellow travellers if they didn't partake too), onion soup, potato soup, chicken broth and beef broth also usually make an appearance in the soup section of the menu. Drštkova is one most people will avoid – tripe soup. One of the most mistranslated soups is found on English menus as dill soup, in Czech menus it's 'Kulajda'. There's no direct translation and sure, there's some dill in the soup, but it's added at the end. Put simply, it's a potato-mushroom soup, made with kefir milk and dressed with dill. Modern versions have a poached egg instead of a boiled one. Break the yolk and stir it into the soup to give it a rich silky texture then enjoy.
Knedliky
Many dishes are served with a side of dumplings. These aren't quite like what you might be used to from your own cuisine or Chinese dumplings. There are two basic types, bread dumplings and potato dumplings. Bread dumplings are usually light and fluffy, potato dumplings are quite heavy by comparison. There are variants on the theme such as spekove knedliky contain small bits of bacon and fat and are quite a bit richer.
Bramboračky
These potato (and usually onion and garlic) pancakes are close cousins of latkes. They're fried, an the better ones are homemade. If your bramboračky look too uniform they were probably frozen.
Svickova na smetane
Literally translated it means 'tenderloin on cream'. It's usually made with somewhat tougher beef than tenderloin however (unless you're paying in excess of 250Kc for the dish, don't expect fillet beef). You may see it translated on menus as 'beef in candle-sauce'. The sauce is not, fortunately, made from candles, but a mixture of pureed vegetables and sour cream. Usually served with bread dumplings and a dollop of cranberry sauce.
Guláš
Goulash is traditionally a hungarian dish and there are lots of variations on offer. Goulash soup is a thinner, less meaty version, very similar to what you'd get in Hungary. As a main course, goulash tends to be thicker. The meat in a gulas is usually beef, but you may also find 'Segedinsky Gulas' which contains pork and cabbage, or venison goulash.
Pečená kachna
Roast duck, served with pickled cabbage and dumplings is a grander dish than the first two. Often you'll get a half duck to deal with. The meat is usually still on the bone. Great with a cold beer to cut through the fattiness of the duck.
Vepřo-knedlo-zelo
Roast pork, dumplings and cabbage, this dish is so commonplace its name has been abbreviated to make ordering it quicker.
Smazeny Syr
Fried cheese isn't just the preserve of mozzarella sticks you know! Vegetarian sections of Czech menus will often feature this option. In some places the cheese is just Eidam, a local take on Edam but if you're lucky you'll find a place with a variety of cheeses including hermelin (somewhat like camembert) or Niva, a blue cheese. The cheese is battered and bread-crumbed then fried. Definitely not for the health-conscious and quite the guilty pleasure. Often served with fries and a big spoonful of tartare sauce.
Vepřové/Kuřeci Řizek
Pork or chicken schnitzels are a cultural leftover of the Austro-Hungarian Empire. The meat is usually hammered thin, battered and breadcrumbed then fried. Some places will serve it with fries, others will accompany it with a potato salad – take that option if offered. Tartare sauce is a frequent addition.
Looking for something fancier?
These are very much the basics of Czech cuisine and you will probably have spotted a distinct lack of vegetables. There is a movement that is gathering steam amongst restaurants here to rediscover some of the more adventurous recipes of Czech cuisine from the half century before Communism (and particularly the First Republic era of President Masaryk) and update them with modern flair and it is worth seeking those places out.
Where to go?
For the Czech Classics, we're fans of Kolkovna, near Old Town Square, or either branch of Ambiente's take on the Czech pub, Lokal, but you'll find most of the dishes listed above on menus all around the city. If you're looking to experience some of the First Republic spirit or some modern Czech cuisine, then Malostranska Beseda, on Malostranske Namesti, Krystal Bistro, a couple of tram stops out of the centre from Florenc simultaneously is putting a modern spin on Czech classics, as well as reviving recipes from the pre-WWII era.
Planning a trip to the Czech Republic? We'd love to put together a Czech travel package just for you. Get in touch to find out more!
image credit: Kolkovna Restaurant Group

Charlie is head of marketing at JayWay Travel. A long-term Prague resident, his interests are cooking, eating out, cycling, skiing and of course, travel.