Closing out our series on the Best Beaches in Croatia, Ana takes us to Rovinj, where Croatia meets Italy.
Lone Bay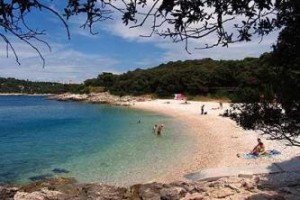 Lone Bay is the most popular town's beach. It is located near many hotels (Park, Eden, Montauro), the yacht marina and is in easy walking distance from the town center. The beaches in Lone Bay are ideal for children and seniors who will enjoy the easy swimming in the calm waters of the bay, playing and sunbathing. Nearby are many sport and tourist facilities, boats and surf boards rentals, as well as several snack bars. Monvi amusement center, which during the night becomes a popular place to go out, with plentiful bars, clubs and restaurants, is also close by.
Cuvi Bay
Cuvi Bay is approximately 3 km from the center of Rovinj and it stretches for 1 km along the coast.
In this coastal part the beaches are very well-attended due to the gravels and pebbles and the easy access to the sea. Other advantages of Cuvi Bay are the number of cafes and other facilites you'll find long the beach. If driving, you can park your car close to Cuvi Bay and it takes only a few minutes to walk to the beach. Or you could come by bike since the whole coast, all the way to the very center of Rovinj, is connected with paths for walkers and bicycle riders that have been put in place and that start at the coast of Lone Bay, close to Hotel Eden.
Planning a trip to Croatia? We'd love to put together a Croatia travel package just for you. Get in touch to find out more!

Ana has managed the Adriatic destinations offered by JayWay Travel since 2007. Her passion for the region's culture and tradition is apparent in her participation as member of a nationally recognized acapella group.