Some of our guests prefer the "freedom of the open road" for getting between cities on their Central & Eastern Europe tours. We are happy to arrange car hire for them with our local car rental partners. But before we do, we like to make sure they know what they're getting into. So here are 10 tips for renting a car in Central and Eastern Europe.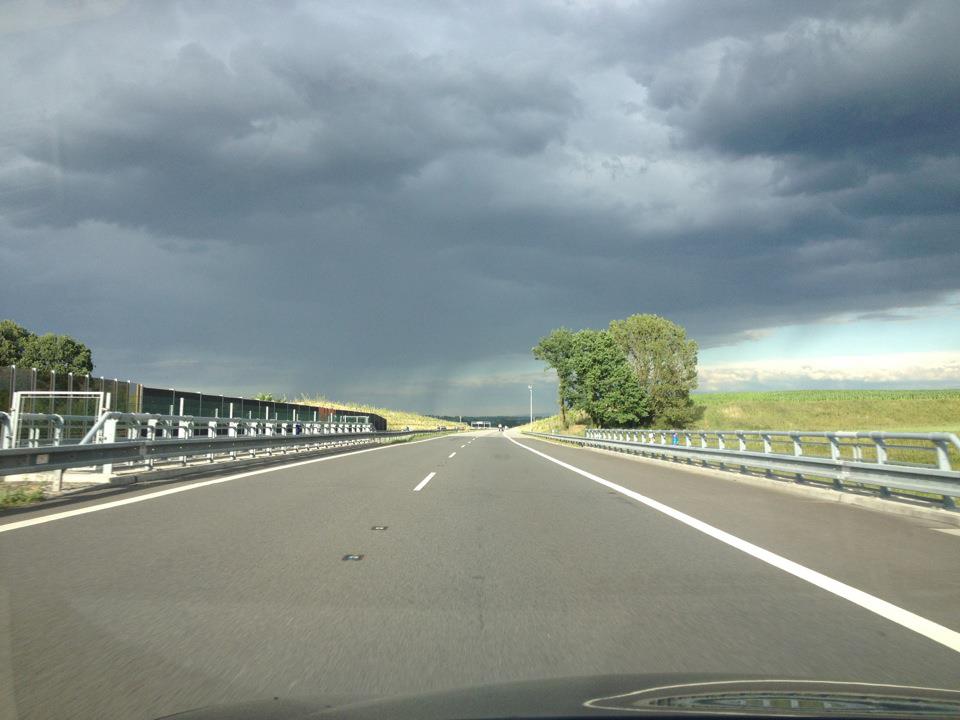 Before you get in the car
1. Navigation
Renting a car in Central and Eastern Europe can be easy enough. Getting around can be trickier. While some rental companies provide maps, their quality and coverage varies. You could rent your car with a GPS navigation unit. This usually includes an additional fee that's often quite high. Ease-of-use of these can also vary.
Other options include your own GPS unit (it needs to run off a standard 12V DC car socket). Or bring a smartphone with some GPS navigation software. I've had good experiences using Sygic throughout Europe, available for Android and iPhone. You download the maps you want, for offline use, into the app. The only thing you don't get if you're offline are live traffic alerts. We suggest using that. It's important to have up-to-date maps too—road layouts change and countries build new roads every year. If plan to use GPS software on your smartphone a lot we suggest bringing a windshield or air vent mount and a car charger. Running GPS software tends to use the battery up quickly.
It's a good idea to get a feel for your route in advance. Use the driving directions on Google Maps or ViaMichelin. Often the times estimated by this software don't take into account delays at border crossings in non-Schengen countries. Be sure to add in some time for these.
2. Take into account drop-off fees
If you're doing a one-way rental always take into account the fee for returning a car in a different city. The fee is even higher when returning the car in another country. The rental company needs to get the car back to its home base. That often involves sending a member of staff halfway across the continent to meet you at the end of your rental. If returning in the same country one-way fees aren't too bad. They mostly just cover admin costs. Dropping the car off in another country? Expect to pay a fee around 1 Euro per km from point of origin.
3. Got a License to Drive?
You may well need an International Drivers Permit (IDP) in addition to your regular driving license. If you hold an EU driver's license, it is valid in the whole of the EU and an IDP is not necessary. If your license was issued by a non-EU country (if you're from the US for example) then to drive in most countries we advise you to obtain one before you travel. You can find information specific to your needs from your national automobile association. You can only get an IDP in your own country. It is usually issued by the automobile association, or a government office. Watch out for fraudulent groups offering IDPs and only request yours direct from your national automobile association or government as applicable. If we arranged your rental in Croatia, the IDP is not necessary to pick up the rental. If you arranged it yourself, then you should check with the car rental company whether they will need to see it before handing over the keys. If you're from the US you can get an International Driving Permit for a $20 fee from the AAA. You can do this by post, or while-you-wait at an AAA office. In our own experience, rental counter staff do not ask to see an IDP, however should you be pulled over by the police you can be fined for not having one and if you're involved in an accident it definitely complicates matters. Some countries are more relaxed about this than others – Italy is usually strict. Our advice therefore is to obtain an IDP anyway, it's cheap and you have the peace of mind that you're complying with the letter of the law.
4. Pickup & drop off
Make sure you know where you're picking the car up, if it's not getting delivered to you. And know where to drop it off at the end of the rental period. Before you accept the car, check over every body panel and the wheels. Reference the pictograms on the hire form for all the scratches, dings and dents to make sure you won't get blamed for any. Unless you have zero-excess insurance, you need to make sure you won't get blamed for any pre-existing damage.
5. Check the insurance details
Check what's covered with the rental company's standard insurance policy. Know the maximum amount you would have to pay in the event of loss or accident. Also find out whether any of your own insurance policies provide coverage. Make sure you're well covered but also not paying twice.
6. Manual or Auto?
When renting a car in Central and Eastern Europe you'll find that most cars have a manual transmission. Automatic transmission cars are sometimes available. But there is usually a significant additional cost, as the lower-category cars are not offered with it. In some cases it can at least double the cost of a rental. Sure you'll get a nicer, bigger car but if you're watching your budget this can easily blow it.
While driving your rental car in Central and Eastern Europe
7. Different rules apply!
Driving laws are different when renting a car in Central and Eastern Europe. For example you can't turn right on a red light. Or you might need to have your headlights on at all times (yes, even in daytime!). Check out the rules of the road before you get behind the wheel. When planning your route, bear in mind that what might look like a major highway on the map may not be. It could be a regular road, with a much lower speed limit (especially when you go through villages).
8. Road tolls
When you're looking at routes online you might find some roads described as toll roads. That doesn't always mean you need to pull up at a toll booth and pay. In many countries where we arrange vacations the tolls are often collected by means of a vignette (sticker) that you purchase, typically at gas stations. This is always when you've just crossed over the border. Occasionally you can buy them just before you leave the neighboring country. Then affix it to the windshield. Usually a rental car will have a highway sticker for its home country. It's worth checking the windshield before you buy a vignette for another country. A prior renter may have left one there with remaining validity.
Ignorance is no excuse and these fees are actively policed (often not long after you cross the border). The fines are much higher than the cost of a vignette. The table below tells you which countries charge tolls, how they're collected and how much they will cost. If a route takes you through a country where you don't plan to stop you might want to consider going around it. It depends on what that adds to your journey. See the table below for details for each of the countries we offer as destinations (updated January 2013).

9. Gas prices vary, and they're higher than the US
Gas prices are higher in Europe, mostly because of taxes. Expect to pay about at least a third to a half more per gallon than you do at home. Prices vary from country to country as well.
10. Parking troubles
Planning on renting a car in Central and Eastern Europe? We always try and find you accommodation that has parking facilities. These aren't always included in the price though. Make sure you take into account the costs of parking your car. Parking restriction signs in cities are often only displayed in the local language. Again, ignorance is no excuse. So make sure you're obeying the parking restrictions by checking for signs in English and if in doubt, ask a local to help. Parking isn't easy to find in the center of historic European cities. Plan ahead rather than relying on turning up and finding something.
11. BONUS TIP — Watch your speed!
Speed limits change rapidly on some roads, with much lower limits in towns and villages than on the open highway. Most GPS units will display the speed limit for the current stretch of road and warn you of impending changes. Google Maps does on Android, and sometimes on iPhone, so a standalone GPS app is a good investment. Having an overseas license while renting a car in Central and Eastern Europe might mean no penalty points but you will incur an on-the-spot fine. Much better to obey the limits and avoid the hassle.
12. BONUS TIP 2 — Don't Drink & Drive
Drunk driving laws differ from country to country. Limits range from zero (in the Czech Republic) to lower than you're probably used to back home. This means if you're planning on stopping somewhere alcohol-related, like a winery, the designated driver will have to abstain.
Still considering renting a car in Central and Eastern Europe?
If your trip is primarily in Central Europe (Germany, Austria, the Czech Republic, Hungary, Poland, and Slovakia) there are plenty of other ways to get from city to city without driving. We can create a trip plan with airlines, rail or bus. Or for door-to-door convenience we can arrange transfers with a private driver. Renting a car in Central and Eastern Europe doesn't always make sense. Conversely if your vacation will be in the southern part of Eastern Europe (Slovenia, Croatia, Bosnia & Herzegovina, Serbia or Montenegro) then the relative lack of efficient public transport can make renting a car a great way to get around.
We'd love to help you plan the vacation of a lifetime. Planning on renting a car in Central and Eastern Europe? Or simply using public transport? We can help you sort out all your options. We have local teams in each city we serve. Please get in touch to learn more. 

A native of New York, Jay has lived, studied and worked in Europe, traveling extensively throughout the region. His broad experiences range from budget to first class allowing him to understand and appreciate travel needs of clients.