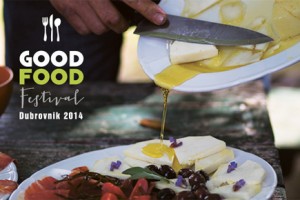 We talk a lot about Croatia's fabulous food but we can't help it. We like food and just thinking about the freshness and flavor makes our mouths water. And now there's a food festival dedicated to all their delicious cuisines, aptly titled the Good Food Festival.
The festival is in Dubrovnik and is the first of its kind. From October 23-26, 2014 you can immerse yourself in good Croatian food via presentations of the various culinary specialties from their region; culinary workshops and of course food and wine tastings. Even better local restaurants will offer specially designed menus during the four-day feast. The fun starts on Stradun and the festival ends with a cocktail show in front of St. Vlaho Church. Among the events being organized are such treats as dinner with a famous chef and an Eat & Walk Gastro Tour.  A PDF version of the program is available to download, with Croatian and English side by side.
Don't feel too left out if you aren't in Dubrovnik this weekend. You can create your own foodie paradise by indulging in oysters (or any other fresh seafood), Pag cheese and anything served with a local olive oil. Whether you choose gnocchi or pasta, chicken or veal, you'll be hard pressed to go wrong if it's accompanied by a wonderful Croatian wine.
Planning a trip to Dubrovnik? We'd love to put together a Dubrovink travel package just for you. Get in touch to find out more!
Photo courtesy of the Dubrovnik Tourist Board

Jacy is a travel journalist who likes art, culture, design and architecture. When not in Prague, she's most likely wandering the streets of other European cities, checking out their neighborhoods, their art and their coffee.