For centuries, Poland was home to the world's largest Jewish community, which for much of its history was accorded nearly equal rights, and protected by tolerant kings. Until the 17th century, Krakow was Poland's capital. Even after the royal seat passed to Warsaw, Krakow remained home to many of the country's most notable rabbis and Jewish doctors, merchants, and craftsmen. By World War II, Jews made up over 25% of Krakow's population, centered in the district of Kazimierz, named for the 14th century King Casimir the Great, who protected Jews and encouraged them to settle.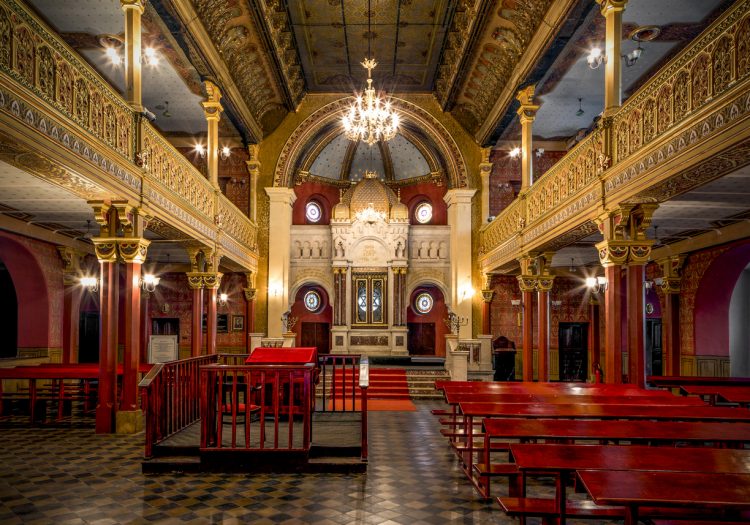 Although far less Yiddish and Hebrew are heard in Krakow today, the city's Jewish heritage remains clear, even beyond Kazimierz's synagogues, graveyards, and kosher restaurants. Even if Krakow weren't just an hour from Auschwitz, it would still draw many tourists, seeking out its history, museums, and synagogues. In late June, the annual Jewish Culture Festival, Europe's largest such festival, draws international crowds.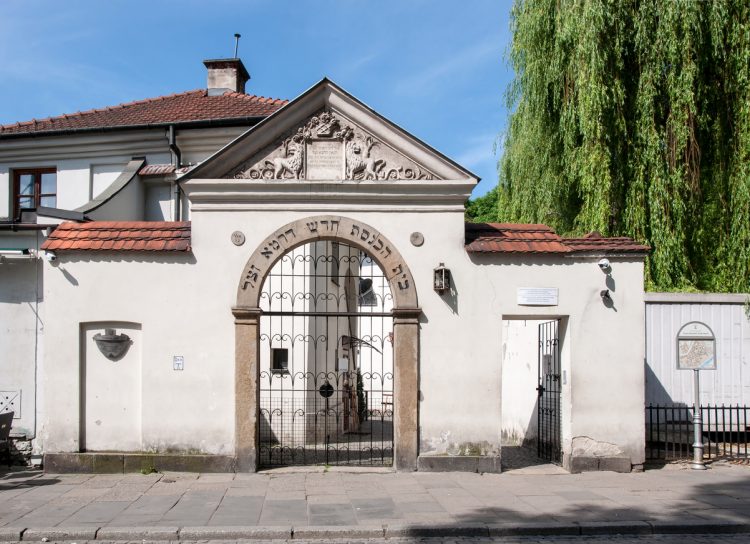 Jump to a section of this article
Kazimierz
Ground Zero for Poland's Jewish heritage is Kazimierz, located directly south of Krakow's Old Town. Once a separate city belonging to the Polish Crown, the branch of the Vistula River that separated it from Krakow has been filled in, and Kazimierz incorporated into Krakow as its most Jewish district. By 1939, it was home to many of the city's 90 synagogues, representing every denomination from Reform to Chabad. Today, seven restored synagogues remain. Although some serve primarily as museums or cultural venues, some synagogues remain active.
While the district's synagogues range from Moorish to Renaissance in style, the district's lovely, preserved architecture extends to its ethnically Polish buildings, such as its town hall, with its ethnographic museum, and its Gothic and Baroque churches. Although much of Schindler's List takes place in the former ghetto to the south, much of the film was shot in Kazimierz, and areas are recognizable from the film.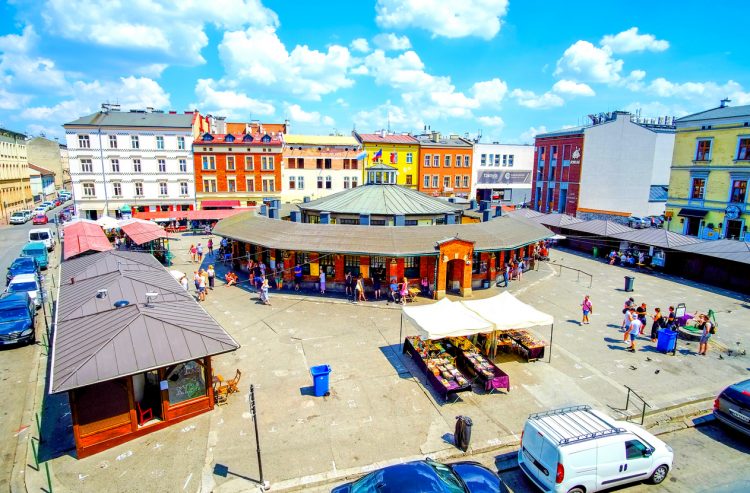 Kazimierz is more than just a museum or film set, having evolved into the city's bohemian district. At night, this district becomes one of the city's most popular areas among locals, thanks to its excellent dining scene, and hip bars. All night long, you'll see people lining up at Plac Nowy ("New Square,") with its rotunda offering zapiekanki. These are open-faced sandwiches made of baguettes sliced lengthwise, then topped with tomato sauce, mushrooms, cheese, and other ingredients, then toasted. One of the city's trademarks, a visit to the city is incomplete without trying this beloved fast food. Watch this video to learn more of these delights and other Krakow culinary treats.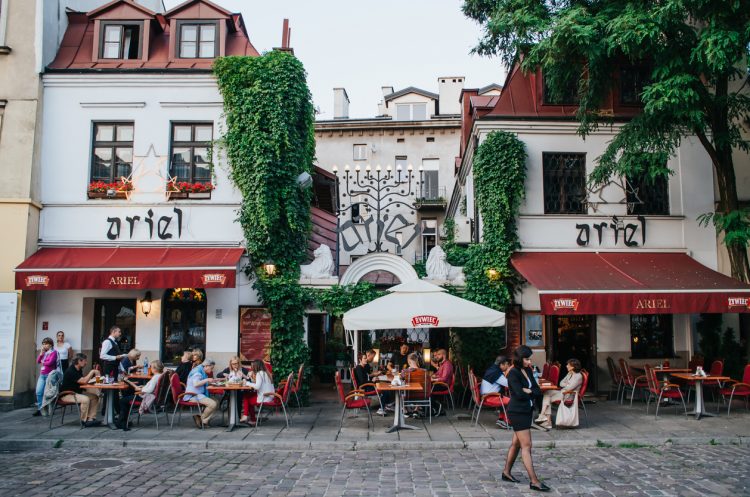 Kazimierz is also home to more traditional cuisine. We'll be happy to give recommendations for places to find traditional Jewish food, such as the Klezmer Hois ("Klezmer House,") which is located in a richly decorated 16th century building that housed Krakow's oldest mikveh (ritual bath) until WWII. Visitors to the Klezmer Hois can enjoy a three-course authentic Galician Jewish meal, complete with a live klezmer band. Naturally, we offer an insightful tour of this district. In addition to visiting Kazimierz's synagogues and cemetery, you'll visit places where Schindler's List was shot, and visit the monument commemorating victims of the Plaszow concentration camp.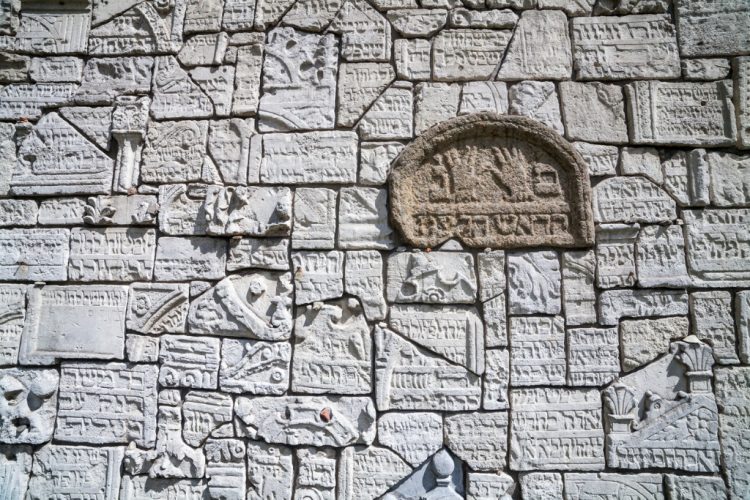 Podgorze and Schindler's Factory
Delve into Krakow's Holocaust legacy by heading south to the Podgorze district, across the Vistula River from Kazimierz. An independent town until World War I, the next world war would transform much of this area into the Krakow Ghetto. Next to the ghetto is the factory Oskar Schindler used to save nearly 1,200 lives.
Created by occupying Nazi officials in 1941 to concentrate Krakow's Jews until they could be sent to camps, the Krakow Ghetto became a place of exploitation, terror, and persecution. The walls still remain in several spots, as well as several memorials and landmarks, such as the ghetto's sole pharmacy. We recommend visiting the memorial built atop the ghetto's deportation site, where a series of empty chairs commemorate the tens of thousands who were loaded onto trains bound for camps.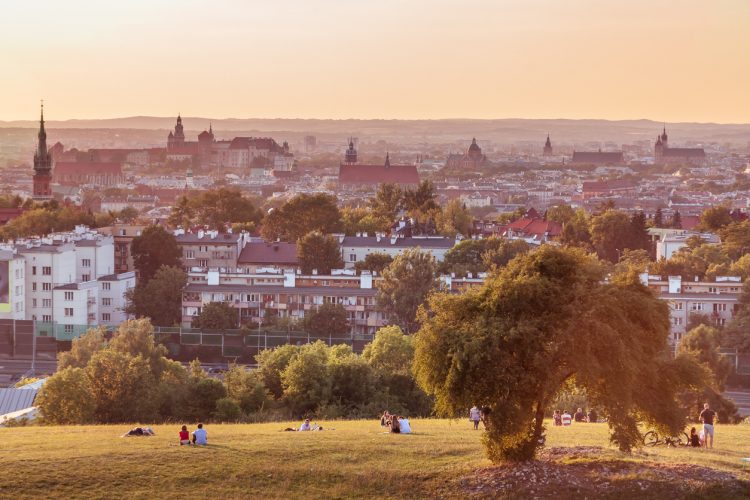 Nearby is the Krakus Mound, a prehistoric burial mound said to be the tomb of Krakus, Krakow's legendary founder. A prime spot for picnickers taking advantage of its views, one of the city's best. Visitors with keen eyes will notice that the neighboring abandoned rock quarry still has fencing and a fake road made of Jewish tombstones, used to shoot scenes in Schindler's List set in the Plaszow Concentration Camp, located at the southern edge of Podgorze. Several hundred yards away is the location of the actual Plaszow Concentration Camp. Although little remains of the camp itself (the land has reverted to trees and grass), there are several four monuments, one quite large, as well as the villa that belonged to the camp's infamous commandant.
Headquarters of the Jewish & Polish Resistance
Podgorze was the center of not just terror and persecution, but also resistance. From here, Jewish resistance groups (occasionally working alongside Polish resistance fighters) launched raids against Krakow's Nazi garrison. Members of Zegota, a Polish resistance program tasked with aiding Jews, was also able to smuggle supplies into the Krakow Ghetto. After the war, several of the Ghetto's Polish neighbors were recognized as Righteous Among the Nations.
The Schindler Factory
Podgorze's most famous symbol of resistance is the enamelware factory that Oskar Schindler set up to take advantage of the ghetto's cheap labor. One of the reasons for the ghetto's establishment was to filter out physically fit Jews who could be used for slave labor, and who were often rented out to private companies. As portrayed by Schindler's List, Schindler was able to use the factory's high priority as a source for military equipment to protect Jews who would have otherwise been murdered. Today, the factory has become one of Krakow's must visited museums, in part due to its permanent exhibition about the city under Nazi occupation. To better explore Podgorze's dark legacy and acts of heroism, we recommend embarking in the private tour we offer of the Krakow Ghetto and Schindler's Factory.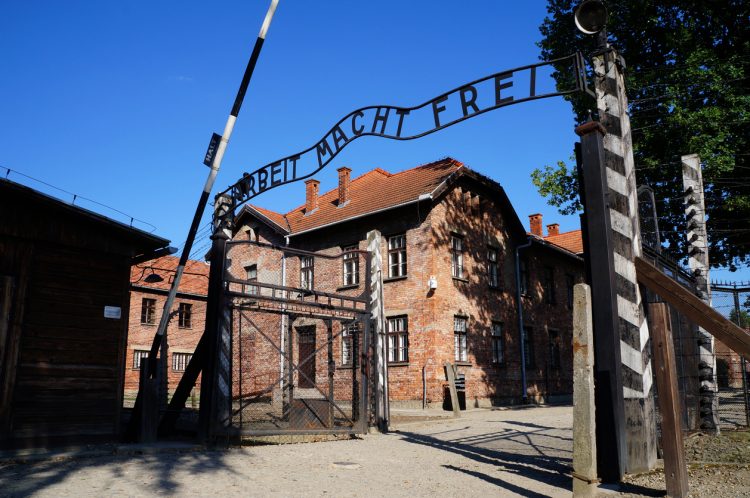 Auschwitz
Auschwitz lies an hour due west of Krakow. In this complex of work and death camps well over one million people, mostly Jews, were murdered. Today, this sobering site has become an important stop for many of Krakow's visitors, as well as a UNESCO World Heritage Site, and the main symbol of the Holocaust. The largest and most infamous of concentration camps, most people visit the two largest portions. Auschwitz I is the main camp and administrative headquarters, located outside the town of Oswiecim, and is infamous for the ironic motto above its entrance, "Arbeit macht frei" ("Work set you free.") Less than two miles away is Auschwitz II-Birkenau, near the village of Brzezinka, distinguished by its gatehouse surrounding a rail entrance, and used both to house workers, and murder large numbers of people.
Both sites are home to hundreds of buildings, as well as preserved walls and guard posts. This place does its best to make the Holocaust's effects clear, and is an emotional experience. We offer tours of Auschwitz, but recommend booking them several months in advance if possible, as they fill up fast. Travelers in Krakow for a limited time sometimes visit the Wieliczka Salt Mine outside Krakow straight after Auschwitz. If possible, we recommend saving the salt mine for another day.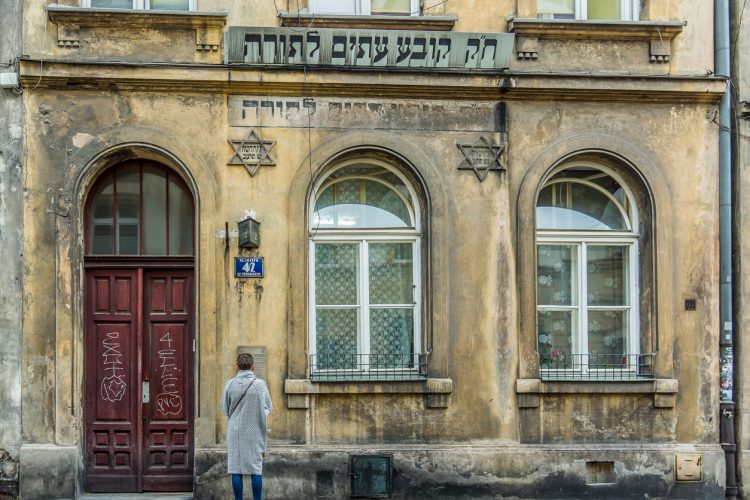 Experience Krakow's rich Jewish heritage for yourself
We'll be happy to help you delve into Krakow's Jewish past, present, and future with a custom tour of Poland and neighboring countries. We can put together a tour focusing on Jewish heritage, or make that just one aspect of a larger tour of East and Central Europe, with the help of our local staff, and guides, drivers, and accommodations that we vet annually, and have worked with for years. From synagogues to camps, restaurants to museums, food to festivals, Krakow's rich Jewish culture and history awaits!

Born and raised in Wisconsin, Kevin lived in Estonia and Finland for several years, traveling widely through Central and Eastern Europe, before settling down in Berlin. Having studied the cultures, histories, and economics of the countries along the Baltic Sea for his Master's degree, Kevin has the knowledge and experience to help you plan the perfect trip anywhere in the region, and also works as JayWay's main writer and editor.