Hungarians have always placed a great emphasis on food, and their cuisine is often declared to be the best in Central Europe. While the locals do like their meat, there's certainly more to eat than goulash. Budapest's population is nearing two million, and a large expat population too, there are plenty of great places for excellent vegetarian and even vegan fare. We asked our local staff for tips and some favorite places, and are pleased to present them to you.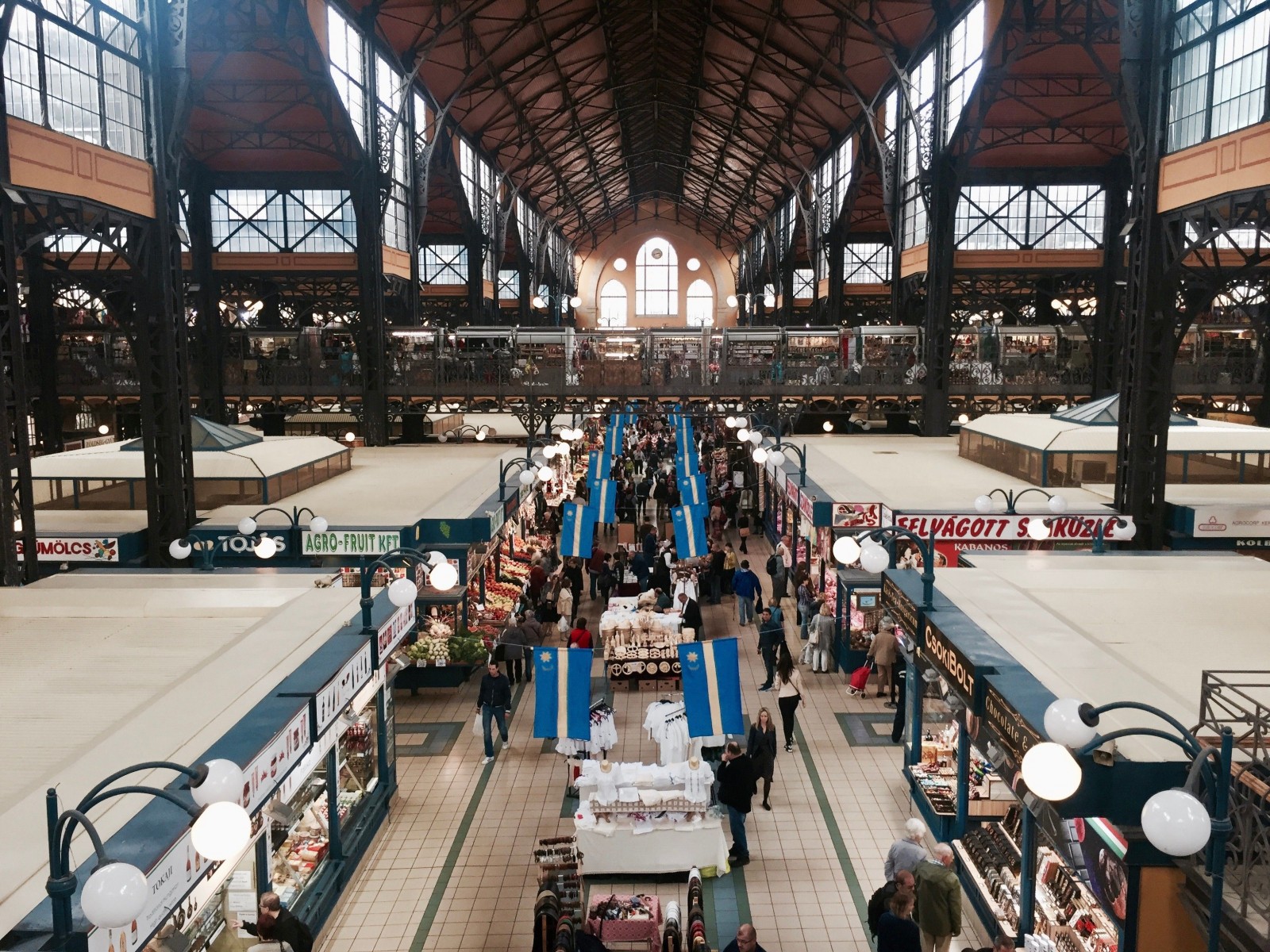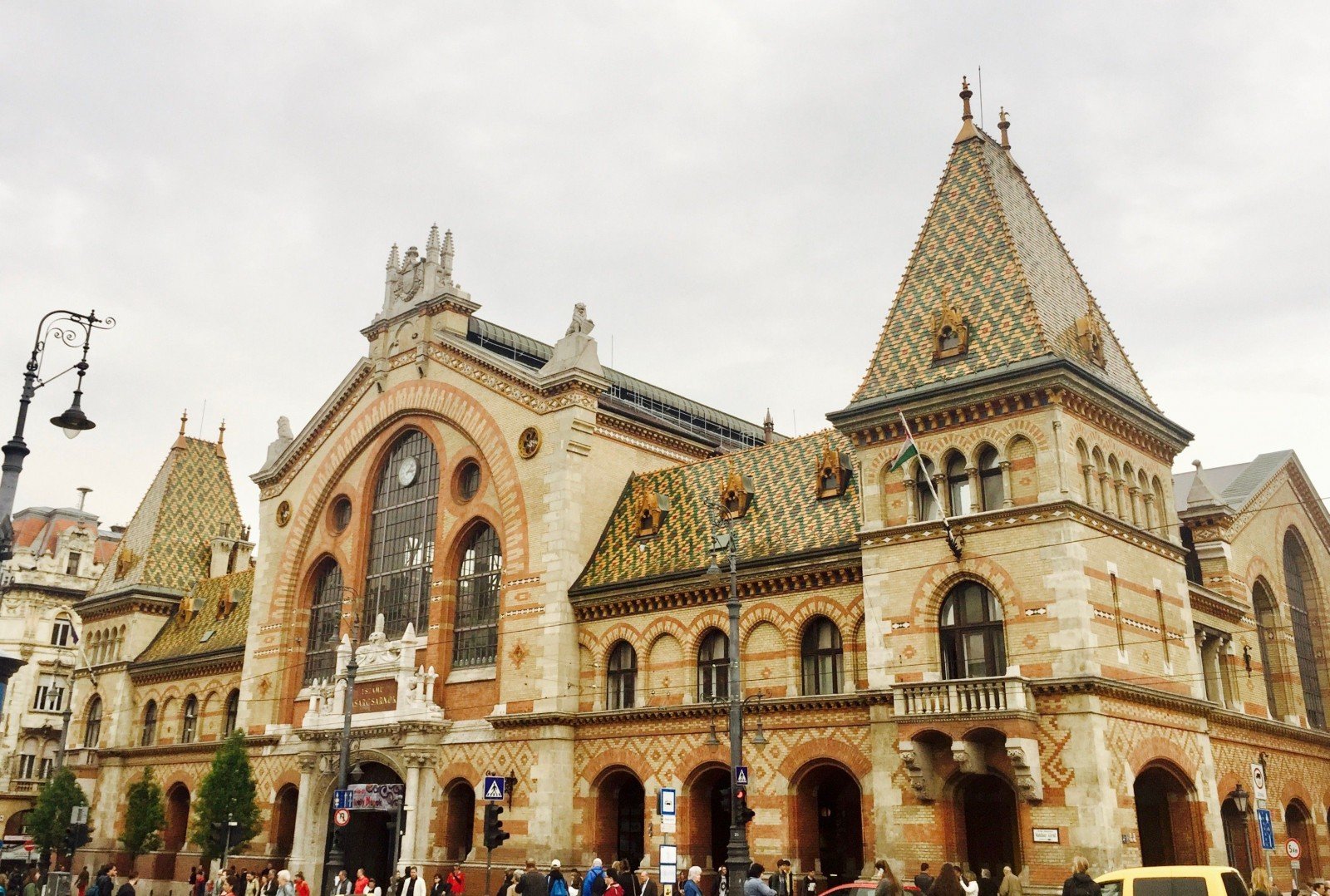 Jump to a section of this article
Great Market Hall
A must for any visitor is Budapest's Great Market Hall. While the city center has attractive, historic market halls full of fresh food and popular treats, the Great Market Hall is the best source for anything from fresh vegetables to pastries, paprika, and souvenirs. This 19th century wonder is worth visiting for its architecture alone, although its wares on offer are worth stopping for a taste or two…or three.
Napfenyes
Napfenyes is a popular vegan restaurant and confectionary, with several locations, including right next to the Ferenciek tere subway station. Even the pizzas here are homemade, using organic, health ingredients such as spelt flour, while the cocktails, lemonade, and various other drinks are made in-house with fresh ingredients.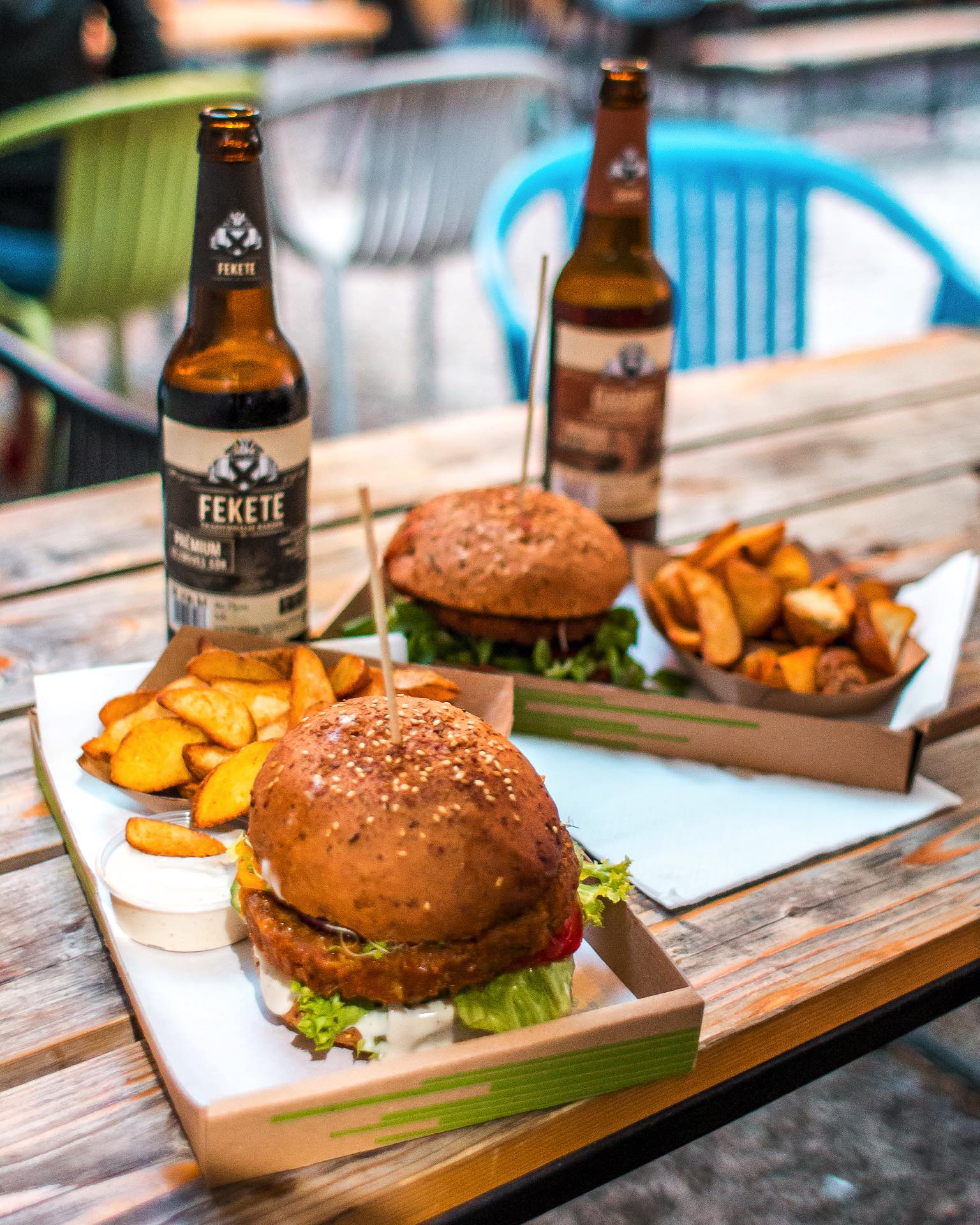 Vegan Garden
Located in the Jewish District, Vegan Garden is a Mecca for vegan cuisine, with its six food trucks, and vegetarian Mexican restaurant. Vegan Garden's food trucks feature vegan burgers and pizzas, pastries, and vegan/paleo ice cream. There are also dishes from Napfenyes, and a sustainable bar. Vegan Garden's food waste is composted in a neighboring community garden. Vegan Garden's quality food and long opening hours make it a great stop when touring the Jewish District, any time of day.
Istvanffi
Located about a block from the Great Market Hall, next to the Kalvin ter subway station, Istvanffi has the city's best vegan burgers, and perhaps the best sauces as well. The interior is pretty unremarkable, so we recommend using this as a takeaway option. Nearly everything is made in-house, from the sauces to the burger buns.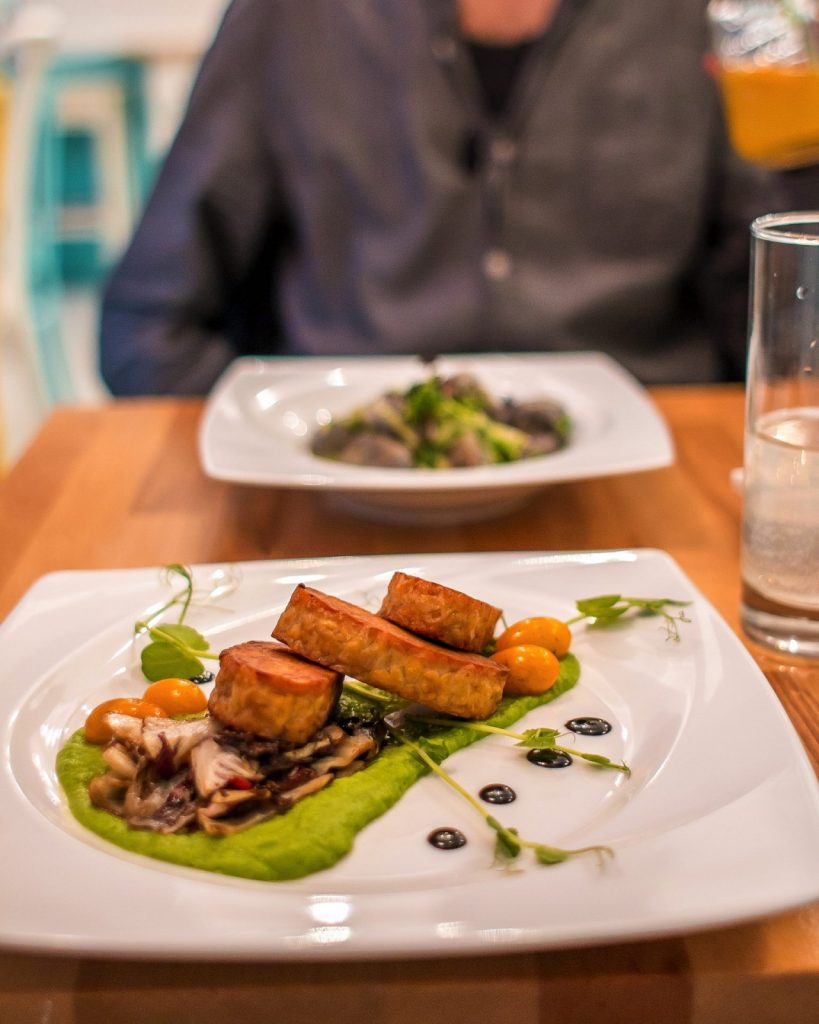 Great Bistro
Located between the US embassy and the Arany Janos utca subway station Great Bistro certainly lives up to its name. Everything here is affordable and vegan, and often gluten- and lactose-free to boot. This charming pastel-colored cafe is run by the family of a local woman who found the restaurant to be a natural next step after making a name for herself as a vegan and lifestyle consultant.
Delibaba
Located in Budapest's very heart, between the Chain Bridge and Saint Istvan's Basilica, Delibaba makes for a perfect light lunch, just around the corner from the Prestige Hotel. Although not fully vegetarian, this deli has good vegan options, and everything is affordable.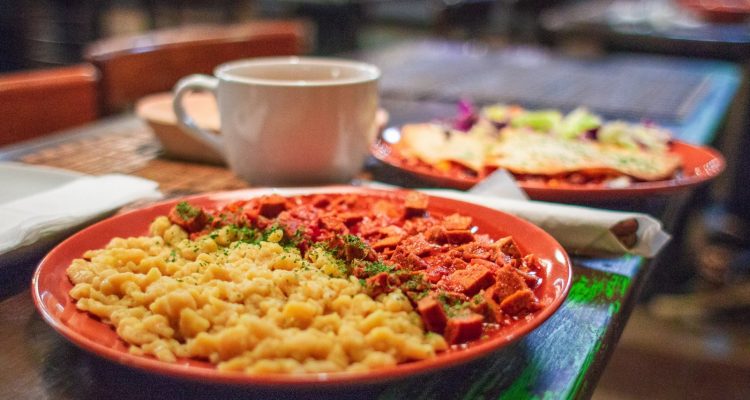 Kozmosz
Located on Andrassy Avenue, across from the House of Terror, Kozmosz is a purely vegan paradise. We recommend the goulash, pictured above.
Nemsüti
A favorite of our local staff, Nemsüti has a number of tasteful, thoughtful, and colorful locations in the city center. The locations directly behind the American embassy and just east of the bridge running to the southern tip of Margaret Island (a few blocks north of the Parliament Building) are the most convenient for tourists. While focusing on vegetarian sandwiches, this local chain has plenty of other options. Many of the dishes are also vegan, and some are also macrobiotic.
A local chain, Hummusbar has 13 locations, nine located in Budapest's very center. With its emphasis on hummus and shakshuka (the founder is Israeli), nearly everything here is vegetarian. This chain's first few locations, in the city center, are strictly vegetarian.
Szamos
One of Hungary's best sources for chocolate and marzipan, Szamos has several centrally-located cafes that offer modern takes on Hungarian food, including vegetarian and vegan cakes. The largest cafe, a block from the parliament, also offers classes in making sweet treats. You'll need to brush up your language skills though as these are unfortunately only in Hungarian at the moment. Fortunately, its small chocolate museum, and ample selection, don't need Hungarian know-how to be enjoyed.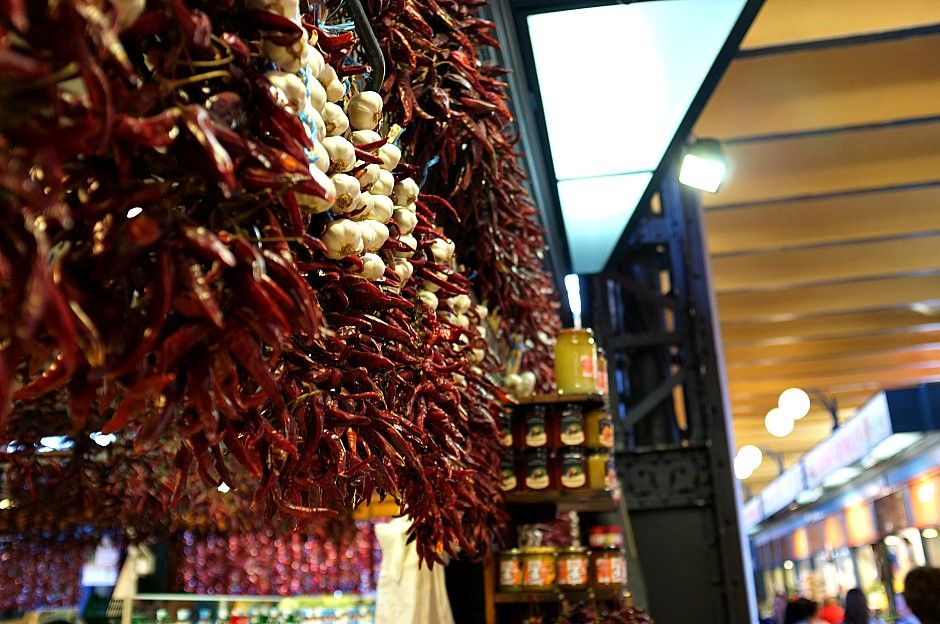 Traditional favorites
If you're looking for something more traditional than pizzas or sandwiches, there are plenty of beloved vegetarian dishes found in typical restaurants. We recommend seeking mushroom or bean stew or paprikash (a common entree with paprika-infused roux) with homemade noodles. Savory Hortobagyi crepes are generally available with a mushroom filling, instead of the usual minced veal. Either way, these crepes are traditionally baked in an oven with a paprika and sour cream sauce, then topped with a garnish. The filling is usually prepared as a stew, and fried with onions or spices. Langos, Hungary's most famous street food (and a common find in festivals as distant as Germany and Estonia) is traditionally vegetarian. This frybread is covered in grated cheese and sour cream, with additional toppings added on.
Whether you're looking for something traditional or cutting edge, tantalizingly savory or memorably sweet, hip Budapest has plenty to offer. Our local staff will be happy to help you find the places and foods mentioned, or new favorites to try.

Born and raised in Wisconsin, Kevin lived in Estonia and Finland for several years, traveling widely through Central and Eastern Europe, before settling down in Berlin. Having studied the cultures, histories, and economics of the countries along the Baltic Sea for his Master's degree, Kevin has the knowledge and experience to help you plan the perfect trip anywhere in the region, and also works as JayWay's main writer and editor.