We arranged a 12 day tour of Central Europe for Jing Lu and her family, taking in Berlin, Prague, Vienna and Budapest. Our guests describe what it's like to travel with JayWay better than we ever could!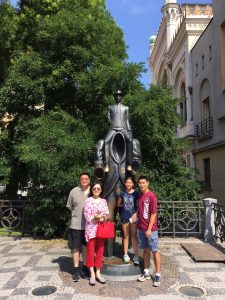 I am so blessed to have found JayWay Travel. Jayway planned our trip and executed it to such perfection that kept me awed during the entire trip. Even before our trip, I was already awe-stricken by the 58-page planning document and friendly laid-out website.
First of all, even though it was dubbed "luxury travel", it wasn't crazily expensive at all. I checked organized tours beforehand and the price quote from JayWay was quite comparable. Besides, with tailor-made itineraries, we could afford to be flexible and have detailed/focused attention; with 4-star, 5-star hotels, we were guaranteed comfort living and fresh, free breakfasts.
Secondly, JayWay was a little dictatorial in a good way. I had no idea about the specifics of the central European countries we were visiting for the first time, but had time/location constraints and some hearsays. JayWay salesman Carmine took the time to explain and convince me about the design of our itineraries. I was also asking for American franchised hotels, but was told local hotels were more cultural, historical, and closer to main attractions. Oh boy, am I glad I listened to expert's opinions!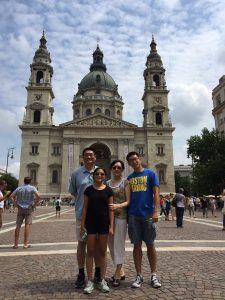 Lastly, certainly not the least, our local contact Marek Bartos, our private tour guides and van drivers were all courteous and punctual, and tried hard to do a good job. Marek was particularly helpful. He gave us a local cellphone to easily connect with him and other parties. He gave us 4 electrical converters which turned out to be essential. Along the way, he gave us many suggestions (restaurants, tours, laundromat, etc), and even organized an outing with other Jayway travelers. With him as a strong local support, I felt much more at ease and happy-go-lucky. Oh, I have to mention one thing: in Prague, my daughter left her cellphone on the counter of a convenience store we passed by and got water. We were probably a mile away before we realized this. Then the lady tour guide rushed us back to the convenience store to retrieve the phone. Imagine how miserable our trip would be had my daughter truly lost her phone!
There were many details I could share about this wonderful 2-week trip, but I don't want to bore readers. In essence, JayWay Travel was just amazing!!!
Planning a trip to Europe? We'd love to put together a Europe travel package just for you. Get in touch to find out more!

Charlie is head of marketing at JayWay Travel. A long-term Prague resident, his interests are cooking, eating out, cycling, skiing and of course, travel.