It's no secret that we love Italy. That's why we've created tailored holidays in Venice as well as our splendid Gourmet Tours. But even seasoned visitors to this land of fun, fine dining and fantastic scenery might not be aware of one of the gems of northern Italy, Lake Iseo.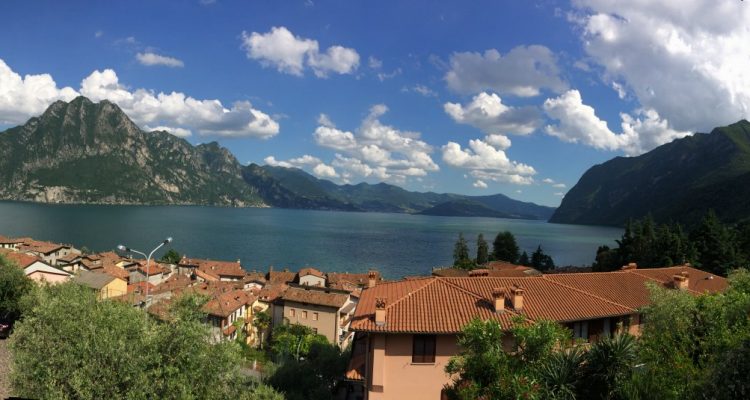 Located about an hour from Milan and 2.5 hours from Venice (a drive that will take you through vineyards and stunning scenery), Lake Iseo is one of the lesser-known lakes in the "lake district" of northwest Italy. It doesn't get as much press as Lake Como and trust us, that's a good thing. This is the perfect destination to enjoy all the famous natural landscapes of the region and its incredible cuisine, without the crowds and the tourist prices.
The Floating Piers
It is exactly this special combination that inspired the artist Christo to create his latest work of art, The Floating Piers, on Lake Iseo. For three weeks in July, 2016, the lake transformed, as 100,000 square meters of shimmering saffron fabric floated on a dock system that undulated on the surface of the lake, allowing visitors to walk between islands and villages along the coast. The event attracted nearly a million visitors and was truly a sight to behold.
While The Floating Piers were only on the water for a short time, Lake Iseo remains a beautiful destination that we'd recommend to all visitors of northern Italy. You can rent boats here, explore Monte Isola, a hilly island in the middle of the lake, and take ferries from one picturesque village to another, crisscrossing the water and enjoying breathtaking views of the mountains which encircle the shore.
Fresh fish and fine wines
This is also an excellent destination for culinary adventures, as the region specializes in fresh lake fish and excellent wine. One of the tastiest regional specialties is home-cured sardines served on polenta. It's smoky, salty and absolutely delicious. There are also several wineries in the region where you can enjoy tours and tastings. The Comincioli winery is about an hour away, while Bersi Serlini, one of the region's finest purveyors of Franciacorta, a sparkling wine made in the methode traditionelle, is just outside the town of Iseo.
Just about all of the towns on the lake are worth visiting, though some are more scenic than others. The larger towns like Iseo and Sulzano are in the south. In the north of the lake you'll find Riva di Solto, Castro and Lovere, all of which are charming.
Lake Iseo truly is a gem of northern Italy. It makes an excellent day trip from Venice or Milan and is also the perfect place for an extended stay. When one of the world's most famous landscape artists chooses a destination, you know it's got to be something special. Lake Iseo certainly will not disappoint.
Planning a trip to Italy? We'd love to put together a Italy travel package just for you. Get in touch to find out more!

Stephan Delbos is an internationally published writer and editor. Born in the US, he has lived, worked and traveled in Europe for a decade. He's fond of oysters and arid martinis.