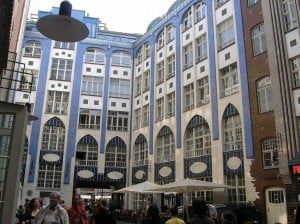 For those looking for a different shopping experience in Berlin, head over to the Hackescher Markt area and the Hackesche Höfe. This complex built by August Endell and with facades dating from 1906 will satisfy you architecturally and provides fun opportunities to window shop.
The website claims it's "Germany's largest enclosed courtyard area." Walking through, it does seem much bigger than it appears from the outside. Since its beginning, the complex has been mixed-use: commercial, residential, and cultural. It was host to a number of organizations including a poet's association and a cinema and its ballrooms were open to neighborhood families and groups. In 1993, it was restituted to the heirs of Jacob Michaels, the majority shareholder, who fled Germany in 1939. It underwent a massive renovation between 1995 and 1997.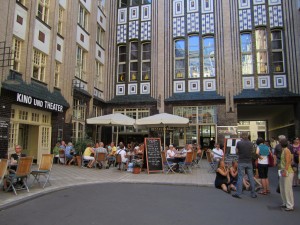 Inside the Hackesche Höfe there is a great variety of shops, most specializing in Berlin-made goods. Ones to note include the art and architecture book shop Artificium which also offers creative cards and postcards; a shop with great raincoats and other outwear; a leather goods store and Freitag Fashion which features designs from Berlin-based designers. Wandering into each individual courtyard surprises with new finds and a bit of tranquility, even amongst all the other shoppers.
Elsewhere in the area, near the Hackescher Markt S-Bahn station there are many restaurants and cafes all with large outdoor seating areas. If you walk down Sophiestrasse, which runs parallel to Hackersche Hofe, you'll find additional shopping opportunities in the form of cigars, whisky, fine wine, jewelry and home decor. If you are ready for a break, you can have a light lunch or fabulous piece of cake at Eisenberg's.
It's best to visit the area Monday-Saturday as many of the shops in the area are closed on Sundays. You will find about half of the shops in Hackesche Hoefe open on Sundays however.
Hackesche Hof: Located between Rosenthaler Platz, Hackescher Markt and Sophienkirche
Planning a trip to Berlin? We'd love to put together a Berlin travel package just for you. Get in touch to find out more!
Top photo: Hackesche Hofe courtyard by Andras Fulop via Creative Commons on Flickr
Second photo: Hackesche courtyard cafe by La Citta Vita via Creative Commons on Flickr

Jacy is a travel journalist who likes art, culture, design and architecture. When not in Prague, she's most likely wandering the streets of other European cities, checking out their neighborhoods, their art and their coffee.