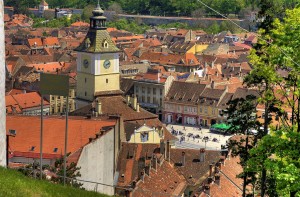 With the peaks of the Southern Carpathian Mountains as a backdrop, the town of Brasov offers historic and architectural delights in town, and great access to three of Transylvania's best castles.
The gothic and baroque city center sits under Mount Tampa and is the best place to experience all Brasov has to offer. The main square of Piata Sfatului is where you'll want to orientate yourself. Here you can't miss the city's most famous landmark, the gothic Black Church. Taking nearly a century to build, the black is a result of fire soot from an Austrian army back in 1689. Inside though it is startling white and has oriental carpets hanging in the naves. In summer, pipe organ concerts are given. Back on the square, the Historical Museum is located in the 15th century Casa Sfatului house. Learn more about the Saxon guilds that ruled Brasov in medieval times.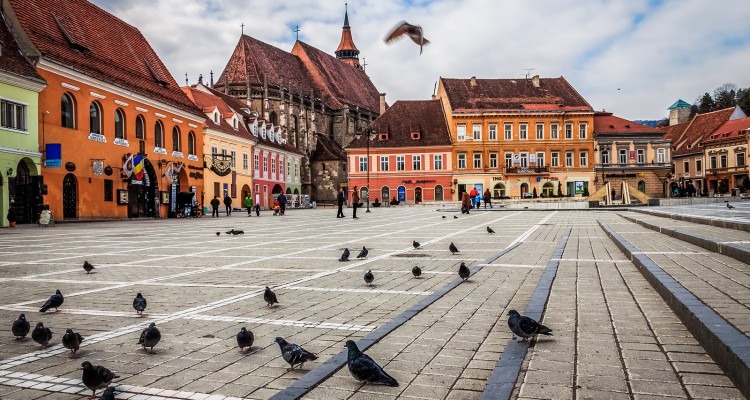 Dining, nightlife and shopping all happen on the pedestrianized Strada Republicii. For a slice of local life head over to the Schei district, through the Schei Gate. When Saxon merchants ruled Brasov from about the 13th to the 17th centuries, this was the only gate Romanians were allowed to use to enter the city. Because Romanians also could not own property within the citadel walls, many lived in this area. The winding streets include some gems, like St. Nicholas Orthodox Church, and at the very edge of Schei nature moves in with the picturesque Solomon's Rocks.
For more history, explore Brasov's bastions. The best preserved of the original seven towers is on Str Cosbuc and houses the Museum of the Barsa Land Fortifications. Discover the black days when invasions from Tartars, Turks and the famous Vlad were regular occurrences for the region. Other sights to see include the Jewish synagogue, Sinagoga neologa which has been beautifully restored and Casa Muresenilor, a quirky family museum in a house owned by Jacob Muresan, the founding editor of the Transylvania Gazette. Here you can discover old photos, newspapers, paintings, 19th century furniture and family heirlooms.
For a nice break, head out to Mount Tampa for a challenging climb with great views at the end. Part of the fortress is at the mountain's foot and nearby is a cable car that will get you to the summit a bit quicker and easier, with the same fantastic views.
Planning a trip to Brasov? We'd love to put together a Brasov travel package just for you. Get in touch to find out more!
List of illustrations
Brasov – Gasper Serrano via Creative Commons on Flickr
Piata Sfatului with the Black Church – Sorin Mutu  via Creative Commons on Flickr
Sinagoga neologa – Gasper Serrano via Creative Commons on Flickr

Jacy is a travel journalist who likes art, culture, design and architecture. When not in Prague, she's most likely wandering the streets of other European cities, checking out their neighborhoods, their art and their coffee.