Whenever any of the JayWay team travel anywhere on our map (or that might end up on our map) we usually send a trip report summary to our colleagues, telling them what we learned. The #JayWayBalkans blogger/press trip that I led last month is no exception. For the first time, we're sharing much of what goes into that here on the blog, along with some photos of the best destinations in the Balkans to make it more interesting.
Albania
It must be tough being Albania—largely cut off from the world outside during the Communist era and still finding its feet to some extent, but the country is blessed with stunning coastline, scenery, food and friendly people.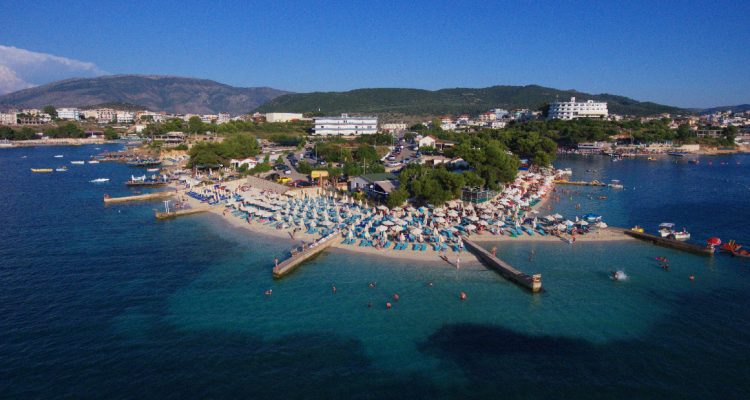 Ksamil
At first sight Ksamil is not the prettiest of small seaside towns, though it's a lot nicer than big-city Sarande. But the whole group felt quickly at home here. This might have been because of the warm welcomes and great food at Korali Beach Bar & Restaurant, which became our regular spot for lunch and dinner. The impressive fish and seafood meals, accompanied by plenty of more-than-decent house white wine, were so reasonably priced that I almost felt guilty when I got the bill. The price/quality ratio here is beyond compare if you're used to prices in the US, Western Europe or Croatia.
Butrint
The big draw with Ksamil, apart from it being a very nice beach town, is Butrint. A guided tour gave us an overview of this fascinating archaeological site, inhabited over the years by the Greeks, Romans and even the Venetians, with each civilization leaving its traces. Some great photo opportunities here.
As you can see above, there are some pretty spectacular ruins. The mosaics live an interesting life, alternately covered with gravel to protect them and then uncovered to allow visitors to see them.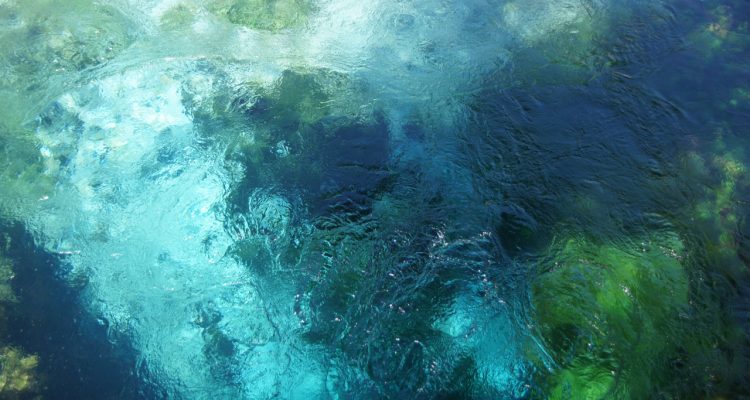 Ksamil to Gjirokastra Transfer
We made a short off-road detour to visit the Blue Eye (pictured above), a natural phenomenon that when viewed from certain angles does look like an eye, due to the deep karst hole from which water flows from an underground source at an impressive rate into a shallow pool. A very pleasant detour indeed, if you're passing this way. We especially liked the over-water seating at the cafe close by.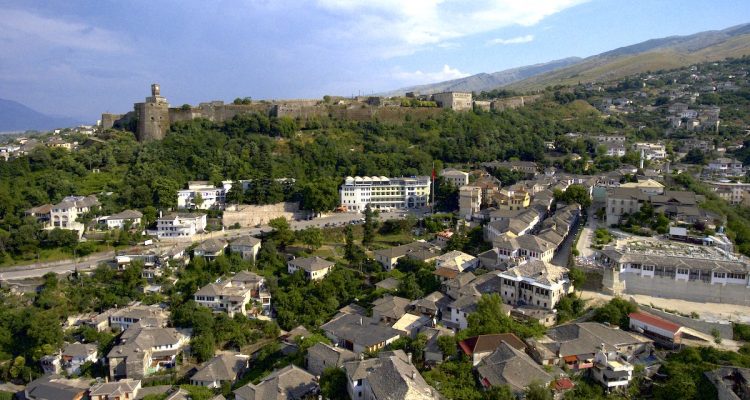 Gjirokastra
It was hot in the stone city, and that heat radiated from the ground, walls and roofs. Although as a UNESCO World Heritage Site it has its interesting aspects, the fortress and the museum contained therein weren't really worth the hike in the oppressive heat. But the ethnographic museum, located in a traditional Ottoman tower house, is worth your time, if you're in Gjirokastra. We ate heartily in Gjirokastra, enjoying lots of pies, cheese and meat, though the vegan in our group also found plenty to enjoy.
Gjirokastra to Tirana Transfer
Unless you take the inland route (which is quite boring) there's no avoiding this being a long day, but the views along the Albanian Riviera road, all the way up to Durres then inland to Tirana, go some way to making it worthwhile.
The goat's milk yogurt with honey and walnuts we had at the Llogera Pass definitely helped and the last taste of seafood-by-the-sea on Albania's Adriatic coast further justified the drive.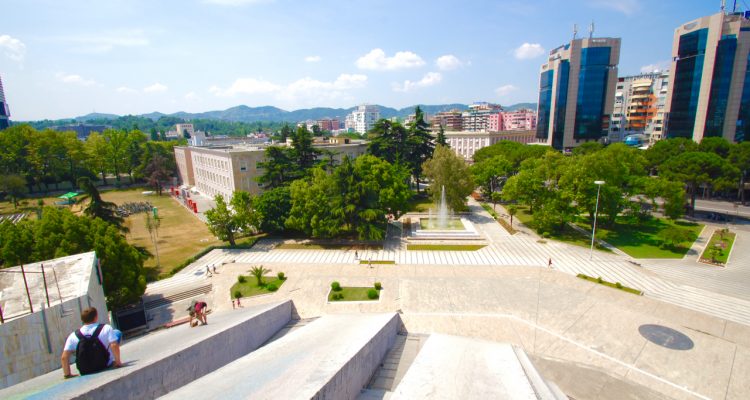 Tirana
Albania's capital didn't disappoint. We made a full day of it and had a walking tour of the city center and trendy Blokku neighborhood followed by a ride on the DajtiExpress cable car. Then we had lunch at the restaurant at the top, and visited the recently opened Bunk'art, a must-see in Tirana that some of the group originally had misgivings about. It's a nuclear fallout shelter built partially into the mountain.
Part of the bunker has been opened to the public as a combination modern art gallery and museum about the Communist era in Albania and the bunker itself. Fascinating stuff. Food in Tirana wasn't much different from that in Gjirokastra, but it was all very tasty. The street food nobody dared to try? Rotisserie sheep's skull. One word of warning—the "Pyramid of Tirana" building is a lot tougher to climb than it looks. And coming back down is much harder than going up.
Kruja Fortress & Organic Winery Day Trip
Much of the next day in Tirana was taken up with a day trip to the town of Kruja, where there's an old bazaar packed with souvenirs, some of which are relatively tasteful, and several shops where women make rugs on large looms. Prices for these are very reasonable considering the workmanship (cheaper than mass-produced IKEA rugs). Besides the bazaar there's a fortress in which sits a memorial to Skanderbeg, the national hero, as well as an ethnographic museum in an old Ottoman house. If your itinerary has you skipping Gjirokastra, Kruja provides much of what you'd be missing.
The highlight of the day however was our visit to the organic winery close to Tirana's airport. This family-run business was created by an agriculture professor to serve as a lab and example to his students. With a high degree of biodiversity within the garden, they grow almost everything they use in the kitchen — meat is brought in from local suppliers. The professor's son showed us around and gave us a lesson in organic farming, The food and wine was delicious and it was one of those places nobody wanted to leave.
Tirana to Ohrid Transfer
There's not much of note between these two places so we didn't make any significant stops, though one member of the group did jump out to take photos of some abandoned locomotives in an Albanian town close to the border. Maybe we'll see those someday! The border crossing itself took an inexplicably long time, seeing as there weren't many cars in front of us, so be prepared to wait at least 30-40 minutes—something Google doesn't take into account in their journey time estimates.
Macedonia
Macedonia, or to use its full name, the Former Yugoslav Republic of Macedonia (FYROM for short), is a much less well-known country than Albania, for better or worse, but it has its share of ancient civilization and some spectacular nature. The reason for the ungainly official name for the country has to do with a long-running (over 20 years now!) dispute with Greece.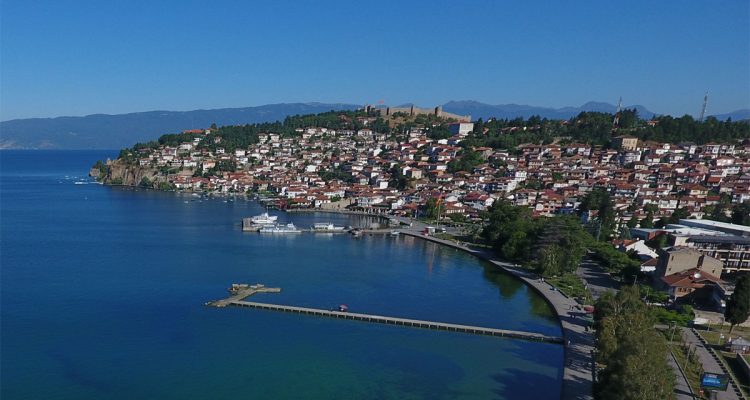 Ohrid
Ohrid is an interesting combination of lakeside resort town with a surprising historical aspect. Many of the visitors on vacation there are locals, and some may have been there for the annual international folk music festival. There's a subtle difference in the cuisines between the two countries, and being land-locked the fish here is freshwater—usually from the lake or nearby rivers. I was glad to be reunited with one of my favorite Balkan foods, ajvar, a delicious chunky puree of grilled red peppers. Our walking tour acquainted everyone with the town and its history, which goes back to the ancient Greeks, as well as providing plenty more photo ops.
St. Naum Monastery, Village Cooking Class
We combined a couple of the excursions we offer into one day, as the village where the cooking class takes place is on the way back from St. Naum. The big deal at St. Naum, apart from it looking nice against a blue sky and having an impressive iconostasis, is the tomb of St. Naum, which because of an underground stream can give you the impression that the saint's heart is still beating inside if you put your ear to it (our guide explained this, otherwise we'd have been rather lost). There are plenty of eateries on the way back to the car park where you can grab a snack (never show up to a cooking class hungry).
We stopped to take a few pictures on the way. Our cooking class was a lot of fun, taking place on the deck of a house in the village, and its kitchen. The group got to make various different pies and other pastries.
Mavrovo Day Trip: St. John Bigorski and St. George Monasteries
We may have overdone it with the monasteries, but at the St. George female monastery we at least had a chat with one of the nuns. This monastery's claim to fame? They make the mitres for all the Orthodox Church's archbishops. Unless you're big into monasteries there's no need to see so many. I snapped that interior shot before the nun noticed, as photography's not allowed inside the church. As with many things sometimes it pays to ask for forgiveness rather than permission.
The lunch we had in Vevcani was some of the best food we ate in Macedonia and almost worth the trip just for that. The springs just outside the town were a nice addition too.
Ohrid to Popova Kula Winery Transfer
This was another drive with limited places of interest to stop on the way but the winery was its own destination. It is recently built, and with a specialization in local/indigenous grape varieties this makes for an interesting overnight, if you have the time. It's also well located for Thessaloniki airport in northern Greece, in case you can get better flight connections from there than from Skopje. It's not a part of our regular itineraries but it was an interesting stop for the group nonetheless. We had a decent but not great dinner, though the wines were all very good. Take one home, if you've got room in your luggage.
Popova Kula to Skopje Transfer
With a limited number of days in Skopje we didn't make any stops along the way, but another winery, Stobi, is an option if you have time.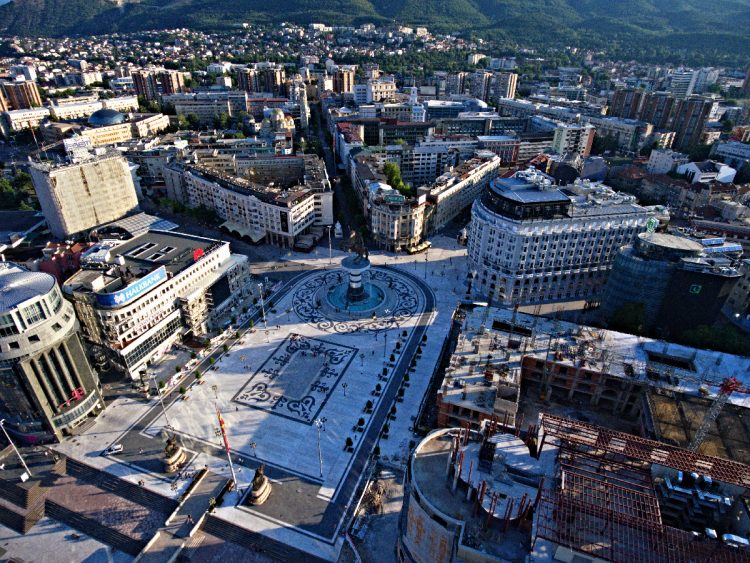 Skopje
With just two nights in Skopje we made the most of our arrival day by taking a walking tour straight after lunch. We learned a lot about the current political situation in Macedonia as our guide told us about the Colorful Revolution. Back in May, people were throwing paint at the city's recently erected monuments, fountains, statues and other grandiose buildings to protest against government corruption. The buildings and monuments in question are all part of the still-in-progress Skopje 2014 project that is very much the brainchild of the then-Prime Minister, who is at the center of a road-building scandal.
Skopje's really a city of two halves these days, the grand new-old buildings close to the main square, and the old bazaar area, which is much more authentic. We also visited the Memorial House of Mother Teresa, a shrine to the controversial Skopje-born ethnic Albanian nun who is due to be canonized in September, 2016. We were all glad to be staying in the very comfortable five-star Bushi Spa hotel on that side, rather than surrounded by the Prime Minister's follies. We can recommend it to JayWay guests wholeheartedly, as it's cheaper than the four-star hotels in the modern center.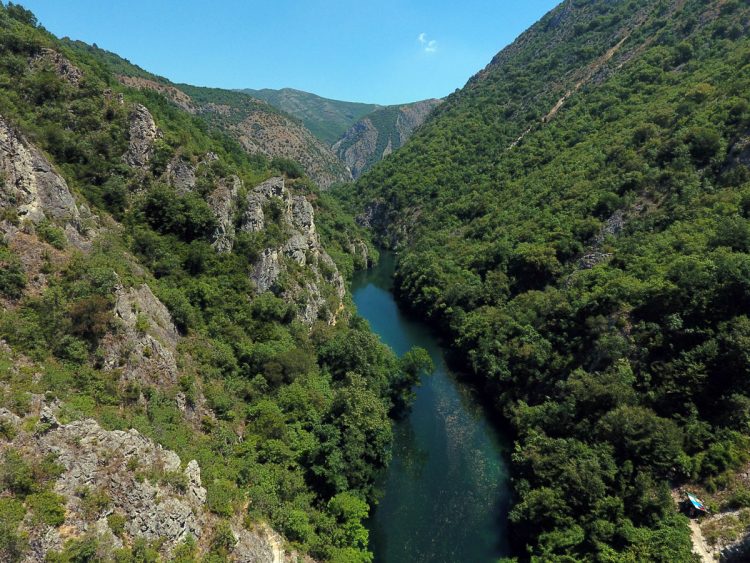 Matka Canyon Day Trip
After the fakery of Skopje, the trip to Matka Canyon was a breath of fresh air. Before going to the boats we made a few minutes' detour to the St. Pantelejmon female monastery. As we'd seen several monasteries before, we kept our visit brief but this is another place where you can chat to the sisters if you want. The boat ride to the Vrelo cave was enjoyable. Bring sturdy footwear for the cave, as it's slippery underfoot, especially considering what comes out of the bats that have made it their home. It was a very nice trip into nature, with fantastic views. Definitely worth visiting any time from spring to fall. We came straight back to Skopje rather than have lunch at the restaurant there, so I can't speak for the food.
The End!
Having visited the countries for the second time, at a slower pace than the last visit, and with some excellent guides, my appreciation for them has greatly increased along with my knowledge. I have no hesitation in recommending them as vacation destinations for anyone who wants to go beyond some of the more obvious destinations to experience places where being a camera-toting tourist is a novelty and your visit is truly valued. These aren't the easiest places to navigate on your own due in part to transport infrastructure issues but the cost of private drivers is so reasonable that this kind of experience is affordable to people who wouldn't dream of traveling like this in Western Europe. Once you're there it's hard to spend a lot on things like eating out and admissions.
Planning a trip to the Balkans? We'd love to put together a Balkan travel package just for you. Get in touch to find out more!

Charlie is head of marketing at JayWay Travel. A long-term Prague resident, his interests are cooking, eating out, cycling, skiing and of course, travel.