Prague is a city that loves beer. In the heart of Bohemia, just a few miles from the birthplace of golden lager, the City of 100 Spires might be better known as the city of 10,000 pubs. You'll find drinking establishments on just about every street here, but when the summer rolls around, locals like to imbibe their brew in Prague's best beer gardens, where welcoming pub meets nature.
Once you get out of the city center, most neighborhoods will have their own humble version of the beer garden, but there are a few beer gardens that stand out for their atmosphere and their views. Here are our top 3 choices for Prague's best beer gardens.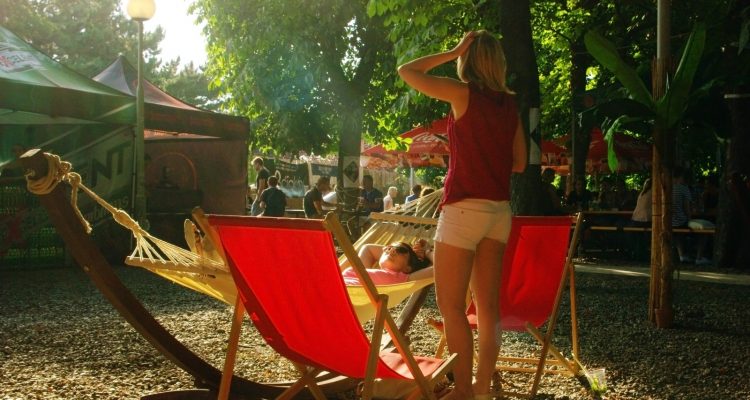 Riegrovy Sady Beer Garden
A large beer garden complete with a stage, ample seating under shady trees, grills with burgers and sausages, and several bars with a range of beers, soft drinks and cocktails, Riegrovy Sady is located in Vinohrady, an attractive neighborhood on the eastern side of the Vltava River. You'll find it in a large park that offers wonderful views over the city, making the beer garden a great destination for a walk when the weather is warm. In past years Riegrovy Sady beer garden was the place to be whenever there was a large international sporting event taking place. Projector screens and crowds of partisan fans made sure of it. A change of management, and layout means that as of May 2021 it remains to be seen if this tradition will be resumed. But Riegrovy Sady is fun at any time, even if there's nothing much more happening than locals lounging at picnic tables, enjoying cold drinks and one another's company.
Riegrovy Sady Beer Garden; Vinohrady neighborhood; Closest metro: Jiřího z Poděbrad
Hospůdka Na hradbách
Though it's a little outside of the center of Prague, Hospůdka Na hradbách, which means "Bar on the Castle Walls," is definitely worth a visit, for the cold beer, tasty food from the Balkan grill and excellent views. You'll find it perched high above the city, as the name suggests, on the walls of Vyšehrad, Prague's original castle settlement. If this castle complex isn't yet on your to-do list it should be, because along with a beautiful church and atmospheric graveyard, there are plenty of gorgeous green spaces and parks. The beer garden is located on the east side of the complex, offering views across a valley to the old city walls and the Vinohrady and Vysehrad neighborhoods, with the unmistakeable TV Tower int the Zizkov district a prominent feature of the skyline. There isn't much natural shade here, so try to get a table under one of the umbrellas if the sun is beating down. When you're heading home, you can go back to the metro or walk down the hill toward the river.
Hospůdka Na hradbách; Vyšehrad neighborhood; Closest metro: Vyšehrad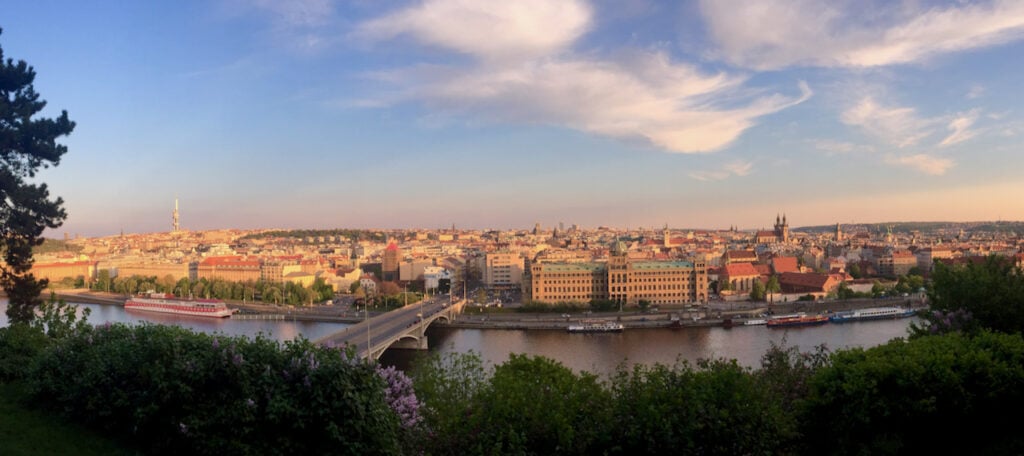 Letna Beer Garden
On the west side of the Vltava river, not too far from Prague Castle, the Letná Beer Garden is a legendary summer spot. This is probably the best-maintained of all Prague's best beer gardens, so you'll find a well-tended array of picnic tables arranged under trees, as well as some playground equipment for children, a pétanque court, and a bar and grill. Perched on a hill high above the river, the beer garden offers excellent views over the city and beyond. It's the perfect place to stop after a day of touring the castle, as it's located only about a ten-minute walk from the castle grounds. Surrounded by a large park and close to the famous metronome monument, Letná Beer Garden couldn't be more convenient. Even if you're just in the mood for a glass of juice or water, it's a must-see spot that will give you a new point of view on the city.
Letná Beer Garden; Letná neighborhood; Closest metro: Hradčanská or Vltavská
Planning a trip to Prague? We'd love to put together a Prague travel package just for you. Get in touch to find out more!

Stephan Delbos is an internationally published writer and editor. Born in the US, he has lived, worked and traveled in Europe for a decade. He's fond of oysters and arid martinis.