In May 2015 we put together a multi-blogger 10 day trip in the Baltic countries of Estonia, Latvia and Lithuania. Hopefully from the posts that are linked below and the various photos and videos to be found using the #JayWayBaltics hashtag on Twitter, Instagram and Facebook it should be easy to see just how much fun we had on this trip.
Here we have collected all the posts contributed by the bloggers who took part in the #JayWayBaltics blogger trip in May 2015, as well as any we produced ourselves.
The bloggers we had the pleasure of hosting were:
Tawny Clark and (Captain) Christopher Staudinger of Captain and Clark
Laura Longwell of Travel Addicts
Cacinda Maloney of Points And Travel
Craig Martin of Indie Travel Podcast
Calin O'Neil of Travel Yourself
Jump to a section of this article
Tallinn
Tallinn was the first stop on our trip and our activities there included a city tour that took in the Old Town and the Bohemian Kalamaja neighborhood and a day bog-walking in a national park. We even fitted in time to keep a promise to another travel blogger, Amber of With Husband in Tow and try the Personal Jesus at Tallinn's Depeche Mode themed bar.
Four Full Days in Estonia – Craig, Indie Travel Podcast
Covering our time in Tallinn and Parnu, Craig's podcast includes snippets from our walking tour, bog-walking, beaver-eating and then a relaxing time at the spa at Hedon Spa Hotel in Parnu.
Tallinn, Estonia – Vibrant Capital on the Shores of the Baltic Sea – Cacinda, Points & Travel
Cacinda's photo-essay format post tells the story of her time in the Estonian capital, as well as on the bog-walking trip. Cacinda also wrote a review of the luxury boutique Schlossle Hotel where she stayed on this trip.
Bog Walking in Estonia – Laura, Travel Addicts
Laura concentrated on the day trip out from Tallinn to a national park where the group went bog walking. Ever been? It's rather good fun! Laura stayed at the five star Hotel Telegraaf while in Tallinn, which she reviewed here.
Surprises in Estonia – Tawny & Chris, Captain & Clark
An illustrated overview of the time we spent in Tallinn, from the walking tour that kicked off our stay to our last meal in the city at the cool Farm restaurant. To make it even easier for you to get a feel for our time Tallinn, they even put together a 2 minute video. Click through to the post to watch it.
Eating Rodent for Lunch in Estonia – Tawny & Chris, Captain & Clark
In this post Tawny and Chris focused on the meal they were treated to on the bog walking day when one of the group feasted on her national animal. They weren't told what the mystery meat was till they'd all eaten some!
Bog Walking in Estonia – Cailin, Travel Yourself
The bog walking escapades clearly made an impression and Cailin's video shows you what it's like to don bog shoes and get out onto the squishy stuff.
Parnu
We left Tallinn behind but rather than travel straight to big-city Riga instead we stopped for the night to relax and unwind in Parnu, an Estonian seaside resort and spa town.
Spa by the Sea in Parnu, Estonia – Laura, Travel Addicts
Laura tells the story of our time as guests of the Hedon Spa & Hotel in Parnu
Riga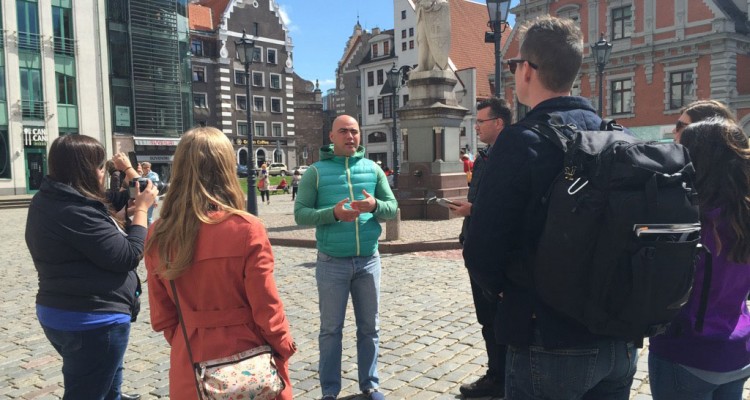 Our two full days in Riga were packed with things to do, from an all-encompassing Old Riga, market and Art Nouveau district tour as soon as we arrived to the late night beaver safari – kayaking on the river and city canal. We were joined for our activities in Riga by Heather of Ferreting Out the Fun.
Top 7 Things to do in Riga – Cacinda, Points and Travel
Short on time in Riga and don't want to miss the best of the city? Cacinda's got you covered with this varied top 7.
Riga's Surprising Art Nouveau Heritage – Laura, Travel Addicts
Riga has a staggeringly large collection of art nouveau buildings. A strong economy and a surge in house-building just outside the walls of Old Riga coincided with the popularity of art nouveau. In a short 20 year period hundreds of examples of art never architecture were constructed. Laura tells us all about it.
Night Kayaking in Riga – Tawny & Chris, Captain & Clark
It might have been a little chilly that night in Riga but that didn't stop us having fun on our beaver safari. Getting into a kayak together can be a test for any couple but Tawny & Chris came through with flying colors. They were the first boat back by a country mile. I put that down to Chris's nautical training.
Riga and Rundale: The Latvia Podcast – Craig, Indie Travel Podcast
Craig's rundown of the Latvian portion of our trip, from arriving by luxury bus to Riga, the country's capital city and the largest city in all the Baltic states, to leaving Latvia with a stop at Rundale Palace along the way.
Best Tips for Visiting Riga – Cailin, Travel Yourself
Cailin's enthusiasm for Riga is infectious and she's packed her top tips for visiting the city into a minute-long video with this accompanying blog post.
Hill of Crosses, Lithuania
We stopped first at Rundale Palace in Latvia, then at the famous Hill of Crosses over the border in Lithuania on our private transfer from Riga to Vilnius.
Lithuania Restores Its Old Rugged Cross For A Crown – Cacinda, Points and Travel
Cacinda was deeply moved by our visit to the Hill of Crosses.
Vilnius
Our final stop was in the Lithuanian capital, considered as the quirkiest by most in the group. We think that's a big part of the charm. We certainly had a good time there, what with a city tour from an expert guide, a hot air balloon ride and a wide variety of dining experiences – from down-home country cooking through to fine dining and a Modern Lithuanian cooking class.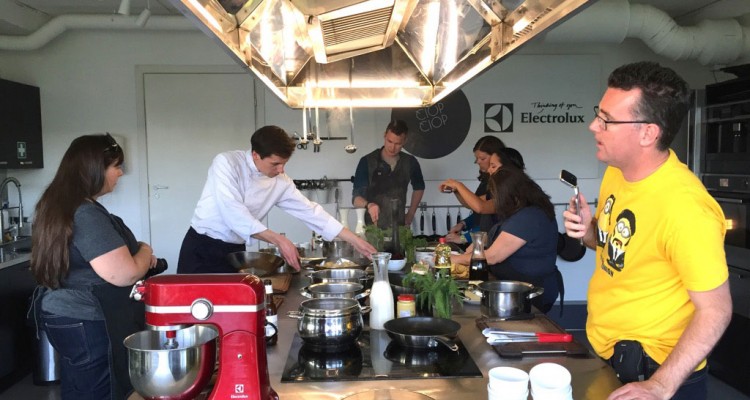 A Lithuanian Baptism – Laura, Travel Addicts
Laura's referring to the surprise ceremony that came at the end of our hot air balloon ride. We chose to have our balloon ride over Trakai Castle and the surrounding lakes. You can also opt to fly over the city center of Vilnius.
Hot Air Ballooning For The First Time – Cailin, Travel Yourself
Videographer Cailin shot a gorgeous video of the hot air balloon ride we took. We dare you to watch it and not want to go up in a balloon right away!
Baptized by Earth, Fire and Wine near Trakai Castle in Lithuania – Cacinda, Points and Travel
The hot air ballooning excursion made a big impression on everyone and Cacinda shares her impressions of the day along with some gorgeous photos.
Top Things to do in Vilnius – Tawny & Chris, Captain & Clark
Tawny and Chris didn't know what to expect of Vilnius. We like to think that we showed them many of the different facets of this captivating city. See for yourself with this eclectic Best Of list.
Quirky VIlnius – the Lithuania Podcast – Craig, Indie Travel Podcast
Craig and his wife Linda had been to Vilnius once before, several years ago on a backpacking trip. This time we got to show Craig how the city has changed (for the better!) as well as showcasing some of the finer side of life in the Lithuanian capital and made Linda who was back home studying, rather envious.
The Stikliai Hotel Welcomes You Home – Laura, Travel Addicts
Laura's write-up of her stay at the 5 star boutique Stikliai Hotel, one of our most popular choices in Vilnius.
Hot Air Ballooning over Trakai Castle – Charlie, JayWay Travel
A video documenting our flight over Trakai Castle – the bloggers were all in the red balloon!
Guest Posts on the JayWay Blog
Food of the Baltics – Laura, Travel Addicts
We made sure that our team of bloggers ate a locavore diet on the trip and here Laura showcases some of the delights in store or you if you take a tour of the Baltic States.
We'll be updating this post with more articles from our participants as they publish them.
Planning a trip to the Baltics? We'd love to put together a Baltic travel package just for you. Get in touch to find out more!

Charlie is head of marketing at JayWay Travel. A long-term Prague resident, his interests are cooking, eating out, cycling, skiing and of course, travel.