Most people tend to visit Kotor on a day trip from Dubrvovnik, which is fine if you're pushed for time. If you have a few extra days, it's worth a couple of nights stay, in our opinion, so you can fit in a couple of our favorite tours there…
We recently had the chance to test out a couple of tours offered in stunning Kotor, Montenegro by our new partner there while staying in Kotor for a few days for a research trip. We have added a few more accommodation options in Kotor too as a result. Here's how to fill a day in Kotor: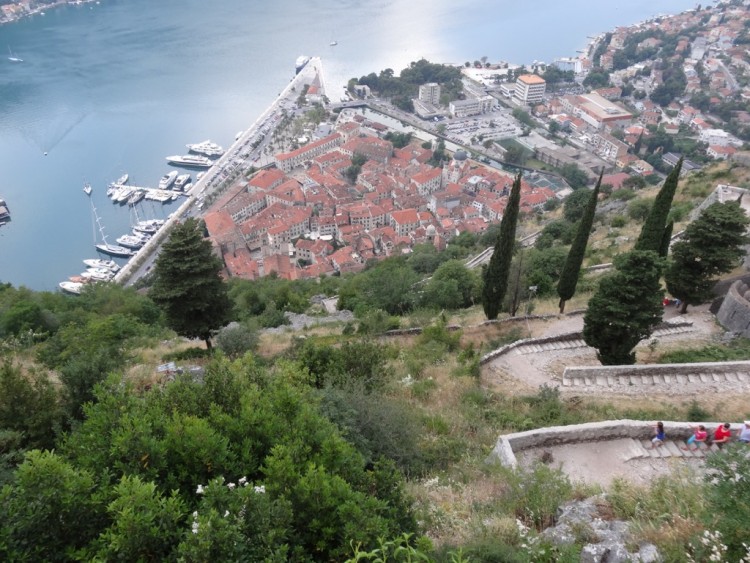 Jump to a section of this article
Musseling In
First off – it's "All About the Mussels"… After meeting our boat and guide at the pier near Old Town at midday we headed first to the small man-made islet known as Our Lady of the Rocks opposite the small town of Perast on the coast of the bay, on which stands a Roman Catholic church of the same name. Our guide Nina showed us around the church and adjoining museum. Legend has it that the island was created by seafarers grateful for their safe passage home depositing rocks on this spot to add to the islet. This legend continues in other forms to this day with gifts to the church of various items from ships or simply sailor's possessions which can be seen in the museum.
Time for Lunch!
By now we were starting to get hungry. A short boat ride and we were at the mussels farm. Here our guide told us how mussels are farmed. I got in (or should that be on) a small kayak and paddled around the 'field' where the mussel socks/ropes are strung. Upon my return to dry land the mussels for our lunch were being prepared. The classic Montenegrin preparation is very straightforward but this served to highlight their freshness. Plucked from the sea just minutes before, with shiny clean shells, the food-miles traveled by these sea creatures could be measured in feet. The mussels were served with some local wine at a wooden table. We devoured the huge pile of them, chatted with our guide a while then headed back to the old town to rest before the exertions of our second tour. If you're not into mussels, fish is offered. Non-seafood options are available if requested in advance.
Climbing High
By far the most striking thing about the old town of Kotor are the city walls which have a total length of nearly 3 miles. The walls are a significant part of the reason for the old town of Kotor and surroundings being on the UNESCO World Heritage List. You can walk around the walls, for a fee of €3, payable 8am – 8pm at the North Gate. The walls are 'open' 24 hours though. We started our ascent, with the aim of seeing "Kotor above the clouds", outside the walls however. We were led by Nina who was also our guide for the earlier boat trip. Setting off at 6pm we climbed up to the only habitation on the hillside, a small family run farm. Here we sampled wild pomegranate juice and goat cheese. This was our reward for a climb which took us over an hour. After our rest we continued to the walls themselves and walked down one side of them, learning about the history of the town's fortifications. Nina told us about the churches that are to be found on it and the various civilisations who have conquered the town. Expect to take a lot of photos from the vantage points high up on the walls. Vertigo sufferers should probably skip this one!
Interested?
Both these tours are available daily throughout the summer season. If you're staying at least one night in Kotor then we suggest both, as you'll see plenty of the Bay of Kotor itself on the Mussels tour then enjoy the stunning views of the city from above. If your time in Kotor is limited to a day trip from Dubrovnik then the Mussels tour would be our suggestion, especially as it also includes a tasty lunch!
Planning a trip to Kotor? We'd love to put together a Kotor travel package just for you. Get in touch to find out more!

Charlie is head of marketing at JayWay Travel. A long-term Prague resident, his interests are cooking, eating out, cycling, skiing and of course, travel.