Slovenia is a country of contrasts. You can have a mountain adventure in the Julian Alps, experience culture and a lively street scene in Ljubljana or sun yourself on the country's tiny bit of coast in Slovene Istria. These distinctions also extend to the country's cuisine.
The small country boasts 24 different culinary regions gathering influences from the Alps, the Balkans and the Mediterranean. Probably the most typical Slovenian dish you can find across the country is struklji. This flexible dough can be made sweet or savory and is found with a wide range of fillings. Formally a treat prepared for festivals and holidays, a special struklji found in the spring and summer is filled with tarragon. Most often, you'll see them filled with cottage cheese, walnuts, poppy seeds or apples. Another festive sweet is potica; dough filled with everything from walnuts to honey.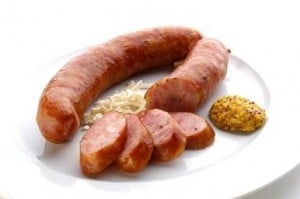 Small boiled dumplings called zlikrofi are popular throughout the country, but mainly found inland. Typically filled with potatoes, onions and bacon, they are often topped with a special meat sauce made from mutton or rabbit. The kranjska sausage is not to be missed by those who are craving pig.
Close to the sea, you should try the marinated fish (ribe v savorju). Smaller fish such as anchovies are marinated in a special base. If you visit the Karst region, known for its fascinating caves, you'll want to experience local cheeses and dried meat, especially the air-dried ham called kraski prsut. Visit a tourist information office and see if your trip coincides with the special osmice festivals. These 8-days social events see farmers offering homemade wine at very attractive prices. You only have to try one thing if visiting Lake Bled – the famed Bled Cream Cake. A slice of white cake is topped with a layer of vanilla sweet cream and dusted with sugar.
When dining out, get some recommendations on the local wines. Slovenians claim they do both reds and whites equally well – and seeing as there are 14 wine growing regions ranging from mountainous to coastal, we'll believe them. Some recommendations: If you are near the coast try a teran; in the Posavje region the cvicek, and delicious whites like renski rizling and traminec hail from the Podravje region. To sample the best of the best, spend a day on a Slovenian wine tour.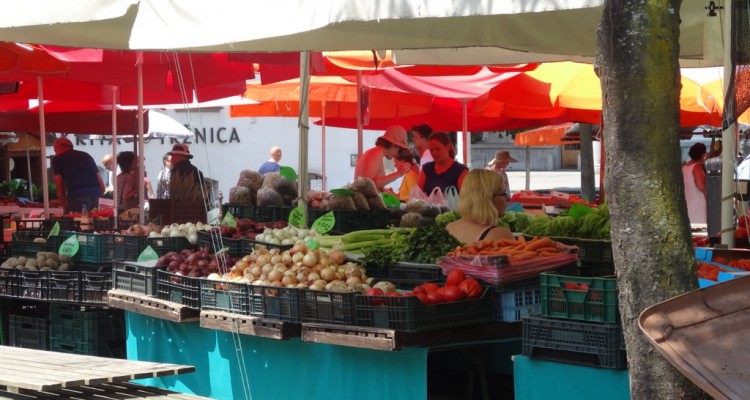 Ljubljana has a lively market scene right along the river. Filled with locally sourced goodies the Central Market has an interior hall and outside vendors. In the interior hall you'll dried fruit, nuts, meat, cheeses and bread. Back outside, peruse the in-season fruit and veg. A recent June visit saw the stalls bursting with color from leafy greens to red berries; bright tomatoes and a local early summer specialty, asparagus. Along the colonnade, stop with the locals for a coffee or wine and pick up a picnic from one of the bakeries and other shops selling klobasa, cheeses and cured meats. Take it all in (and taste some food and drink) on a food tour. We've been getting excellent feedback from our guests who've taken it and we had a great time testing it out for ourselves. You'll taste specialties from the whole country on a culinary whirlwind tour of its different regions at the same time as getting a little education on the city itself, the ideal combination
From about mid-March to mid-October the Central Market hosts Open Kitchen every Friday. This weekly street food festival features local chefs preparing tasty goodies right before your eyes.
Planning a trip to Slovenia? We'd love to put together a Slovenia travel package just for you. Get in touch to find out more!
Images
Kranjska sausage – via Slovenian Tourist Board
All others – via the author

Jacy is a travel journalist who likes art, culture, design and architecture. When not in Prague, she's most likely wandering the streets of other European cities, checking out their neighborhoods, their art and their coffee.