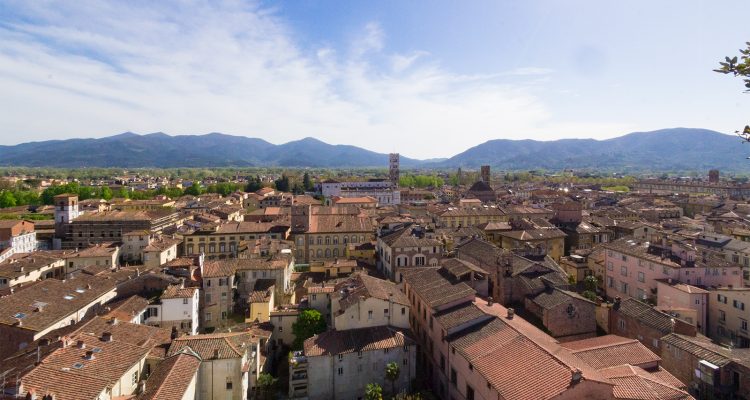 When I think of Tuscany, the first images that come to mind are rolling hills, vineyards and idyllic hilltop towns. But Tuscany is the fifth largest of Italy's 20 regions and it covers a wide variety of terrain, including some beautiful coastline. There's much more to La Bella Toscana!
Without a lofty position to defend itself from attackers back when it was in competition with Florence, Lucca needed a different defensive ploy and to this day the city's Renaissance-era ramparts are still mostly intact. But they've long since been converted into a pedestrian promenade, making a bike ride around the walls an almost compulsory part of any visit to the city. Some of our partner hotels even have a fleet of bikes available for free use by their guests. Now that's service! If your hotel doesn't offer bikes there are plenty of rental shops around town too.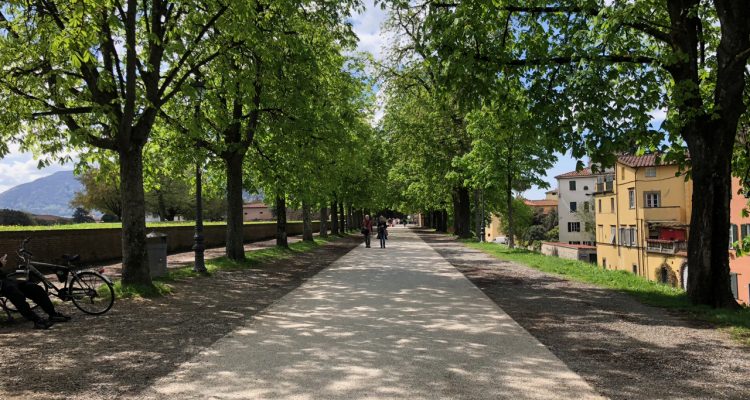 The historical centers of Tuscany's other major cities, Florence and Siena, are nowadays mostly abandoned by locals in favor of the tourist crowds, but Lucca retains a vibrant feeling. It's just far enough out of the way that it's not beset by too many day trippers and the city doesn't have so many hotels.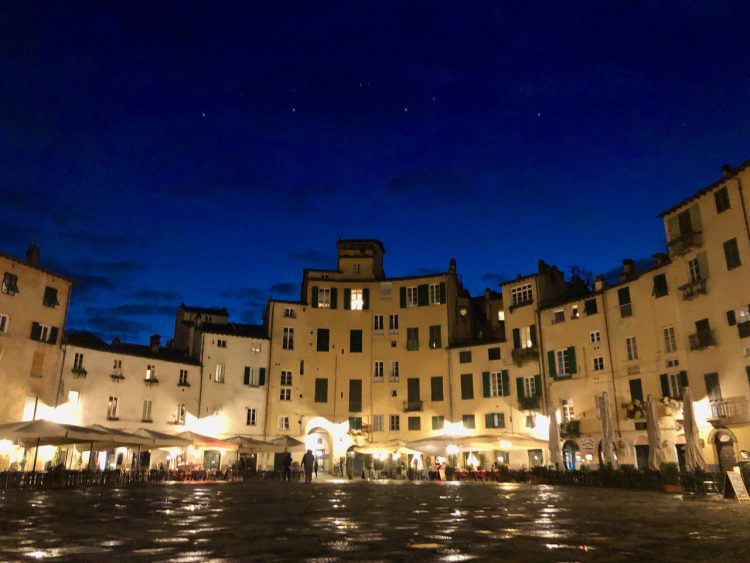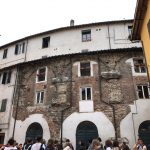 Lucca's history stretches back much further than the Renaissance of course. The Romans were here, and the very center of the city still preserves the original Roman street plan. The Piazza dell'Anfiteatro (above) is a bit of a giveaway too, though you have to use your imagination to picture the amphitheater (see right), since it has been built upon and around by everything that came after.
Jump to a section of this article
What to Eat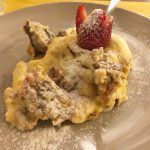 The food in Tuscany is certainly hearty, but in Lucca they take things a step further. There's a starter, pasta and dessert all named after the city and although filling, each should be included in your dining plans when you're in town. Zuppa Lucchese is a bean and vegetable soup that's also vegan friendly. Tordelli Lucchesi is a dish of meat-filled tortelli or ravioli with a delicious meat ragu. Yes. Meat inside and out. Which you then heap a good few spoonfuls of parmigianno onto. Dessert is no more subtle either. The "dolce" version of Zuppa Lucchese is a mess of broken cookies, in-season strawberries and a creme patissiere or custard. Save room for it though, it's divine. It's hard to get a bad meal in Lucca by eating the local specialties but the pizzas I tried were not worthwhile. Lesson learned! Book your Italian tour including some time in Lucca with us and you'll get our tried and tasted tips on the best spots to try these local specialties.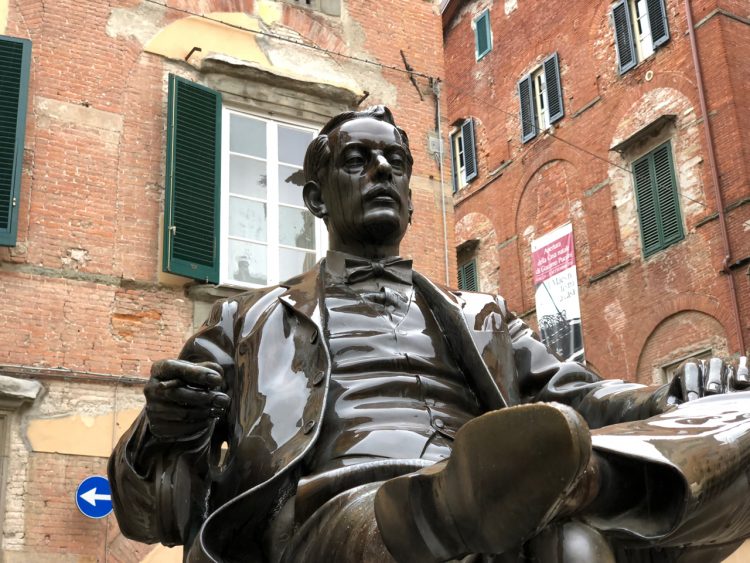 A Wellspring of Composers
Lucca is the birthplace of several composers but the most prolific among them was Giacomo Puccini, pictured above, whose operas are a fixture in most companies' repertoires. Just off Piazza Cittadella you'll find a museum dedicated to Puccini located in his birth house.
Summer Festival
With all that classical pedigree, you might expect the Lucca Summer Festival to be focused on orchestral works, but that couldn't be further from the truth and acts performing at the 2018 edition include Norah Jones, Queens of the Stone Age, Ringo Starr, Roger Waters and Lenny Kravitz.
The City of 100 Churches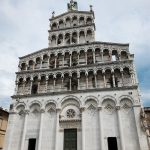 You're never far from a place of prayer in Lucca but the most impressive churches in the city are the Chiesa di San Michele in Foro and the Duomo (Cathedral). The first was built on the site of the Roman forum and notable mostly for its intricate facade with four loggias. Atop is a four-meter statue of Michael the Archangel. The Cathedral of San Martino's exterior looks a little off since it's not symmetrical (pictured below), but it's also quite interesting. The focal point is an equestrian statue of San Martino. Inside is where the true artistic gem lies, literally.  The Volto Santo, or "Holy Countenance," is a large-scale walnut crucifix guarded inside an octagonal chapel by Matteo Civitali which according to legend was carved by the same Nicodemus who helped bury Jesus after the crucifixion. It is purported to show the "true face of Christ."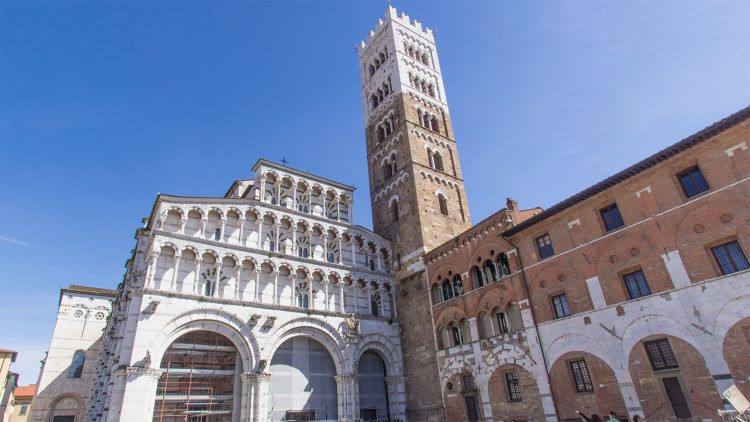 The reality is a bit more nuanced. The present crucifix is a 13th century copy because the original (which also wasn't truly the original) had been chipped away by relic-seeking pilgrims. The Duomo is home to another masterpiece, the tomb of Ilaria del Carretto, upon which is a Sleeping Beauty-like life-size marble sculpture of the wife of the Lord of Lucca – Paolo Guinigi. Created by Jacopo della Quercia in 1406 to Guinigi's commission after his young wife died in childbirth aged just 26, this is one of the most touching pieces of art you'll find in a church anywhere.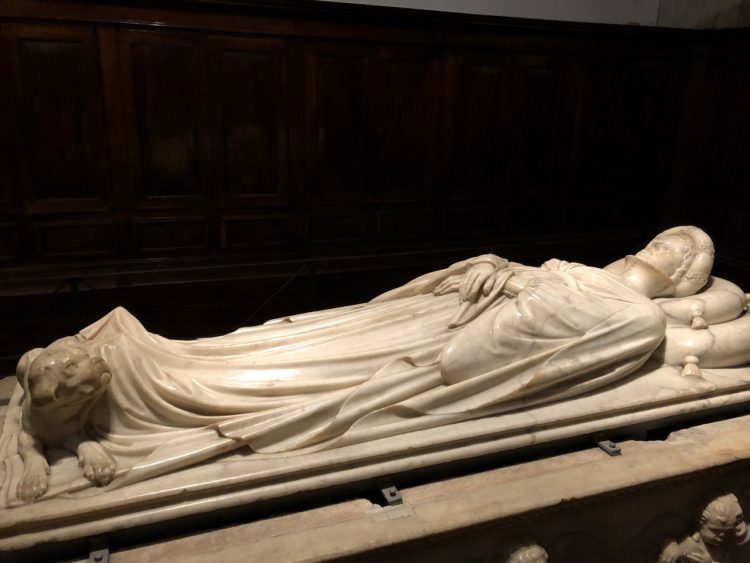 What to Do in and around Lucca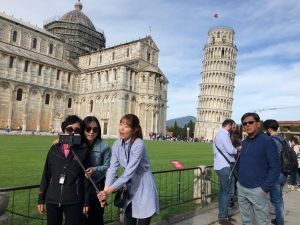 Besides touring Old Town and biking the walls, you'll want to climb at least one of Lucca's two towers. My favorite was the tree-topped Guinigi Tower. Heading out of Lucca, you have Pisa very close by. It's just half an hour by train. Want to do more than gawk at the Leaning Tower? We can arrange for a spot on a walking tour that will give you a new appreciation for this classic victim of hit-and-run (or should that be selfie-and-run?) tourism. You're also not far away from Carrara, source of most of Italy's marble. A half-day tour that includes exploring the quarry in a 4×4 is a jaw-dropping experience. Finally, this being Tuscany, I would be remiss if I didn't suggest a winery visit. Although not well known, the vineyards around Montecarlo di Lucca have been cultivated for over a thousand years. Group or private tours are offered.
Stay a Few Days
If you're inspired to include some time in Lucca on your next trip to Italy, we can prepare a customized itinerary that combines this beautiful city with others in Tuscany, the Cinque Terre, the northern Lakes, Venice or Rome. We've checked out all the best hotels in Lucca to include our custom vacation packages too.