Budapest is perfect for experimenting. The city's wine and craft beer selection is impressive, but it would be a mistake to miss its cocktail bars. Many offer exceptional quality, expertise, and unique interiors. Below are some of the best.
Jump to a section of this article
The High Note SkyBar's breathtaking beauty is immediately clear once you arrive, but the high-quality cocktails and bar foods won't let you down either. Located atop the five-star Aria Hotel, right next to the St. Istvan Basilica, the memories you make at the SkyBar will stay with you for some time to come. High Note doesn't go in for signature drinks in a big way but they do put their own spin on some classics. The High Note Negroni features lemongrass, tarragon and citrus oils to add an unexpected twist. The High Note Passion is another to tr. It combines vodka, salted passion fruit, lactic vanilla and adds a local touch with some Hungarian sparkling wine.
Bar Pharma offers plenty of cocktails, made with expertise, alongside a wide variety of spirits, especially whiskey. This bar offers brands that can be hard to find anywhere, especially in Hungary. Relatively small, Bar Pharma can fit 10-15 guests in a space that naturally resembles an old pharmacy, with a very different atmosphere. The bartender will be happy to help you find a drink, or even make something unique and customized for you. We won't spoil the surprises for you, but rest assured you'll find exactly the right medicine for whatever ails you on their creative cocktail list.
Blue Fox The Bar
In the heart of the city center, the Kempinski Hotel Corvinus' Blue Fox The Bar offers an exclusive experience, despite the awkward name. In keeping with the bar's philosophy, "respect the old and learn from the new," you'll find traditional ingredients mixed with innovative ingredients that can't be found anywhere else in the region. The bar's atmosphere is blue-lit and intimate. If you want to see something really quirky, try the Sazerac.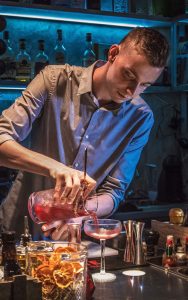 WarmUp
Longing for something unique and unrepeatable? WarmUp seeks to find the most suitable cocktail for everyone. Don't try to look for a menu, all of the cocktails are customized following a short interview with a bartender. Expect a drink you've never tried before, made from ingredients of the highest caliber. The bar is quite small and located in a party district, so visit on weekdays or early evenings in the weekend to enjoy the full experience.
Rumpus Tiki Bar
This place offers maximum decor, with perfectly matching tiki service. Rumpus Tiki Bar's atmosphere will take you to the distant land of eternal summer. If you're fond of rum, you'll enjoy having 80 varieties to choose from, or you can let the bartenders create surprise cocktails based on your preferences. Book a table in advance to ensure an all-night experience, in a truly exotic place.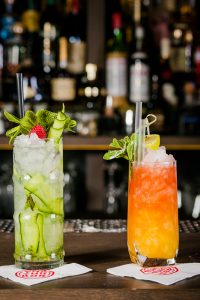 Tuk Tuk Bar
Going all in on the Shanghai-in-20s theme and with a heavily Asian-flavors inspired cocktail menu, Tuk Tuk is THE place to go if your tastes tend that way. The thoughtfully assembled collection of signature drinks, arranged in groupings by ethos or ingredient, rather than spirit, makes for entertaining reading. It might be a departure from from the Asian-ingredient rule but for us the Truffle Sour is a standout: Gin, cilantro, elderflower, lemon, egg white, truffle olive oil and black pepper promise a flavor-packed beverage that's on its way to becoming a meal in itself.
GoodSpirit Whiskey Bar
"Well, show me the way / To the next whiskey bar" sang Jim Morrison of The Doors. Jim never made it to GoodSpirit, but if he had, he might have ended his search there. GoodSpirit is a moody, atmospheric space, with an understandable emphasis on whiskeys. Before taking you to the next bar, we offer for your consideration two whiskey-based cocktails, though you'll have to excuse their punny musical monikers (each drink has a soundtrack. House of Grain is comprised of Teeling Single Grain, Polugar Caraway and a homemade spicy sweet potato syrup. Beast Tea Boys is a smokey treat, with Islay malt, Lapsang Souchong tea, coconut water and some bitters. Mesmerising stuff.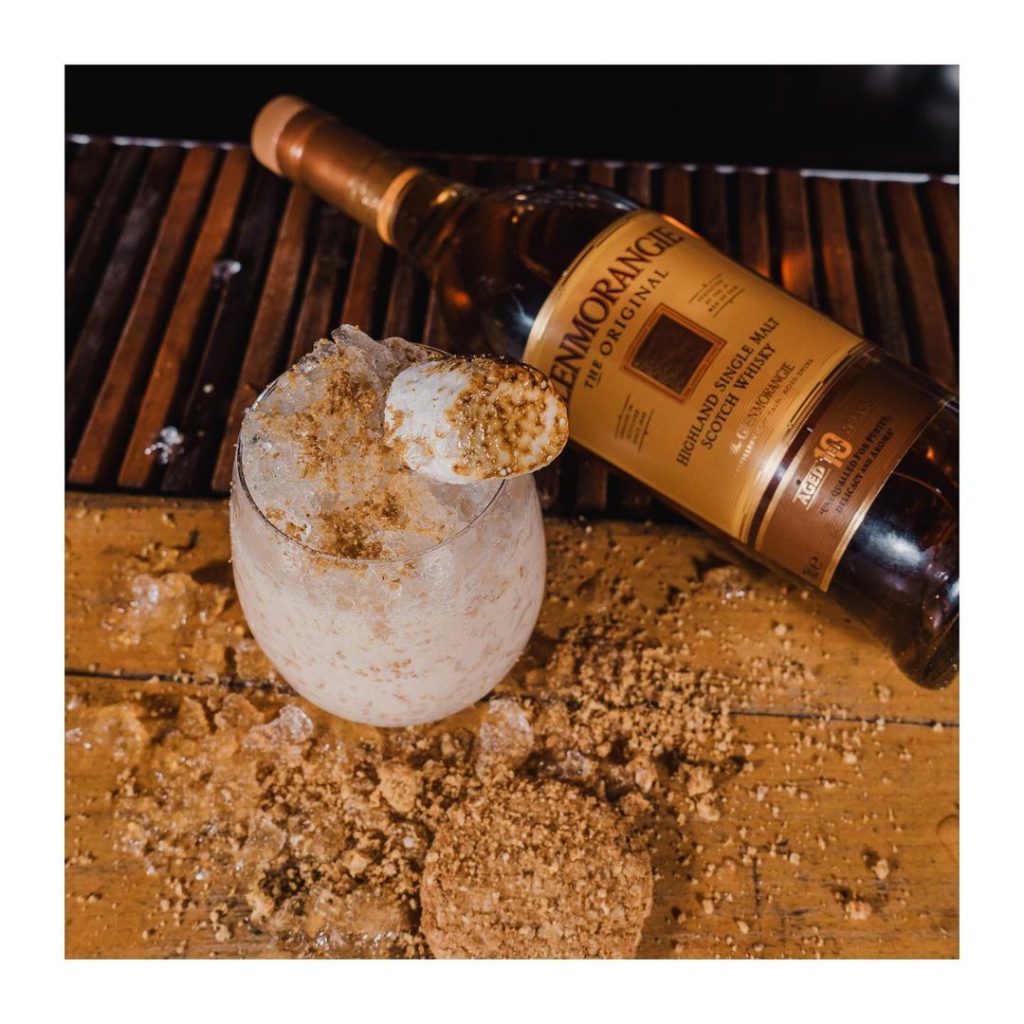 Boutiq' Bar
Boutiq keeps the locals coming back with monthly special limited edition drinks in conjunction with various spirit brands on top of a menu that features some perennial favorite signature creations and 'neo-classics' that honor cocktail history. The bar's highly skilled mixologists have created some delicious drinks. We urge you to check out their Instagram for some ideas. We can't stop thinking about the Christmassy Willy Tonka: 10 yo Glenmorangie, Tonka bean bitters, Baileys and cookie syrup.
Drink in the views from this rooftop terrace above central Deak Ferenc square. Some tasty bar snacks to accompany your liquid refreshment are on offer too, so St Andrea can be a good place to start the night, especially if you want to watch the sunset over the city. For a bar named after a saint, the signature drinks named after the deadly sins might seem incongruous, but allow yourself an indulgence. Perhaps even a taste of Greed. This unique drink includes some local raspberry palinka, rooibos tea-infused gin, Ramazotti amaro, lemon and vanilla. St Andrea is part of a winery group, so this is one of the few places we'd recommend also taking a good look at the wine list should you prefer the grape over grain.
While most of the places mentioned in this article are on the Pest side of the city (the right bank of the Danube), Leo sits in prime position on top of Hotel Clark, on the Buda side. As a rooftop bar you are probably expecting killer views, and you'd be correct. You'll be treated to panoramic views that encompass the Buda Castle and the Chain Bridge as you pick from the menu that admittedly has a bit of a preoccupation with G&T, but also conceals a few signature surprises as well.
See you in Budapest!
Whether you've found some inspiration for some drinks to try making yourself, or some places to be sure to visit next time you're in the Hungarian capital, we hope you've enjoyed this glimpse into Budapest's cocktail scene.

Charlie is head of marketing at JayWay Travel. A long-term Prague resident, his interests are cooking, eating out, cycling, skiing and of course, travel.