Croatia might not be the first country that springs to mind when it comes to wine but Croatians nurture a long tradition of winemaking. Historical evidence suggests that either Phoenicians or Greeks introduced winemaking on Dalmatian islands, so some parts of Croatia have been producing wine for more than 2,000 years! Focusing on quality over quantity resulted in growing long-established, mostly local varieties, but lowered significantly the amount of wine exported worldwide. To introduce you to Croatian wines, here's a broad overview of the wine regions and types of wine in this amazing country!
Jump to a section of this article
Coastal Croatia
The coastal wine region is divided into three sub-regions: Istria and Kvarner Bay, northern Dalmatia, and central and southern Dalmatia.
Istria and Kvarner Bay
Three different types of soil and the mild microclimate make the sub-region of Istria ideal for wine growing. The green peninsula is well-known among experts and wine enthusiasts for its indigenous grape varieties: Istrian Malvasia, Teran, and Istrian Muscat.
Istrian Malvasia
Istrian malvasia is a dry, golden-yellow wine with a light green hue and a citrus aroma. It is served cooled at around 50°F. It pairs well with vegetables, pasta with cheese or cream-based sauces (such as traditional Istrian fuži and pljukanci), white fish, and seafood.
Teran
Teran is an aromatic, slightly sour, dark ruby-red wine with purple tones. It is served at room temperature, at around 67°F. It pairs well with red meat, especially indigenous Istrian boškarin (ox), and truffles.
Istrian Muscat
Istrian Muscat is a semi-sweet, golden-yellow wine. It is usually served as an aperitif or a dessert wine, cooled at around 50°F.
Žlahtina
Žlahtina is a high-quality autochthonous dry wine from the island of Krk in the Kvarner Bay. It also grows on the islands of Cres and Pag and in Istria. The yield is high and the wine is bright yellow, fruity, high in sugar and acidity. It is quite low in alcohol, at 11%. It works best with lamb, especially if it's cooked in a peka, a circular pan with a bell-like lid.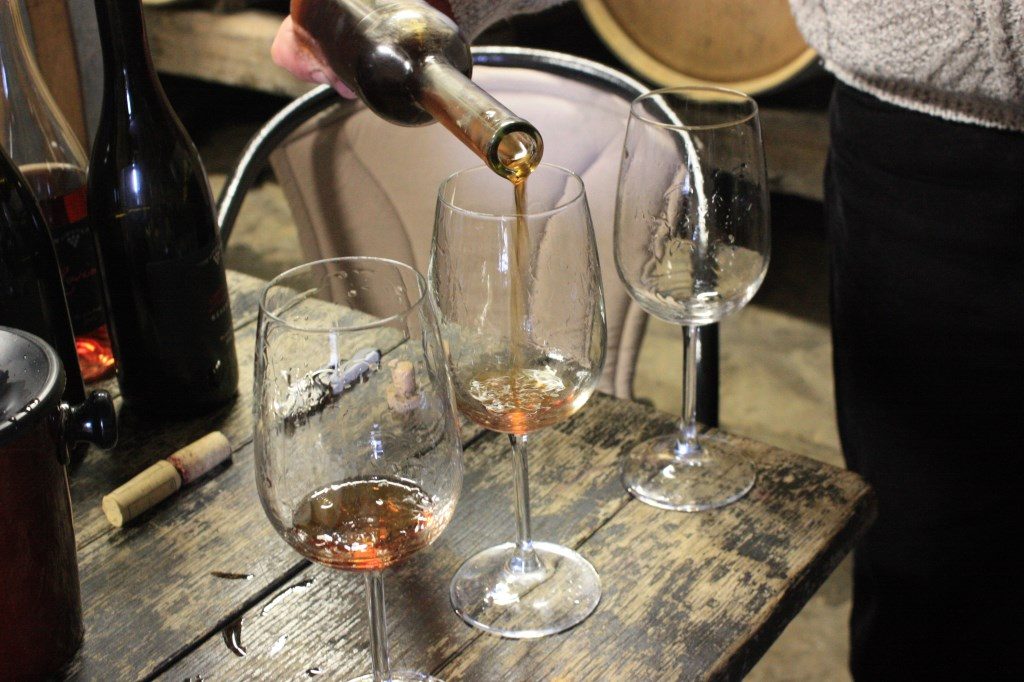 A great way to enjoy high-quality Istrian wines and the lush landscapes of central Istria is to take a wine tour. Our laid-back Istria noTourist Wine Small Group Tour will take you to three boutique wineries where you will meet winemakers and wine enthusiasts and taste some of the finest wines the Istria region has to offer. 
Northern Dalmatia
If you're driving south from Zagreb or Istria you'll pass through some rugged countryside, then some tunnels. Then suddenly the scenery opens up, the weather changes and you're in Northern Dalmatia. Here you'll encounter two unique grape varieties, the red Babić and white Debit.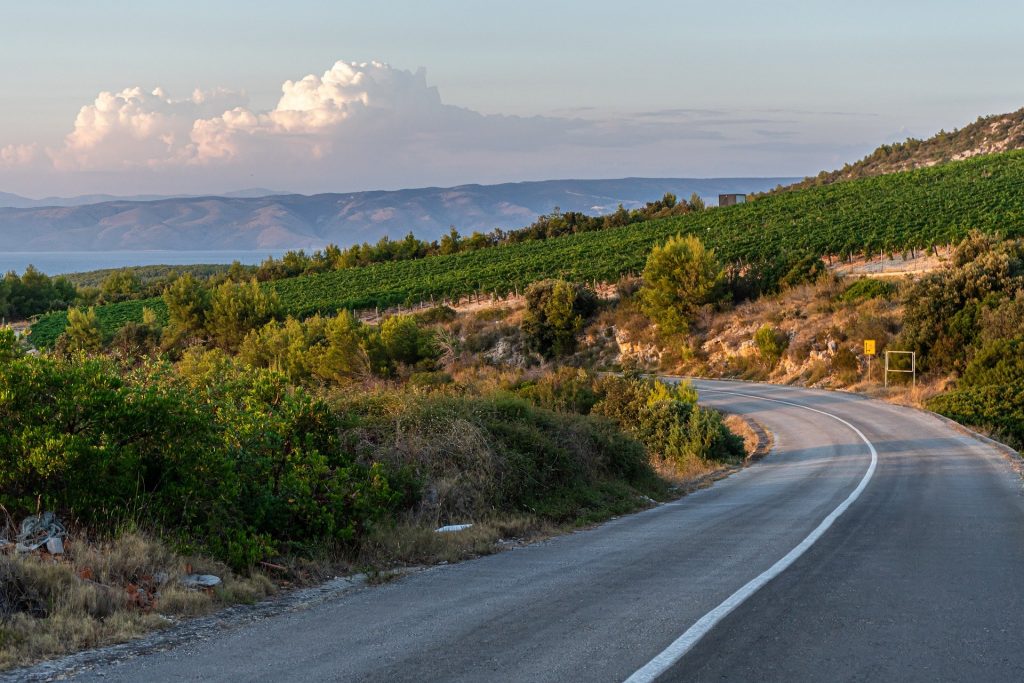 Babić
The indigenous red wine grape Babić, named after a winegrowing family, is grown mostly in northern Dalmatia. Most Babić vineyards are to be found around the towns of Šibenik and Primošten, but lately also in central Dalmatia and on some islands. It grows on dry limestone soils on rough and rocky terraces. The dark ruby-red wine with nuances of purple is high in tannins and alcohol. This is why Babić matures well in oak barrels. It should be served at 64°F. Babić pairs well with red meat, game, stews, tuna, prosciutto, and cheese.
Debit
Debit is an autochthonous white grape grown in the area around the town of Skradin. The wine is bright yellow, sometimes with nuances of green, and ranges from lower to medium in alcohol content (11-13%). It goes well with Dalmatian brodetto, a traditional fish stew, lamb, any light dish with white meat, and oysters.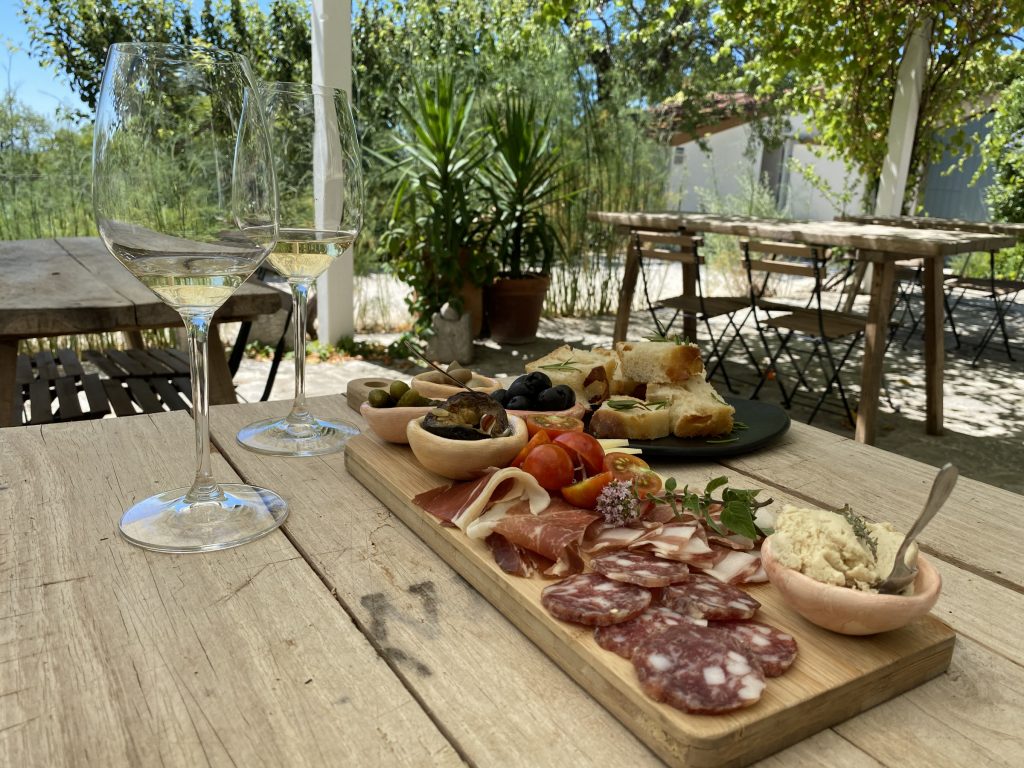 To learn more about the wines of North Dalmatia, we suggest taking a trip with us to a family-owned boutique winery and vineyards near Šibenik. There you will enjoy a wine tasting, accompanied by small bites of local cheese and home-made olive oil.
Central and Southern Dalmatia
There are several grape varieties indigenous to central and southern Dalmatia, but the most popular ones are Plavac Mali and Pošip. Another praiseworthy grape, although not indigenous to Croatia, is Dubrovnik malvasia.
Plavac Mali
Plavac Mali is the most planted and esteemed variety. It grows facing the sea, in the sparse soil on steep slopes of the Pelješac peninsula, on the islands of Brač and Hvar, and in the Konavle municipality, southeast of Dubrovnik. The flavorsome, dark red wine from this grape is high in sugar, alcohol, and tannins, and pairs best with tuna, beef, and game. It goes perfectly with pašticada, a traditional Dalmatian dish made with veal, dry plums, tomatoes, herbs and spices, and served with gnocchi.
Pošip
Pošip is an indigenous variety of white wine from the island of Korčula. The vineyards are located in the rugged central part of the island that no machinery can reach. The dry, golden-yellow wine is best combined with fish and shellfish, but also pairs well with cheese and cured meat. The wine aged in oak barrels goes well with the octopus, which is traditionally made in a peka.
Grk
Another variety that you will find exclusively on Korčula is Grk. Grown only in the sandy soils of the vineyards around Lumbarda, close to Korčula's old town. Although the name implies a connection to Greece (Grk is Croatian for Greek), there is no similarity with any Greek varietals. The closest match genetically is Zinfandel/Primitivo. The grape has another peculiarity. The plant only has female functions, so it must be planted alongside other grape varieties, usually Plavac Mali, to produce fruit. Owing to the tiny area of production there are very few Grk wineries. As a result they often sell out of each vintage well before the next one is ready. Should you be lucky enough to find Grk on a wine list or in a wine store, don't hesitate!
Dubrovnik Malvasia
Dubrovnik Malvasia is a white grape cultivar that originated in Greece and spread to Italy (Lipari, Sardinia), Spain (Lanzarote, Barcelona), and Croatia. The town archives in Dubrovnik have preserved numerous documents testifying about the cultivation and sale of Malvasia more than 600 years ago. The wine was also a common gift to guests of the Republic of Dubrovnik. This vine has nothing in common with Istrian Malvasia, was almost extinct at one point, and grows in Konavle Valley, south of Dubrovnik. It pairs well with light dishes made in a traditional peka, both saltwater and freshwater fish, and seafood.
Vugava
On the smaller and more distant island of Vis you'll also find reds made from Plavac Mali grapes but more interesting are the whites. The Vugava (also called Bugava) white wine grape is indigenous to the island and mostly cultivated here. Often compared to Viognier, Vugava ripens early in the Dalmatian heat. This means it's full of sugar and has a high alcohol content for a white wine. It pairs well with flavorful fish dishes. All of the wine producers on Vis are small operations so it is rare to find Vugava outside of Croatia and often even outside Vis.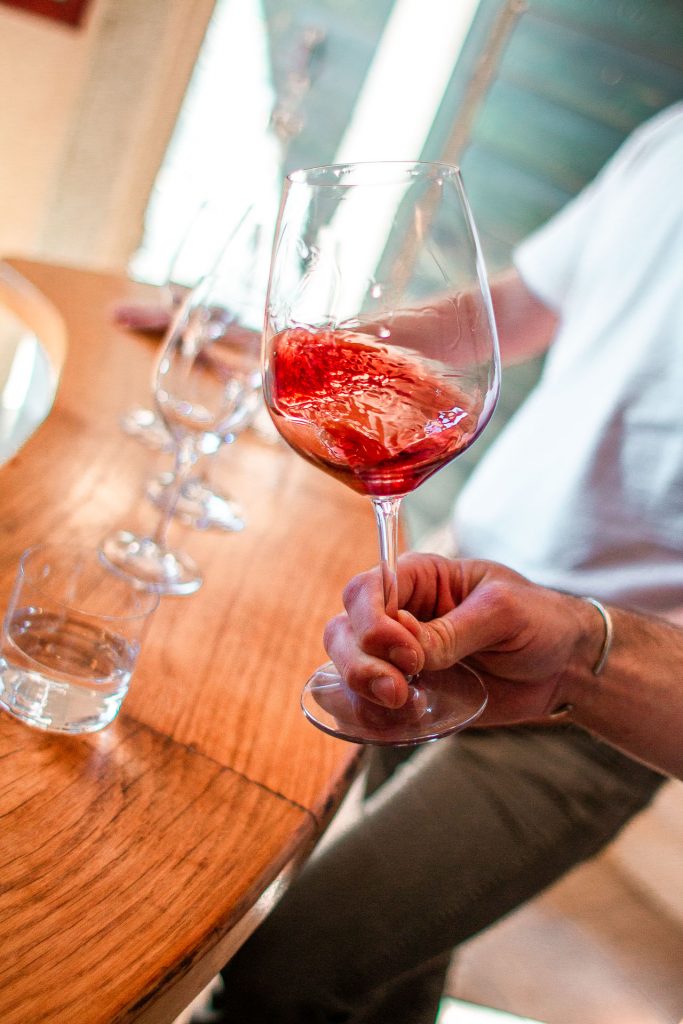 Wine tours and tastings
To taste some local wines from Hvar, you can join a fully guided small-group wine tour of the island. This fun and educational tour takes you to two wineries where you will be greeted by experts who will provide information about the local varieties for you to sample. Our Korčula and Pelješac Wine Tasting Private Tour will take you along Pelješac rocky slopes to the town of Ston and the surrounding vineyards. After tasting their delicious wine, you continue to the island of Korčula for some more nectar of the gods.
When in Korčula a visit to a Grk winery is the highlight of the wine and bike tour we offer there. And don't worry, you can request an e-bike! A whole-island tour of Vis in a 4×4, learning about its military significance over millennia and culminating with a tasting at a vineyard, is a great way to get to know the island's history and wine at the same time.
Eastern Continental Croatia
Slavonia and the area around the Croatian Danube make a large wine region with a long winegrowing tradition on the slopes of its hills. Autumns are warmer than spring, which is beneficial for the process of accumulation of grape sugar. This results in high-quality, fresh, and fruity wines.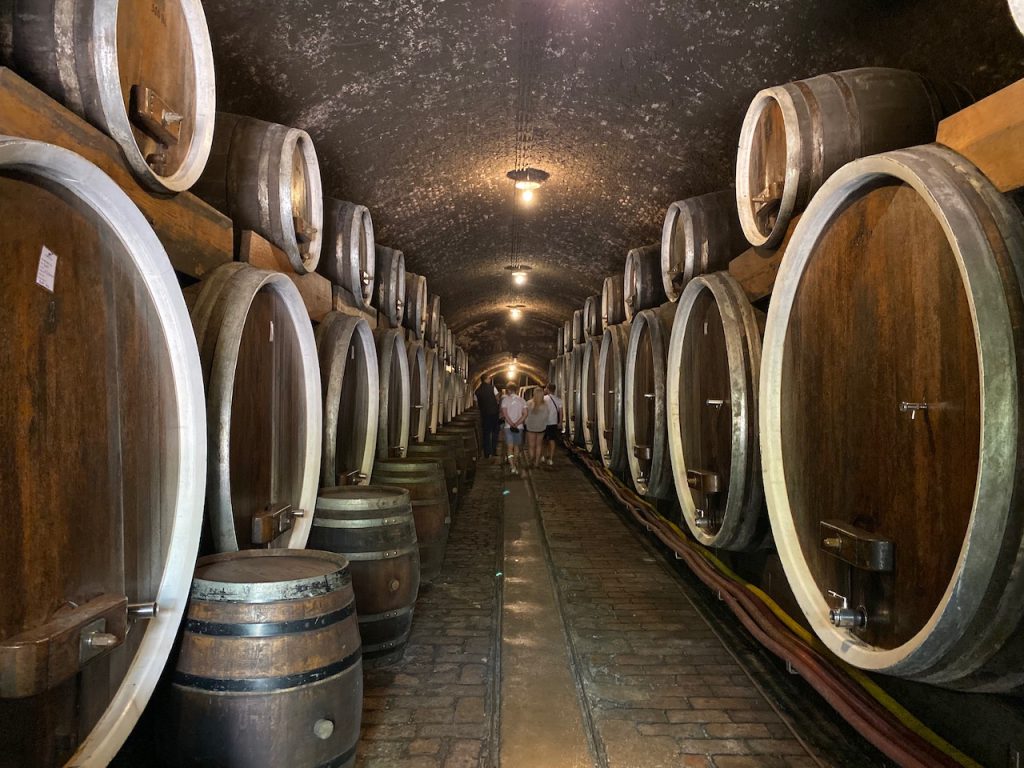 Graševina
Graševina, although not indigenous, is the most widespread white grape variety in both the region and all Croatia. The cultivar seems to resist cold winters very well and gives abundant fruit. The young wine has a nice light, yellow-green color, and yellow tones are more pronounced in the aged one. It's dry and refreshing, medium in alcohol content. It pairs well with cold cuts, cheese, turkey, fish, pork, lamb, and veal. People often mix it with sparkling water to get a popular drink called gemišt.
Frankovka
Another common yet not indigenous variety in the region is Frankovka. It's also known as Blaufränkisch in its native Austria. It has a ruby red color and tastes fresh and fruity. Frankovka has a moderate level of alcohol (13%) and is high in acids and tannins. It ages well in oak barrels. Usually served cooled at 60°F to 64°F and it pairs well with pork, game, lamb, cured meat, aged cheese, and traditional stuffed peppers dish.
Western Continental Croatia
There are many hills and mountains in the region and their slopes are covered with vineyards. Like in the east of Croatia, the most common varieties are the white Graševina and the red Frankovka. However, there are two more kinds worth mentioning, the white Kraljevina and the red Portugizac.
Kraljevina
Kraljevina is an indigenous vine in this area that produces a lot of grapes and hence a lot of wine. The wine is dry, high in acids, and lower in alcohol (10%). It is served cooled at around 53°F and pairs well with turkey and pork. Some say this is the best wine to mix with sparkling water to make a gemišt.
Portugizac
Portugizac is not an indigenous Croatian wine variety but has a long history in this area. It's known as Blauer Portugieser in its native Austria and is also found in many parts of the former Austro-Hungarian empire. It is harvested in August and you can already drink it in late October. It's lower in alcohol (11%) and tastes of berries. It pairs well with heavier dishes, red meat and sausages, and turkey. Locals traditionally drink it in fall with roasted chestnuts.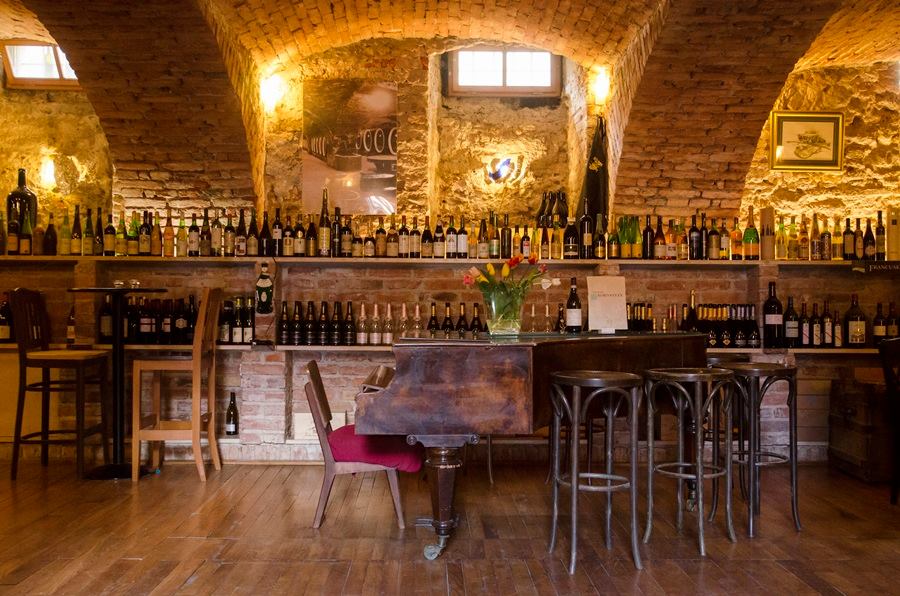 To try some wines from this region, head to Bornstein Wine Bar in Zagreb and their 200-year-old wine cellar. The bar offers a wide selection of both local and imported wines, and their knowledgeable staff will provide you with all the information you need to know about wine.
Where to Buy Croatian Wine Outside Croatia
Although Croatia's wine production might seem limited due to its size, Croatian winemakers take great pride in the remarkable quality of their wines. We can't expect Croatia to become a huge exporter of wine any time soon, so make sure to try the regional and local varieties when you visit. You may find one or two importers of Croatian wines in your home country. We encourage you to seek them out, but when it comes to falling in love with Croatian wine, that can only happen in Croatia!
Australia
Dalmatino Vino don't have the widest selection but they make up for it in quality, with many of the country's best producers represented. Flox Wines have a few Croatian wines but their stock of Croatian spirits are impressive. Croatian Vintage take the approach of covering all the wine regions we've mentioned, with at least two wineries from each, though not all wines listed are in stock. If you're particularly interested in the wines of Ilocki Podrum on the Croatian Danube then OzCro Imports is the place to shop.
Canada
LCBO has a good selection, and in-store pickup is an option. Domovina is an importer, but you can see where their wines are served in restaurants or available in liquor stores. Croatia Unpacked majors in Istrian wines but does have a few producers from other regions too.
USA
Croatian Premium Wine do what they say on the tin, and often have deals and Madison Wine Cellar have a small but well chosen selection.

Originally from a small town in northeastern Croatia, Sanja's life was changed when she went to Poznan in Poland as an exchange student. Surrounded by students sharing their cultures from around the world, Sanja set about visiting her new friends as much as she could, once she returned to Croatia. Unsurprisingly, she picked up the addiction to travel we all share! A licensed tour guide in Zagreb with Master's degrees in both English and history under her belt, Sanja's itchy feet naturally brought her to JayWay, instead of to a classroom job. With her previous experience organizing travel for American premed students, we found Sanja to be a perfect fit, and are sure you will too.