This is a guest post as part of our #JayWayPoland blogger project by Natasha Amar. We arranged all the details of Natasha's stay in Wroclaw and Warsaw in August 2018. Want to go see Poland for yourself?
In Wroclaw, Poland's fourth largest city, the first thing you'll likely notice—or rather, gape at—is the strikingly beautiful architecture. The Gothic churches with intricately carved details, grand Baroque university buildings, and candy-colored townhouse facades that frame the city's Market Square could well be the setting of a children's fairytale.
But when you're walking around Wroclaw, the second thing you'll likely notice, even if you're only mildly observant, is the presence of bronze figures, each about a foot tall, on street corners, outside store windows and even going about their business in the city's busy squares. These are the dwarves of Wroclaw (krasnale in Polish). It's impossible to travel to Wroclaw and not meet them.
A dwarf for all occasions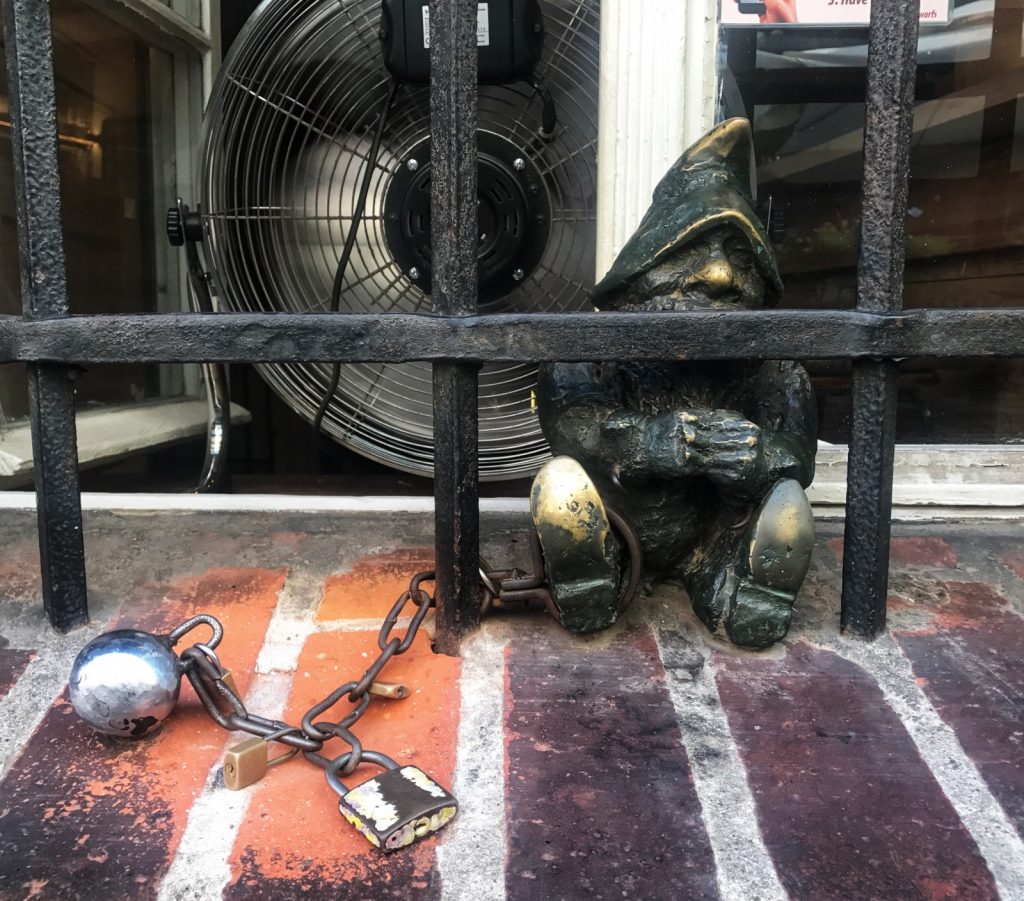 I first noticed them when I stepped out of the Art Hotel. That's when I found Arcik the Traveller, who suddenly appeared before me, suitcase in hand. We were not too different, Arcik and I, suitcase always ready for the next adventure. There was another dwarf perched on the window of an ice cream shop, holding up a cone with scoopfuls of temptation, as if saying, "Oh, won't you come in, get an ice cream and join me here to people-watch?"
Yet another dwarf of Wroclaw was locked up and looking at me from behind the bars of a window on Prison Street. But perhaps my favorite one was the Italian dwarf, riding a Vespa, pizza in one hand and Chianti in the other, a coffeemaker carefully balanced behind him.
A political past
Like me, you're probably tempted to think of the dwarves of Wroclaw as a tourist draw. But you should know that the dwarves are a symbolic reminder of an important period in the city's history. The Orange Alternative was an anti-Soviet resistance movement that started in the 1980s. Back then, a group of university students wanted to protest communism's censorship on free speech and public gatherings, but in a fun, mocking, non-violent way.
The students went out and defaced communist propaganda with paintings of cheeky dwarves. This made people laugh and perhaps in some small way, gave them hope. Of course, this kind of ridicule angered the regime. To bring people to the protest movement, the students also started handing out free toilet paper, something that was increasingly difficult to come across in Poland during the communist regime.
The movement gained traction. On June 1, 1988, 10,000 protestors donned orange conical dwarf hats and took to the streets. People began to call the event the Revolution of the Dwarves. This bizarre style of the revolution made international news around the world. In commemoration of the protest, the first dwarf, Papa Krasnal, appeared on Świdnicka Street in 2001, a gathering point of the members of the Orange Alternative.
The dwarves of Wroclaw today
Local artist Tomasz Moczek created the first of the dwarves of Wroclaw in 2005. He has also created over 100 dwarves around the city since. But in recent years, more dwarves have sprung up around Wroclaw. They now represent private local hotels, businesses, and shops. They also encourage potential customers to come in or simply point tourists in the direction of services such as fountains. After all, the witty charm of the dwarves is undeniable and brings a smile to the faces of both tourists and residents.
There are some 300 to 500 dwarves around the city, depending on whom you ask. While male dwarves are certainly more common, there are also some female dwarves. Some locals have mixed feelings and fear that tourists don't understand the original purpose behind the dwarves. Admittedly, there are many tourists taking photos of the dwarves around the city. But I wonder how many actually find out the reasons behind their origin.
A local app allows you to embark on a dwarf hunt around Wroclaw. You can earn points for each discovery. You can learn more about them on the official website about the dwarves of Wroclaw and time your visit to attend the annual festival.
Whatever your opinion may be about the dwarves of Wroclaw, I'm sure they'll make your exploration of the city a little more fun and interesting.
Author Bio: Natasha Amar is a Dubai-based travel writer, and the blogger behind TheBohoChica.com writing about cultures, cuisines and hiking trails. She can be found on Instagram @thebohochica.
Are you planning to travel to Poland? We're Poland travel experts. We'd love to help you plan the perfect trip. Just get in touch!