Vienna is renowned worldwide for its opera and classical music, so it's no surprise that many of our guests want to add a night at the opera or a classical concert to the Vienna leg of a European tour. There's so much to choose from in this brilliant city of classical music, so we'd like to present some of the highlights. Read on to find out the best venues and most outstanding performances, and how you can easily book tickets on your own.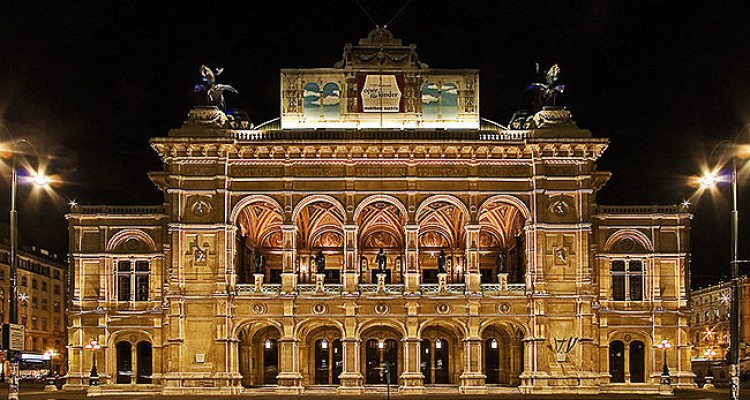 Jump to a section of this article
When is opera/classical season?
A key point to remember about concerts in Vienna is that like many other European cities there's nothing happening in the city's classical venues in high summer, so during July and August there's not much to see in terms of proper opera or classical performances. The season runs from September to June.
Venues
Follow the links below to find full program details and seating charts. The websites have English pages, so booking your own tickets is as simple as choosing and clicking.
Wiener Staatsoper
Opened in 1869 during the reign of Emperor Franz Joseph, the Renaissance style Vienna State Opera House is considered one of the most important opera houses in the world. It also has the largest repertoire, with performances spanning from Beethoven to Wagner, opera to ballet. If you're looking for the home of traditional opera in Vienna and maybe even in the world, this is certainly it.
Volksoper Vienna
The somewhat more modest Volksoper was built as a civic theater where plays were performed. But within a couple of years its stage was also graced by operas and operettas. For a decade after WWII, when the Staatoper was bombed by the US Air Force, Volksoper was the main opera venue in Vienna. These days it has a 25-work repertoire of operas and operettas and offers a total of around 300 performances from September to June.
Theater an der Wien – the New Opera House
The oldest of Vienna's three opera venues, Theater an der Wien has been through some interesting times. It was another alternative venue from 1945-1955 as the Staatsoper was being rebuilt. Closed in 1955 for safety reasons, from 1962 it found a new purpose as a venue for popular musical theater and hosted the premieres of the German versions of many famous English-language contemporary musicals. In 2006 things came full circle and it returned to its original use as a venue for opera and classical music. As well as operas by traditional composers, new operas by contemporary composers are showcased here, making it a great fit for the neighborhood; it's right next to the lively Naschmarkt, the epicenter of Vienna's culinary scene.
Musikverein
The word Musikverein means two things. Firstly it refers to the concert hall on Karlsplatz, but its literal translation, "Music Society," alludes to the "Society of Music Lovers in Vienna," the organization that owns the concert hall. Across three auditoriums, there are hundreds of concerts during the season.
Vienna Konzerthaus
Another three hall venue, the Vienna Konzerthaus is a major concert house on the international classical music circuit and each year has some 600,000 visitors attending over 750 events. Renovated and modernised just over a decade ago, this century-old building is an ideal place to take in a concert. Frequent performances by the Vienna Philharmonic are interspersed with performances by visiting orchestras and musicians playing contemporary musical styles.
Performance highlights
Vienna Boys' Choir
Never mind the fact that its membership consists solely of children, the Vienna Boys' Choir is one of the city's musical institutions, and one of the most famous choirs in the world. About 100 singers between the ages of 10 and 14 make up the group, which performs about 300 times per year. Specializing in vocal works by classical composers, the choir performs in venues throughout Vienna and can be found most often at The Spanish Riding School. But when they're not in Vienna the boys are touring around the world, so be sure to check the choir's website for upcoming dates.
The Spanish Riding School
More than just one of the preferred venues for the Vienna Boys' Choir, The Spanish Riding School is most famous for hosting performances of Lipizzan ballet, with gorgeous white horses that have been bred and trained to perfection. Part of the Baroque Imperial Palace, the school is the only place in the world where the classic equestrian skills known as haute école are still performed according to tradition. Seeing a performance to live music is one of Vienna's most unique cultural activities, and is probably unlike anything you've experienced before.
Mozart's Requiem
If there's one musical performance in Vienna where the program and the venue come together in perfect harmony, it's Mozart's Requiem in St. Charles Church, just down the road from where Mozart died. Between April and October, this beautiful church hosts performances of Mozart's last work by members of the Salzburg Concert Society and the Orchestra 1756. With more than 40 musicians playing historical instruments and singing this haunting music, it's a performance to remember.
Which are the best seats?
Everyone wants to know which are the best seats. But since we haven't sat everywhere and examined the view and acoustics from each seat weighted against price, all we can suggest is that you check out the seating plans and pick an available seat with a view you're happy with at a price you're willing to pay.
How much?
For an idea of ballpark figures, tickets for opera performances at the Staatsoper start at just €13 and go all the way up to €212. Concerts at Musikverein run from €5 to over €100 depending on the orchestra and performance. With this large a variance, you need to check the details for any performance you want to catch.
Where to buy?
The Volksoper and Staatsoper sell their tickets online through the Culturall website. Just follow the links on their sites to buy tickets. One thing to watch out for here is "consignment tickets." These are tickets that are being re-sold. Often the seller sets a quite unreasonable markup over the original price. These tickets are denoted with a (c) when you see them in a list of available seats. Theater an der Wien sells directly on their own website, as do Musikverein and the Vienna Konzerthaus. You could also stop by the venue's box office when you reach Vienna, but planning ahead means you'll have much more choice of seats in more price categories.
Getting the cheap seats
Well, not really seats, more standing room only, but if you queue up outside the State Opera House for several hours, with no guarantee of getting a seat, then you might get a standing room spot for a very low price.
Opera for free?
In an effort to bring opera to a wider audience, in September and October, and May and June, selected performances at the Staatsoper will be broadcast live, outside the building. Information about which performances is published on the Staatsoper website and on posters on Karajan Square.
Planning a trip to Vienna? We'd love to put together a Vienna travel package just for you. Get in touch to find out more!

Stephan Delbos is an internationally published writer and editor. Born in the US, he has lived, worked and traveled in Europe for a decade. He's fond of oysters and arid martinis.