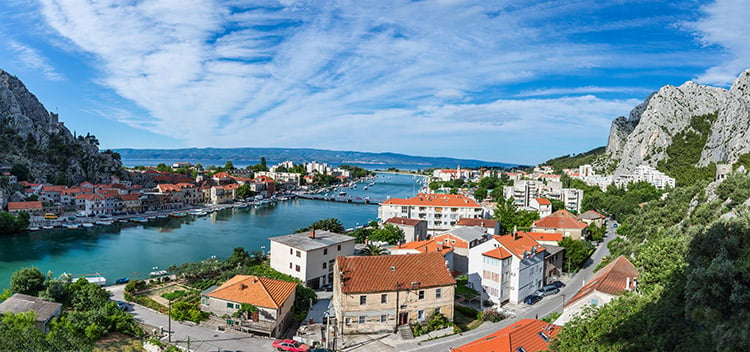 While visiting central Dalmatia, travelers usually focus on beaches, sun and the sea, but there is more to see and experience in the region, along with a wide variety of great day trips from Split. If you have some extra time in Split, or you have a rental car to return to Dubrovnik, I suggest a stop in the small coastal town of Omiš (pronounced Om-eesh) paired with a visit to the Cetina (pronounced Tsetina) river valley.
Although it's getting more popular among visitors, the Cetina river canyon is still one of the most beautiful and least visited places in Dalmatia. This is where the Cetina river meets the Adriatic, passing through woody mountains. A boat and a fishing net equals a way of life here, since both the river and the Adriatic are full of fish.
Practically carved into the mountains, Omiš has served as a fort for a long time, overlooking both the river and the sea. Its small stone houses and streets blend into the mountain background perfectly, especially at night. Omiš and the Cetina canyon have always been high on the list of day trips trips from Split. While being a laid back coastal town itself, Split is still a big city, and the Cetina canyon is the definition of peace, quiet and nature.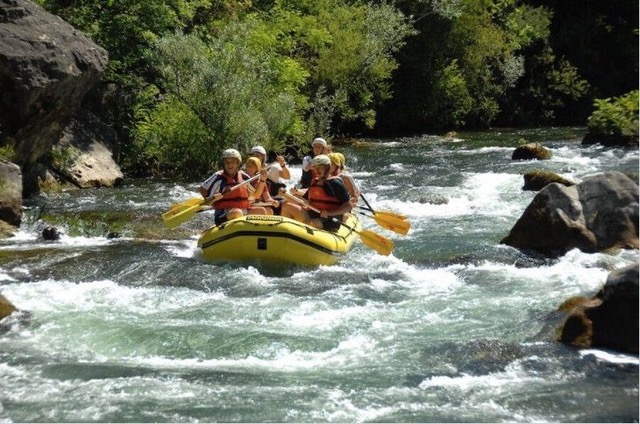 The Cetina coast is webbed by easy hiking trails and beaches, making it a perfect place to relax, swim and cool off. Even during the hottest days (and it gets really hot in Dalmatia) the river is always refreshing and even the air here is cooler. After taking a dip, stop for lunch at one of the restaurants near the river; they always have great fish and locally grown produce, as fresh as can be. These meals are very simple, very traditional and very large!
And last, but in no way least, my favorite part of the Cetina experience is the adventure and sports. Being relatively calm, the Cetina is a great place to go rafting or kayaking. Its pace is slow enough to be safe (with all the necessary gear provided by the guides) but still fast enough to make it a challenge. For those who are more adventurous, there's a zip-line, which is the best way to see the canyon and the river from above, with an adrenaline rush as a bonus.
If you're interested in exploring Cetina as part of your Croatia vacation package, we'd love to arrange it for you. Just get in touch!

Lidija is our Split-based City Host. Born and raised there, she also enjoys spending time in Zagreb in the off-season, when the capital is a much more interesting place to be. In summer the lure of the the coast and Split's nearby islands is too strong to resist.