We can't say enough about Potsdam. Just 15 miles southwest of Berlin, the former royal seat of Prussia can easily be reached on the S-Bahn. This makes it the most popular day trip from the city, for tourists and locals alike. You can look forward to lovely palaces and alluring gardens in this jewel of a destination, which is also on the UNESCO World Heritage List.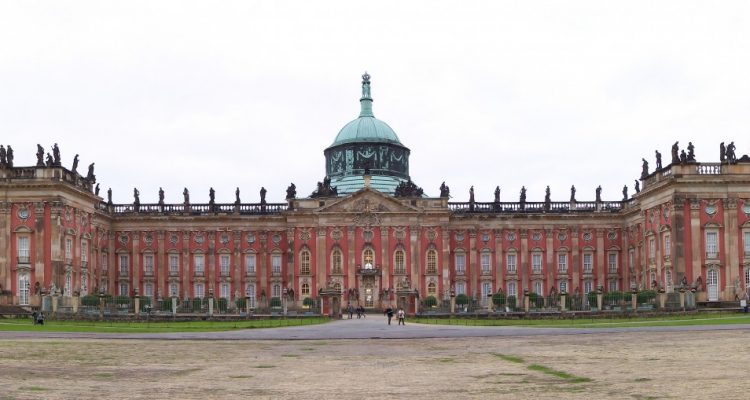 Precious Palaces
Schloss Sanssouci is one of the best-known palaces here. It was once owned by Frederick the Great, who funded much of Potsdam. Intended as his summer palace, this baroque gem is often dubbed Germany's Versailles. The palace was intended as a place of relaxation, as suggested by its name, which comes from the French phrase sans souci, meaning "without concerns." You'll find lovely gardens and palatial facades. It's an impressive place, to say the least.
Schloss Cecilienhof, another amazing palace here, appears less opulent than Sanssouci but is no less worth visiting, especially if you're a history buff. This is where the Potsdam Conference took place in 1945, at the conclusion of World War II. While it looks somewhat ordinary from the outside, the interiors are impressive. Seeing where the likes of Churchill, Truman and Stalin hashed out the post-war peace is a unique experience that might just be one of the highlights of your visit to Germany.
Peeking around Potsdam
The Marble Palace and the New Garden
There are some lovely works of architecture in the New Garden, including Frederick's Gothic Library. At the center of the park is the Marble Palace, which has been lovingly restored to its original brilliance. It's pleasant to stroll around the gardens and the palace is certainly a treat. The orangery is also a lovely site to behold.
City Canal
There is plenty to see outside of Potsdam's palaces, starting with the City Canal. Currently under reconstruction, the canal has been running about a mile through the city center in one form or another since the Middle Ages. Nowadays it's a nice place to walk on a sunny day, stopping off at one of the many cafes lining the waterfront.
New Market Potsdam
This is one of our favorite spots in Potsdam. Not quite as old as some of the other sites here, this is a perfectly preserved Baroque square, one of the best examples in Europe, dating back to the 18th century. One building you won't want to miss is the House of Brandenburg and Prussian History. If you can believe it, this beautiful neoclassical building was once used as a stable for about one hundred royal coach horses, along with their caretakers.
Potsdam Harbor
The centrally located Potsdam Harbor is crowded with passenger ships and restored steamboats, offering day trips and other excursions, including a cruise along the Havel river to Berlin. Several shorter trips will give you a unique perspective on Potsdam's palaces. There are numerous restaurants on the waterfront that are also well worth visiting, especially during the summer, when you can sit outside.
The Great Refractor Potsdam
An interesting spot for stargazers or families traveling with children, Potsdam's "Great Refractor" sits atop Telegraphenberg Hill in the Albert Einstein science park. This is the fourth largest refracting telescope in the world. Guided tours are available and recommended.
The Bridge of Spies
Glienicke Bridge is a rather unremarkable bridge on the edge of Potsdam connecting it with Berlin. Its significance is purely historical: it was the site of numerous hand-overs of spies between the Western powers and the Soviet Union during the Cold War. Marking the border between East and West Germany, it was the perfect spot for top-secret meetings between world powers.
Photos courtesy of:
https://commons.wikimedia.org/wiki/File:Glienicker_Bruecke,_Blick_nach_Osten.jpg
https://commons.wikimedia.org/wiki/File:Sanssouci_-_Nowy_Pa%C5%82ac_02.jpg
Are you thinking about a holiday in Germany? We'd love to create a bespoke Germany holiday package for you. Just get in touch to learn more!

Stephan Delbos is an internationally published writer and editor. Born in the US, he has lived, worked and traveled in Europe for a decade. He's fond of oysters and arid martinis.