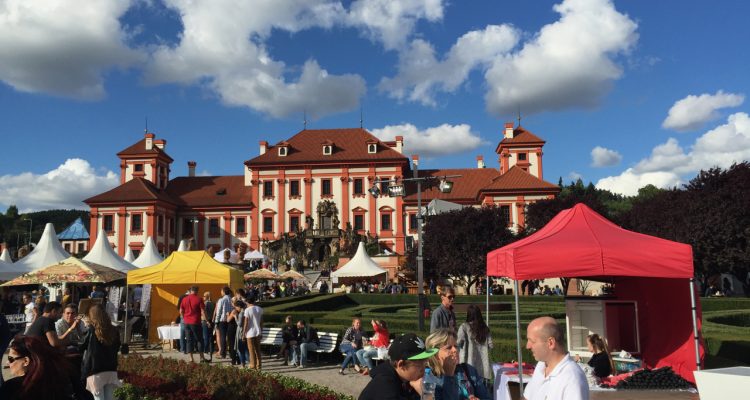 We're going to let you into a little secret. Praguers have a lot more fun things going on than they usually tell tourists about. We however think our guests deserve to know all about the festivals and events they would otherwise miss out on.
The Old Town center of Prague can often seem packed solid with tourists, particularly along the Royal Route, from which few seem to stray. It's for this reason that most Praguers, Czechs and expats alike, often give the center a wide berth. At most they pass through it by tram or metro to travel between the city's otherwise self-contained outer neighborhoods.
So where is it that they're going? From April to October it seems there isn't a weekend without a festival of some kind. We've picked a few tried and tasted/tested fests here to give you an idea. Within the Guest Page we provide to everyone who travels with us you will find a calendar customized to the dates of your stay. In that we highlight what's on not just in the city center but in the squares, parks and on the riverbanks outside the center where few tourists would ever think to venture, yet are part of what makes this city one of the most wonderful to live in.
Jump to a section of this article
As if to prove that Prague's not just a beer town any more, this annual festival brings 60 winemakers from the Czech Republic and Central Europe, plus France and Italy to the New Town Hall on Karlovo Namesti.
Tens of performances daily, usually an hour or less, make up this long-running fixture of the Prague cultural scene. Performances are either in English, non-spoken or musical, so there's no language barrier to worry about.
Prague's riverbank south of Palackeho Namesti is a buzz of activity much of the time but even more so when there's a beer festival on. And this festival celebrates small and micro breweries, tapping kegs of beer, craft lemonade and sodas with a wide array of food offerings to go along with it. There will be music to keep you entertained too.
A whole day dedicated to ice cream and gelato! And fro-yo and sorbets too. The exhibition grounds in Prague 7 near Holesovice borders on one of the city's largest parks too, perfect for a stroll between portions.
Dates are provisional but this will be the tenth year of the annual French Market on Kampa Island, below Charles Bridge on the Mala Strana side. Taste French delicacies including but not limited to cheeses, wines and cured meats. Although in the heart of the city a lot of tourists manage to miss this. In good weather a picnic on the grass of Kampa Park just beyond the market is a very pleasant way to while away an afternoon.
A thoroughly modern circus festival so no animals involved, just crazy humans from all over the world, performing in various tents and on stages in Letna Park, location of some of the best views of the city and several beer gardens in case you get thirsty.
A laid back food festival that takes place every year in the gardens of Troja Chateau. You'll need to take a bus or taxi to get there (it's the Prague Zoo bus stop) but getting out of the tourist bubble means you'll be rubbing shoulders with chefs from some of the city's best eateries and most of the Prague's foodies.
Hungry for more?
Of course this is just a tasting of the many fun events you'll find in Prague in prime fest-time, from April to September. Book a  with us and our local team in Prague will fill you in on any can't miss events taking place when you're in town.

Charlie is head of marketing at JayWay Travel. A long-term Prague resident, his interests are cooking, eating out, cycling, skiing and of course, travel.