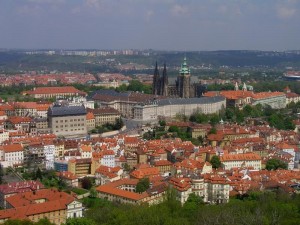 Prague is a beautiful, historic city. Those characteristics, plus its long film tradition (Barrandov, the city's film studio, is one of the largest in Europe) have made it a hot movie site for local and global productions. Many well-known movies have been shot in Prague, and more often than not, the city is a stand-in for another European city or century. Here's a mini-film tour of Prague, spots to watch for as you wander the city's streets.
The Bourne Identity (2002) was the first film in a popular series starring Matt Damon. Bourne attempts to spend the night in a Zurich park – which was actually Prague's Kampa Island
In Mission: Impossible (1996) Kampa Park is featured again, this time in the scene where a car explodes, supposedly outside the U.S. Embassy. The movie's opening scenes show a lot of the city – one of the best being atop Charles Bridge. Parts of the film were also shot in the National Museum and Lichtenstein Palace. Remember the scene where Ethan Hunt meets Vanessa Redgrave, a weapons dealer? That took place in the Hotel Evropa. Remember where Hunt leaped after the restaurant aquarium exploded? Right into Old Town Square. A newer installment Mission Impossible: Ghost Protocol saw Prague acting as Moscow.

Casino Royale also used the city extensively. James Bond's hotel in Venice is actually the lobby of the National Museum (currently closed for renovations). Miami and Prague don't seem to have much in common, but for this film, Prague's airport became Miami International Airport (look closely and you'll see lots of Czech Airlines tail fins) and the Army Museum in Žižkov was the Body World exhibition. Best piece of trivia from this film – which introduced Daniel Craig as Bond – the opening sequence was shot in Karlín's Danube House, an office building in Prague 8.
One film that was shot all over the country, although not as Prague or the Czech Republic, was The Illusionist (2006). The film took place in late 19th century Vienna and Prague Castle and Divadlo na Vinohradech in Prague 2's Vinohrady district, which was the theater that Eisenheim performs at, both were filming sites. Other cities and locations used include Konopiště, Český Krumlov and Tábor.
In addition to Miami, Prague's flexibility as an actor is apparent in Running Scared (2006) – the city stood in for New Jersey.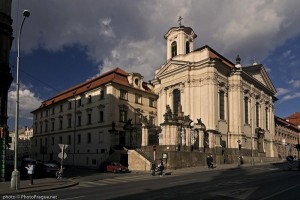 But what if you want to see Prague as Prague? Two of the best films to check out would be the 1993 adaptation of Franz Kafka's The Trial and Operation Day Break (1975). Operation Daybreak tells the story of the World War II assassination of Reinhard Heydrich. Filming took place where (or close to) the actual events occurred including Prague 8 (Libeň) where the assassination was carried out, and at the Church of Sts. Cyril and Methodius in New Town where two of the men involved in the plot hid and fought off Nazi forces. The Church today holds an excellent museum dedicated to the event.
Vin Diesel vehicle XXX (2002) was also set in Prague where we see the filmmakers playing fast and loose with the real geography of the city. In one scene Diesel's character runs out of the Municipal House, down a staircase and comes out by Prague Castle, on the other side of the river. That wasn't the only big budget Hollywood action movie to be set and shot in Prague around that time either. Taking inspiration from the city's gothic elements perhaps, it was the setting for Blade II (2002) as well.
And no list would be complete without adding 1984's Amadeus.
For further reading, our friends over at Expats.cz have but together a list of the Top 15 Hollywood Movies Shot in Prague as well as a highly amusing Worst 15.
Planning a trip to Prague? We'd love to put together a Prague travel package just for you. Get in touch to find out more!
Images
Prague Castle, Charles Bridge and St. Cyril and Methodius Church via Prague Tourism

Jacy is a travel journalist who likes art, culture, design and architecture. When not in Prague, she's most likely wandering the streets of other European cities, checking out their neighborhoods, their art and their coffee.