Do you associate a good night out in Prague with a beer stein, tap, or keg, instead of a shaker, highball, or ice bucket? Don't be fooled! Bohemia may be famed for its beers, and Moravia for its wines, yet the Czech capital goes the extra mile when it comes to mixed drinks. Prague's bar scene has taken off over the past fifteen years. Aside from the long established old school venues that will fix you a perfect Whisky Sour or your favorite Old Fashioned, there are places that believe in modern mixology and love to experiment.
Jump to a section of this article
Prague's Bartending Academy
The doyen of Czech mixology, Milos Tretter trained hundreds of bartenders and immensely improved the quality of Czech bartending, before establishing the legendary Tretter's New York Bar. The bar organizes regular mixology classes, and takes cocktail crafting very seriously.
A rather formal venue, complete with dress code (don't arrive in shorts or sandals), Tretter's offers around 150 classics and variations. The menu also offers another forty or so original creations. These are mostly the inventions of Milos' son Michael, whose experience in the US and elsewhere abroad has brought a fresh new attitude to what a bar can be.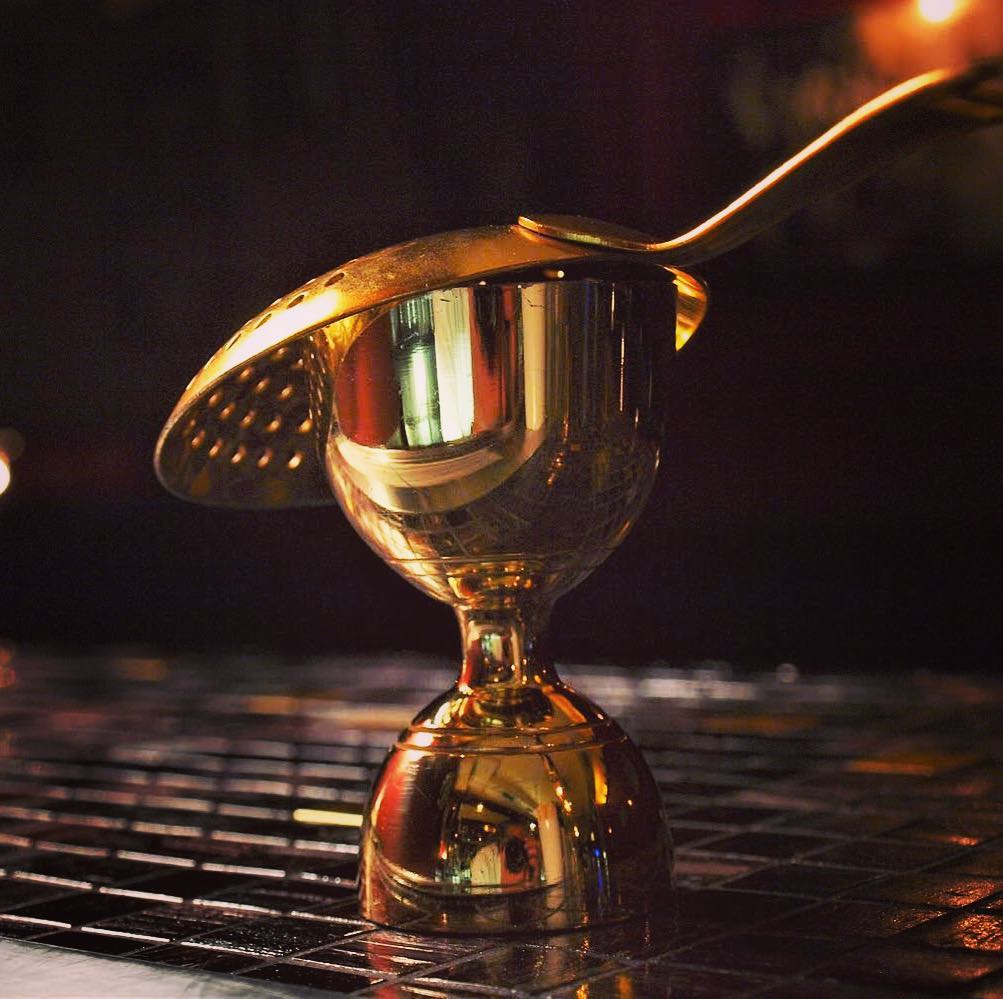 Try the New Yorker, a bourbon-based drink with lime juice and grenadine. Simultaneously innovative and old-fashioned, it perfectly fits the bar's Prohibition-era New York design. Another popular evergreen on the menu is the Zido, a mix of white rum, cachaca, coconut syrup, papaya juice and lime.
Address: V Kolkovně 3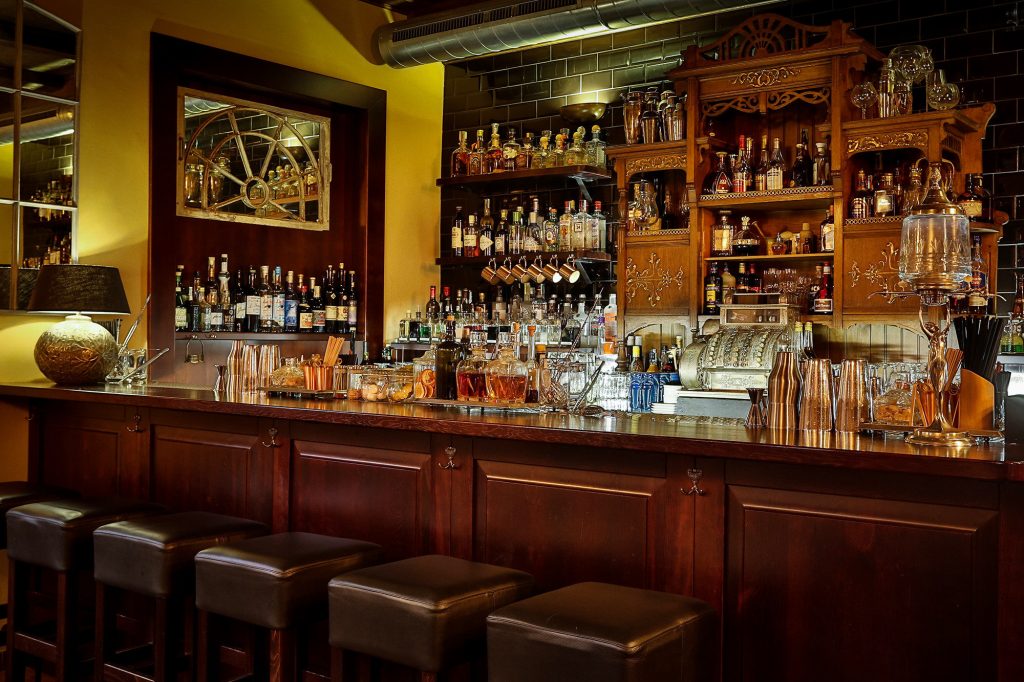 From 1808 Liquor to Present-day Mixology 
Another Old Town must is Hemingway Bar. As the name hints, the bar naturally offers a wide selection of quality rums. Hemingway was fond of good drinks in general, though, especially in absinth. Hemingway Bar even sells limited-edition Hemingway Absinthe, locally produced by the master distiller Martin Žufánek.
If you're not a big fan of stiff drinks, but still want to try something special, opt for Hemingway's signature Becher Butter Sour. Based on Becherovka, a herbal bitter liquor that has been produced in the Czech town of Karlovy Vary since 1808, it contains fresh lemon juice, egg white, and sugar syrup. To give it an extra aroma, the traditional liquor is infused with ghee and served with a dry orange slice. You can't go more local in Hemingway. You'll find this and more recipes to help you use up that bottle of Becherovka you bought as a souvenir, on the Becherovka cocktail recipes page.
Should you prefer a drink that lives up to the bar's reputation, ask for another one of its original specialties. Las Vacaciones de Hemingway is a unique, smooth blend of sous vide basil Gin Mare, a rosemary tincture, Curacao Blue, Mediterranean tonic water and sour starfish candy.
Address: Karoliny Světlé 26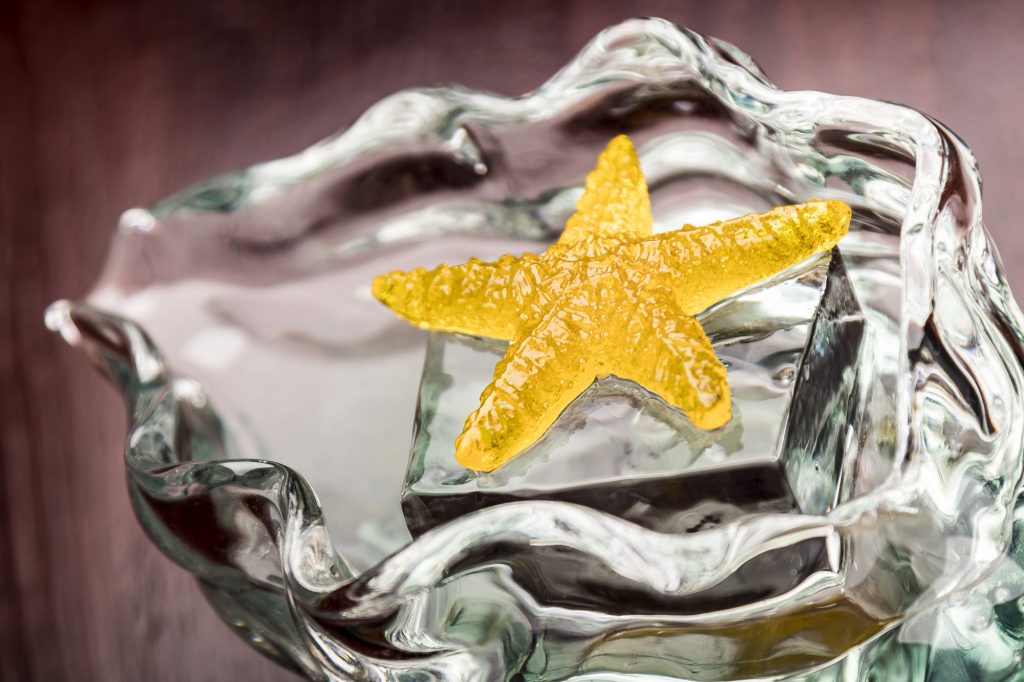 Piece of France in Prague
Offering perhaps Prague's most extensive champagne menu, L'Fleur was bound to feature a French name. The interior is cozy and elegant, with dark wood panels on the walls. There are small tables and spacious leather booths for large groups. The decor features Art Nouveau stained-glass windows, and dim lighting that increases the ambience.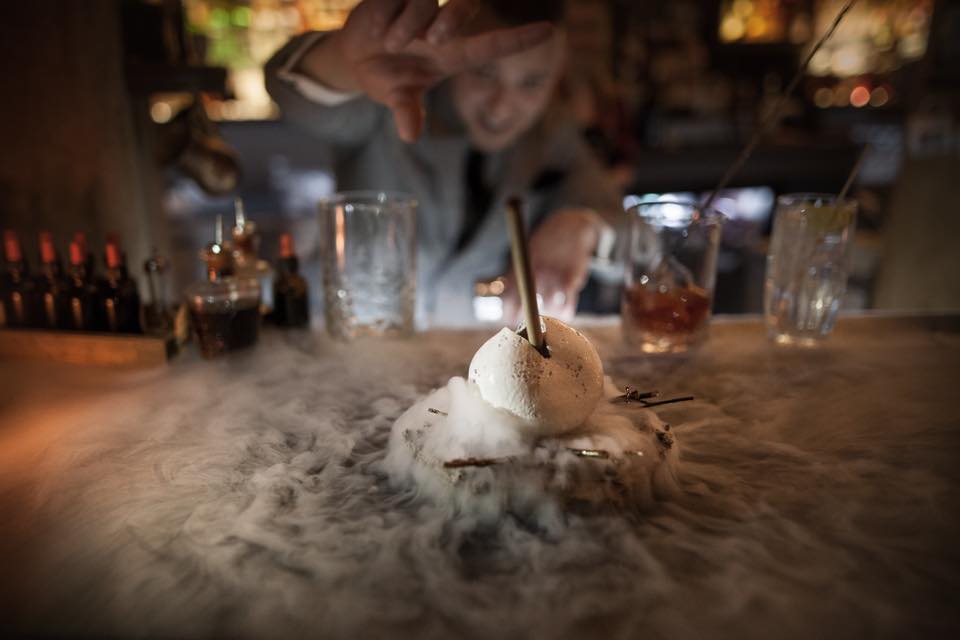 Even if you're not fond of champagne, L'Fleur is worth a visit for its cocktails. The mixed drinks are flavorful, if often somewhat fruity, which may also be a result of its French influence. The signature Golden Globe cocktail, besides containing Zacapa 23 Solera with coconut water and Sherry Fino, is tuned to perfection with help from oleo saccharum (oil extracted from citrus peels by using sugar) and a bay leaf. Touch of Sky is a mix of Ketel 1 Citroen vodka, Crème de violette, Sherry Fino, and white wine with soda, further flavored with elderflower and peach.
Address: V Kolkovně 5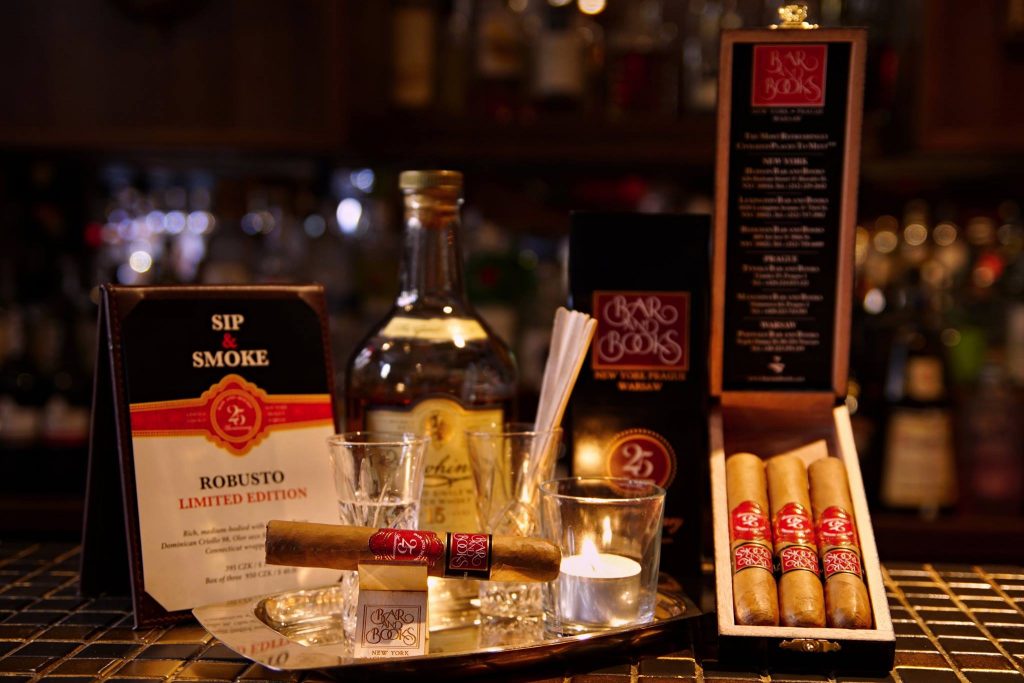 English Epitomized
Bar and Books offers Central Europe's most extensive whisky collection, alongside plenty of cigars, and an interior inspired by James Bond, complete with a soundtrack lifted from Bond films. The interior may resemble a classic London gentleman's club, but the drink names, which include Touch of Porn Star, Lesbian Heaven, and Get Naked in Your Mind, are considerably less conservative.
The spendy signature cocktails are often based on Émile Leclère Champagne, which is produced by an old family-run winery. You can slash your drinks bill by replacing the champagne with cava. Pisco, the national spirit of Peru, is another time-tested liquor that is rarely found in cocktails outside this bar. Bar and Books also specializes in fresh new combinations of more traditional ingredients. In addition to its Old Town location, you can find its sister bar at the Vinohrady district.
Address: Týnská 19
Great Drinks, Informal Venue
Some of the bars in Prague's Old Town offer quality but feel stiff. Others some are more comfortable, but skimp on ingredients and experience. Fortunately, Drink offers the best of both worlds. Hemingway Bar's little sister may resemble an especially well-stocked cafe, but its mixed drink offer is solid, and staff every bit as knowledgeable as in Hemingway, two blocks away. Most of the bars listed in this article require a reservation in order to get in after 9 pm, but you can stop by Drink anytime late.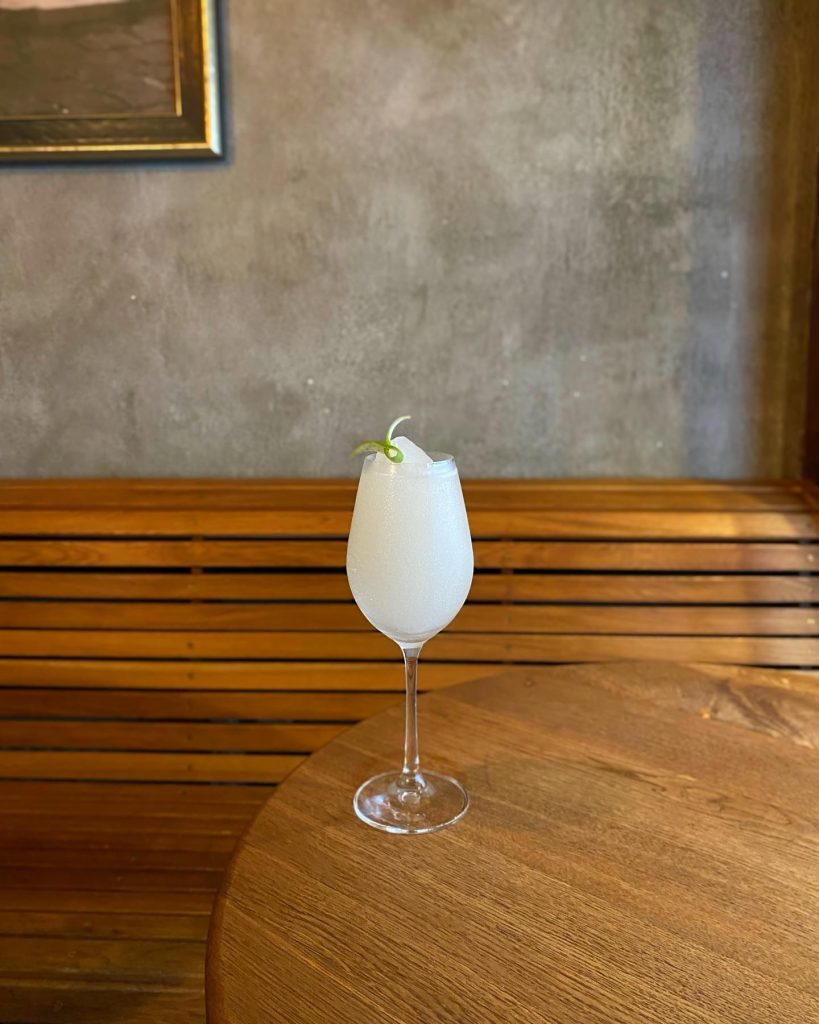 Drink's classics will come to your table in the shape and quality you expect, and its signature cocktails are unexpectedly good. Let the barman surprise you with seasonal cocktails, or ask for the Cashonlypraguebar cocktail – named for the previous identity of this space, and yes they didn't accept plastic! We guarantee that the taste of Chivas Regal Extra with lemongrass and lime cordial spiced up by kaffir lime leaf is more original than the cocktail's wifi password-like name. Should you look for something more down-to-earth, their Popcorn Sour is based on a shot of hot butter popcorn infused rum mixed with lemon juice and lime syrup served with a topping of freshly popped popcorn.
Address: Liliová 3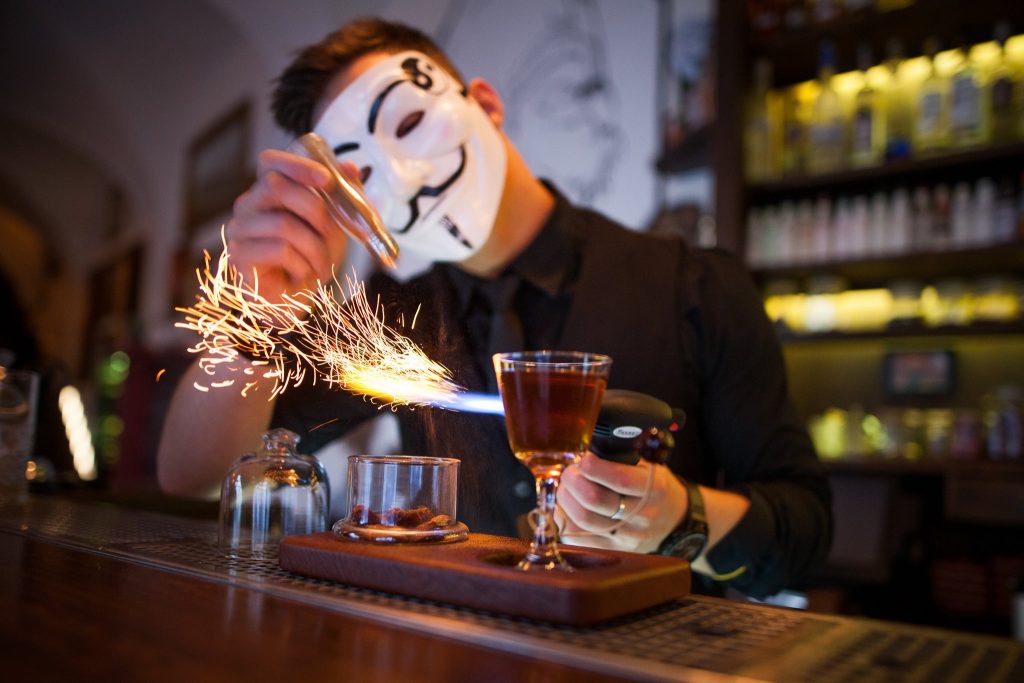 Cocktails and Show
Unsurprisingly, Anonymous features decor from "V for Vendetta" movie and staff wearing the Guy Fawkes' masks synonymous with the film and the Anonymous hacking collective. A short walk from the Old Town Square, this bar is easier to find than the name suggests. The bar's design has many special, memorable details, but the cocktails alone are worth a visit.
The drink contents are as anonymous as everything else at the bar. Some are even hidden! You can't even learn their names from the menu without getting a UV lamp from the staff! Popular signature cocktails include Hot Fawkes, a flaming drink served in a teacup, and the gin-based Valerie's Rose. The "Instagram moment" at Anonymous is V's Blood. This drink is a mix of homemade bitters, Campari and gin that's served in a blood bag.
Address: Michalská 12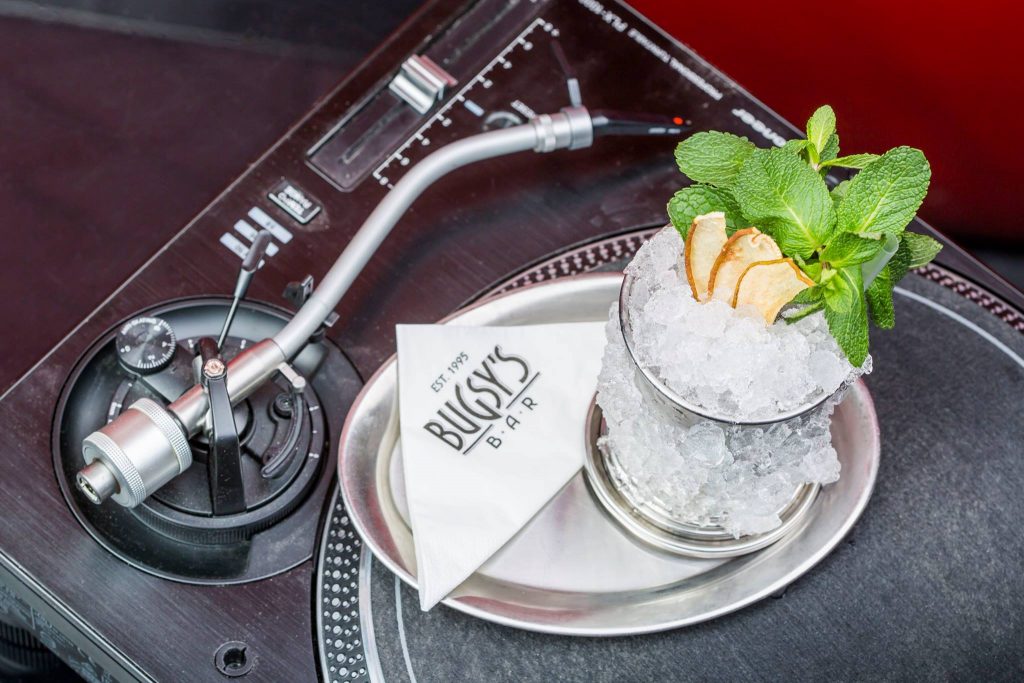 The Oldest Modern Bar
Bugsy's is another must-visit spot if you're looking for Prague's best bars. Bugsy's dates back to 1995, when modern mixology was still in its infancy in Prague, and most of the venues mentioned in this article didn't exist. Bugsy's adopted its New York aesthetic following Prague's devastating 2002 floods, and has kept it to this day.
This elegant cocktail bar just around the corner from Prague's high-end shopping street, Parizska, might be a bit fancy at first sight, with smartly attired staff, but the stiffness melts away with your first drink. The prices are decidedly wallet-friendly too. Bugsy's signature cocktails are proudly presented on the menu with their authors' names, and many of them contain gin.
The Czech distiller Zufanek produces Bugsy's signature DNA gin for them in Moravia. DNA is flavored with bergamot, cedar, and blueberry leaves and takes pride of place in many of their creations. Try the DNA Lavender Sour, a local variation on a classic gin sour in which you'll find their DNA gin, lavender, lemon, grapefruit, and egg white. or the DNA Summer-tini, one of the bar's Martinis that combines elderflower, thyme and sherry with the house gin. Far from sitting on their laurels and serving up the classics, under the watchful eye of founder Vaclav Vojir, Bugsy's continues to innovate.
Address: Pařížská 10
Prague: Much More Than Mojitos
As you can see, there's far more to Prague's mixed-drinks scene than a poorly thrown together mojito so if cocktails are your thing, set aside some time for some pre or post dinner tipples. You won't be disappointed.

Bratislava-born and raised, Sasha studied to be a librarian, but has spent more than a decade working in hospitality. Much of Sasha's experience comes from her many years in Prague, but she also spent a hiatus studying and working in hospitality in Australia. Sasha is naturally passionate about traveling, which goes well with her interest in food and wine, but she also loves seeking out good books, music, and movies, and spending time with dogs.