Olives are cultivated in Croatia throughout the entire length of the country, with many indigenous and imported varieties being grown. It seems like almost every family in Croatia either makes their own olive oil or has a friend or relative who does. Only very few producers therefore make enough to bottle and sell. When we speak about olive oils, we are talking about the very best olive oils, Extra Virgin, obtained from the first cold pressing the olives. Such oils should be used directly, as an accompaniment to food rather than for cooking.
Choosing the best olive oils is a close-your-eyes-and-hope-for-the-best proposition for most individuals. You may as well be stumbling over rocky terrain looking up at vertically challenged olive trees trying to decide which shade of brown/green means it is time to harvest. Luckily for your tastebuds, we have put together our ultimate list of the top 5 Croatian Olive Oils (JayWay Travel will not be held responsible for subsequent olive oil addictions).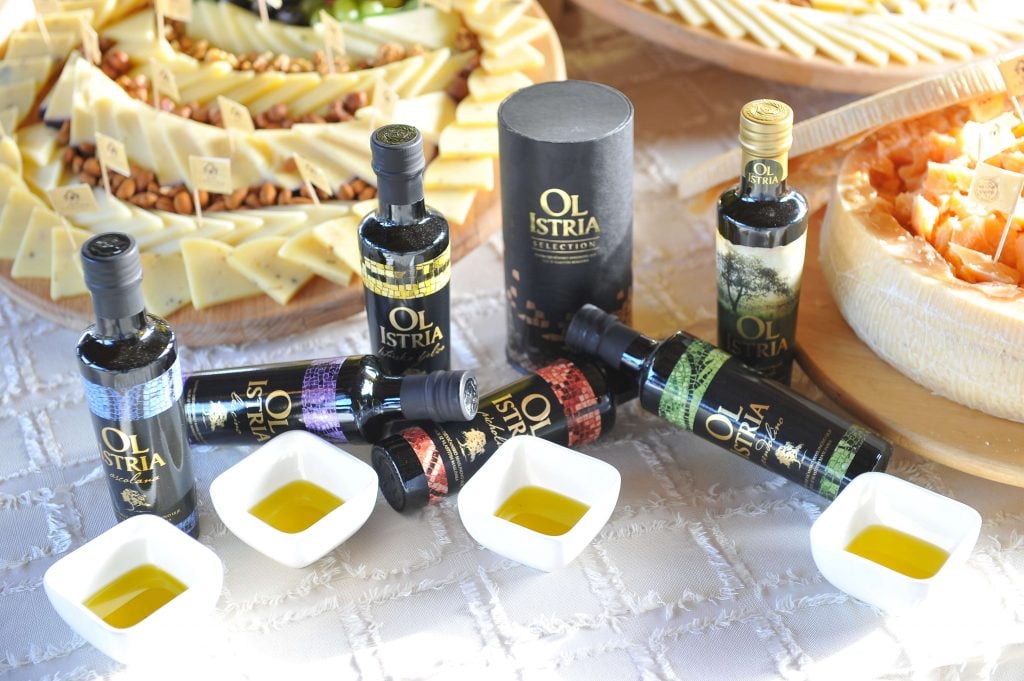 Jump to a section of this article
OL Istria
The first on our list is OL Istria extra virgin olive oil, which is produced by blending different olive varieties including istarska belica, buža, karbonaca, črnica, žižolera, rošinjola, puntoža, leccino, frantoio, moraiolo, pendolino, and picholine. As the name suggests, the origin of this olive oil is Croatia's biggest peninsula, Istria, which is one of the northernmost olive-growing regions in the world. Olives have been a trademark of Istria for more than 2,000 years and are one of its most important economic contributors. This is the main reason for the high quality of the fruit as lower temperatures favor it.
Olive processing must take place no later than 48 hours after the olives have been picked. Istrian olive oil is bright green, very fragrant, and has a complex aroma that resembles that of green fruit and aromatic herbs. The combination of hand harvesting and a thorough production process is the main merit of this extraordinary olive oil. If you're visiting Istria on your next trip to Croatia, drop by the Festigia Tasting Room in the coastal town of Porec.

Chiavalon
Chiavalon extra virgin olive oil comes from a small Istrian family business which is getting larger by the day and creeping towards all corners of the planet. However, this growing powerhouse is tended to with the humility and dedication of two brothers who have found their calling in nature and simply love what they do. To quote Sandi Chivalon, "My only goal was to learn each and every fact about this beautiful tree and to produce extra virgin olive oil that would make my whole family happy".
Chiavalon is another award-winning Istrian olive oil with intense aroma and taste. Its secret is the position of the olive groves; while high summer temperatures can significantly degrade fruit quality in southern Croatia, the accumulation of oil in Istria begins when the high temperatures have already passed so there is no long-term negative impact on the quality of the oil. Chiavalon olive oil has won a gold medal in the category of the world's best organic extra virgin olive oil at BIOL in Italy; it has been named the 13th best olive oil in the world by World Best Olive Oils, and it was named best organic extra virgin olive oil of all at Olive Oil Awards in Zurich.
Šoltansko
We move south, to the mid-Dalmatian island of Šolta to sample our next Croatian olive oil, Šoltansko. It is produced using two local olive varieties – oblica and levantinka. Šolta olive growers pick their olives by hand so only healthy and undamaged fruits are selected for production, ensuring uniform, high-quality oil. Collected olives are then processed on the same day in one of the oil mills on the island. The olive oil is stored in steel containers until it is bottled and labeled. All these actions take place completely and only on the island of Šolta and only closed and marked bottles are allowed to leave the island. In 2019, Šoltansko was the only olive oil from Croatia to win a 'Best in Class' award at New York World Olive Oil Competition, a feat even more amazing considering the competition consisted of 916 olive oil varieties from 26 countries.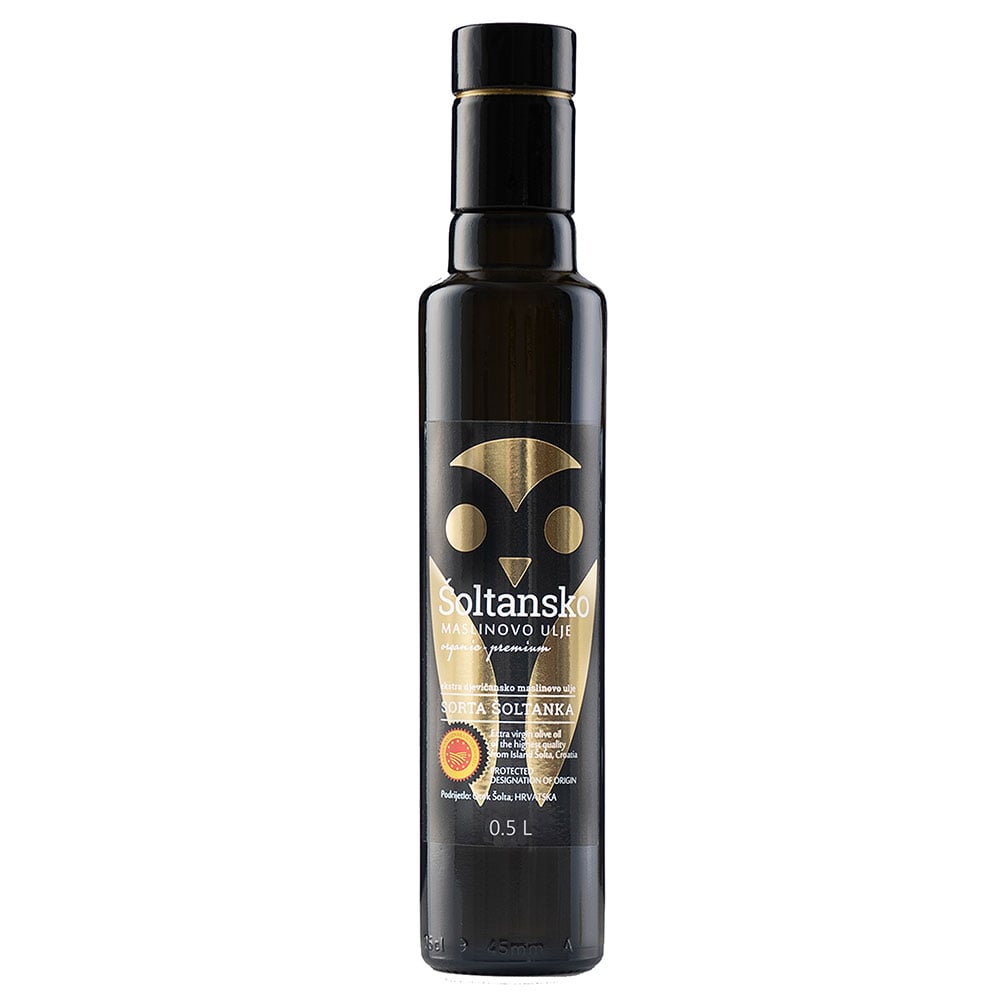 Brachia
The island of Brač should only be described as breathtaking. White pebble beaches, quaint villages, and stunning harbors are surrounded by a sea so clear that moored boats seem to float impossibly above the water. In comparison to Korčula or Hvar, tourists are pretty rare on Brač and this theme of rarity continues when we discuss Brachia extra virgin olive oil. It is obtained from the autochthonous variety of olives; oblica and bura. These olives are of a rare variety called buhavica and there's over a half-million trees and this olive cultivation dates back to the Venetian years. In 1655, the Venetian senate insisted that the island be carpeted with olive trees and imposed fines upon anyone with the temerity to damage the trees.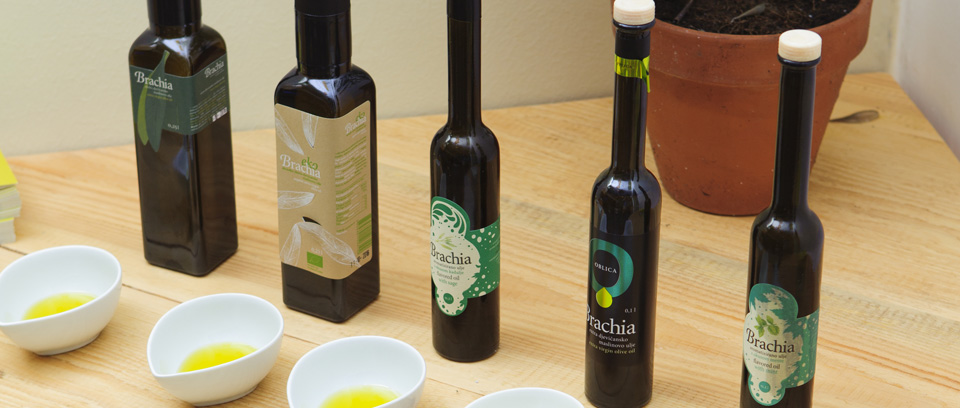 Olive oil is characterized by an intense smell of grass and fruit with a specific bitterness. Brachia extra-virgin olive oil is stored in a handmade, unique ceramic bottle shaped like an olive. This distinctive design has won multiple awards around the world, including the WordStar Design Award of 2006 for the best food packaging in the world.
Marco Polo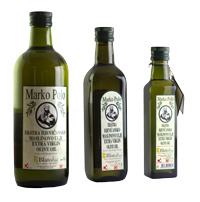 Besides its rich cultural heritage, natural beauty, and winemaking tradition, the southern Dalmatian island of Korčula is an important area for olive oil production in Croatia. Marco Polo extra virgin olive oil is obtained directly from the olive fruit from selected olive varieties (lastovka, drobnica, and oblica) grown in the western parts of Korčula. This olive oil has quite a recognizable smell, taste, and color. The ideal ratio of olive varieties, the degree of ripeness, along with the manner in which they are harvested and stored, gives this oil a rich and full fruity taste, mild spiciness, a distinctive aroma, and intense green-gold color.
Frequently Asked Questions about Croatian Olive Oil
Where can I buy Croatian olive oil in the US?
As well as some of the listed producers shipping internationally, you might find various third party sellers offering Croatian olive oils on Amazon but Adriatic Gourmet carry a solid selection of Brachia's oils. Drusk Trading sell Chiavalon's products and Wine & More have a wide selection of Croatian olive oils including OL Istria, as well as several Croatian wines and beers.
How much olive oil can I bring back from Croatia?
If you're traveling to Croatia and find an olive oil you love (there are plenty more we didn't list, from even smaller producers) then you can bring back quite a lot. Your $800 personal customs allowance would cover several gallons!
How much does Croatian olive oil cost?
If you're driving around the Croatian countryside you can expect to find locally produced unbranded oils for $11-20 per liter (a little over one quart). The award-winning oils listed here come in a little more pricey than that. To start, they're usually not sold in anything larger than 0.5 liter bottles. In Croatia expect to pay around $25 to $40 for a half-liter. In the US that rises to around $35 for a half liter.
How long does Croatian olive oil last?
Although many producers say there is no expiration date for their oils, many believe it is best to consume it within a year of opening. All the producers listed here package their products in dark glass bottles because light can affect the quality, and it is recommended to keep the oil away from heat sources. As a bottle of oil ages it'll get cloudier but shouldn't lose its taste.
Where can I taste some olive oils in Croatia?
We offer a popular olive oil and wine pairing private tasting experience in Split at a specialist olive oil bar in the heart of Split's old town.

Born and raised in Dubrovnik, Andrea's involvement in tourism began as a child as her family rents apartments for tourists. Her inquisitive nature led her to study journalism in the Croatian capital, Zagreb, though her heart remained in her hometown and she returned there after her studies. One of Andrea's biggest passions is singing and she has been a member of the Dubrovnik Folk Ensemble Lindjo for over 13 years.