Pag Island, located in the north Adriatic, is best described as "unusual". Unlike other islands in the Adriatic, Pag is mostly rocky and barren, its landscape resembling the Moon's surface. Not many plants can survive the harsh bura wind blowing from Velebit Mountain, however, this still seems to be enough for a special breed of sheep to graze and produce milk, and island residents to make the unique Pag cheese.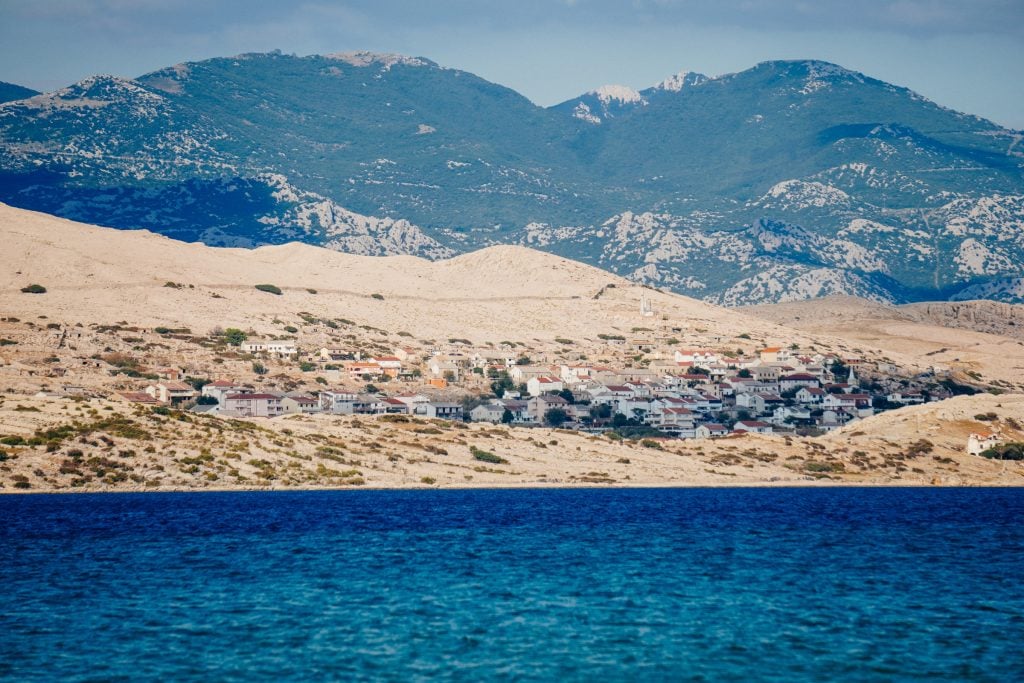 Jump to a section of this article
Once a byproduct, cheese is now Pag Island's main export
In the past, the islanders raised this type of sheep for wool, with cheese being just a by-product. Nowadays though, the main product and the trademark of the island is the cheese. The sheep are fairly small, weighing between 53 and 77 lb. They adapted to scarce conditions and have modest food requirements. They graze freely on indigenous low vegetation and herbs such as sage and the curry plant. The sparse vegetation is also exposed to the bura wind, which spreads sea salt and a wealth of minerals over it. All this influences the characteristics of the milk, which is collected from January to late June.
Sharp and salty, just like Pag Island
It's often said that a cheese or wine is a reflection of its terroir and for the PDO (Protected Designation of Origin) registered Pag cheese, that's undoubtedly the case. Sharp and salty, just like the island itself, it gains extra complexity by being rubbed with ash or grape must during the maturing period.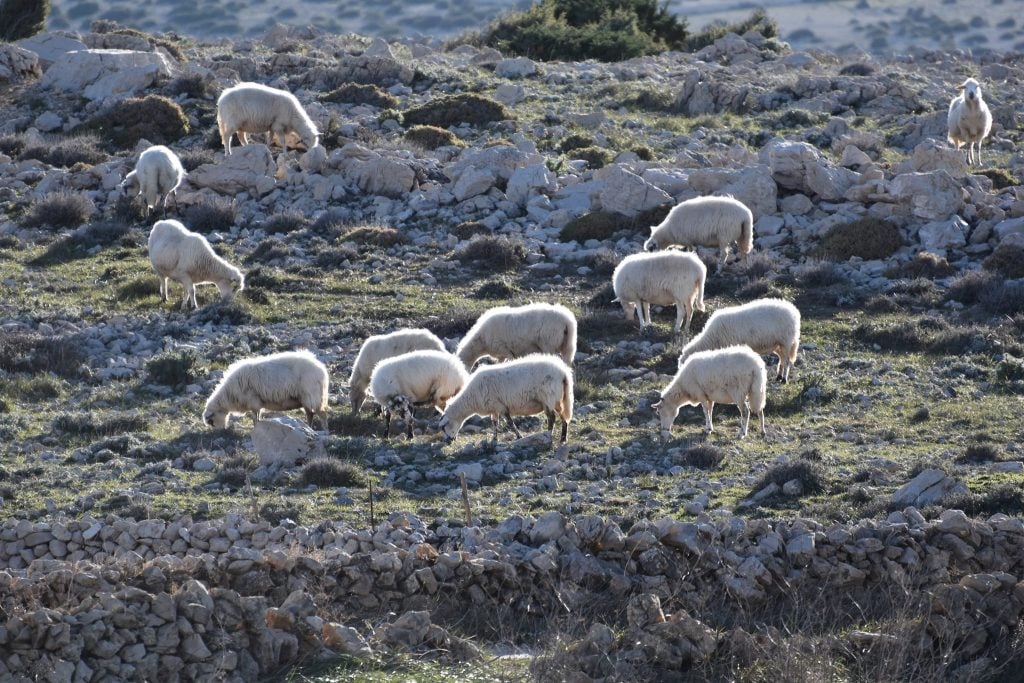 Croatia's most famous cheese
Pag cheese is the most famous and most awarded Croatian artisan cheese, made only from sheep milk. It's full-fat hard golden yellow cheese with a flaky texture and a pleasant smell and taste. It crumbles and melts in your mouth. The maturing lasts between three months and a year. The young Pag cheese is lighter in color, softer, and usually served as an appetizer. It is often combined with black olives, salty anchovies, prosciutto, or kulen, a cured spicy sausage from Croatia's inland Slavonia region. It pairs well with lighter white wines such as malvasia, graševina, and debit.
The more mature Pag cheese is darker, harder, and more savory. You can grated it over, or add it to, dishes such as homemade gnocchi, risotto, macaroni, and polenta. Or simply enjoy it on its own, maybe drizzled with a good olive oil, accompanied by a glass of wine. Pag cheese pairs well with red wines from all over the country. It's especially good Croatia's indigenous plavac mali, babić, and teran grape varieties, as well as merlots.
Gligora, the cheesemaker that put Pag on the map
The largest cheese producer on the island and the most awarded cheese factory in Croatia is Gligora. Cheesemaking has always been in the Gligora family, but it wasn't until the 90s that the family started the company. Their first production facilty was located in the basement and garage of their family house in Kolan. Gligora's path to success was not a straight line, but they persisted.
Gligora's Pag cheese won its first international prize in 2002 in a small competition in Italy, in the category of sheep cheeses. This finally got them well-deserved attention in their homeland as well. They built a new and modern factory in 2009, and a year later their Pag cheese won three SuperGold medals at the World Cheese Awards, a global cheese event held in Birmingham, England. This was the first international award for Croatian cheese in a major competition, which resonated in the media and got the brand international recognition.
Almost every year, Gligora's Pag cheese wins the most important awards at renowned world competitions. The company produces around 50 tonnes of Pag cheese per year and employs over 70 people. The price of their premium 12-month cheese is on the higher side. It sells for around $33/lb, and a whole truckle (wheel) weighs approx. 5.5 lb. For comparison, a whole wheel of Parmigiano weighs around 80 lb so a whole-wheel purchase of Pag is both far more portable and affordable. You can buy whole wheels at Gligora Cheese & Deli boutiques all around Croatia as well as smaller wedges. Gligora's boutiques are also a great place to taste their product. We include a stop there on our Zagreb private and small group food tours.
Frequently asked questions about Pag cheese
Can I visit a Pag cheese factory?
It's possible to arrange a tour of the Gligora cheese factory on Pag. It's a little over an hour from Zadar, or a detour, possibly involving a ferry to get between the mainland and Pag, if driving between Zagreb, Plitvice, Rovinj, and Zadar. Your tour should definitely be combined with a tasting in the onsite tasting room.
Can I bring Pag cheese back to the US with me?
As well as buying some cheese on your travels, you'll find Pag cheese for sale at the duty free outlets in Croatia's international airports, so you can pick some up just before you leave the country. According to Animal and Plant Health Inspection Service, you can bring solid hard or soft cheeses that have been aged at least two months (provided that they don't contain meat or pour like a liquid i.e. ricotta or cottage cheese) to the US as long as you declare them on the US Customs forms. Since it's a hard cheese, it should survive the journey. Make sure the cheese you buy is vacuum packed to avoid suffering the effects of not being refrigerated.
Can I order Pag cheese online?
You can buy Gligora's cheeses from their online shop and order a delivery to your address in the US, but beware, delivery fees are steep, costing more than the cheese itself unless you're ordering a large quantity. They can also ship you several of Croatia's best olive oils too.
Another big producer of Pag cheese is Paška Sirana, the oldest cheese factory on the island, located in the town of Pag. This pioneer in cheesemaking has been producing Pag cheese for over 70 years. As well as signature 12 month and 3 month Pag cheese, they have a number of other varieties. You can buy their products online for delivery in Croatia, in their shops in Pag town and Split, or order the 12 month variety online from Amazon in the US.

Originally from a small town in northeastern Croatia, Sanja's life was changed when she went to Poznan in Poland as an exchange student. Surrounded by students sharing their cultures from around the world, Sanja set about visiting her new friends as much as she could, once she returned to Croatia. Unsurprisingly, she picked up the addiction to travel we all share! A licensed tour guide in Zagreb with Master's degrees in both English and history under her belt, Sanja's itchy feet naturally brought her to JayWay, instead of to a classroom job. With her previous experience organizing travel for American premed students, we found Sanja to be a perfect fit, and are sure you will too.