Like any capital city, Prague has the usual selection of government and city-funded museums and galleries but there's also a wide variety of privately-run special interest museums, some quite apropos and some a little more whimsical. One big advantage to privately run museums is that they tend not to be closed on Mondays unlike nearly all state-run ones, which is handy if your time in the Golden City is limited.
Czech and Prague History
First we'll take a look at the museums that are very appropriate to Prague, since they cover aspects of the city's and country's history and famous figures.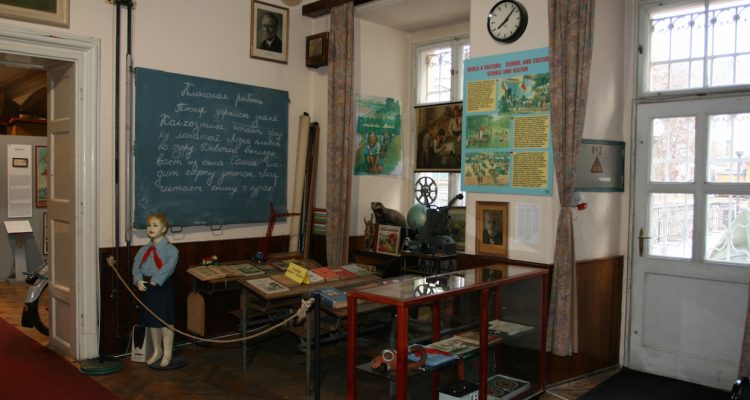 Museum of Communism
This is one of the first private museums to open and still the only museum dedicated to the very painful period of recent Czech history. Perhaps the reason there's no "official" museum is that the people would rather forget it. The Museum of Communism was curated and opened by an American, which explains the editorial slant of some of the descriptions.

Trabant Museum
The Trabant wasn't made in Czechoslovakia but it was very popular and still enjoys a cult status to this day, with owner's clubs gathering to enthuse about them in clouds of blue exhaust fumes. Over 3 million of these steel-chassised, plastic-bodied two-stroke engined cars rolled off the production line. The Trabant Museum located on the outskirts of the city (take tram 9 or 10 to the Hotel Golf stop) showcases several Trabbie variants and a period-correct garage.
KGB Museum
This interesting museum has a trove of artefacts from the KGB and associated secret police organizations across the Soviet Union and its satellite states. It's a vivid depiction of life under the surveillance of the omnipotent watchmen. There are some unique pieces at the KGB Museum, like Lenin's death mask and the ice pick that killed Leon Trotsky, co-architect of the 1917 revolution.
Mucha Museum
In Prague it's hard not to bump into the works of Alfons Mucha, the artist at the forefront of the art nouveau movement. From the interior decoration of the Municipal House to a stained glass window at St Vitus Cathedral or his life's work The Slav Epic, 20 giant canvases which are currently on display at the Veletrzni Palac in Prague 7 though rumoured to be touring Asia for a year starting in the first quarter of 2017, there's a lot of Mucha around. But if you want to learn more about the man himself and see an exhaustive catalog of his work, the Mucha Museum, a partnership between the Mucha Foundation, a non-profit and a commercial entity, is an essential stop.
Kafka Museum
Run by the same company as the Mucha Museum, the Kafka Museum is dedicated to helping visitors understand the life and works of the renowned Jewish author who was born and lived in Prague. Located in the Hergetova Cihelna complex, it's ideally combined with a visit to the restaurant of the same name.
Alchemy
Guests of the #JayWayPrague blogger project Cheryl MacDonald and Lisa Chavis had this to say of Prague's alchemy connection: Prague was the home of many famous alchemists… It's possible to revisit their world in amazing detail. Today we can learn about the work of Edward Kelley and medieval alchemists by visiting either the Museum of Alchemy or the Museum of Alchemists and Magicians of Old Prague. The Alchemist's Pub located at the latter is an intriguing look into drinkable potions and elixirs – and a great place to have a beer! Take a step back in time to believe again in the infinite possibilities of magic, mysticism and chemical reactions to make one rich, healthy and forever young. Alchemists rule!
Whimsical
These museums are of the "could be anywhere" variety. They're certainly not for everyone but if you're a fan, they can make for an interesting, informative and nostalgia-inducing diversion for a couple of hours.
Beer Museum Prague
Not to be confused with the Prague Beer Museum, which is a pair of pubs serving 30+ beers on tap, and not a museum at all, the Beer Museum is located on the same street as the Apple Museum and aims to teach you all about the history of beer and how it's made. There's also a tasting, just in case you were worried. There's even the option to bottle your own beer.
Lego Museum
Whether you have fond memories of playing with the plastic bricks or painful recollections of treading on them barefoot, it seems everyone knows something about Lego. The Museum of Bricks has the most Lego exhibits of anywhere in the world, with over 2,500 models covering 20 themes including several of Prague landmarks. One for kids of all ages! You can also do some Lego shopping in the adjacent store, with some exclusive kits on sale.
Know of any more quirky museums we should be recommending?
If you're planning a trip to Prague we'd love to help make it unforgettable. We'll create a Prague travel package just for you. Get in touch to learn more!

Charlie is head of marketing at JayWay Travel. A long-term Prague resident, his interests are cooking, eating out, cycling, skiing and of course, travel.