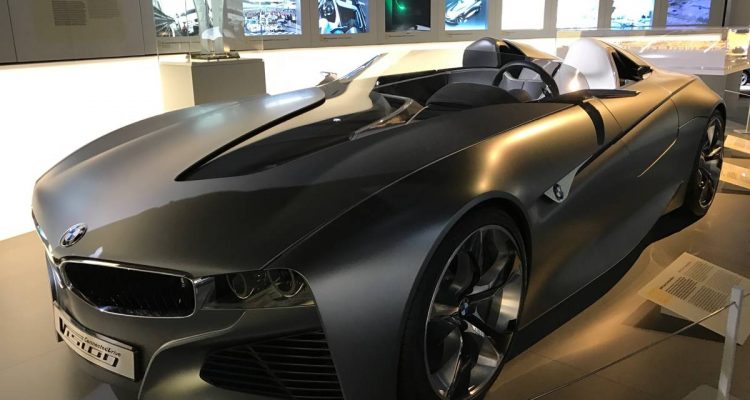 BMW's history is intertwined with the post-war boom experienced by Munich. The plant in Munich, one of several in the region and even more throughout the world, employs nearly 8,000 people, making it one of the largest employers in the area directly. Combined with the workforces of BMW's various suppliers close by, it's fair to say that the motoring giant is responsible for a lot of Munich's wealth.
The BMW complex spans a vast area close to the old Olympic stadium and is split into three areas that can be visited. We'll start with the easiest and work our way up.
Jump to a section of this article
BMW World
The most modern building of the complex, this part is known as BMW Welt, characterized as a tornado and a floating cloud, is part BMW Brands showroom – you'll find plenty of BMW badged cars here as well as Mini and Rolls Royce, part museum, part food court, part souvenir shop. There are also some restaurants here too including one that's only open in the evenings. There's also a vast floor space suspended above ground level which is used for presenting brand new cars to their owners. Stick around for a while on one of the walkways and you might be able to watch a handover ceremony.
BMW Museum
Outside BMW World you'll find a footbridge that will take you across the road to the BMW Museum. Although there are a few exhibits inside BMW Welt, real motoring aficionados will feel compelled to visit the museum to see the full collection. Here you'll find models from throughout the marque's history, including the pre-war years making airplane engines. As well as examples of most of their production cars and motorbikes there are also concept cars and the odd movie star in the form of a car featured in a movie, like the Z8 that was unceremoniously sliced in half in the Bond film The World is Not Enough. You can also learn about the evolution of the plant and its workforce in addition to admiring the hardware.
BMW Plant
While much of the museum content will appeal only to fans of BMW and petrolheads in general, the BMW Plant is fascinating for anyone interested in how things are made. A new BMW 3 or 5 series (the models produced here) rolls off the line at a rate of one every 90 seconds. Each car is made to order, based on exact customer requirements, with each option and extra different to the next, no two cars are the same. Watching the precision robots and their human handlers go through the thousands of steps from sheet metal to an engine running on a rolling road car is an experience well worth having and the guide who shows you around will answer almost any question you might have. The guides usually have a dry (Bavarian perhaps?) sense of humor but that can be very strict, particularly about the no photography rule, so keep your phone tucked away.
Do you need to book?
You can just show up at BMW Welt and go visit the museum but to take a tour of the factory you'll need to book in advance. Bookings need to be made by phone, though you don't pay till you arrive so they're taking you at your word you'll show up. When booking you can just reserve a factory tour on its own or for not much more than the price of the tour and museum admission you can also get a 'Premium tour' that includes a guided tour of BMW Welt and the museum as well.
How to get there
There's ample underground parking onsite if you're driving but there's also an U-Bahn station (Olympiazentrum) close by if you're using public transport.
Planning a trip to Germany? We'd love to create a German travel package just for you. Get in touch to learn more!

Charlie is head of marketing at JayWay Travel. A long-term Prague resident, his interests are cooking, eating out, cycling, skiing and of course, travel.