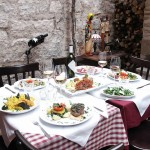 Can you think of a better food combination than proximity to the sea, nearby local farms and an Italian influence? For a very different Croatian dining experience, be sure to enjoy some mealtimes in Rovinj.
Located on the Istrian peninsula, this Slow Food fishing village is known for its fresh fish, olive oils and truffles. Its historic connection to Italy (it was part of the Venetian Empire) gives the region a much different vibe from the rest of the country – good food, and talking about it, are of primary importance.
Rovinj's food obsession though is supported by its waterfront location and cobblestone streets, exploration locations perfect for working up an appetite. The history runs deep here, and you'll discover both protected natural sites as well as archeological ones. And when you've had your cultural fill, it'll be time to fill your belly. Some of our favorite restaurants include Da Baston, La Puntulina, Restaurant Dream and Monte.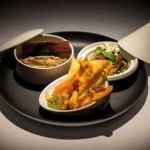 Why do we return to these spots? A combination of beautiful spaces, lovely service and of course, the fabulous food.  For no-nonsense Istrian classics in an informal setting, Da Baston, a knob or 'tavern' style place ticks all the boxes. At La Puntulina you'll be romanced by the setting (on a cliff, overlooking the sea) while at Restaurant Dream, your dreams of delicious food will come true. A visit to Monte, with its inventive cuisine focused on Rovinj flavors will make it hard to eat anywhere else. If you are wondering how you can squeeze another meal into the day, don't worry. Rovinj is worth a few days; easy day trips through the surrounding olive groves and wine vineyards to cities such as Pula and Porec will help you build up an appetite for the next meal.
For those who really want to get down and dirty with their dinner, check out our Truffle Hunting Adventure – a 4-hour excursion with lots of food and a dog expert to lead your search for these magical mushrooms.
Planning a trip to Rovinj? We'd love to put together a Slovenia travel package just for you. Get in touch to find out more!
Photos:
Top photo courtesy of Restaurant Dream
Bottom photo courtesy of Monte

Jacy is a travel journalist who likes art, culture, design and architecture. When not in Prague, she's most likely wandering the streets of other European cities, checking out their neighborhoods, their art and their coffee.