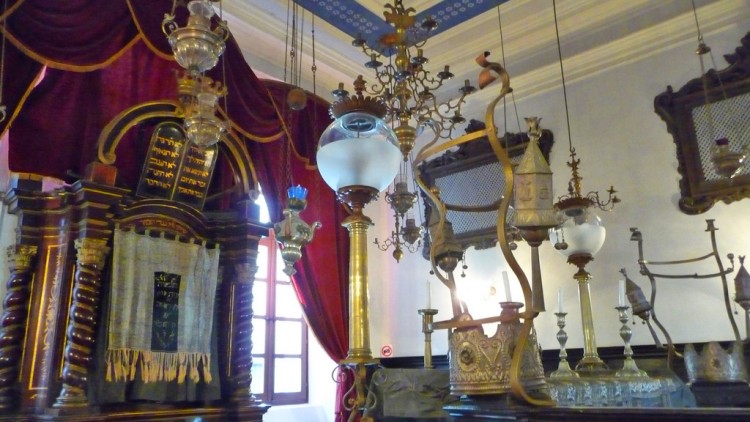 Croatia's religious landscape is overwhelmingly dominated by Roman Catholicism but the territory of Croatia has long been home to adherents of Judaism. While the Jewish population of Croatia was much smaller, at just 25,000, than countries like Germany with half a million or Czechoslovakia with around 350,000, Jewish communities had been established in various places around the country, in some cases for many centuries, starting as early as the 14th century.
The Jewish experience in Croatia over the ages
Since the 14th century Jews have been tolerated, expelled then tolerated again by the Habsburgs, then suffered genocide at the hands of the Ustasa, the ultra-fascist movement that took power as a Nazi puppet state in 1941.
Here we look at some of the still standing synagogues, monuments and landmarks that you can visit to this day while taking a custom tour of Croatia.
Jump to a section of this article
Zagreb
The capital is home to the country's largest Jewish community, with 1,500 of Croatia's estimated 2,000 to 2,500 Jews. As such it is also the location for an annual Festival of Tolerance organized by the Jewish Film Festival Zagreb Association.
Present day Jewish complex
The community's headquarters on Palmoticeva street houses a synagogue, community offices, a Holocaust research and documentation center as well as a kindergarten, art gallery and function rooms. Here you will also find the Ladislav Sik Library, the largest Jewish library in the Balkans. Badly damaged by a terrorist bombing in August 1991 it was speedily repaired by the Croatian government and reopened in September 1992.
Former synagogue and future Jewish complex
Zagreb's main synagogue stood on a site at Praska 7 from its completion in 1867 until its demolition at the end of 1941 by the Ustasa mayor of Zagreb. Commemorated only by a plaque on the wall of the adjacent building and currently used as a parking lot, it was finally restituted to the Zagreb Jewish community in 1999. There are plans to build a new Jewish complex there to include a memorial synagogue, community center and museum.
Mirogoj cemetery
The Mirogoj cemetery was an ambitious project established in 1876 to replace several smaller cemeteries. The Jewish section was established two years later and once had several separate areas, for Ashkenazic Neolog, Sephardic and Orthodox Jews. Local law allows for graves not maintained for a generation to be re-sold as burial plots so many Jewish tombs have been replaced with the graves of non-Jews. The most significant Jewish monument to found at the cemetery is a statue of Moses by sculptor Antun Augustincic which was originally intended as part of a family tomb but the family donated it for use as a Holocaust memorial after the war.
Rijeka
The synagogue at Rijeka in the Istria region was built as recently as 1928 and is one of the country's few Jewish buildings not damaged or destroyed during or after WWII. There is also a Jewish section in the town's Kozala Municipal Cemetery with over 500 monuments with the status of historic landmark.
Osijek
If you venture east from Zagreb into Slavonia almost as far as the Serbian border you'll come to Osijek. The city's Jewish community was established in 1849 and by 1880 the prosperous Jewish population of merchants and professionals was slightly larger than Zagreb's. Nowadays the town's Jewish population numbers just 100 and the Jewish sites here are a former synagogue, now a Pentecostal church, and two cemeteries.
Split
Split is the oldest home to a Jewish community with evidence of a Jews living close to Split in what was called Salona in Roman times, now an area called Solin which has become part of Split. It is presumed Jews took refuge within the walls of the Diocletian's Palace in the 7th century when the area was invaded. It was here they founded the core of Split's eventual Jewish community. There is documentary evidence of a great synagogue within the walls of the palace in the mid 14th century. Today the Jewish community of Split numbers just 100 members, though in history it was never larger than 300. Over the centuries many of them were buried in the cemetery on the eastern part of Marjan Hill where you can find over 700 tombstones, many engraved with Sephardic scripture. Split's current synagogue dates back to the 16th century and can be found on Zidovski Prolaz (literally "Jewish Passage"), a small street in the north-western part of Diocletian's Palace.
Dubrovnik
After the expulsion of the Jews from Spanish soil in the 14th century many sought refuge in Dubrovnik, at that time known as Ragusa, a maritime power similar to Venice. A Jewish ghetto has stood since then on a single street, bordering Stradun, Dubrovnik's main street and called Zidovska (Jewish). Some 200 tombstones can be found in Boninovo cemetery. The Old Synagogue in Dubrovnik, pictured at the top of this article, is the oldest Sephardic synagogue still in use today and the second oldest in Europe. It is owned by the city's Jewish community and is still used today for Holy days and special occasions but mainly functions as a city museum, displaying Jewish ritual items and centuries-old artefacts.
Planning a trip to Croatia? We'd love to put together a Croatia travel package just for you. Get in touch to find out more!
Image credit: Dubrovnik Old Synagogue Matt Zimmerman via Creative Commons on Flickr.

Charlie is head of marketing at JayWay Travel. A long-term Prague resident, his interests are cooking, eating out, cycling, skiing and of course, travel.