This 18th Century Baroque palace, reminiscent of Versailles, is just a little over an hour out of Riga and only a tiny detour on the main route between Riga and Vilnius or it can be visited as a day trip from Riga while you're staying there.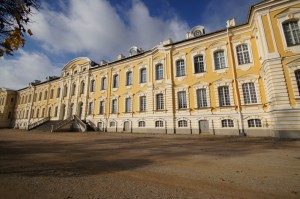 There's an interesting story behind its construction. It was designed by a French-born Russian-Italian architect whose other works include the Winter Palace in St Petersburg. The architect began work on the palace in the 1730s but when its owner, the Duke of Courland, fell from grace later that decade culminating in his property being confiscated in 1741, work on the palace ceased. It wasn't until the 1760s that the architect returned, then in his 60s, to finish the job. It was during this period that most of the interiors were decorated.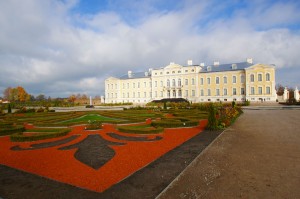 The Palace has endured some neglect in the 20th century too, used as a hospital by the German army in WWI then badly damaged in the Latvian War of Independence in 1919, its premises were used by the local school and the former duke's dining room was used as the school gymnasium. WWII wasn't kind to the place either It wasn't until 1972 that Rundale Palace Museum was established to restore and protect the buildings and grounds.
There are two routes for tours of the interior and having taken the long route, which includes some smaller 'state rooms', we can safely say that if you're pushed for time, you can opt for the short route and not feel like you've missed much, the grand interiors at the beginning are much more impressive! Even if stately homes aren't your thing, a stroll in the French-style garden at the rear of the palace is a must.
Planning a trip to the Baltics? We'd love to put together a Baltic travel package just for you. Get in touch to find out more!

Charlie is head of marketing at JayWay Travel. A long-term Prague resident, his interests are cooking, eating out, cycling, skiing and of course, travel.