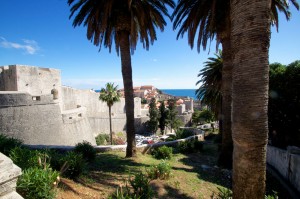 The decision of when to vacation in Croatia is driven by many different factors, but the main ones are what the weather is likely to be and what you intend to do there.
Croatia's geography makes it interesting in terms of climate. Being so long, north to south, the average temperatures in the very south (Dubrovnik) are often up to 10f higher than in Rovinj, in Istria, in the north of the country. The inland section of Croatia, where you'll find such gems as Plitvice Lakes, and the capital city Zagreb, has a very different climate to the coast too. Inland there are real winters, and occasionally snow. The winter weather on the coast is usually milder, if windy.
Most of our guests who take a Croatia vacation with us travel at least halfway up or down the country and quite a few will visit towns cities along the whole length of the coastline and in doing so could experience quite different weather during their trip.

Is Croatia a year-round destination?
That definitely depends on your interests and preferences for weather. Winter is quiet on the coast and islands, but cities like Zagreb and Split, with large permanent populations, are still lively. Zagreb in particular has a rich cultural calendar, and some of the best Christmas markets in Europe.
Should I avoid Croatia in peak summer?
Many North Americans think it's best to avoid Croatia in the main European summer travel months, but if you're looking for guaranteed warm days and sunshine, that's also the best time. Croatia is very popular with Europeans for family vacations, but these holidaymakers are usually headed to the more easily-reached northern sections of coast, and islands like Rab, and Krk, places with more of a reputation for affordability than historic interest.
Is shoulder season the best time to visit Croatia?
If your interests are more in the cultural/historical/gastronomical area, then shoulder season (June, September) offers comfortable temperatures and fewer crowds at key sights. If you want sun and sea, then the peak summer months are almost guaranteed sunshine and warm days.
Jump to a section of this article
Winter
Average Temperatures in Croatia through December, January and February are in the 40s to 50s Fahrenheit, mild for Europe but not short-sleeves weather. In winter we have just a few guests travelling to Croatia and usually only to the Northern part of the country. One big reason is that despite the tourist board's efforts, many tourism focused businesses such as restaurants shut up shop (especially in Dubrovnik) during winter and various connections like buses and ferries are on reduced timetables, making getting around a little more difficult.
Spring and early Summer
Temperatures start to climb as we get into April, with averages getting into the mid to upper 60s in April, 70s in May and into the 80s in June. These months are some of our busiest as the weather is reliably good all the infrastructure is in full swing.
High summer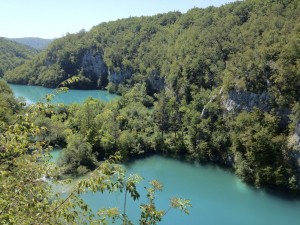 Our own stats for when our guests are in Croatia shows that the peak summer vacation months for Europeans: July and August, are considerably quieter for us than June and September. This is accounted for by the different reasons for taking a vacation. In the overwhelming heat of the summer when the temperature can be in the high 90s for days on end, walking around historical old towns or venturing into the countryside to visit wineries or national parks is much less appealing than taking a dip in the inviting crystal clear waters of the Adriatic. If your idea of a Croatia vacation is spending the entire time outside, and on the water, then this is the best time to visit.
Our (predominantly North American) guests are not usually looking for a 100% beach vacation, unlike most Europeans, especially those from neighbouring landlocked countries. If you're worried about everywhere being busy, consider that most Europeans vacationing in Croatia are there for beach time more than anything else, and they usually stick to the northern section of the coast, and larger easily-reached islands like Krk, Rab, and Brac. Sights like Plitvice Lakes and Krka National Park are likely to be quite busy though. In Dubrovnik in these peak summer months the overnight visitor population is swelled during the day by the large cruise ships that dock or anchor close by. Carefully scheduling your time around the cruise ship arrivals, as we do for our guests, you can avoid the crowds and have a wonderful time all the same.
Late Summer
September is another of our busiest months as our guests take advantage of the more hospitable temperatures, similar to the mid May/early June period (and benefitting from the fact that the sea has been heated up during the summer) and the European crowds have subsided as kids go back to school. Many of the attractions that can seem overrun in peak season (Dubrovnik's City Walls, Plitvice Lakes) are calmer and you get to enjoy them a little more at your own pace.
Fall
October is usually the last month of the year we have guests visiting Croatia in significant numbers. Daytime temperatures drop into the 60s and evenings require an extra layer of clothing. The end of October used to be when many tourism focused businesses go into hibernation but in recent years the season has extended into November. If your interests are cultural and culinary, this can be a great time to travel, and excellent value with low-season prices.
When will you travel?
Whichever time of you you prefer, and are able to travel, we can create a custom Croatia itinerary for you taking into account your preferences on activities and types of accommodation you you can be sure you're making the most of your vacation time.
Planning a trip to Croatia? We'd love to put together a Croatia travel package just for you. Get in touch to find out more!

A native of New York, Jay has lived, studied and worked in Europe, traveling extensively throughout the region. His broad experiences range from budget to first class allowing him to understand and appreciate travel needs of clients.