A "must-see" on a trip to Budapest is the Great Market Hall. It is located at the southern end of the famous Vaci Utca pedestrian shopping street and by the Liberty Bridge.
The Market Hall was opened in 1897, suffered extensive damage during WWII and was hastily repaired. It was in terrible condition by the end of the eighties and eventually closed in 1991 for safety reasons. The post-Communist era city council decided to restore the building and it was reopened In 1994. What you see now is the result of this effort to restore it to its original state.
As you enter the neo-gothic entrance gate you'll be struck by the sheer scale of the Hall. Produce arrived here by train and barge. In the basement you'll find fish, game and a supermarket. The ground floor level is where all other kinds of food are found (meat, fresh produce, smoked and cured meats and sausages). Go upstairs to purchase local arts and crafts. Beautiful Zsolnay tiles cover the enormous roof structure, that makes it the most spectacular element of the building from the outside.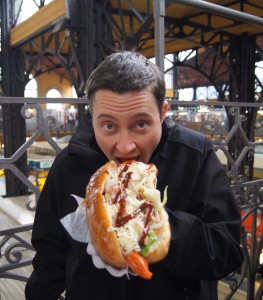 Tipped by CNN Travel as number one on their list of Vibrant Markets in Europe, over Barcelona's legendary Boqueria and the Grand Bazaar in Istanbul. The Great Market Hall is the place to pick up souvenirs for the folks back home, particularly the paprika to help you recreate Classic Hungarian dishes. Unlike general foodstuffs this is approved by US Customs to be brought into the country.
Come here with an appetite! You'll have the opportunity to try typical Hungarian delicacies such as famous hungarian sausages, langos (deep-fried dough with sour cream and cheese) and other mouth watering dishes. You could even pit yourself against the mighty Hun Dog, like I tried to. Not a light snack! These ready-to-eat foods are found at the food stalls on the 2nd floor gallery level.
Planning a trip to Budapest? We'd love to put together a Budapest travel package just for you. Get in touch to find out more!

A native of New York, Jay has lived, studied and worked in Europe, traveling extensively throughout the region. His broad experiences range from budget to first class allowing him to understand and appreciate travel needs of clients.