If you're fond of the outdoors, and keen on hiking, you may already be family with the Bohemian/Saxon Switzerland, beloved among locals and tourists alike. But there is much more to be explored, closer to Prague. A short ride by train or bus will take you to a landscape full of verdant forests, dramatic valleys, sandstone formations, and meandering rivers. Hiking is almost the Czech national sport, and well-marked and easy to follow hiking paths can be found all over the country. The following are suggestions for perfect active day trips from Prague.
As the name suggests, Bohemian Paradise is an area of rare beauty, so it's easy to see why it was the country's first nature preserve. About 60 miles northeast of Prague, it's easy to reach the towns and villages bordering the park by bus or train. The best way to get there is by riding a train straight to Turnov, a crossroads in the heart of the park famous for its jewelers and glassblowers. Sobotka, Dneboh, and Brezina nad Jizerou are also great places to start or end your trip, thanks to their good public transportation links.
Romantic Landscape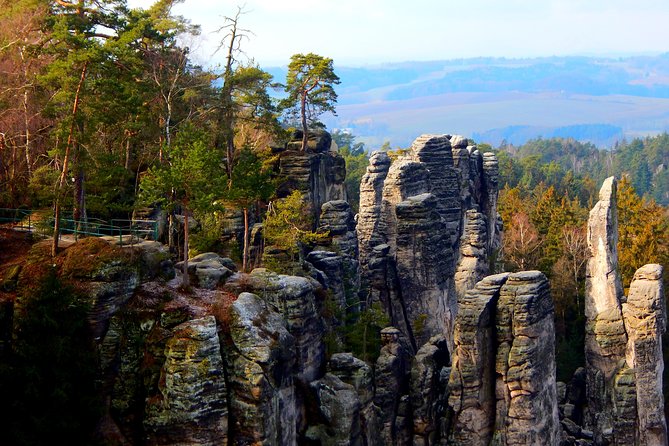 Bohemian Paradise is full of sandstone formations scattered throughout thick forest. Lashed by wind and rain for eons, these rocks have been molded into various shapes, resembling castles, towers, spires, petrified people, and seemingly anything if you have a bit of imagination.
Although a protected area, Bohemian Paradise isn't deserted, and nobility often chose to build castles and manors protected by the park's high rocks and deep forests. Some have been carefully preserved, while others left to ruin. Together with old pubs, lakes, and meadows, they create a romantic, fairy tale landscape.

Hiking in the Bohemian Paradise
The park is richly interlaced with hiking trails, connecting highlights to surrounding towns and villages. Start at any nearby train station or bus stop and you can be sure to find signs leading you to the park's heart. You can plan your entire walk in advance, or easily find shortcuts or long detours. Bohemian Paradise's dense network of well-marked trails offer plenty of flexibility, but here are two suggestions for moderately long hikes:
ROCK CITIES
The western corner of the park, near the village of Dneboh, boasts especially picturesque columns, many of which were once crowned by castles and fortresses. There you can climb stone stairs and ladders, traverse gangways, pass through narrow gaps, and take in amazing cliff top views. None of these sections are too demanding, although some basic fitness is required. Some of the highlights en route are the ruined Drabske Svetnicky and Zasadka castles, the Studeny rock passage, and Muzsky hill. You can make a 7.5 mile loop starting and ending at Dneboh, or head southeast to the town of Sobotka and its bus depot, stopping to admire the stunning High Gothic architecture of Kost Castle along the way.
SIGHTSEEINGS AND VISTAS
We also highly recommend visiting the northern part of Bohemian Paradise, mixing hiking with sightseeing and making stops at various vistas. After taking a train to Turnov, head for the nearby cliff top Valdstejn Castle. From there, the "Golden Route" connects various lookout points, including Na Kapelu, U Lvicka, and the stout Hlavatice lookout tower. Continue to the Hruba Skala castle for views of the dramatic ruins of the Trosky Castle, then perhaps a meal (or even a spa treatment), before heading home from the nearby Hruba Skala train station. The total length of this hike is eight miles, but with stops, this can take up a full day.

HIKING INFORMATION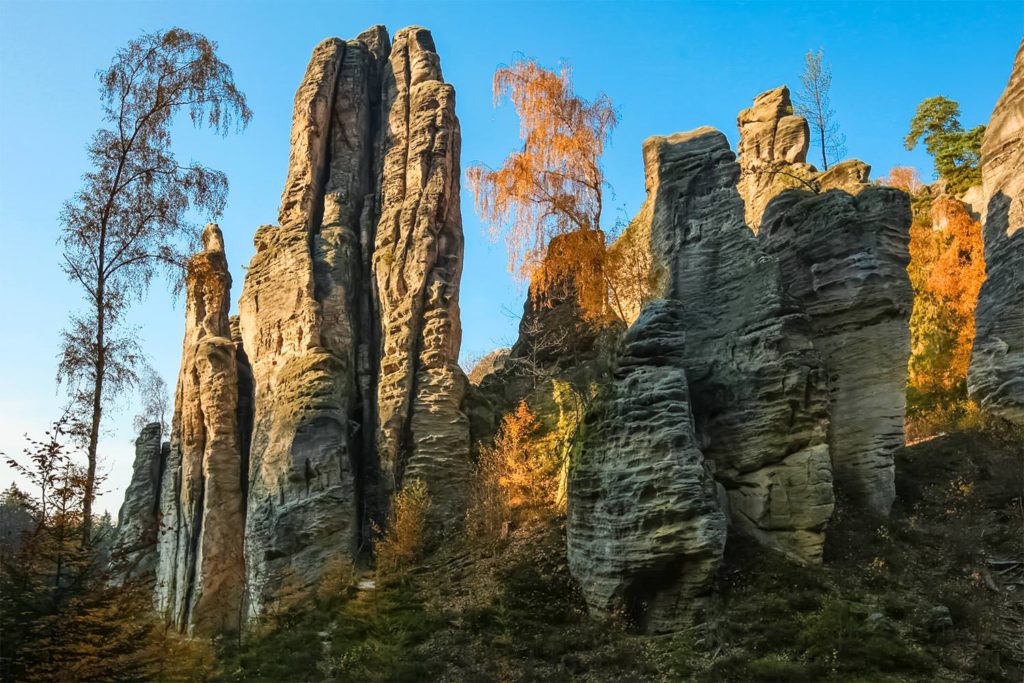 Length
6+ miles
Difficulty
Strenuous
Trailheads
Turnov, Sobotka, Dneboh, and Brezina nad Jizerou
Transportation
Train or bus to one of the abovementioned trailheads (the most convenient way to arrive is by taking the train to Turnov).
---
Bohemian Karst – the Karlštejn Castle and Great America
A very easy hike to plan, the Bohemian Karst is located about 25 miles from Prague, by the Berounka River. There are frequent trains to this area from Prague, and a number of places of interest, granting plenty of flexibility.
Where the Crown Jewels Were Kept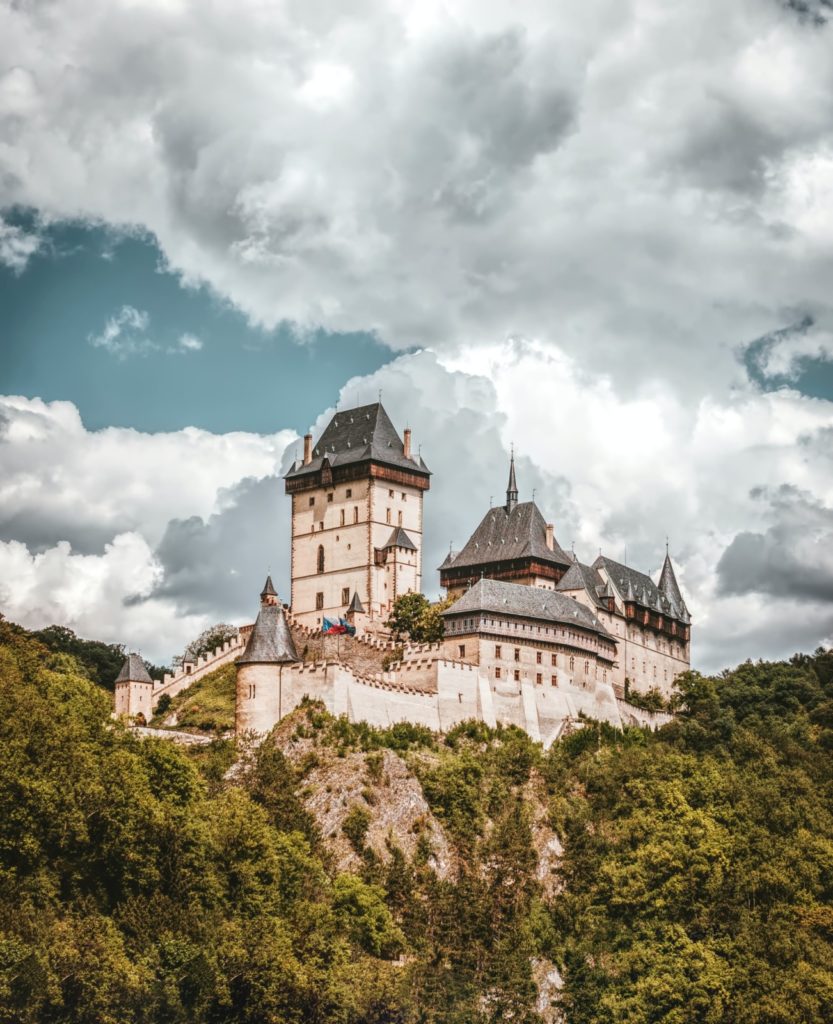 To make the most of your day, we recommend taking a train to Karlstejn. This small village stands large in historic annals, and is literally overshadowed by the majestic Karlstejn Castle, which rises above it. One of the most famous Czech castles, this impregnable Gothic wonder once safeguarded the Czech crown jewels, and the Imperial Regalia of the Holy Roman Empire.
Getting to the castle from the village below is a fifteen-minute walk. You can tour the interior, or just peek into its courtyards, then continue down to the valley below. This part of the hike is rather hilly, but becomes more flat once you arrive at the village of Morina.
A Hidden Spot for Film
Following fields, the path will take you to the edge of an abandoned quarry partially filled in by a sky-blue lake.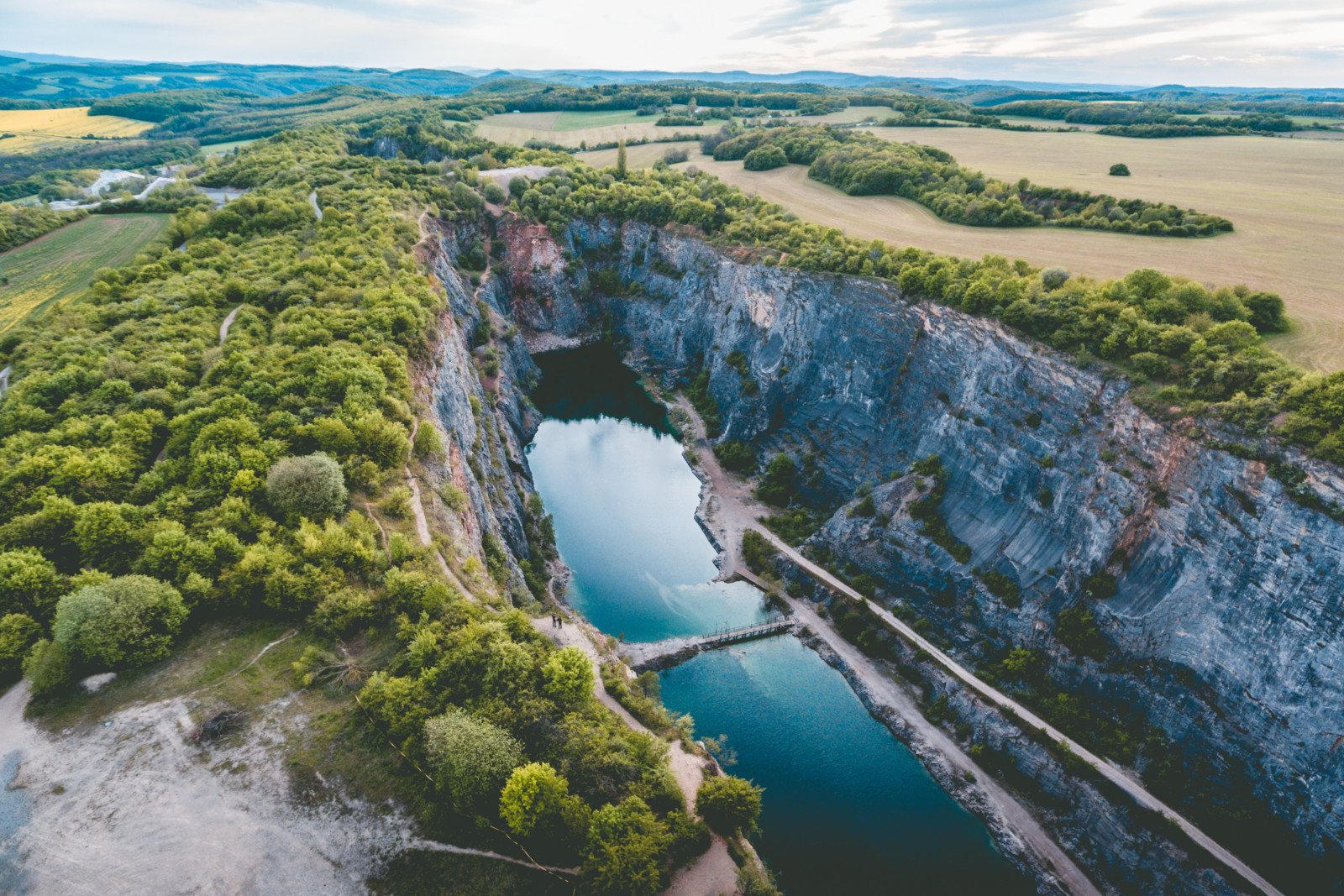 The last load of limestone left long ago, but this quarry is occasionally still full of activity. Now known as Velka Amerika ("Great America," not to be confused with Tallinn's "Väike-Ameerika," or "Little America!") thanks to a level of ruggedness reminiscent of the American West, it has served as the setting for more than twenty films. This spot might look a bit familiar if you've seen the British TV series Britannia, the Czechoslovakian cult-classic Western parody musical Lemonade Joe, or if you've had the misfortune to see Vin Diesel's Babylon A.D. While the quarry's bottom is off limits, you can follow its edge, walking along a narrow path, or taking a safer route down a parallel road.
Shortcuts and Detours
Continue onwards another five miles towards the village of Svaty Jan pod Skalou ("St. John Beneath the Rocks"), and you'll pass plenty of smaller quarries. After some light refreshments by the village's monastery, head to nearby Beroun, where you can catch a train back to Prague. This route should cover about 12.5 miles. If you prefer a longer hike, add another 2.5 miles by disembarking at the village of Zadni Treban, instead of Karlstejn. If, on the contrary, you prefer a shorter route, you can cut three miles off of the hiking route by heading to the Srbsko train station after visiting Great America.
Hiking Information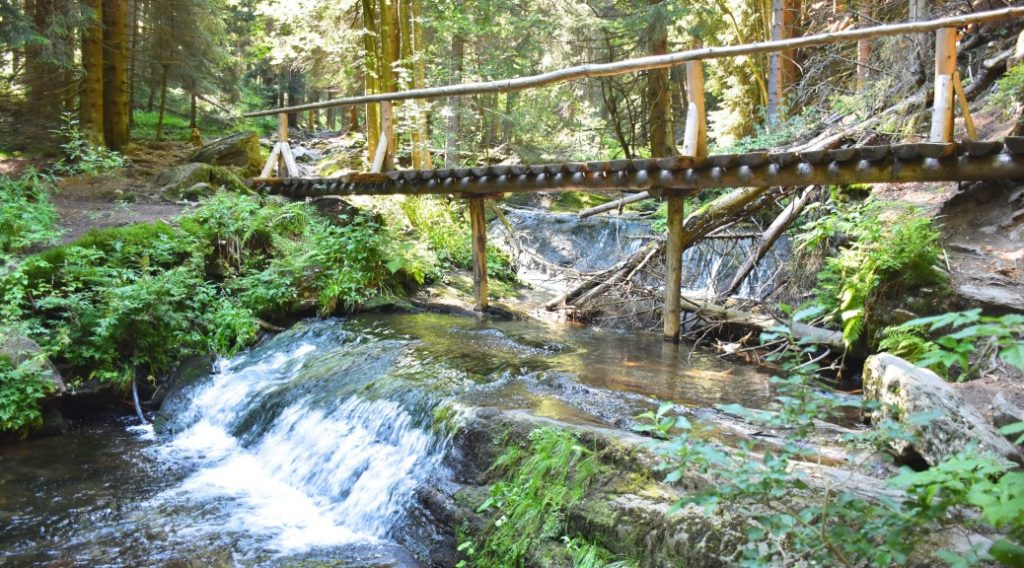 Length
9-15 miles
Difficulty
Moderate with few strenuous hilly sections
Trailheads
Revnice, Zadni Treban, Karlstejn, Srbsko, and Beroun
Transportation
Train from Praha hlavni nadrazi (main station) to and from the suggested trailheads
Along the St John's Rapids
Enjoy an easy hike along the meandering Vltava river with some dramatic scenery along the way. The St. John's Rapids once ran swiftly from the town of Stechovice, until the construction of the Stechovice dam, which smothered the most romantic part of the Vltava, but couldn't drown all of its charm. We recommend hiking between Stechovice and Trebenice, towns with frequent bus service to Prague. After taking the bus for about 50 minutes, you can have a seven-mile hike.
Great Views
By starting in Stechovice, you can take care of some of this route's few ascents right at the beginning. After disembarking from the bus, follow the river, climb above the dam to enjoy beautiful views of the river and the cliffs hemming them in. Halfway down the trail, is a curve where the river makes a nearly 180-degree turn, forming a peninsula somewhat akin to the Rhine's Lorelei, sans rock. Right across from here is the vantage point which inspired Bedrich Smetana to write one of his most famous symphonic poems, "My Homeland," especially the "Vltava" section, better known in English as "The Moldau".
Rocks and Dams
The last third of the path will take you past the Stechovice rock formation, which resembles a huge house carved into a rock. The river bank here is narrow, so parts of the trail have been carved into rock. At the end of the trail, you'll come to a dam, and will have to hike up from the stream bed to the town of Trebechovice, where you can board a bus back to Prague.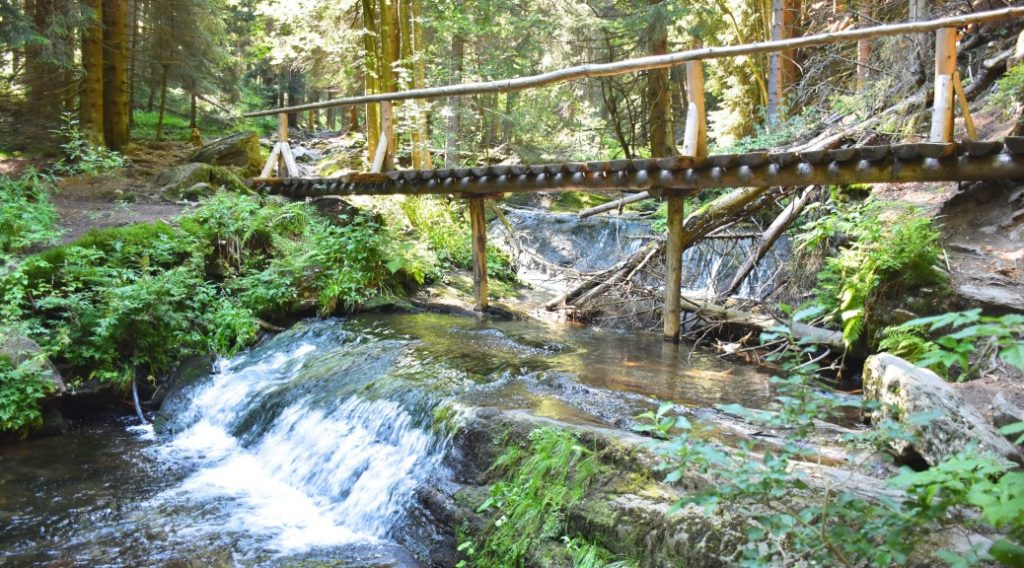 Length
7 miles
Difficulty
Easy to moderate
Trailheads
Stechovice and Trebechovice
Transportation
Bus from Praha Smichovske nadrazi to Stechovice, and another bus back from Trebechovice.

Born and raised in Wisconsin, Kevin lived in Estonia and Finland for several years, traveling widely through Central and Eastern Europe, before settling down in Berlin. Having studied the cultures, histories, and economics of the countries along the Baltic Sea for his Master's degree, Kevin has the knowledge and experience to help you plan the perfect trip anywhere in the region, and also works as JayWay's main writer and editor.