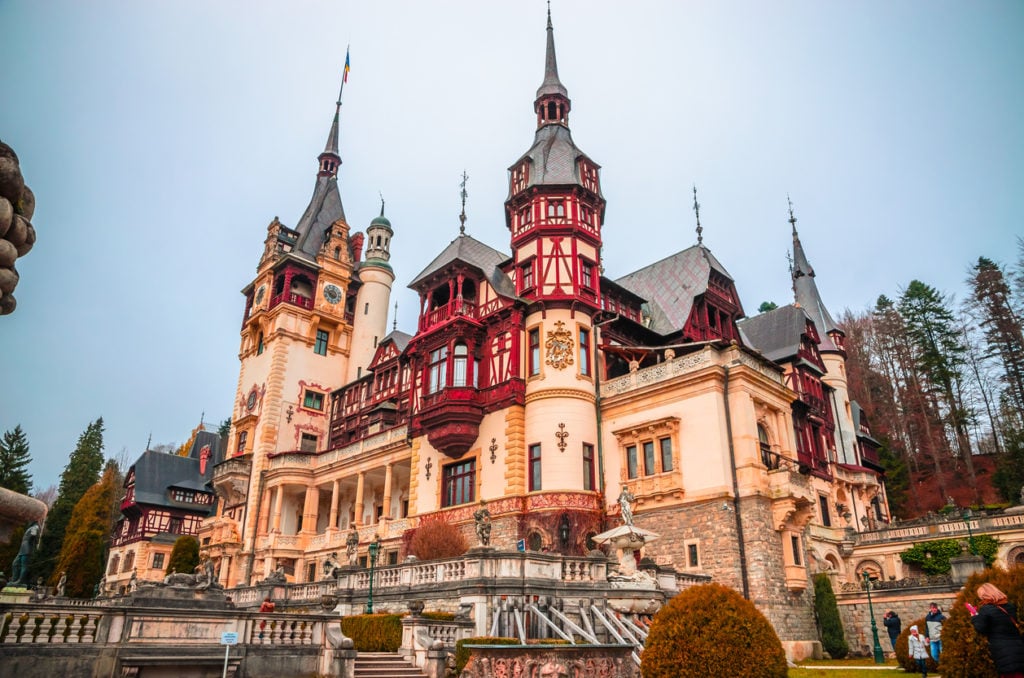 A highlight harder to find back in America or Australia, Europe's many castles can be overwhelming, so we decided to share some of our favorites. Click here for part one of this two-part post which covers the Adriatic and Central Europe regions.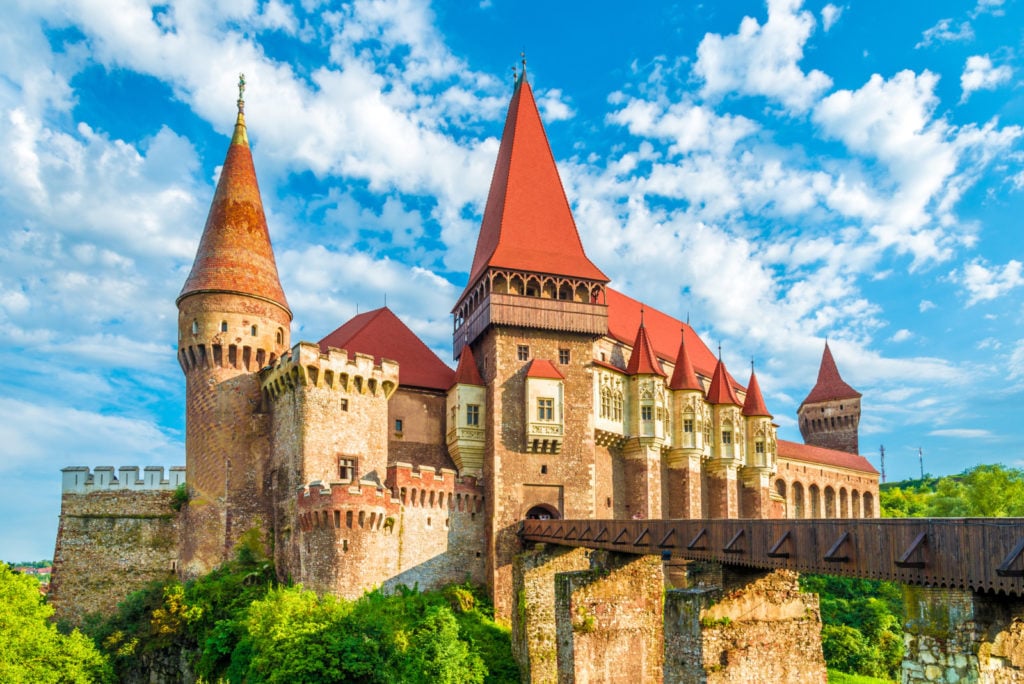 Jump to a section of this article
Corvin
One of Europe's largest (and probably most dramatic castles), Romania's Gothic-Renaissance Corvin Castle is a popular backdrop for movies and TV shows, and likely a source of inspiration for depictions of Dracula's Castle. Like many other places on this list, Corvin (AKA Hunyadi or Hunedoara) was built atop earlier fortifications in the mid 15th century. Unlike its predecessor, it sports huge arched Gothic halls, a long drawbridge, renaissance balconies, suspended passageways, marble corridors, and other fine touches. 
Built by John Hunyadi (Hunedoara in Romanian), the castle's next owner (and namesake), Matias Corvin, would attain lasting fame. Corvin lead Hungary to its zenith, expanding its borders to their greatest limits, modernizing the army, and bringing the Enlightenment (from universities to one of Europe's largest libraries) to Budapest. Barely a footnote in Corvin's story is Vlad the Impaler, Dracula's inspiration, who was captured by Corvin and held at the eponymous castle for a time.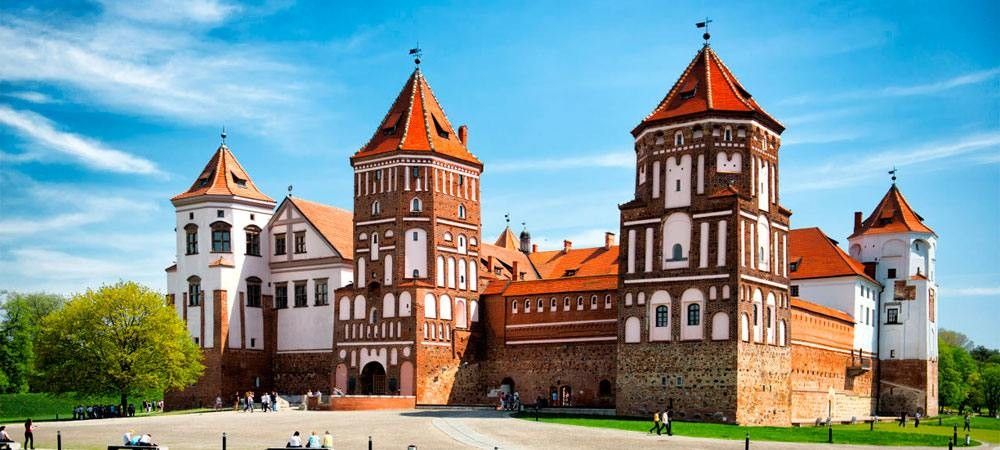 Mir and Nesvizh
It was hard to choose between Belarus' UNESCO-listed Mir and Nesvizh castles. Since they're only 18 miles apart, we decided to cover them together. Indeed, it's rare for our clients to visit one, and skip the other. Built around the turn of the 16th century, Mir ("Peace)" Castle eventually passed into the hands of the Radziwills, a leading family in Lithuania, then Poland-Lithuania and Prussia. These new owners transformed it into a stately Renaissance-style manor home. Largely destroyed in 1812 after the Battle of Mir (the first setback of Napoleon's invasion of Russia), Mir was rebuilt, and used by Nazi occupiers as a Jewish ghetto, then as housing for the communist regime that followed. Its unusual history resulted in today's patchwork combination of styles, from Polish Gothic to Baroque to Renaissance.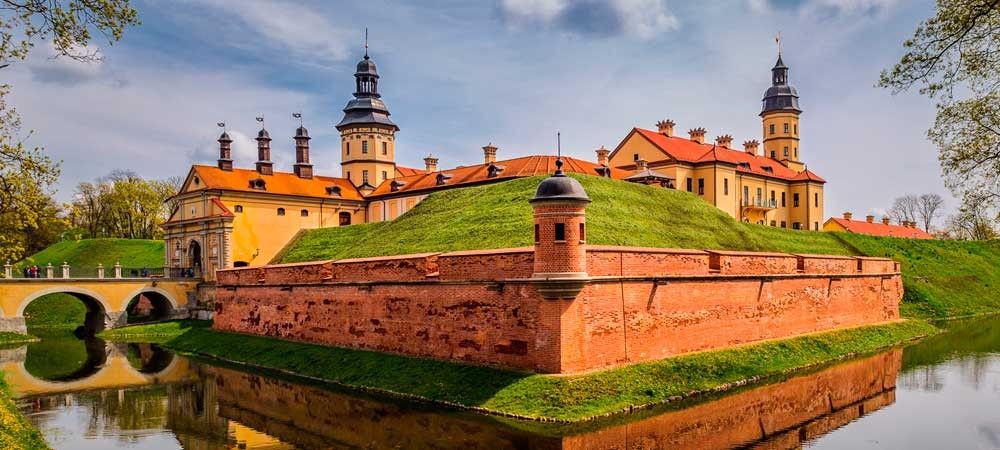 Nearly Nesvizh (AKA Niasviz) was another impressive Radziwill estate, which converted the medieval fortification into a Renaissance/Baroque chateau, fortified with towers, during the late 16th century. Sacked by Swedes in the Great Northern War, the palace was expanded again, with Baroque stucco and pleasing yellow paint, attaining its current appearance. Next door, the Corpus Christi Church was built, based off of Rome's Il Gesu. One of the first baroque buildings beyond Italy, you can find many of the Radziwill family buried beneath its elaborately painted dome. Seized by Catherine the Great in 1772, Nesvizh's treasures were dispersed, but the Radziwills restored the castle in the late 19th century, and surrounded it with a massive English-style landscape park. After 400 years of ownership (with the occasional interruption), the Radziwills were finally evicted for good in 1939 after Russia's invasion of Poland. Used as a sanatorium during Soviet times, the castle was restored following Belarus' independence, and has become one of Belarus' most popular museums.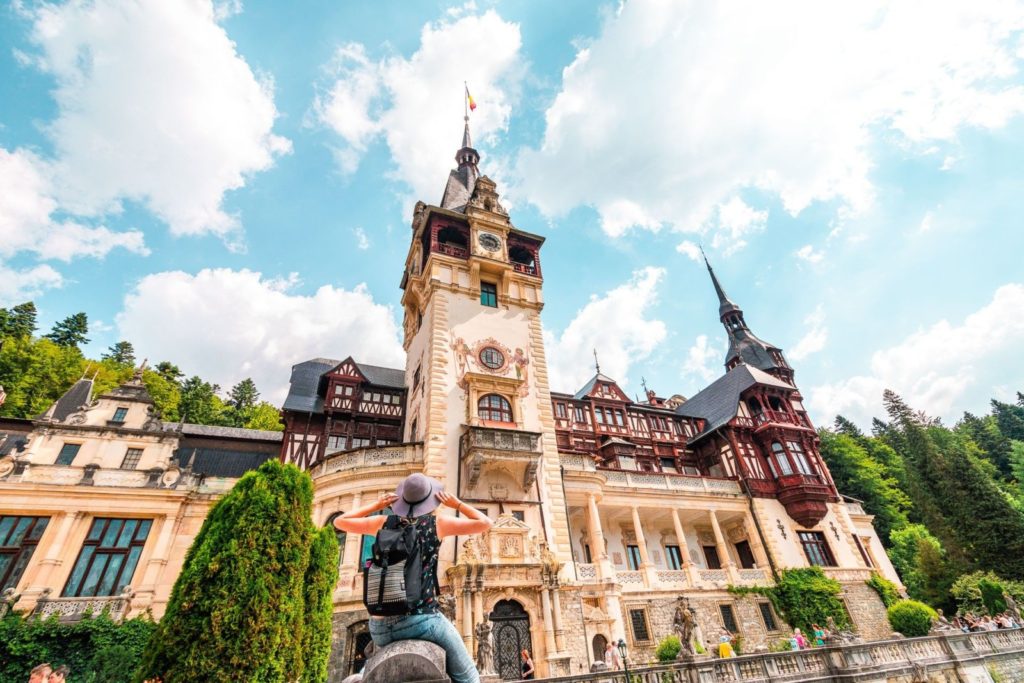 Peles
Travel through the mountain pass linking Bucharest and Brasov in Transylvania, and you'll pass by Peles Castle, easily one of Europe's most beautiful castles. Named for the creek flowing through its courtyard, this Neo-Renaissance/Gothic Revival wonder was built by King Carol I of Romania as a summer residence and hunting lodge, and partially modeled on Neuschwanstein Castle. Peles' strange mix of Transylvanian Saxon, German, and Italian styles matches the 14 languages spoken by its builders, who ranged from Italian masons to Polish engineers to French architects. Inaugurated in 1883, the castle had the latest amenities, from elevators to a built-in vacuum cleaning system. Europe's fully electrified castle, it housed the country's first cinema.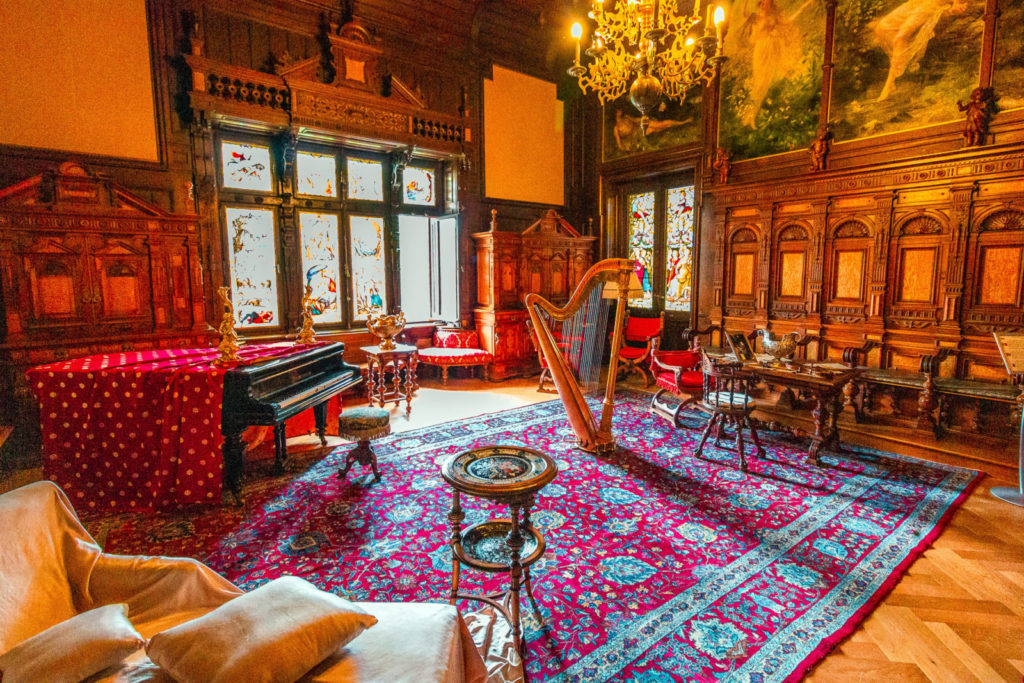 This showcase castle was stuffed with royal treasures, impressing noble visitors. The castle has one of Eastern Europe's best art collections, and one of Europe's largest armories, with over 4,000 pieces of arms and armor. Various rooms are decorated in styles reminiscent of the Ottoman Empire, Moors, Renaissance Florence, and Baroque Austria and France. The castle has nearly 2,000 paintings, to say nothing of the statues, porcelain, leather wall coverings, crystal chandeliers, and oriental rugs spread out over the 170 rooms. Look for the teak furniture gifted from India, the Turkish Salon's handmade silk embroideries, and frescoes painted by Gustav Klimt. A popular day trip from Brasov, Peles is a must-see for those traveling between Bucharest and Transylvania. For a better idea of what to expect, see our video here.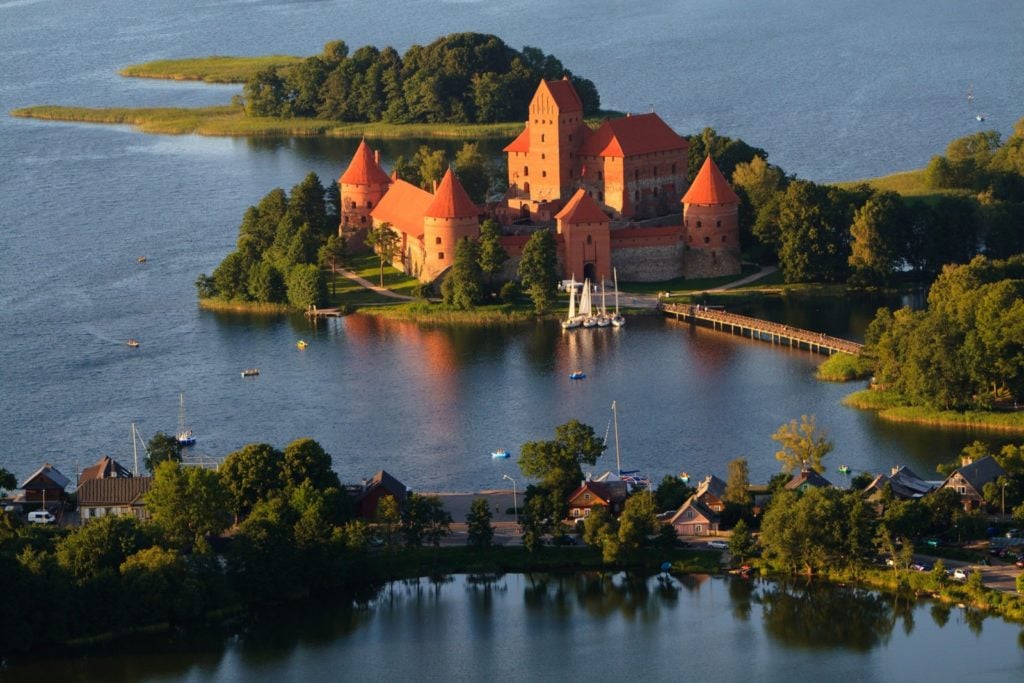 Trakai
Half an hour's drive from Vilnius, Trakai was the de facto capital of Lithuania when it formed an empire stretching from the Baltic to the Black Sea. So naturally it features an impressive, secure castle sitting on an island in Lake Galve, part of a chain of island-filled lakes. Trakai National Park actually features three castles, but the most impressive is the UNESCO-protected Trakai Island Castle, a restored red brick wonder linked to the isthmus village of Trakai's by a series of bridges. You can take in views of the castle from every angle, not just from the village, but also on a kayak tour, or by hot air balloon (an option we heartily recommend).
The villagers who guarded the castle for centuries, and still live next to it, are a reminder of Lithuania's zenith. These Karaites (AKA Karaim) are Crimean Tatars who converted to Karaite Judaism, a branch that rejects mainstream Rabbinic Judaism's focus on the Oral Torah for guidance, as opposed to the Written Torah alone (making them somewhat akin to Originalists). When Grand Duke Vytautas conquered Crimea at the end of the 14th century, he was impressed by the Karaites' fighting prowess, and sent them to garrison his most important castle Trakai.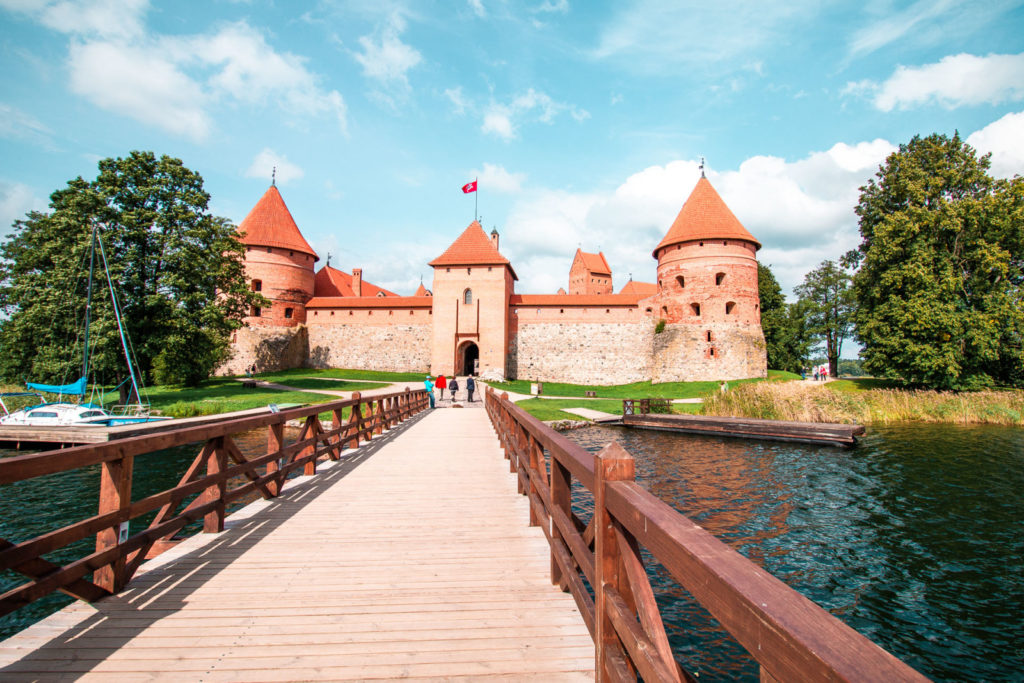 The Karaites have survived despite wars, famines, and plagues, preserving their traditions and wooden architecture, including their "kenesas" (synagogues). Despite its close ties to mainstream Judaism, Lithuania's Jews were able to convince Nazi occupiers that the Karaites were not Jewish, helping them largely escape the Holocaust. Alongside the Muslim ancestors of the Tatars brought to today's Poland and Lithuania to defend the latter, the Karaites are a reminder of Lithuania's multicultural, tolerant empire (indeed, Lithuania was Europe's last pagan nation, only officially converting in the late 14th century). Today, the Karaites are mostly known for Kibinai, traditional mutton pies similar to Cornish pasties, which are popular around the country, but best tried fresh in Trakai. You can get a better view of Trakai with this video.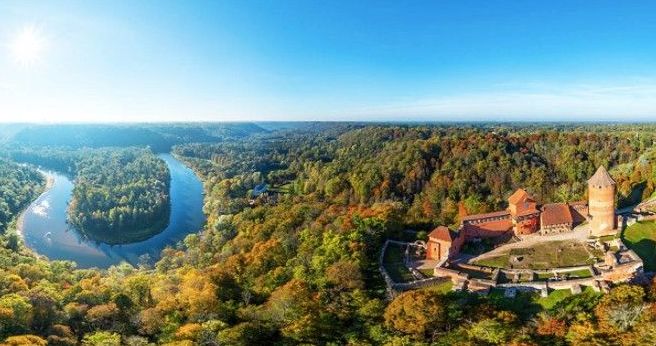 Turaida
An hour's drive from Riga, Sigulda sits within Gauja National Park's "Latvian Switzerland," where the Gauja River cuts a deep valley through sandstone formations. Home to four castles, Sigulda's most famous is Turaida Castle. A red brick beauty rising above a bend in the Gauja, Turaida was built by the Livonian Brothers of the Sword, a military order of crusaders founded to fight paganism on the east coast of the Baltic. These "Sword Brethren" would soon merge with the Teutonic Order after a devastating loss in battle to Lithuanian tribes, but not after first building many of the most famous castles in Livonia, the region that later became Estonia and northern Latvia. Despite naming the castle Fredeland ("Land of Peace,"), it became better known by its present name, which translates to "Thor's Garden" in Livonian, a language closely related to Estonian that lost its last native speaker in 2013, but is slowly growing again.
Modernized over the centuries, this castle was finally abandoned following a 1776 fire, but has since been partially renovated. Turaida is worth visiting for its bright round brick towers, and stunning views alone, but the castle is also beloved for the tragic legend of Maija, the "Rose of Turaida." While looking for survivors of a battle beneath the castle in 1601, Mr. Grief, the castle's clerk, found a baby in her dead mother's arms, and raised her as his own. Maija (pronounced "My-yah") became famous for her beauty, and fell in love with Viktor Heil, the gardener at Sigulda Castle, visible across the valley.
Shortly before their marriage, she received a letter from her beloved, asking her to meet him at their usual meeting spot, Gutmanis Cave. The largest cave in the Baltic States, Gutmanis has a number of its own, pagan legends. Maija came to the cave with Lenta, her adoptive sister. Instead of Viktor, they found Adam Jakubowski, a rejected Polish suitor who still wanted her. At the time, local women wore scarves until marriage, when they switched to large bonnets. Maija claimed her scarf would magically protect its wearer from injury, and offered it to Adam. After convincing him to test it on her, gullible Adam accidentally killed her with his axe, saving her honor but taking her life.
When Viktor found Maija's body, he rushed to Turaida for help, but in his panic, accidentally left his own axe behind. He was accused of the murder, but cleared at his trial by Lenta and one of Adam's comrades. As with his comrade, Adam's identity varies with the storyteller, from deserter to nobleman to soldier to laborer, but papers in Sigulda's archives testify to his execution. A grief-stricken Viktor buried his love, planted a linden tree by her grave, and left the land forever. Locals still decorate Maija's flowers, commemorating the Latvian take on Romeo and Juliet, and hoping for the same eternal love and devotion, albeit with a happier ending!
From tragic Turaida to vibrant Peles, we would love to help you explore Europe's castles, and the stories behind their aged facades. Contact us today, and we'll help you cross these castles off your bucket list, and find more hidden treasures.

Born and raised in Wisconsin, Kevin lived in Estonia and Finland for several years, traveling widely through Central and Eastern Europe, before settling down in Berlin. Having studied the cultures, histories, and economics of the countries along the Baltic Sea for his Master's degree, Kevin has the knowledge and experience to help you plan the perfect trip anywhere in the region, and also works as JayWay's main writer and editor.