So, you're planning your Italian vacation, and looking forward to experiencing Rome. You're getting ready, reading everything you can about how to get to the Colosseum, what to see in the Vatican Museums, how to toss the coin in the Trevi Fountain, and what specialties you want to dine on every day. You have been from one end of TripAdvisor to the other, seeking out the best pizzerias and restaurants, and you have a book-length list of places to check out, but still aren't sure exactly what a pizza al taglio is?
Jump to a section of this article
I was born and raised in Rome and have made it my mission to seek out the very best Pizza al Taglio in the city. So besides giving you the low-down on just what this essential Roman delight is all about in this article, I'll share a couple of my favorites with you at the end.
What is "Pizza al Taglio"?
Pizza al taglio (literally "pizza to cut") is the most popular pizza in Rome, and actually considered a street food. In English it's "pizza by the slice" You will find "pizzerie al taglio" or "forni" (bakeries) everywhere in the city and they look all pretty much the same. They are holes in the wall, with one or two tables (or occasionally none), and a long counter full of "lingue" ("tongues"), long, rectangular pizzas.
What flavors does it come in?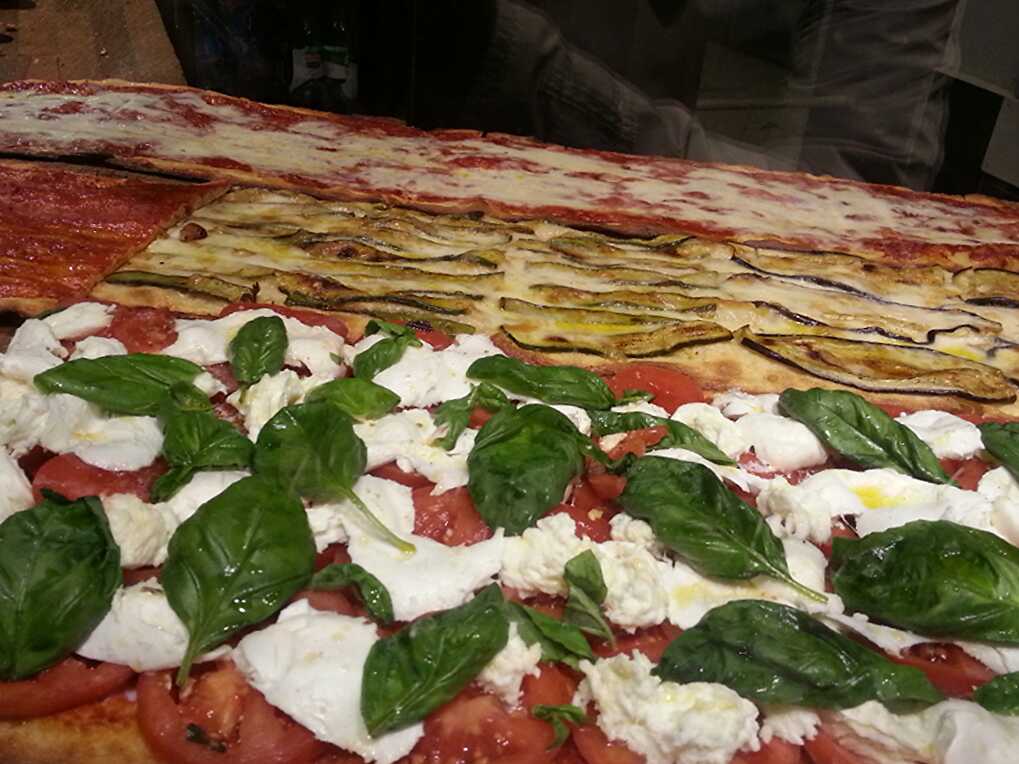 These pizzas are all different "flavors." These diverse possibilities range from classics, such as "pizza rossa" (only tomato sauce), "pizza bianca" (just oil and salt – perfect for making sandwiches or with Nutella!), "pizza margherita" (I know you know this one – tomato sauce and mozzarella), to more impressive types, loaded with mushrooms, potatoes, cheeses, pesto, sun-dried tomatoes, sometimes meat (usually cold cuts or porchetta), and so on. These are favorite mid-morning or mid-afternoon snacks for us, although they are also good for a light lunch, especially if you're outside walking around, doing some shopping, or work near a pizzeria and want to have a "cheat lunch."
How much does it cost?
I know what you're thinking. You looked at the picture and are wondering, "how can they call a pizza this big a 'snack?'" Fortunately, you don't have to eat the whole thing! We call these "pizzas to cut" since they are cut up for you. The pizzas aren't pre-sliced, as they're sold by the kilo, so their price depends on how much you want, and how many ingredients are piled on top. The price per kilo (2.2 pounds) varies between 13 and 20 Euros. The typical slice usually weighs around 100 grams or so and I would advise getting a few different flavors. The average Roman's lunchtime pizza order is 3-4 slices, a suppli (a deep-fried risotto rice, mozzarella and tomato ragu ball) and a bottle of water is around 10 Euros.
So how do I order my "pizza al taglio?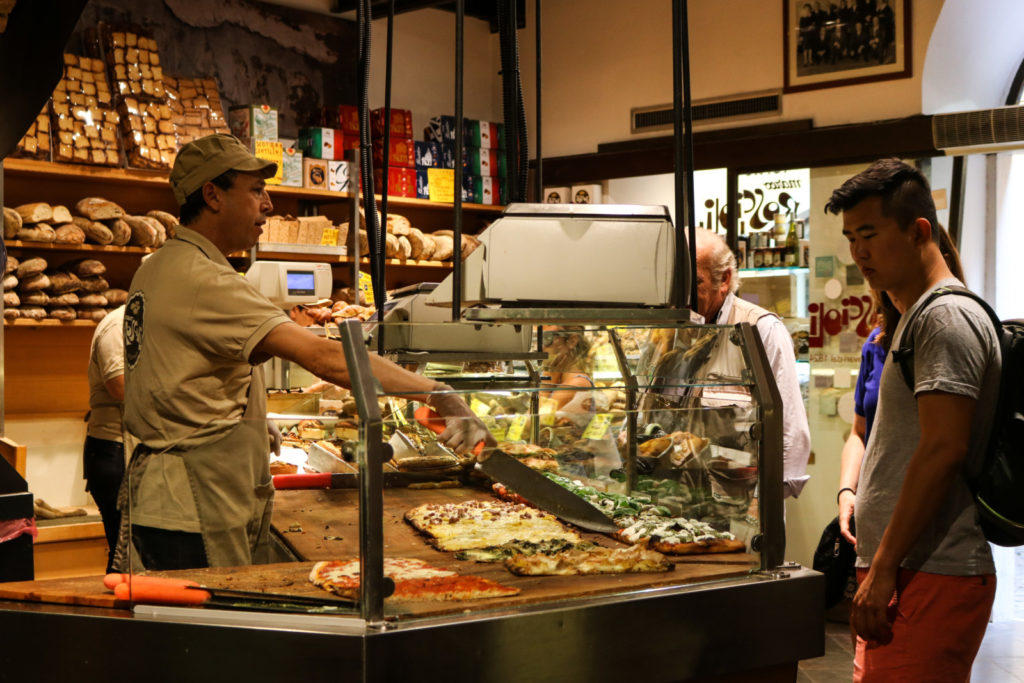 Here's how it works: when you go inside a pizzeria, head to the counter and pick at least one type of pizza by pointing to the ones you want. You'll be asked how big you want your slices, showing you by putting their knife on a potential place to slice, or, this being Italy, by showing you with their hands. Once your slices have been cut, they'll be weighed, and you'll get a final price. Pay the cashier while your pizza is warmed (although you can also take it right away if you'd rather not wait, or don't like your pizzas so hot).
How do I spot a good pizza-al-taglio place?
Great! Now you're an expert in delicious street food pizza. The only thing left to do is find the best places for pizza. You have to be very careful, as there are many tourist traps, especially in the city center. How can you recognize a winning contender? First of all, good places don't display pictures of their pizza outside or on their front door, or offer "special price menus" offering a slice alongside soda or a dessert, since good pizza is priced by the kilo, and not pre-cut.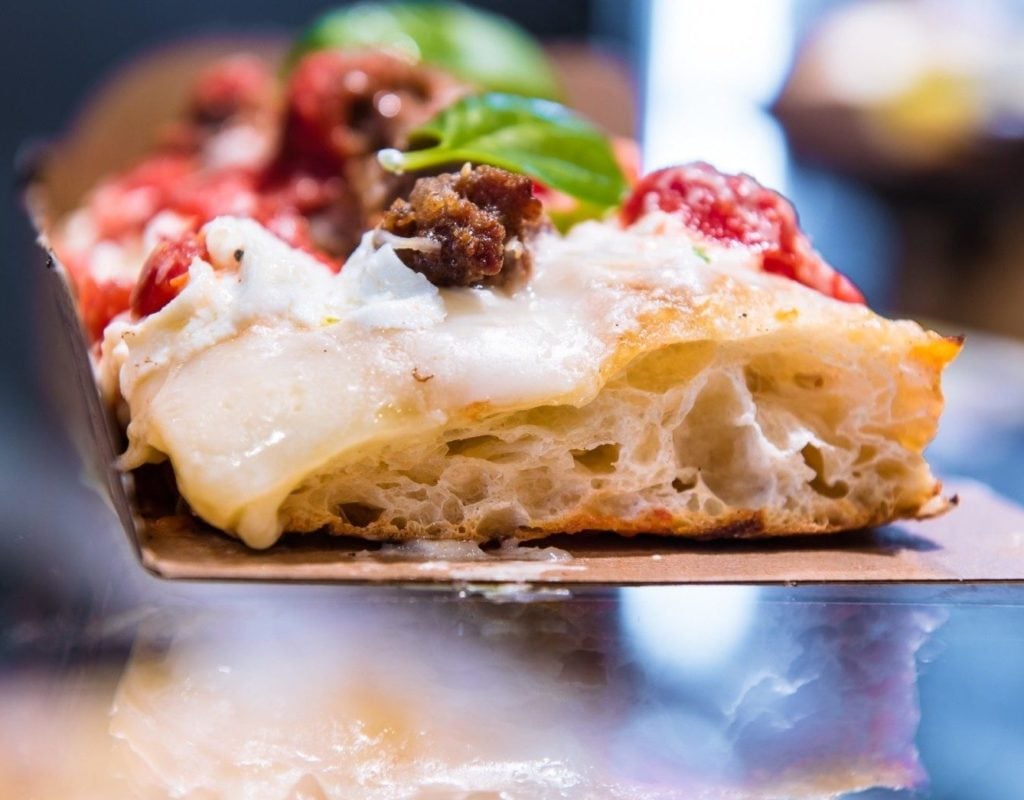 A good pizzaiolo strictly respects pizza dough's rest periods, and bakes for a proper amount of time, so their pizza crust will look soft but airy inside (with holes), instead of thick, while the bottom will be crunchy and hard, able to sustain the weight of the pizza, no matter how many toppings are added, and can be eaten with your hands without collapsing.
Of course, see if locals are eating somewhere, instead of just tourists. We usually enjoy a late lunch, around 1:30-2 PM, so if there are people having lunch at noon, they're definitely tourists. The last tip is: trust your guts! If a place looks nice and clean, has lots of people, and the pizza smells and looks good, well then, chances are good the pizzas will be delicious as well! If you want to be 100% sure you're in a good place, then seek out my favorite places.
And now for my favorite places:
I have two pizzerie al taglio that I absolutely LOVE, in two different districts of the city. One is in Monti (the area close to the Colosseum) and one in the Campo de' Fiori district (opposite from Piazza Navona).
The one in Monti is called Da Milvio. Located at Via dei Serpenti 7, it's open from 6.30 AM to 2 AM, so you can basically go there anytime. They have the most delicious pizza with zucchini and the sandwich with porchetta is just the best I have ever tried!
The second one, Antico Forno Roscioli, is actually my all time favorite. It's at Via dei Chiavari 34. I recommend visiting earlier in the day, so you can visit the farmer's market at the Campo de' Fiori district's main square, which is open from 6 AM to 2 PM. Not just a pizzeria but a bakery, Antico Forno Roscioli ("The Ancient Bakery") has offered all kinds of breads, pastries, sweets, sandwiches, and more since 1874. One of the city's oldest bakeries, it still makes its pizza following original Roman recipes and procedures, letting its dough rest for 72 hours! This makes their pizzas crunchy on the bottom, and soft and airy in the middle, a perfect combination. My all-time favorites there are the "pizza rossa" (I love how thin and crunchy it is!) and the tomato with pesto, tomatoes, and creamy stracciatella cheese.
Come to Rome, and we'll be happy to help you enjoy not just the city's best pizzas, but its other memorable, traditional delicacies.
Bonus: Make your own pizza al taglio at home!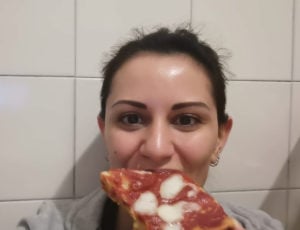 Although I was born and raised in Rome, my family are from Puglia and Campania, so baking has always been big in my family. Here's the recipe I use to make a tray of pizza at home (which you could cut, making it pizza al taglio!)
Ingredients
For the dough
4 cups (500 g) flour
1 cup (250 ml) warm water
2 teaspoons (7 grams, the size of a typical packet) yeast (fresh brewer's yeast is best)
1 tablespoon olive oil
1 tablespoon salt
A pinch of sugar
Toppings
You can get as creative as you like with the toppings but at a bare minimum you'll probably want some tomato sauce. Look for passata in the store. And of course mozzarella. For mozzarella, look for ball-shaped cheeses, ideally in a bag with water. That's what we use in Italy, rather than in block, shredded or sliced form. From there, the only limits are your creativity and what you have in your fridge or larder. But please, no pineapple!
Equipment
A large mixing bowl
Wooden spoon
Oven tray
Oven
Making the dough
Take a big bowl, the bigger the better and put the warm water in it. Add the yeast, then add the salt, sugar and oil.
Next, add the flour, stirring in a little at a time, until everything has been mixed up, forming a sticky dough. Now it's time to get dirty!
Dust a work clean, dry work surface with flour. Knead the dough for about ten minutes, until it is no longer sticky. If the dough is still sticky, add a bit more flour to the surface you're kneading the dough on, or onto the dough itself.
Put the dough in a bowl, and cover it with warm towels (the more (and warmer), the merrier). I leave it on my kitchen table, in the shade. Avoiding the sun is important, especially in summer when the heat can cause the dough to rise too much, so that I need to knead it all over again. I also make sure not to leave the dough in especially cold/dark places, like the fridge, so that the pizza doesn't end up hard like a cookie.
Let the dough rise for anywhere from 2 to 72 hours. Keep an eye on it, and if the dough is overflowing your bowl, move it to a larger container. I usually prepare the dough on Thursday morning or afternoon, so it's ready for Saturday dinner.
Time to bake!
Once the dough has risen and rested, preheat your oven to 350 F (180 C), knead the dough a bit more, then spread it on a tray covered in olive oil or parchment paper, to prevent it from sticking.
Add the toppings of your choice, and put the pizza in the oven. Let the pizza bake for around 10-15 minutes, until it's as crunchy as you like. When making pizza with mozzarella, I skip it until the pizza is nearly done. I then turn the oven off, take the pizza out, add the mozzarella, and put the pizza back into the oven for a few minutes, so the cheese melts perfectly without getting chewy or burning.
Prefer to watch instead of read?
Buon appetit!

Born and raised in Rome, Giorgia studied interpretation and translation in college, learning four languages and traveling extensively around Europe. Passionate about tourism and experiencing other cultures and traditions, Giorgia found work with a Roman tour company offering food and wine tours, and even trained as a sommelier. Excited to share her own culture and knowledge with others, and move beyond gustatory tourism, Giorgia joined JayWay, and proved to be an excellent fit.