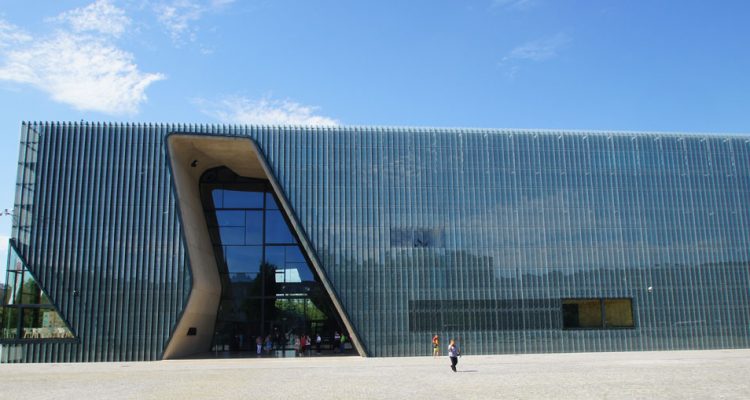 Warsaw is a city with a volatile past. One of the most powerful museums in Warsaw to pay tribute to that history is the POLIN Museum, the Museum of the History of Polish Jews. If there is one museum you visit in Warsaw, this should be it.
The museum started with many years of planning. Then it founded research facilities in 2013 and finally opened to the public in October 2014. The President of Israel, Reuwen Riwlin, and the Polish President attended the opening ceremony. In 2016, POLIN won the award for European Museum of the Year.
The museum sits in the middle of a square near the Monument to the Ghetto Heroes. This commemorates the Ghetto Uprising of 1943. The building is very unique. The surroundings are also worth seeing. Definitely look around the square. You'll admire all the sculpture and temporary exhibitions. Then head into the museum.
When you get to the museum you won't miss the beautiful hall where you can find the ticket office. Entry to the permanent exhibition costs 25 PLN ($7) per person.
The layout of the museum is very unique and it's worth explaining. First, you enter through the forest. This represents of the Vistula River. Here Poles first made connections with Jewish merchants. Then you go through the Middle Ages, where history appears in frescoes. There's the Paradisus Judaeorum of the 15th and 16th centuries too. This is the period of the Jagiellonian royal dynasty when the Jewish presence in Poland flourished.
In the Town gallery, you can explore Jewish settlements of the 17th and 18th centuries. The was before Poland's partitions and occupation by foreign powers. The roof and polychrome ceiling replica from a 17th-century synagogue crowns the gallery.
The museum is very interactive. Various galleries present different aspects of Jewish history and culture. Stroll through synagogue interiors and streets in old Jewish quarters with cafes and cinemas. You can see where Jewish people congregated before the war. The section covering World War II and the Holocaust is nearly overpowering.
You can choose to visit the exhibition on your own. In that case we recommend buying an audio guide at the ticket desk. It costs $3. Or you can join one of the regular tours with a guide.
POLIN Museum Opening Hours
Friday 10AM–6PM
Saturday 10AM–8PM
Sunday 10AM–8PM
Monday 10AM–6PM
Tuesday Closed
Wednesday 10AM–8PM
Thursday 10AM–6PM
Are you planning a trip to Warsaw? We are Poland travel experts and will help plan your ideal trip. Please get in touch to learn more.