As part of our 72 Hours In series we asked Giorgia, our woman in Rome, to tell us where she'd send a foreign friend on their first visit to Italy's magnificent capital city and her hometown. Take it away Giorgia…
There are some things in Rome that you really can't miss, especially if it's your first time here, so this three days in Rome itinerary includes all the main attractions and some suggestions to live Rome like a local.
Jump to a section of this article
Arrival Day – The Former Ghetto and Trastevere
Start your vacation in Rome with an easy walk in a smaller part of the city center, Trastevere and the Jewish district: these are areas you won't see included on any tours usually as there are no "main tourist attractions", but it's where the real and authentic heart and vibe of the city still can be found, so it makes for a great introduction to this most wonderful of cities.
Late afternoon and early evening is the perfect time to visit these neighborhoods. Start your walk from alongside the river, go through the Ghetto and then, on the other side of the Tiber, to Trastevere. If you've timed it right (they open at 6:30 PM) you can stop for an aperitivo (see below for an explanation) at one of Trastevere's most famous meeting spots, Freni e Frizioni. They're known for their cocktails and the large aperitivo buffet they put out. If you prefer a place with a focus on wines VinAllegro matches a solid wine list with a good spread. From here you can walk around the Trastevere district and cross the main street to go to Aristocampo for dinner, in Via della Lungaretta, where you can continue your Roman food journey with the best Carbonara in the city.
Some background info: Aperitvo
Aperitivo, meaning 'appetizer' started out as simply a drink (beer, wine or cocktail) enjoyed after work at a bar, before dinner, and was accompanied with a few snacks: some potato chips, olives and nuts. In some places it remains just that, but others have taken the concept and run with it, putting out large and varied buffets to the point that they might even use the portmanteau 'apericena' (appe-dinner). The great recession of 2008 and onwards played a big part in this change. Some places rather than put out a buffet have a fixed price aperitivo plate (or series of small dishes) that is served to you. Aperitivo usually runs from 6 PM to at the very latest 8:30 PM, it's essentially a 'happy hour' and you might see it advertised as such outside bars. The basic principle at anywhere with a buffet is that you'll pay a little more than usual for your drink, and you get to fill a plate with whatever you want from the buffet. Second visits are tolerated but for most Italians, aperitivo is still an appetizer enjoyed before going to a restaurant, and it takes the place of the starters they might otherwise order.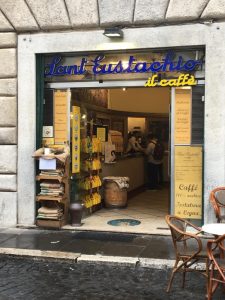 Buongiorno! You know what the best way to really start the day is? To have the best espresso! And you will find it in Sant'Eustachio – il Caffè, in Piazza Sant'Eustachio, between Piazza Navona and the Pantheon. When you order your caffe (which means an espresso – if you want any other kind of coffee, like a cappuccino or Americano, you'll need to ask) you won't need to add sugar. Here they put cremina – a sweet cream made solely of coffee and sugar – inside. If you want your espresso black you should ask in advance for un caffè senza zucchero.
From here you can take a nice walk among the Pantheon, Piazza Navona and then off to the Trevi Fountain, remember to toss the coin (and try not to hit a policeman with it)!
Stop for lunch at Lo Zozzone (which is not too expensive, even though it is right behind Piazza Navona) and get the Bucatini all'Amatriciana. It's to die for!!
In the afternoon, you can take a cab (or walk off the calories if you prefer) to the area of Monti. Although it's right around the Colosseum, you'll enjoy a nice walk among locals without the crowds of the center. Definitely have a gelato at Fata Morgana. Their creations are organic and gluten free, and many are vegan friendly. Monti's packed with boutiques selling local designers' work so it's a great place to pick up a unique reminder of your time in Rome. Go for an early dinner at Ce Stamo a Pensa', where you can enjoy delicious fried pizza (montanare), suppli, and many more.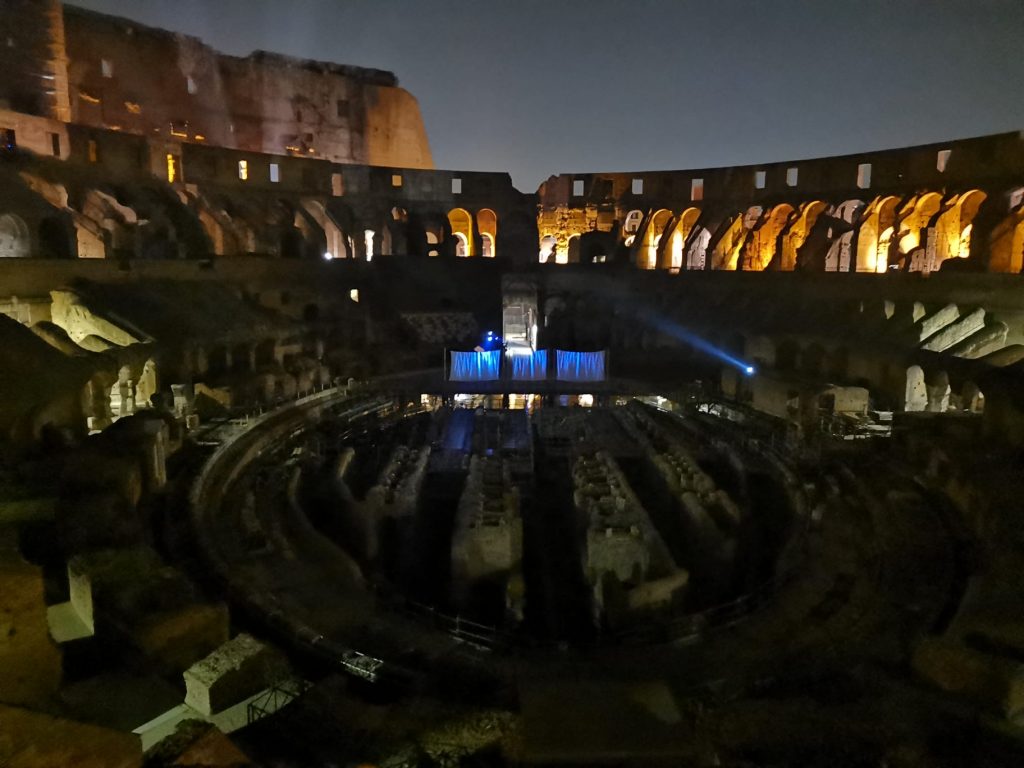 After dinner you can't miss the VIP Colosseum tour at night. Having just a few days, this is the best way to enjoy the Colosseum, inside and outside, and also access very special areas such as the underground and the arena floor, which are usually closed to tourists.
Day 2 – Markets, Squares and Views
You don't want to miss getting a little taste of other regions of Italy, right? So today you want to start with a little taste of Sicily. Stop for a coffee with pistachio and a cannolo at Nonna Vincenza, in the Campo de' Fiori neighborhood. If you prefer your snacks on the savory side, you should head straight to Norcineria Viola. Norcia is a small town in the Umbria region where it seems like most of Italy's butchers originate from. This historic family owned delicatessen dating from 1890 is full of many of their own cured meats: hams, salamis and more.
After breakfast you can stroll in the beautiful farmers' market in the main square and then off to Via Giulia where you will find some lovely craftsman shops and authentic boutiques. Because you're right in the center of the city and there can be a lot of tourists around, sadly there are some tourist trap restaurants to avoid, but there's one place you should seek out. Lunch at Roscioli – il Forno is absolutely mandatory! You can have different slices of pizza and/or a sandwich with their freshly baked bread. Try their homemade biscotti as well (the best ones are called "ugly but good", but you have to ask for them in Italian – brutti ma buoni).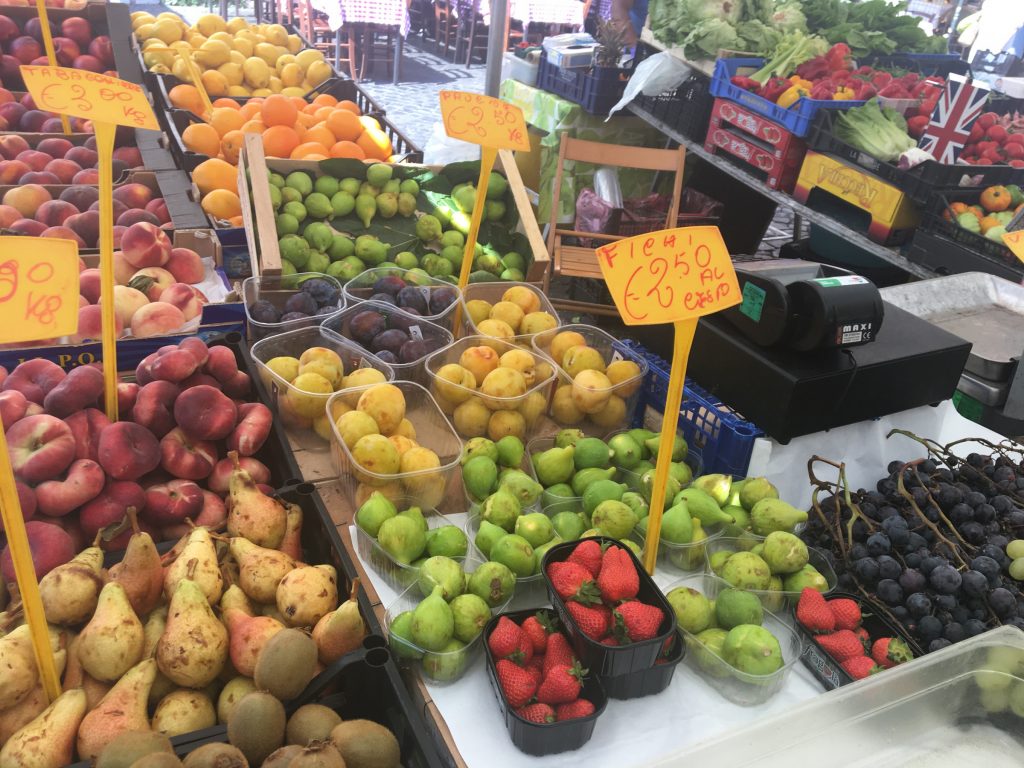 After lunch, you can relax and do some shopping, starting from the gorgeous Piazza Venezia, where you can admire the building that tourists call the 'wedding cake'. Built in memory of our very first king of unified Italy (Vittorio Emanuele II), it took fifty years to complete. From here, with your shoulders to the cake, the street in front of you is Via del Corso (the main shopping street). You walk in the street for almost 2km, but wait a second! Half way through the Corso there is a street on your right, in front of the Fendi building, trust me, you really want to take a look at what's at the end of that street packed with people. Yes, you are correct, that's the Spanish Steps!
Now that you took your pictures at the Spanish Steps and maybe bought a flower for your loved one (or friend!), you can walk back Via Condotti and stop, if you feel like, at Antico Caffe Greco, on your right. This is the oldest coffee bar in Rome! Many famous names have been here, among them Keats, Shelley, Baudelaire, Goethe, Casanova, Byron, Gogol', Orson Welles and many many more. You don't want to miss the opportunity of sitting where they sat, right? Even though a coffee here might cost you as much as the lunch you had before, it is definitely worth it at least to go inside and take a look at the place, which seems to be frozen in time.
Now go back to Via del corso and keep walking up to Piazza del Popolo. This is a square most tourists miss but it's quite famous among locals, especially kids. If you have kids (or if you feel like playing a bit) you should try this little game: one of you should stand at one end of a wall (left or right one is the same) and the other one should stand on the other end of the same wall. The story goes that if you whisper toward the wall, the other person at the end of it will hear what you are saying 🙂
Now that you have found out if this urban legend is true or not, it's time to walk off some calories! Climb the stairs on the right part of the square and get to the Pincio! This is one of the most famous panoramic terraces and views of Rome and from here you can enjoy a breathtaking sunset. The best of your life, I am sure 😉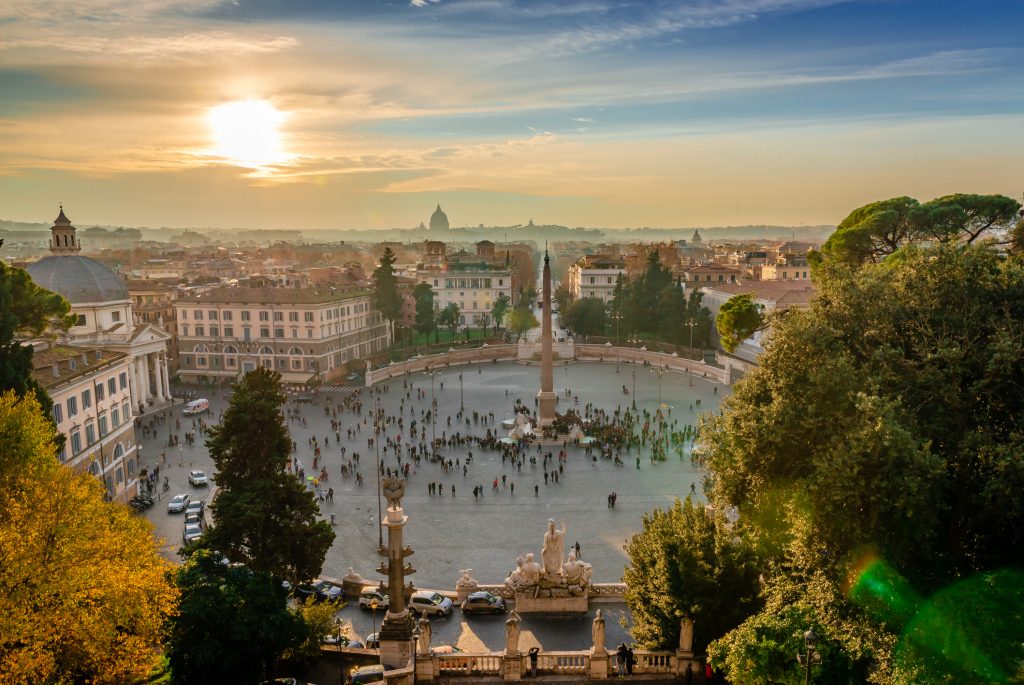 The sun is down, are you hungry now? Well, it's your last night in Rome, so I believe you deserve a nice dinner. Keep walking in Villa Borghese (this is the name of the park where you are now) from the left side of the terrace and you will find yourself on the top of Trinita dei Monti (Spanish Steps), climb down the steps and go to the street on your left, this is Via Margutta. In my opinion this is the most beautiful street in the whole city, and if you pay attention, there's a lovely Osteria (Osteria Margutta) where you can have dinner.
Tired enough? No way! Now you have to walk back, at least for 500 yards or so, so you can admire the Trevi Fountain at night. I know you have been here yesterday, but trust me, you won't regret seeing it without people and all lit up. She sure is a beauty 🙂
Day 3 – Vaticano, Finally!
Day 3 – Vaticano, Finally!
Did you think I forgot that you can't go back home and tell your friends you have been to Rome but didn't go to the Vatican?
It's time to have breakfast at Bar Latteria Giuliani and then walk in Borgo Pio heading North. This is the only borgo (hamlet) left from the era of the Popes exactly as it used to be (pretty amazing, if you ask me). At the end of the Borgo you will see St. Peter's Square, but you will access it from its left side, so you want to walk around the big columns (try to touch one, Bernini designed them and built them!) until you face the Basilica, and now you can take some pics of course.
The access to the Basilica is always free but there might be a line, so be prepared to wait a bit.
Now that you have seen the Basilica di San Pietro, turn around and walk back Via della Conciliazione, the big street in front of you, and go see Castel Sant'Angelo. This used to be a prison but it's also where the Popes used to run to in case of wars or attacks of any kind (and there is a secret passage, too, but this is a visit for another time).
For your last lunch in Rome, I suggest a sandwich at 200 Gradi. As the name predicts, they have 200 different "flavors" of sandwiches, so I am sure everyone will find their favorite.
Sadly it's time to depart Rome, but I know for sure that you'll be back!

Born and raised in Rome, Giorgia studied interpretation and translation in college, learning four languages and traveling extensively around Europe. Passionate about tourism and experiencing other cultures and traditions, Giorgia found work with a Roman tour company offering food and wine tours, and even trained as a sommelier. Excited to share her own culture and knowledge with others, and move beyond gustatory tourism, Giorgia joined JayWay, and proved to be an excellent fit.