Ancient temples, whitewashed cube-like houses and captivating sunset views, are just a few of the reasons to visit the Cyclades. Greek cuisine in fact is a fantastic reason on its own to plan a trip to Greece. Due to its remarkable location in the Mediterranean and a favorable microclimate that offers optimum conditions for agriculture, Greece produces some of the finest ingredients in the world.
Jump to a section of this article
Our Guide to the Traditional Dishes of the Cyclades
Every Greek island is known for its unique character and fantastic products and recipes. In Greece you are most definitely to be spoiled for choice of bountiful flavors. In this post we introduce you to the traditional dishes of the Cyclades. Warning: Don't read this on an empty stomach!
Foods to try on Mykonos
Mykonos is maybe best known for its extravagant nightlife, however the island of the winds also has an authentic side.
Mykonos barley rusks
The windmill complex Kato Myloi (Lower Windmills) is Mykonos' most photographed landmark. It rises above the harbor and was built during the 16th century. It has greatly contributed to the island's economic prosperity for over 200 years. The sheer power of the northern winds was used to grind local wheat to produce barley rusks that were supplied to the Greek and foreign fleet.
These rusks were highly in demand as they could endure long sea journeys. Today only one traditional bakery operates its wood-fired ovens in Chora (Mykonos Town). Gioras Wood Medieval Mykonian Bakery owned by the Vamvakouris family has been applying the same traditional baking techniques for the past 200 years. It is housed in the second oldest building in Chora (after the Panagia Paraportiani Church). Here you can sample the traditional barley rusks and other delights.
Myconian Cheeses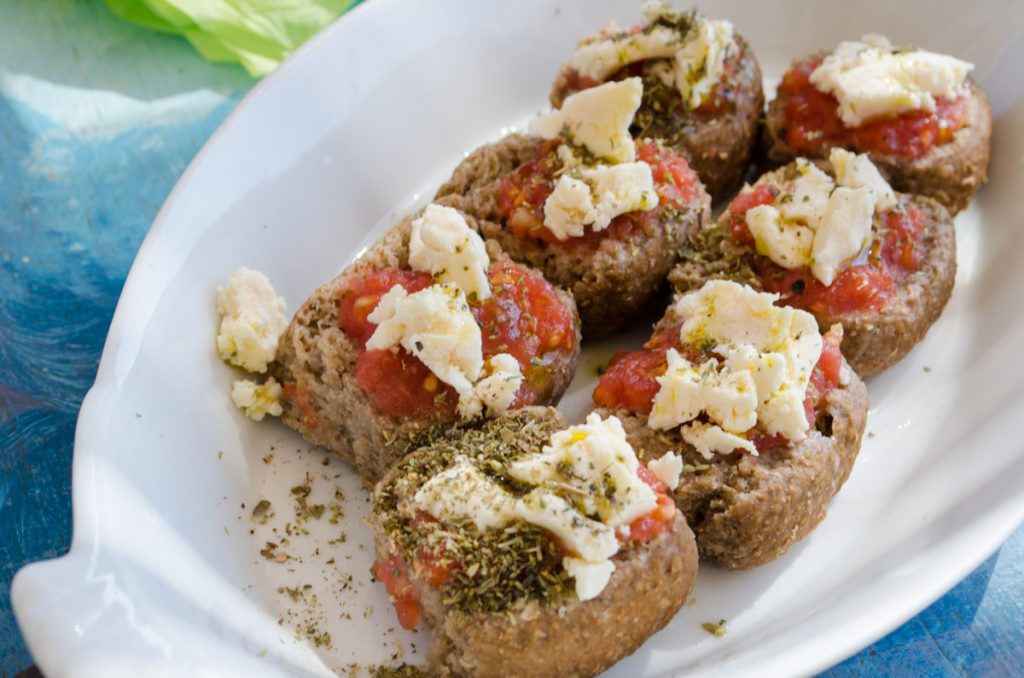 Most Greek islands are big on cheeses, and Mykonos is no exception. The island has a share of local small scale producers-farmers who have their own livestock and make their own cheese. Most recently several commercial producers have also introduced their dairy-products and cheeses to the market. Kopanisti is the queen of the local cheeses. Listed as the Cyclades PDO (Protection Designation of Origin), this intensely spicy and peppery flavored cheese is matured for at least two months and is evocative of Roquefort. It pairs perfectly with juicy tomatoes, figs, watermelon, or grapes. Tyrovolia, a soft white cheese made from sheep, goat, and cow's milk is often used as a base for traditional Greek pies. Xynotyro (the name translates as sour cheese) is made from goat's or sheep's milk. It has a hard, flaky, melt-in-mouth texture and is commonly served fresh on salads.
Louza: The Myconian prosciutto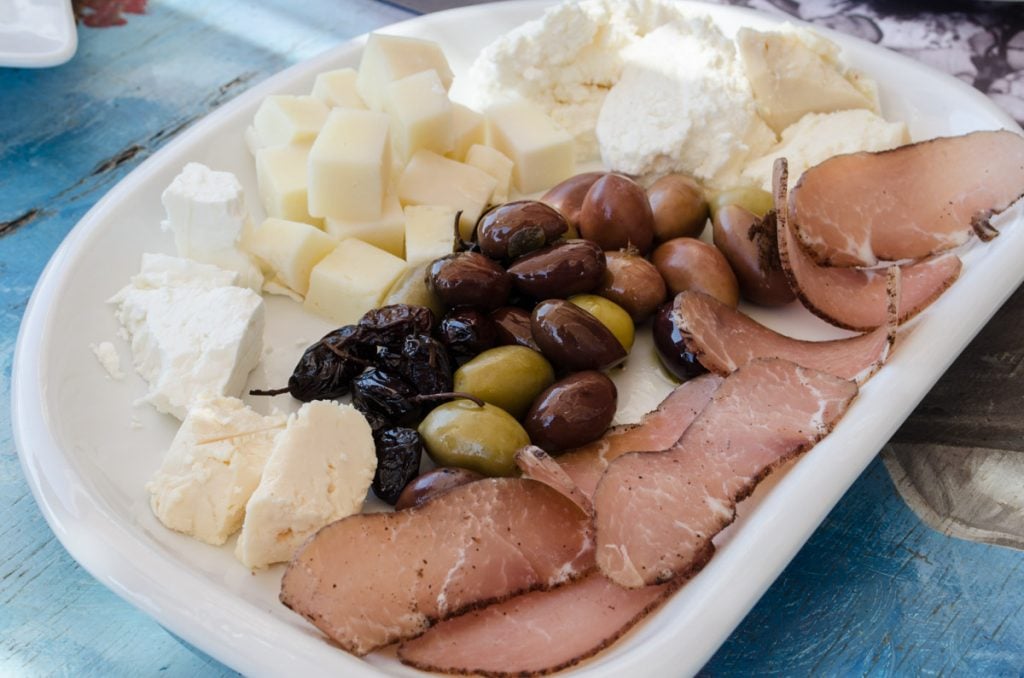 The highly aromatic louza is a delightful meze of the Cyclades. This fine appetizer made of the best pork tenderloin is seasoned with oregano, allspice, salt, and pepper and then left to mature in a northerly wind. Best paired with Myconian barley rusks, cheeses, and a glass of wine. Although Mykonos is not known as a wine-producing island, the small family-owned organic vineyard Vioma is a wonderful place to savor some of the local grape varieties such as the red Mandilaria, known for its distinctive color.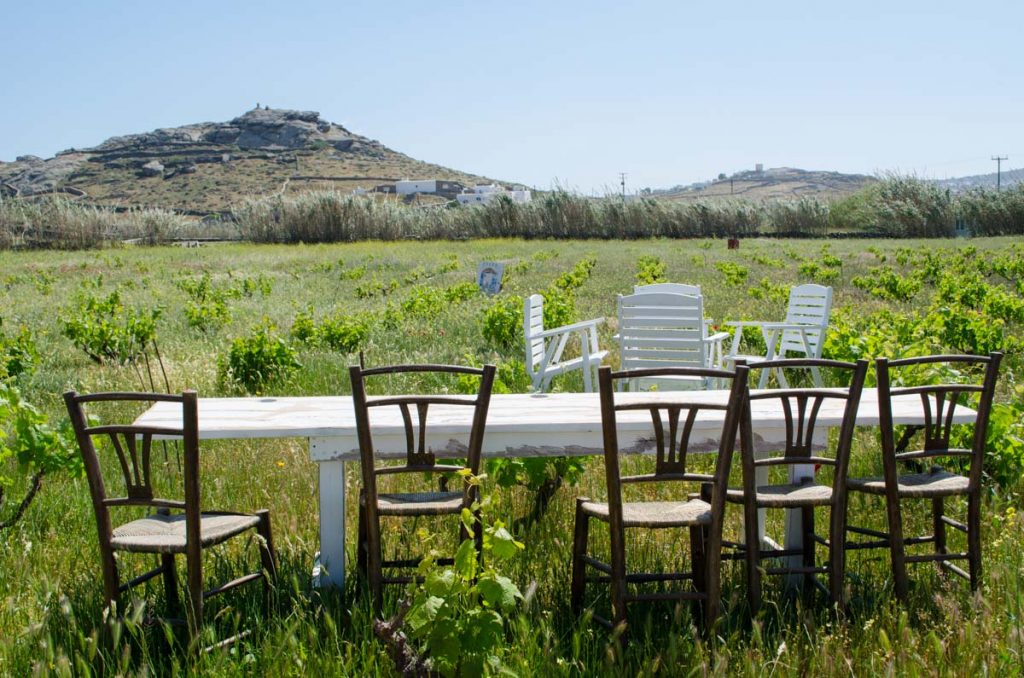 Foods to try on Santorini
Santorini's sensational views have made some of the world's top magazine covers. Over the years the island has become one of the most sought after honeymoon destinations. Falling in love with Santorini comes naturally, it's as easy as breathing. Natural products grown in volcanic soil, wineries that maintain a 4,000-year-old tradition alive producing world-famous wines are just a few extra reasons to fall in love with this Cyclades gem.
Cherry Tomatoes
The Lycopersicon esculentrum, the fancy scientific name given to these special tomatoes which are grown only in Santorini, are in fact a PDO product since 2013. Small in size, they have a deep red color, thick skin, and are extremely sweet with strong acidity.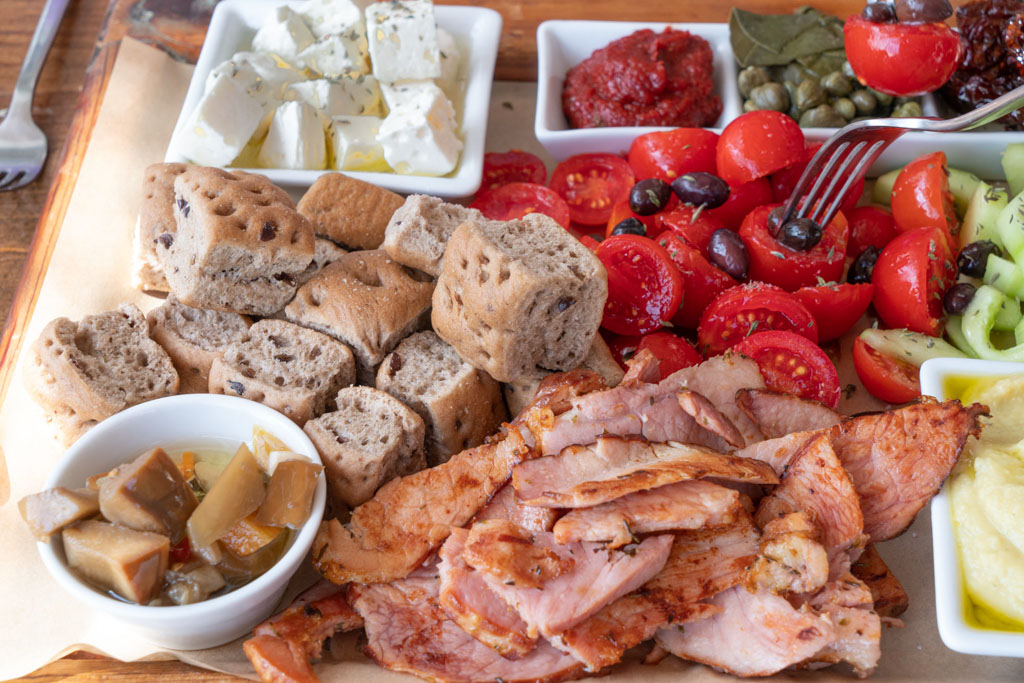 The seeds of this special fruit were brought to Santorini by local sea captains who docked in Egypt for supplies. The tomatoes found Santorini's climate ideal for growth. They were either sundried or made into a paste to be used in winter. In 1926 Dimitris Nomikos built the first tomato processing factory in Santorini, and soon after others followed. Tomato became Santorini's number one export. Sadly the earthquake of 1956 destroyed the industry. Visitors can take a walk down the memory lane of tomato history at the modern Tomato Industrial Museum in Vlychada.
Tomatokeftedes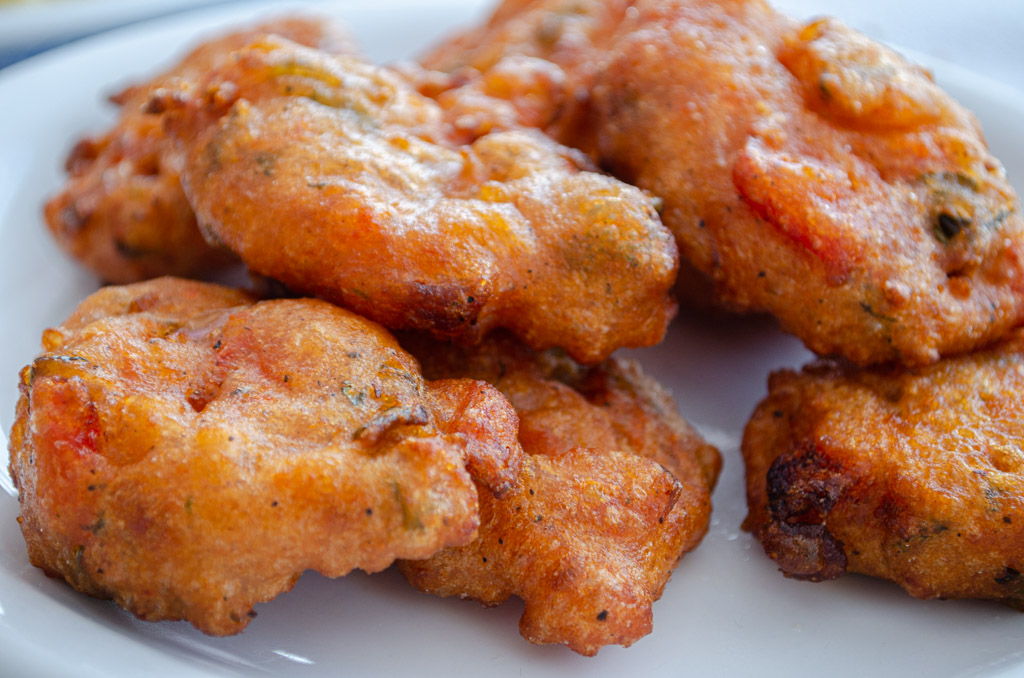 Santorini's highly prized tomato was commonly referred to as the "red queen". A delicious local dish featuring them which we recommend that you try is tomatokeftedes. These are fritters made of diced tomatoes mixed with onion, fresh herbs, spices and sometimes with feta cheese. They are usually served as an appetizer or meze and are paired well with tzatziki dip or fava beans.
Fava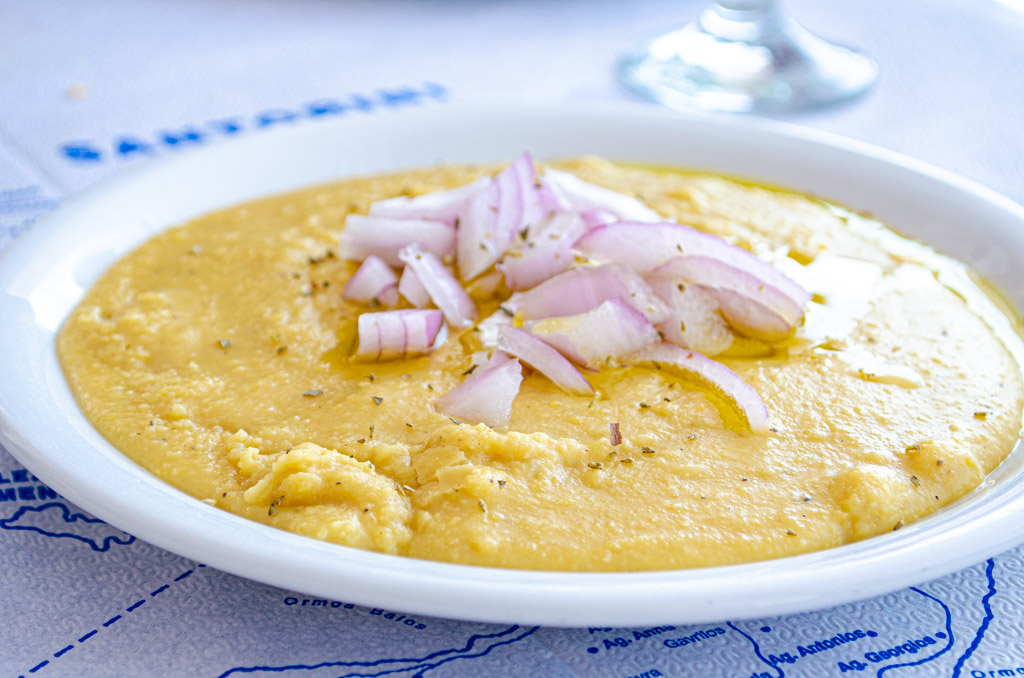 Santorini's yellow split-peas date back to antiquity, traces of which have been found from excavations at Akrotiri. The local variety known as Lathyrus clymenum has been cultivated exclusively on the island for over 3,500 years. Every household on Santorini has always produced its own fava. This delicious pulse is used to make a paste that is drizzled with fresh lemon juice, olive oil, and finely diced onions. It is a signature dish which you can find everywhere on the island. It pairs well with fish and shellfish.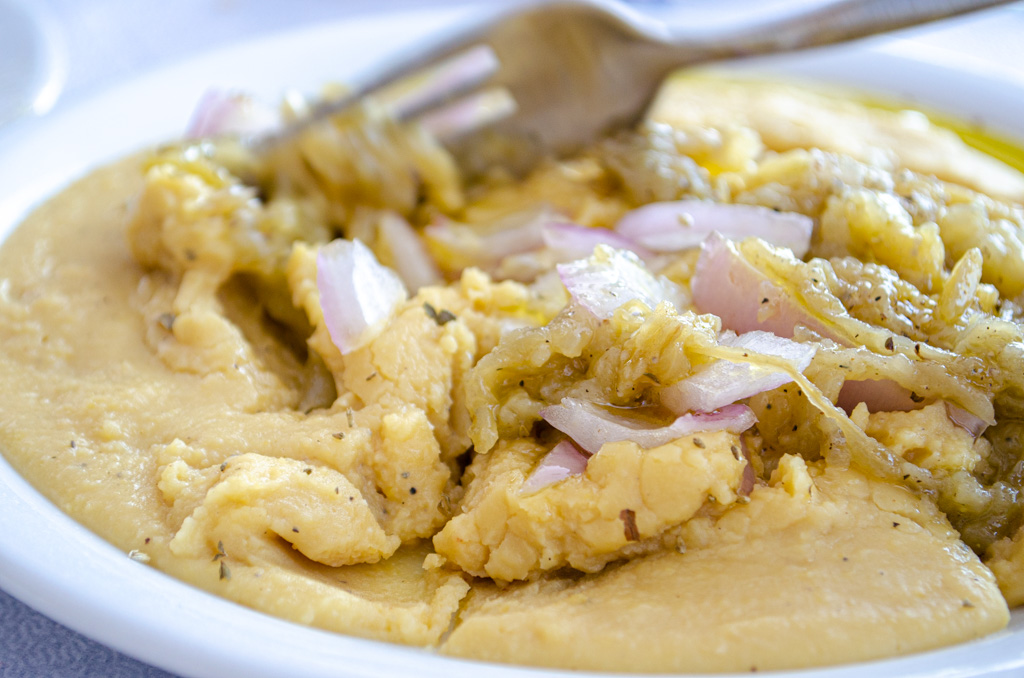 –Another variation of fava is fava pantremeni – which translates as the married fava and is mixed with either sauteed onions, tomatoes, and capers or you will find it mixed with grilled eggplant in selected tavernas at Ammoudi Bay.
Capers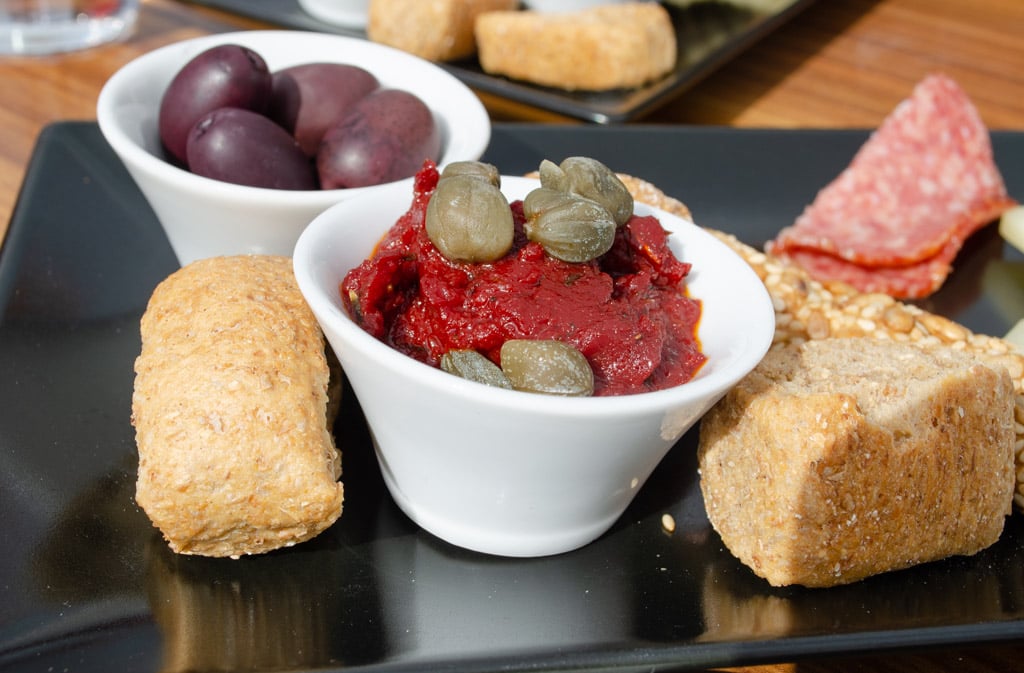 The wild and tangy capers of Santorini is in fact a low maintenance plant that has found it's paradise on the rocky slopes of Santorini's caldera and near the dry-stone walls. The buds and leaves are usually collected from late June through end-August and are stored in jars filled with brine. They are used in salads and in fava dip. Capers are also used to make a spread mixed with olives and sun-dried tomatoes.
White-eggplants
Santorini is known to produce unique eggplants that are white, sweet, and rare. A trademark variety known as the Solanum avigerum is believed to have also been brought here from Egypt in the mid-20th century. They have a high nutritional value, protect brain cells, boost the immune system and help lower cholesterol.
A famous dip made with these delicious white eggplants is melitzanosalata however the white eggplants are so rare you will only find the real-thing on Santorini. Melitzanosalata however is commonly made with the regular purple eggplants and you will find it on menus across the country.
Melitinia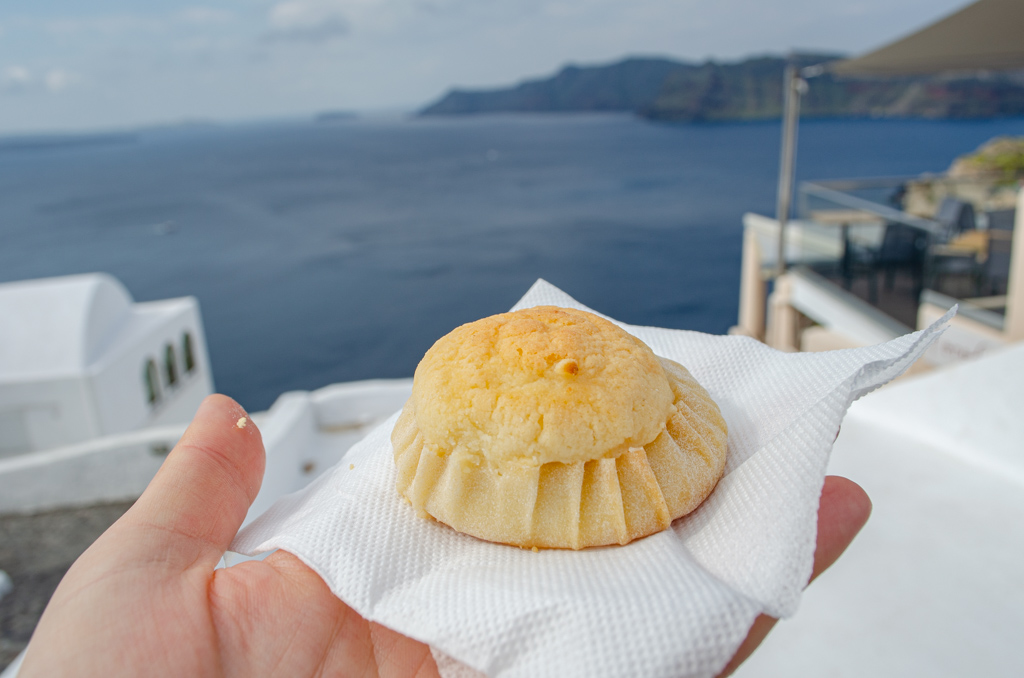 These sweet cheese pies filled with mizithra (soft white cheese), sugar, vanilla, and mastic powder were traditionally made during the Holy Week of Easter. You can find them in selected bakeries as making these desserts requires craftsmanship and time.
Assyrtiko – Santorini's flagship grape variety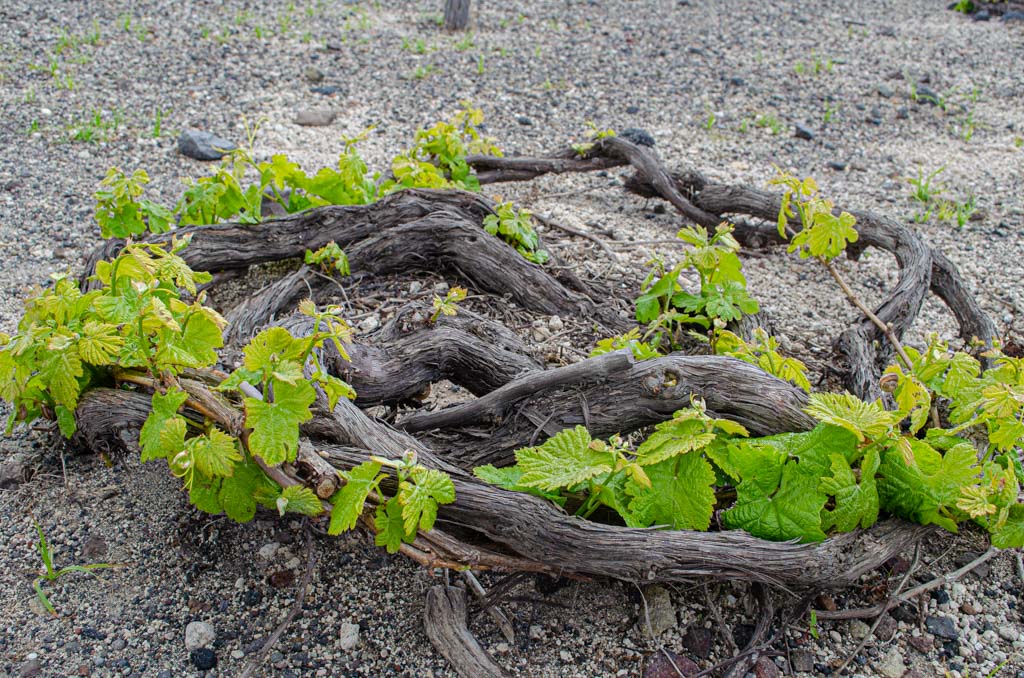 There is one thing you absolutely mustn't miss, and that is visiting a local Santorini winery. Assyrtiko, a fine indigenous grape variety (PDO) has a unique depth and flavor thanks to the minerals of the volcanic soil. The cultivation method is also rare, as the vines are woven into baskets (kouloures) with grapes facing towards the inside of the ring in order to protect them from the strong winds and direct sunlight. Assyrtiko is considered to be the finest white wine in Greece and pairs perfectly with most dishes of the Greek and Mediterranean cuisine. If white isn't your thing you'll also find some delicious local rosés and reds.
Foods to try on Naxos
Naxos will offer you a farm-to-table experience that you will surely not forget and if you have watched late Anthony Bourdain's show travel to this stunning Greek island, you will understand why. The largest of the Cyclades islands is known for its centuries-old cuisine, warm hospitality, and authentic vibe. Unique among its produce are the delightful cheeses, meats, potatoes, and a citrus-flavored liquor called Kitron.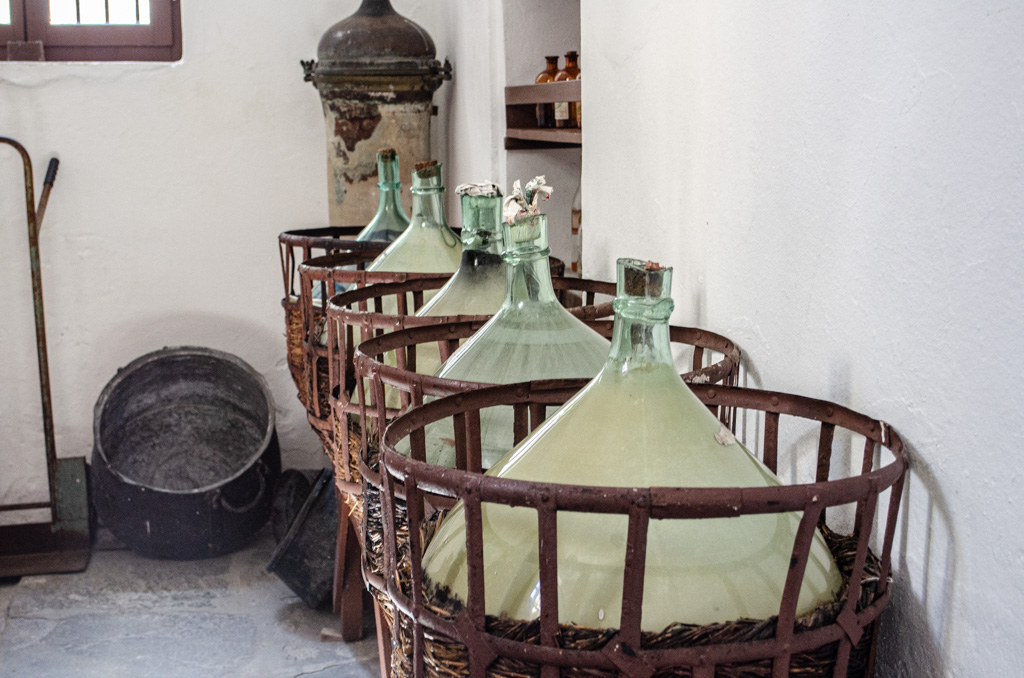 Naxian Cheeses
Turophiles will find themselves in a cheese paradise here on Naxos. The star of the Naxian Cheeses is Graviera Naxou (PDO), which has been produced on the island for at least a century. This hard light yellow cheese is made with pasteurized cow milk or a mixture of sheep and goat milk. The cheese is either served as an appetizer, can be fried, or grated over pasta. Arseniko is another notable cheese to try. The name translates as masculine which defines its strong flavor and hard texture. It is made from a combination of sheep's and goat's milk.
Naxos has its own version of xynotyro (like on Mykonos) which is made from xynomyzithra (sour myzithra) a traditional soft white cheese made from goat's milk. The cheese is soft and creamy, you will often find it served on Naxian salads. Myzithra is a whey cheese made from either sheep's or cow's whey.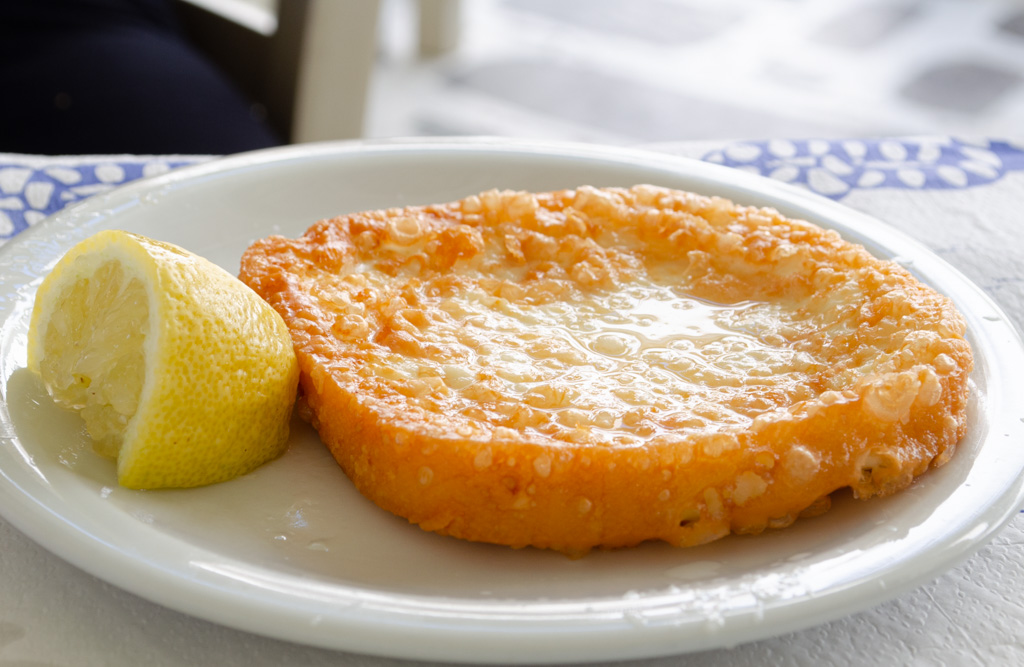 Naxian potatoes
Naxian cuisine is known for another star ingredient: the Naxian potato. Potato cultivation began on the island at the end of the 18th century and by 1830 it became one of the most significant products.
In 1950 Naxos officially became the center of cultivation and production of the Greek seed potatoes. The original Naxian potato is protected under the Protected Geographical Indication (PGI). Potato lovers will be in heaven. They're traditionally served as pictured above; thinly sliced and fried.
Naxian Meat dishes
Naxian dishes are mostly meat-based. The rolling hills and the refreshing sea breeze create the ideal environment for free-roaming goats and sheep to gnaw on locally grown herbs like thyme and oregano. You can try an array of bold flavors in one of the mountainous villages. Kalogiros is a traditional dish prepared with veal, eggplants and served with melted cheese on top.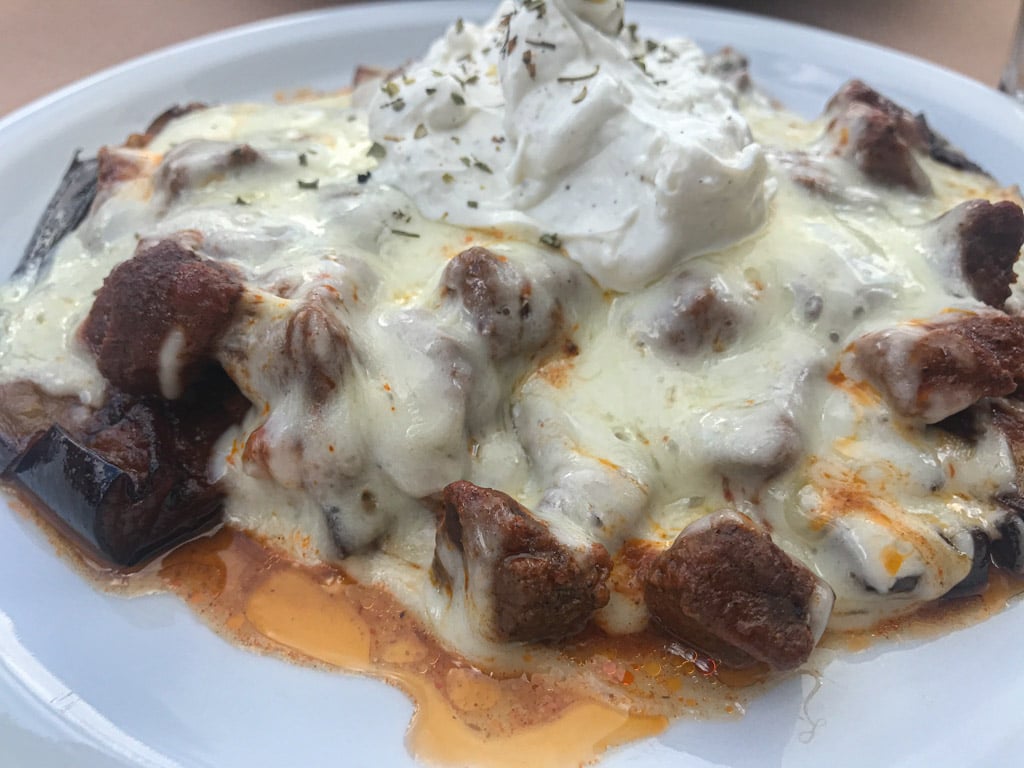 Another favorite is kokoras me makaronia – rooster simmered for several hours in fresh red wine and tomato sauce, served with spaghetti. A hearty dish that can also be found on menus in other parts of Greece. The Naxian goat is known for its excellent herb diet and is often prepared using simple ingredients. You can either opt for kleftiko (goat cooked with onions) or a goat stew.
Foods to try on Paros
Paros is a proud member of the Cyclades island group and its dry, windblown soil is used to cultivate and grow wild greens, eggplants, zucchini, and broad bean varieties. Parian cuisine is a combination of recipes from the Cyclades.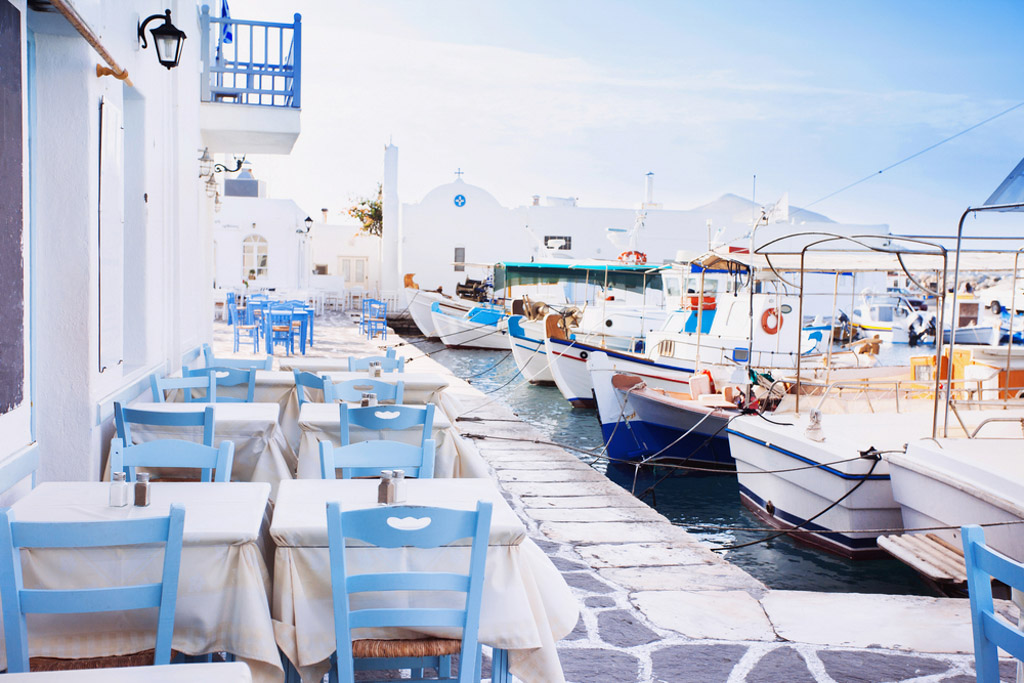 On Paros restaurant menus you will find a selection of typical Greek dishes such as baked and boiled legumes, fried fritter balls (zucchini, tomato, potato, and chickpeas). With its stunning coastline and fishing tradition, Paros is definitely the island to enjoy a delightful selection of freshly prepared seafood dishes.
Fresh seafood
Freshly prepared grilled octopus is a must eat when on Paros, drizzled with fresh lemon juice and sprinkled with olive oil. The taste is simply sensational.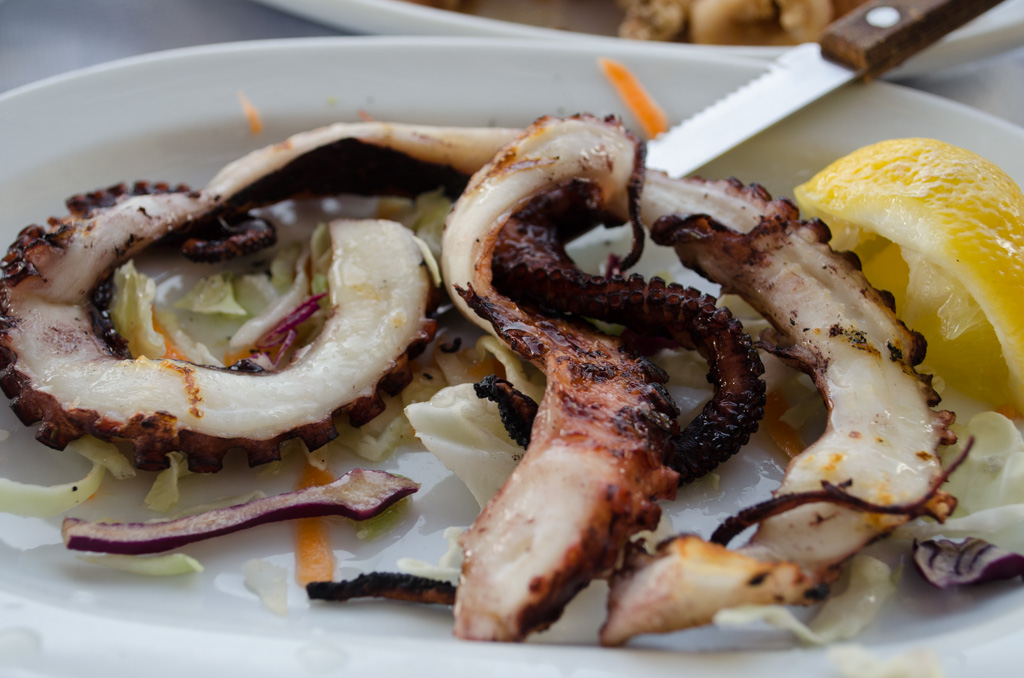 When it comes to savoring local fish, we recommend that you try gouna (sundried, salted fish) and salatouri (ray salad mixed with lemon, olive oil, and fresh herbs sauce). For those who are big on soups, don't miss the kakavia – a rich fish soup with vegetables, infused with aromas of saffron, olive oil, and onions.

A delicacy worth trying are karavoles (giant snails) the Parian version of the Parisian escargots. They are either served boiled with a hint of garlic, boubouristi (lightly fried) or stifado (onion stew).
Parian souma
Paros is known for its own unique alcoholic beverage which is a local raki-like spirit called Souma. Seaside dining is an absolute treat, where you can enjoy a delightful selection of meze dishes paired with the local's favorite drink.
Parian wines
Paros is well known for its long-standing tradition of local dancing and panigiria (village festivals that celebrate the patron saint, held during the summer) which are closely related to the worship of god Dyonisos and the art of winemaking.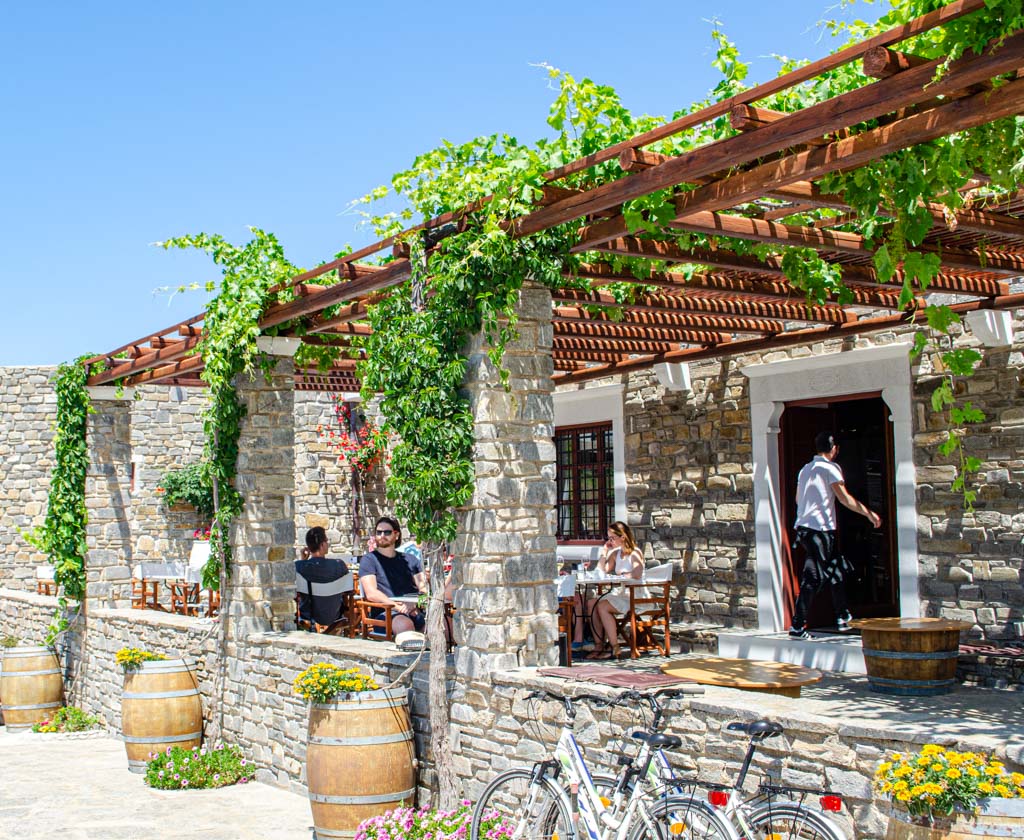 Paros is the second-largest wine-producing island in the Cyclades after Santorini. Paros is most famous for its reds which are produced from the local grape variety Mantilari. The whites are produced from local varieties Monemvasia and Savatiano. At Manolis Moraitis winery in Naoussa you can savor some of the best wines of Paros. If you are visiting the island at the end of August you might be lucky to participate in some of the wine-related activities.
Greek cuisine will leave your tummies full and spirits high. Be prepared to leave Greece with a few extra pounds. Are you ready to plan your culinary adventure to the Cyclades? 
Sample Cyclades Islands Itineraries
Has your appetite been awakened? Here are some suggested itineraries that cover the Cyclades islands.

Elena was born in Russia and moved to Greece with her parents at the age of 8. She attended a private British School in Greece, although she does sound more American. Elena's advanced education and professional background in hospitality and tourism management and marketing made her the ideal person to help add Greece to the JayWay Travel map. Elena's a wanderluster at heart and has a true passion for Greece. She loves history and looks forward to welcoming our guests to her adopted country.