Full of memorable food, early modern architecture, and memorable vistas, Vilnius packs a lot into its Old Town, to say nothing of the rest of the city, and its surroundings. We asked Ilona, a native of Vilnius, how she'd spend 72 hours showing a first time visitor around in her beloved hometown.
Jump to a section of this article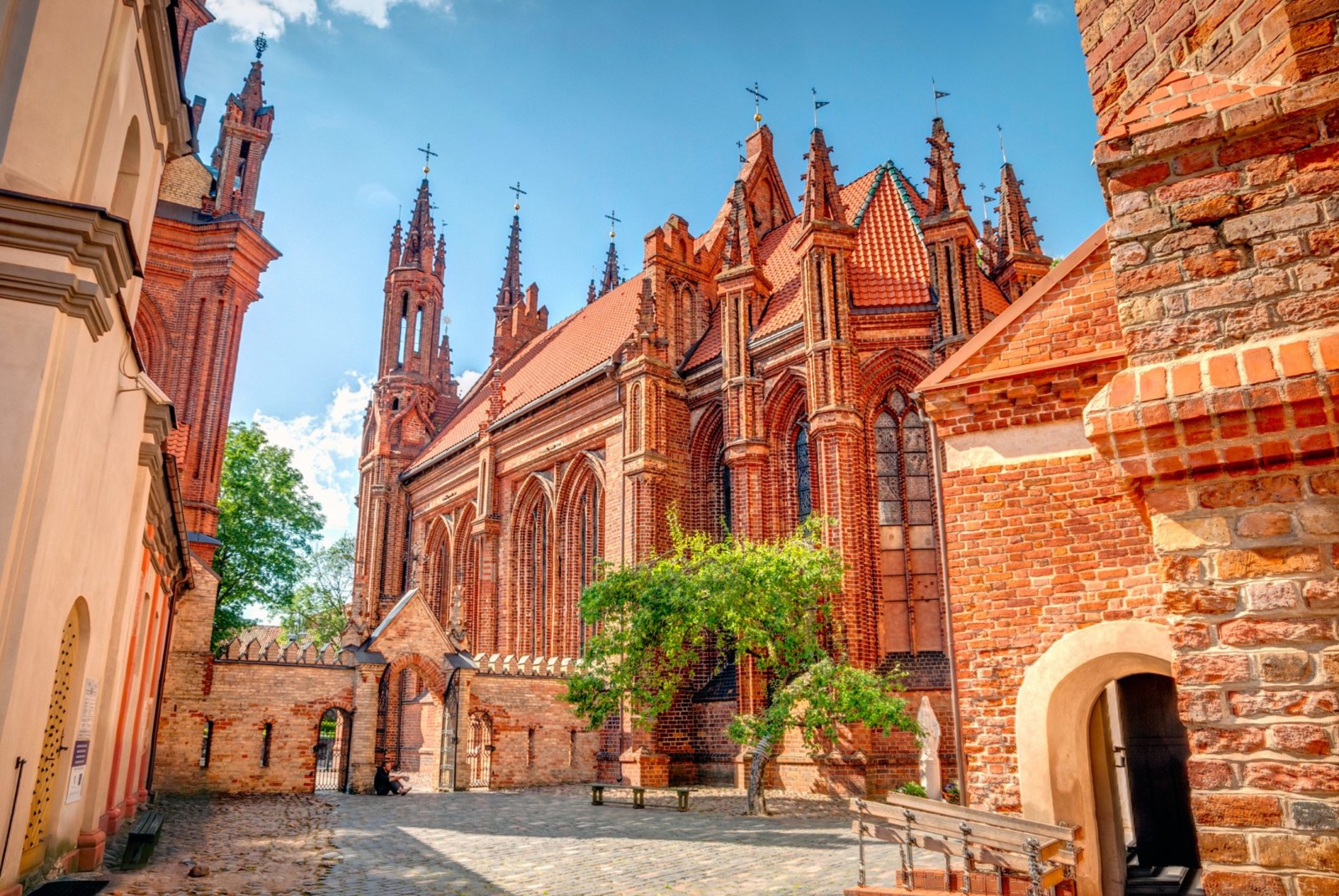 Day 1
Morning
Greet the morning with a visit to the Gate of Dawn, the last of what was once five city gates. This gate houses an icon that draws Catholic and Orthodox pilgrims alike thanks to its supposedly miraculous powers, which are said to have kept the city and travelers safe for centuries. The painting within the icon is even said to have helped rescue the city from a Swedish attack in 1702. Despite the name, you can visit the chapel, and its thousands of candles and silver votive offerings, at any time of day.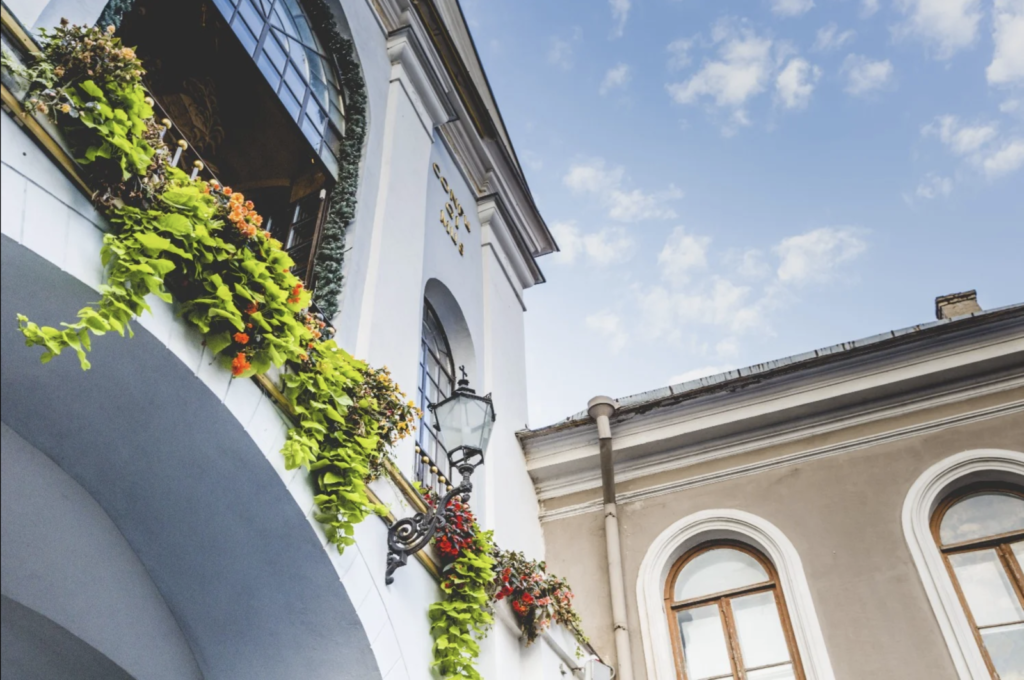 Wander down the street, passing further into the Old Town. To the right, you'll see the Baroque Church of St. Casimir, heavily influenced by Rome's Church of the Gesu. To the left, you'll see Vilnius' neoclassical Town Hall, a former theater with a fittingly splendid interior. Stop by Kitchen, a restaurant with a delicious modern breakfast, or for a more high-end, Instagram-worthy meal, visit Sugamour on near Vokieciu Street.
Afternoon
After breakfast (or brunch), return to Town Hall Square turn left onto Stikliu Street, near the square's fountain, and pass through the Glass Quarter. This hidden spot was once a lively Jewish neighborhood, full of goldsmiths, glassblowers, artisans, and financiers. Still lively, this area has many artisans selling their wares, jewelry stores and workshops, cozy restaurants, art galleries, and one of the city's oldest hotels, the Stikliai. Continuing further, you'll come across University Street. Take the opportunity to peek inside Vilnius University, which was the easternmost university in the world upon its founding nearly 450 years ago. Then head to the St. John's Church's bell tower. The tallest building in the Old Town, it offers a spectacular bird's eye view, for just 2.5 EUR. If the 193 steps are disconcerting, you can also ride an elevator to the top!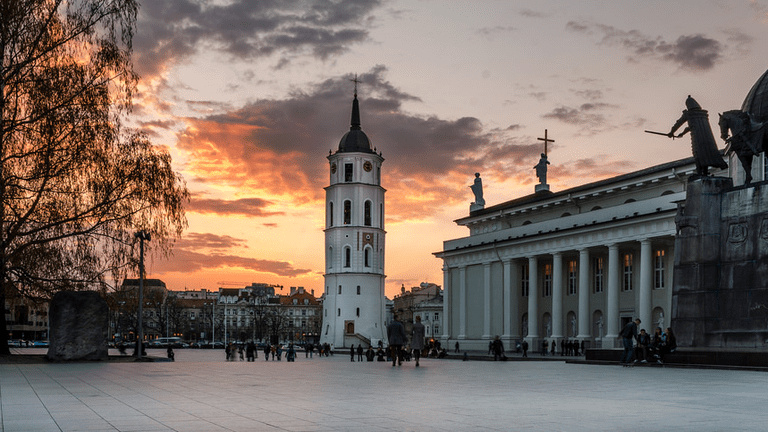 Next up is Cathedral Square, unsurprisingly home to the city's cathedral and its bell tower. Vilnius' traditional center, the cathedral and tower are a national symbol. Between the two you'll find the Miracle Tile, which is said to grant wishes, and to mark one end of the Baltic Way, the human chain that helped bring independence to the Baltic States. Continuing further, you'll see the newly restored Palace of the Grand Dukes of Lithuania, which now serves as a museum of art and history. This grand palace was built at Lithuania's zenith, when was an empire stretching from the Baltic to the Black Sea. Turn left, and make a beeline for Gediminas' Tower, the last remnant of the city's 15th century Upper Castle. If you're not in the mood to climb up to the tower, you can ride a funicular from the National Museum of Lithuania the hill's top in under a minute. The tower's observation deck offers the best panoramic views of Vilnius. From the tower, it's easy to spot the Hill of Three Crosses, which is more of a climb, but also offers magnificent views. You can also visit the castle museum, for 5 EUR.
Read more about Vilnius's Best Views.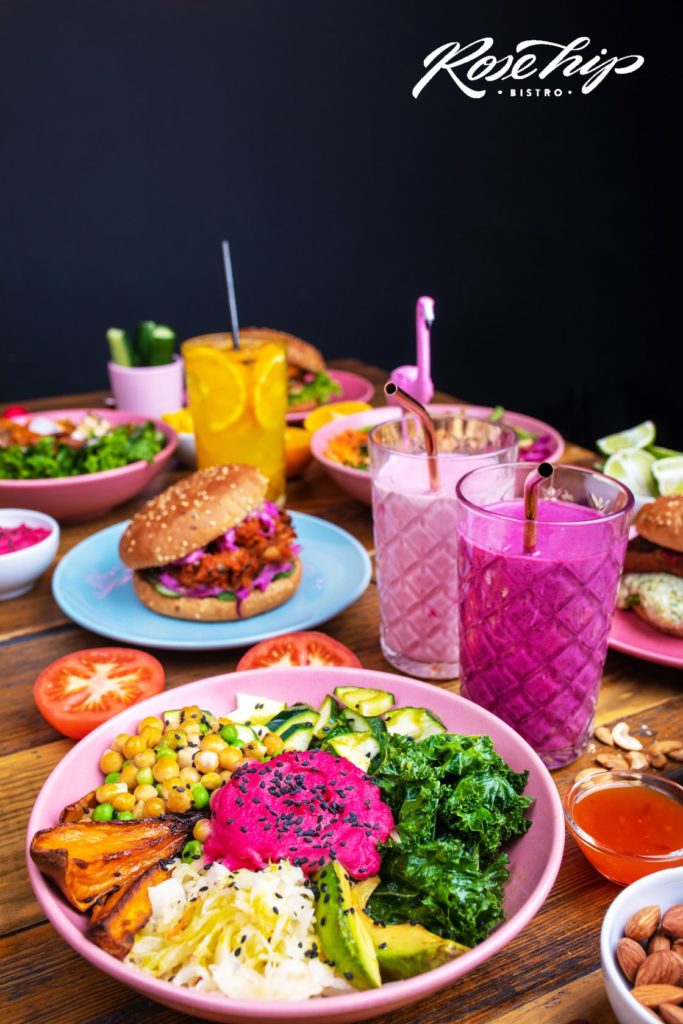 Bid Gediminas' Tower farewell and head back down into the city. After grabbing a coffee at the Strange Love cafe, head to the Bernardine Garden, a beautiful and romantic place to walk around or simply sit down, relax, and listen to the birds chirp. If your stomach is a bit empty, the nearby Rose Hip Bistro is a nice vegetarian/vegan restaurant. Whether newly sated or not quite hungry yet, head left on Maironio Street, and visit St. Anne's Church, the beautiful Gothic temple that captured Napoleon's heart. Take another left, onto Malunu Street, and cross the Bernardine Bridge, passing a mermaid built into the river bank, and a flag with a hand on it (the flag's color changes depending on the season). You have now entered Užupis, the tongue-in-cheek republic consisting entirely of Vilnius' bohemian district. This happy sovereign state is complete with hundreds of official ambassadors, and its own government, anthem, and holiday (on April 1st, of course!). While wandering around, be sure to stop by Paupio Street to read its whimsical constitution, and stop by the artsy restaurant Kitsch for a meal enhanced by a friendly, welcoming atmosphere.
Dinner
Vilnius is packed full of affordable flavors, but for your first night, visit the unique Ertilis House, the one place specializing in dishes once eaten by Lithuanian nobility.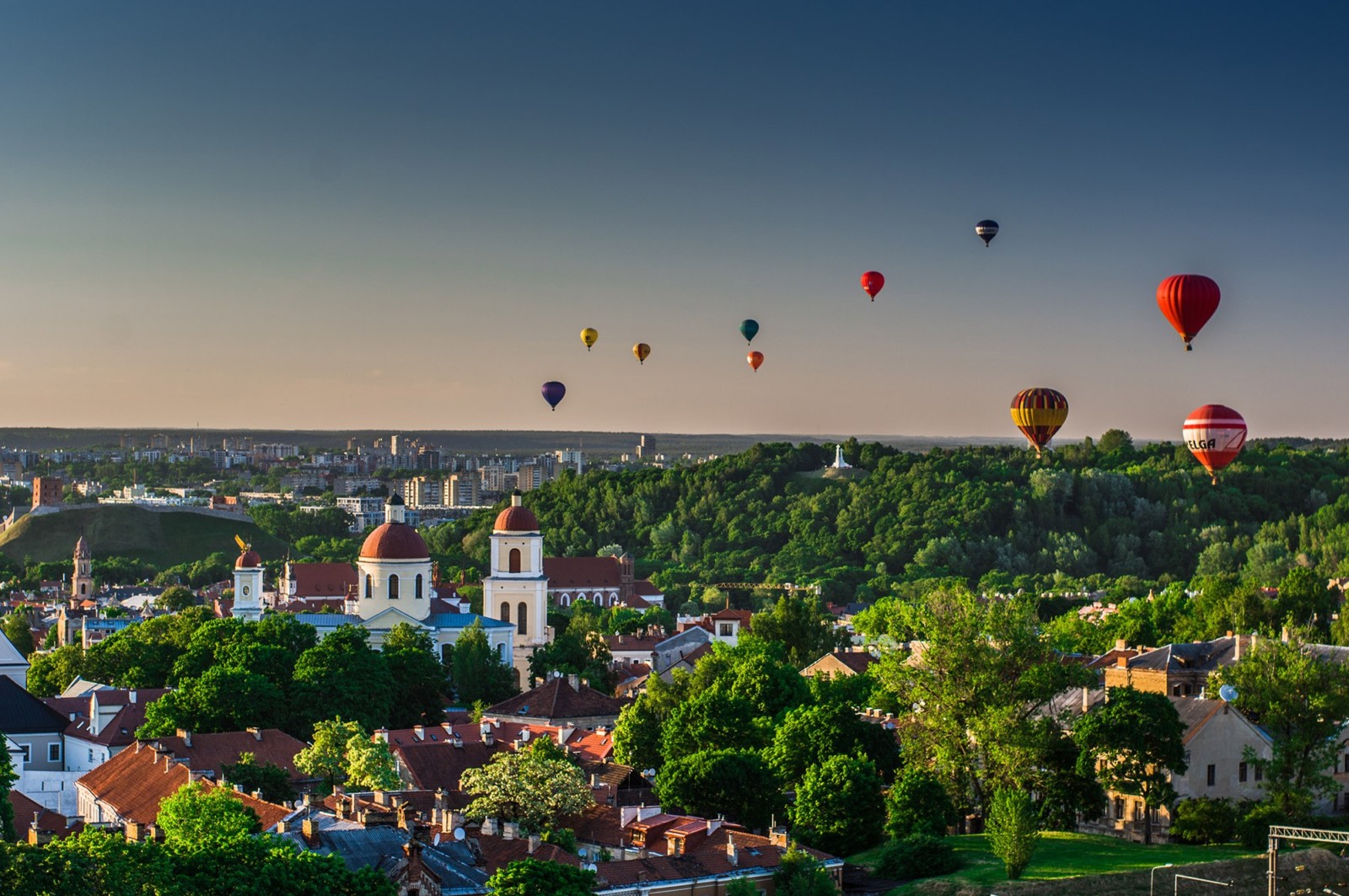 Day 2
Morning
Enjoy some great pastries, or a more traditional European breakfast, at the Pinavija Café and Bakery. Then it's time to head to Gediminas Avenue. There, after another ten minutes of walking, you'll arrive at the Museum of Occupations and Freedom Fights. This may not be the most uplifting experience, but it's the place to go to learn about the Soviet and Nazi occupations of Lithuania, and its resistance, which fought on for many years. Located in a former KGB headquarters, this museum is as moving and memorable as its counterparts in Riga and Tallinn. The entrance fee is 4 EUR. If you're not as fond of history, visit the MO Museum, a modern art showcase with many eye-catching and interactive museum, about as distant from the Old Town as the Museum of Occupations (although you can also book a ride with "Bolt," the Estonian take on Uber that's more popular in this part of the world).
Afternoon
Enjoy lunch and some great beer the Lithuanian way at the Etno Manor. Don't forget to try traditional Cepelinai ("Zeppelin") dumplings! We say that if you haven't tried massive Cepelinai, you haven't properly visited Lithuania! Afterwards, head to Hales Turgus, the city's central market hall. This is a great place to browse, get a better idea of local cuisine, and pick up some fresh produce, seafood, and sausages, delicious sour pickles, sweet Lithuanian honey, and fantastic pastries. The market also features a few trendy coffee shops and fast food stalls, so it's also a great place to snack. Vilnius is one of the few European capitals that allow hot air ballooning, so take advantage by taking in the city at sunset (or, perhaps better yet, fly over Trakai in the morning!).
Dinner
Enjoy prosperous interwar Vilnius' bourgeois cuisine at Mykolo 4, a small family-owned restaurant. Fancy a drink, but getting tired of beer? Head to the King & Mouse Whisky Bar & Shop. Featured in the Guide to World's Most Interesting Bars, this bar offers its own specially distilled 27-year old single malt!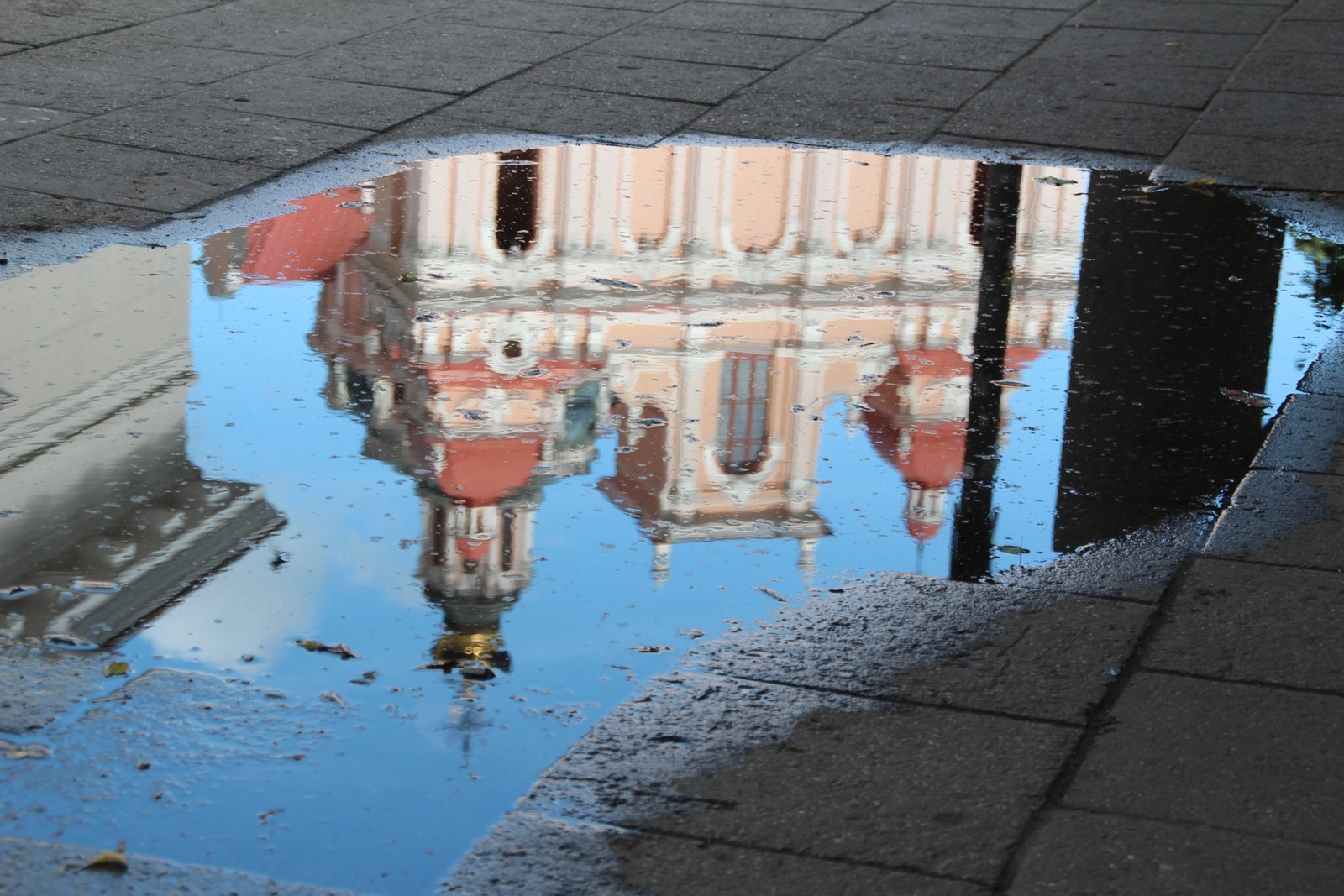 Day 3
Morning
Overslept and missed your hotel breakfast? Don't worry, we've got you covered. Head to BREW, a cozy cafe that serves top-quality coffee blends paired with delicious sweet and savory treats.
Afternoon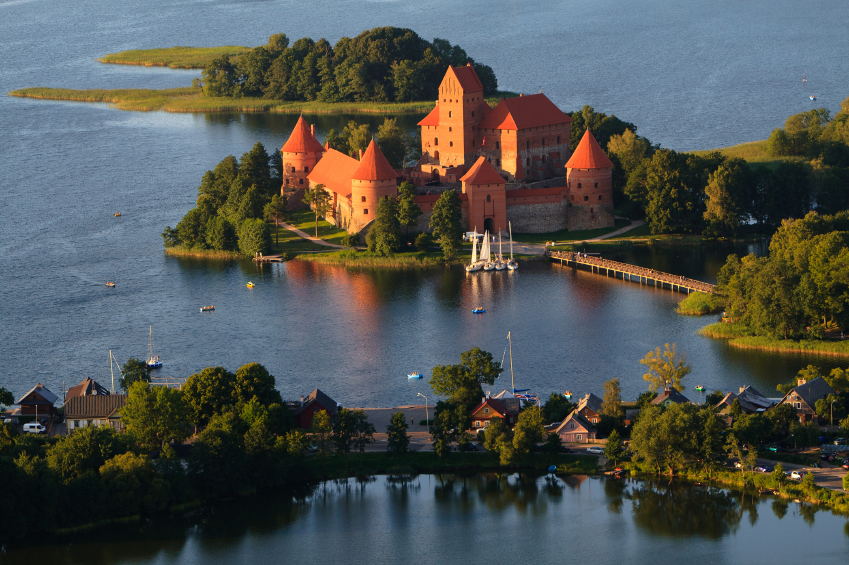 Time to take a break from the bustling capital, and visit picturesque Trakai, the country's medieval capital. Located only 28 kilometers (17 miles) from Vilnius, this spot offers postcard-worthy views any time of year. We offer various tours of Trakai, including a private transfer and walking tour, kayaking, and even a hot air balloon ride! If you'd prefer to explore this charming isthmus town and its insular castle on your own, you can take a train or bus there. Tickets are about 2 EUR each way, but bus tickets must be purchased in person. The bus station is two kilometers from the castle (and the train station a bit further away, so either be prepared for a longer walk, or a ride in a local cab.
Once you arrive in Trakai, the road to its famous red brick castle is clearly marked, and the castle is accessible via two bridges. If you aren't interested in seeing the interiors you don't need to pay for entry, you can walk around the inner courtyard without entering the castle's interior. After visiting the castle, you can enjoy the lake. If the weather permits, rent a kayak!
Lunch
After long morning of walking, you should have worked up some hunger. And what could be better than great food with a stunning view? Enjoy a delicious lunch at Apvalaus Stalo Klubas, right next to the first castle bridge. The restaurant offers both traditional Lithuanian and Central European cuisine.
For a smaller bite, try the town's specialty, Kibinai. These mutton-filled pastries are akin to Cornish pasties or empanadas. While you can find them all over the country, Trakai's Karaite community is their original source. The descendants of fierce Crimean warriors who converted to a branch of Judaism obscure enough to save most of them from the Holocaust, the Karaim have preserved their distinct architecture (be sure to check out their "Kenesa," a word with the same root as the Hebrew word for "gathering"). While their martial ability impressed the Lithuanian Grand Duke enough that he settled them in Trakai to garrison his capital, the Karaim are now more famous for their hospitality. Trakai has plenty of charming little bakeries popular with Lithuanian tourists, but if you try the Kibinai on offer at Senoji Kibinine, you will have no regrets! After taking in Trakai's views, head back to Vilnius.
Dinner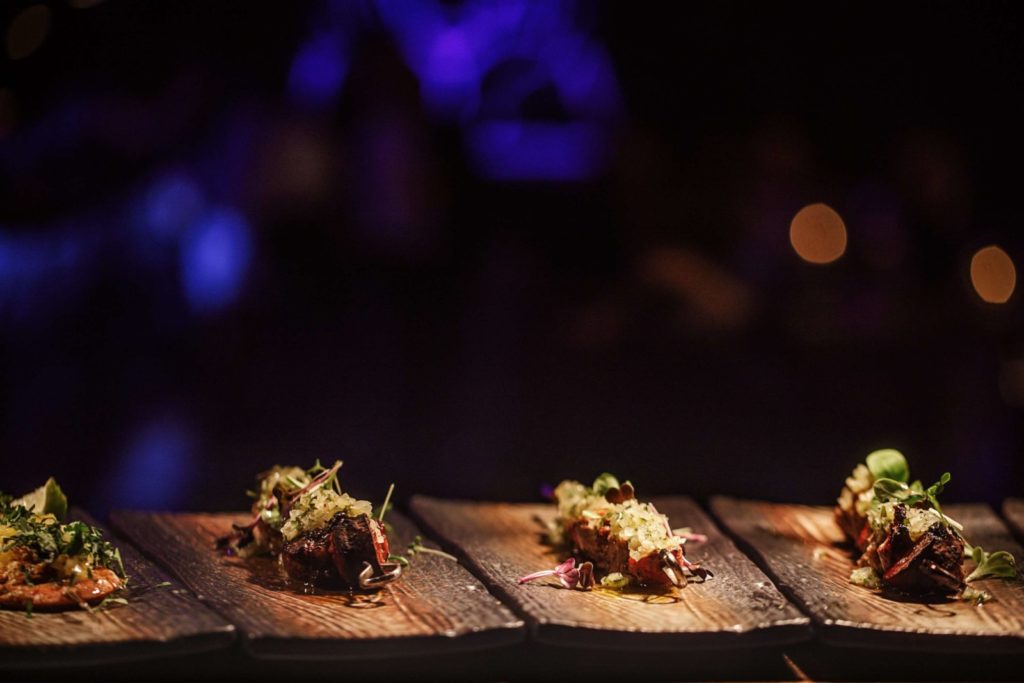 I bet Lithuanian cuisine doesn't seem quite so novel anymore, so why not try some other flavors? Head to the Pachamama Dinner Club, which successfully imported the bright colors and creative flavors of Peru. During the summer, this restaurant's courtyard features live music. What could be better than good music, food, and company? Oh yes, great drinks! Be sure to try the dinner club's special cocktails!
For some more nightlife, head to Vilnius Street, or the neighborhood around Islandijos Street (named for Iceland, the first country to recognize Lithuania's return to independence). The Anna Mesha.Butas and Materialiste clubs offer epic interiors, quality drinks, and top music. Keep in mind that these popular spots often get very crowded on weekends, and the "face control" you need to pass to enter is strict. Stay safe, don't leave your personal belongings unattended, and have fun!
See Vilnius for yourself!
As has hopefully been made clear, Vilnius has plenty of opportunities, whether you seek art, history, natural beauty, or just a full tummy. Contact us today, and we'll be happy to help you experience it for yourself.
Ilona joined JayWay Travel at the beginning of what should have been a record-breaking 2020 season as our Vilnius city hosts. Sadly as a result of the COVID-19 pandemic we were unable to keep her as part of the team.