After half a century under communism, Bucharest is returning to the once famously vibrant lifestyle hinted at by its gorgeous 19th century architecture, and old nickname, the "Little Paris." Romanian cuisine is itself diverse and lively, with influences from neighbors such as Hungary and Serbia, distant relatives still linked by Romance languages, like the Italians and French, and even former archenemies, such as the Ottoman Turks.
Bucharest has many restaurants that, in addition to good food, offer splendid design. These imaginative decorations may reflect a subconscious desire to express art and creativity wherever possible, after these were kept in check for decades during communism. Bucharest's dining scene covers most international cuisines, with a bit of an emphasis on Italian, and more recently on Japanese and fusion concepts. Of course, a significant proportion of Bucharest's eateries are traditional Romanian restaurants, specializing in local dishes, but this is where things get interesting.
Bucharest's fine dining scene never used to focus on local cuisine, preferring instead to offer international menus with the occasional Romanian favorites. Over the last two to three years, however, a culinary revolution has come about, with a new generation of young chefs seeking to turn fine dining on its head. These audacious new talents took the most popular dishes from traditional Romanian restaurants, and made them the core of their new school of fine cuisine, only using international dishes and ingredients for complementary or reimagined purposes.
Thus, a new Romanian haute cuisine was born. It has been amazing to see the reinvention of traditional dishes associated with grandmothers. It's like seeing a Thanksgiving turkey stuffed with exotic Asian fruits and vegetables, or hamburgers made with polenta instead of bread, without losing traditional flavors.
In the examples below, we'll start with the restaurant that sparked this revolution, and share a few others that have followed suit. We'll also visit an international rooftop restaurant with breathtaking views of Bucharest, a modern Transylvanian cuisine venue, and a place offering diverse cuisine from atop the National Theatre, with a great outdoor terrace. Last but not least, we'll head to a place offering a unique concept: "urban cuisine."
---
Maize – New Romanian Fine Dining
The concept behind Maize has become very popular, but the talents behind this restaurant plays in a league of their own. First of all, all their ingredients come from organic farms around Bucharest. They also use seasonal ingredients, make their own butter and cheese, use local cattle, and even mill their own flour with a water mill dating back to 1870, the only such mill still running anywhere in Romania.
Second, they add a modern twist to traditional Romanian recipes. For example, our traditional Christmas or Easter dishes may be delicious but they're also a bit heavy and quite fatty, so you have to be careful not to eat too much. The guys from Maize managed to brilliantly introduce various vegetables and acidic fruits in a manner that enriches these dishes's flavors, instead of overpowering them.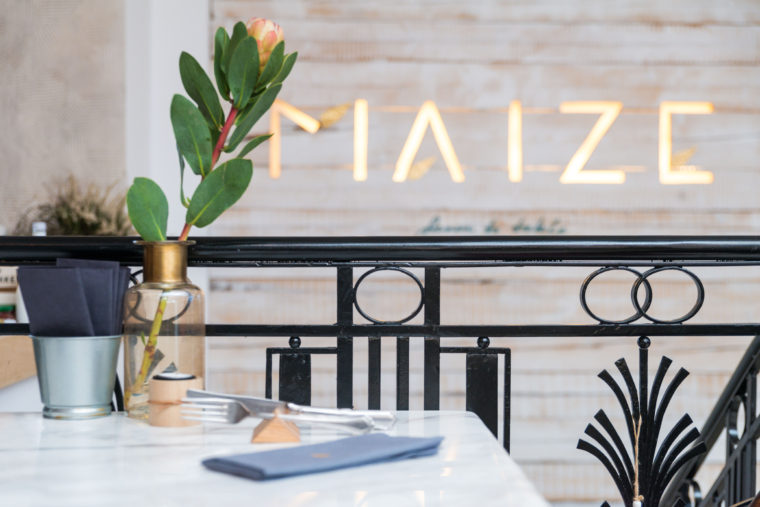 We recommend visiting a traditional Romanian restaurant, and familiarizing yourself with authentic local classics, such as cabbage rolls, pork stew, chicken in a white sauce with polenta, or Burduf cheese, then trying Maize's takes on these dishes. Like us, you will be amazed by the transformation. To make things even better, Maize features six seats by the open kitchen, so you can talk with the chef himself while your food is being prepared.
Maize may have birthed the new wave of Romanian haute cuisine, but it was quickly followed by Kane, Noua or Kaiamo, all of which are just as good, if not better. Enjoy Bucharest's culinary revolution for yourself with a reservation at one of these places.
Address: Paris 61 A Street, 3rd Floor, 011815 Bucharest, Romania
---
NOR – A 360* view of Bucharest from 136 meters up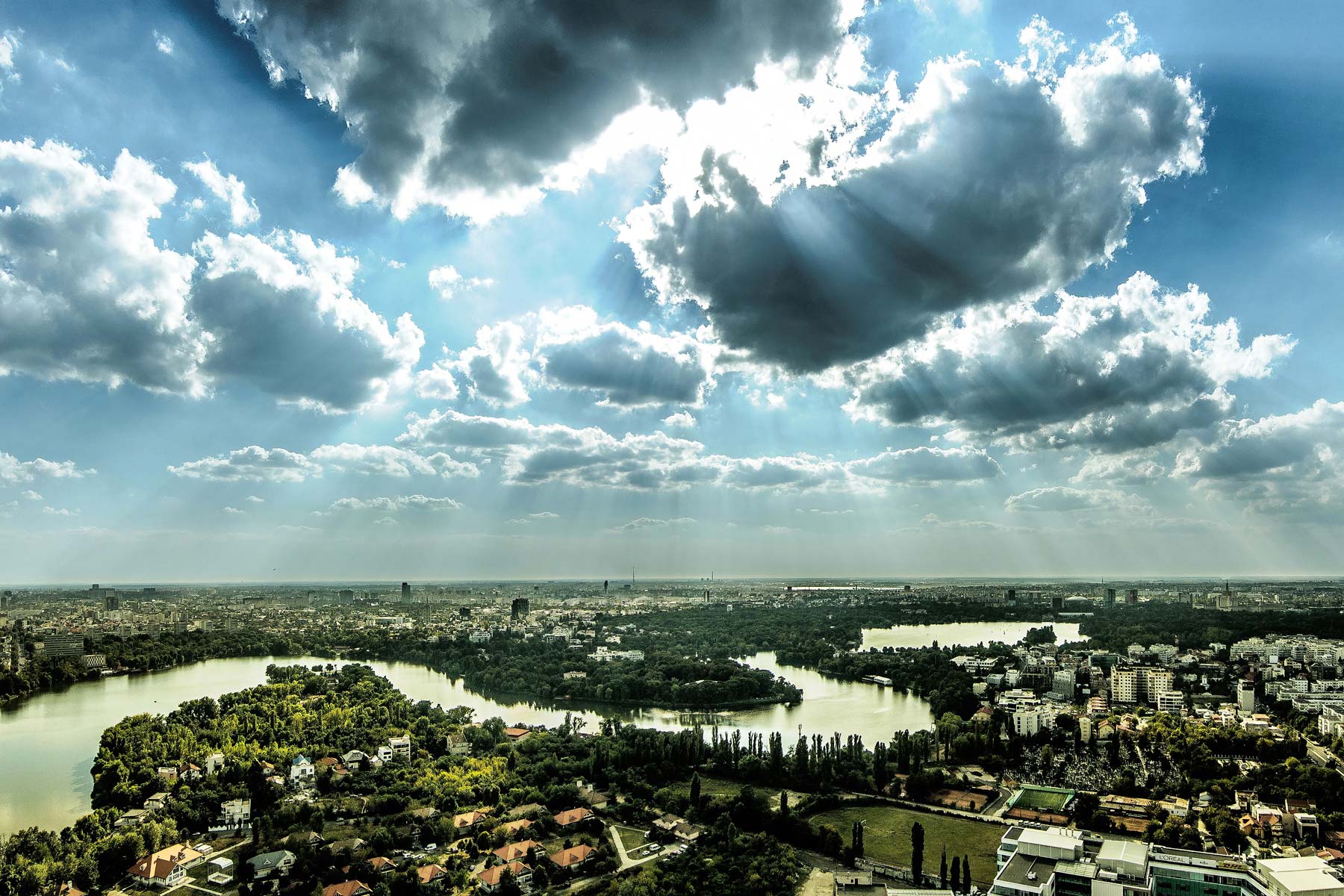 In Romanian, "nor" means "cloud," and it's the perfect description for the city's highest restaurant, on the 37th floor of the new SkyTower. Located north of the city center, this "sky casual restaurant" offers 360-degree views, not just of the nearby park and lakes, but also of the distant city center and the Palace of Parliament. If you're lucky, you can sometimes enjoy a shockingly clear view of the Carpathian Mountains and their snow-capped peaks, 200 kilometers to the north!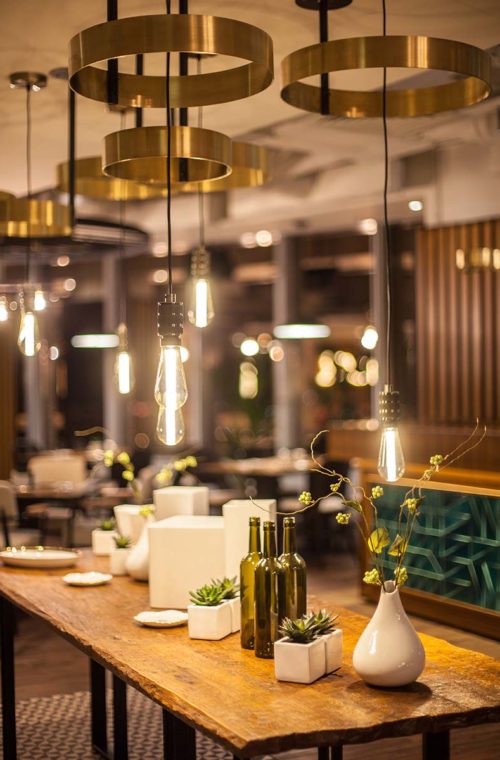 The restaurant itself has modern style, a friendly and cozy atmosphere, and a smart casual dress code. The menu is international but also pays attention to local dishes and specialties. You can find Russian caviar or Italian Carpaccio but also Romanian "bors" soup, reminiscent of borscht.
You can go for Uruguayan beef or French-style lamb but also dishes using Mangalica, a type of Hungarian pig known for its long hair and marbled meat (think Kobe beef, but pork). When it comes to dessert, you must try the NOR cake, a "cotton-candy cloud over a nest of chocolate." Reservations are recommended.
Address: Str. Barbu Văcărescu 201, Bucharest 077190, Romania
---
Gastrolab – modern Transylvanian cuisine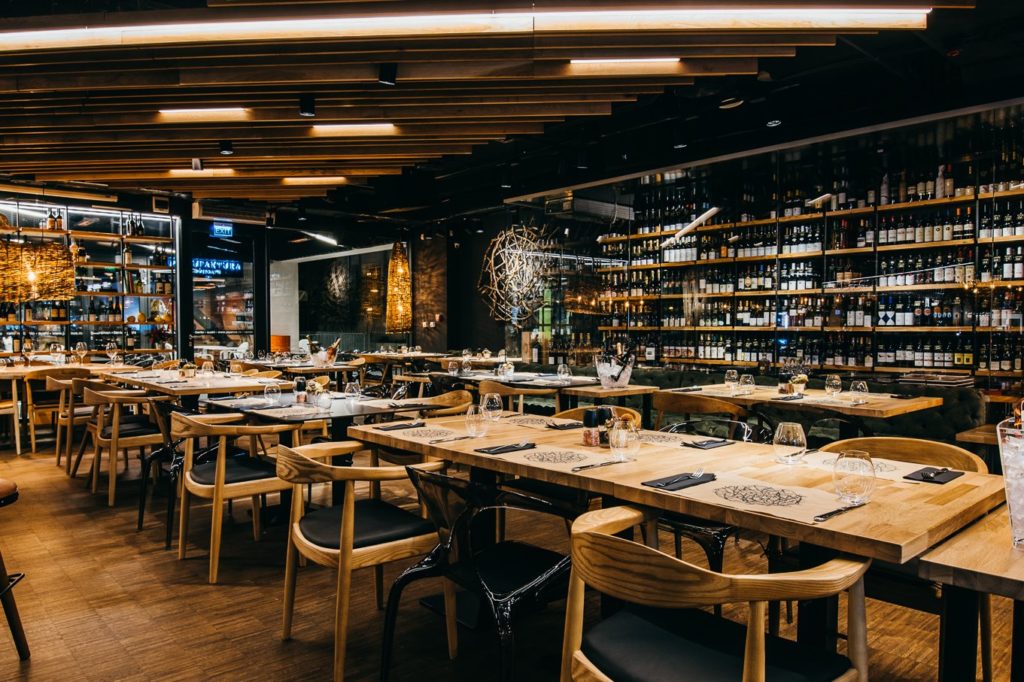 Let's move on to a modern take on traditional dishes from one of Romania's three main historic regions: Transylvania. Although important traditions and popular dishes can be found throughout Romania, each region has experienced various cultural influences. This is most visible in Transylvania, where vibrant Hungarian and Transylvanian Saxon communities prospered alongside local Romanians for 800 years, leaving behind a valuable cultural legacy that includes unique cuisine. A good example is Sibiu, a town in central Transylvania, chosen as European Region of Gastronomy in 2019.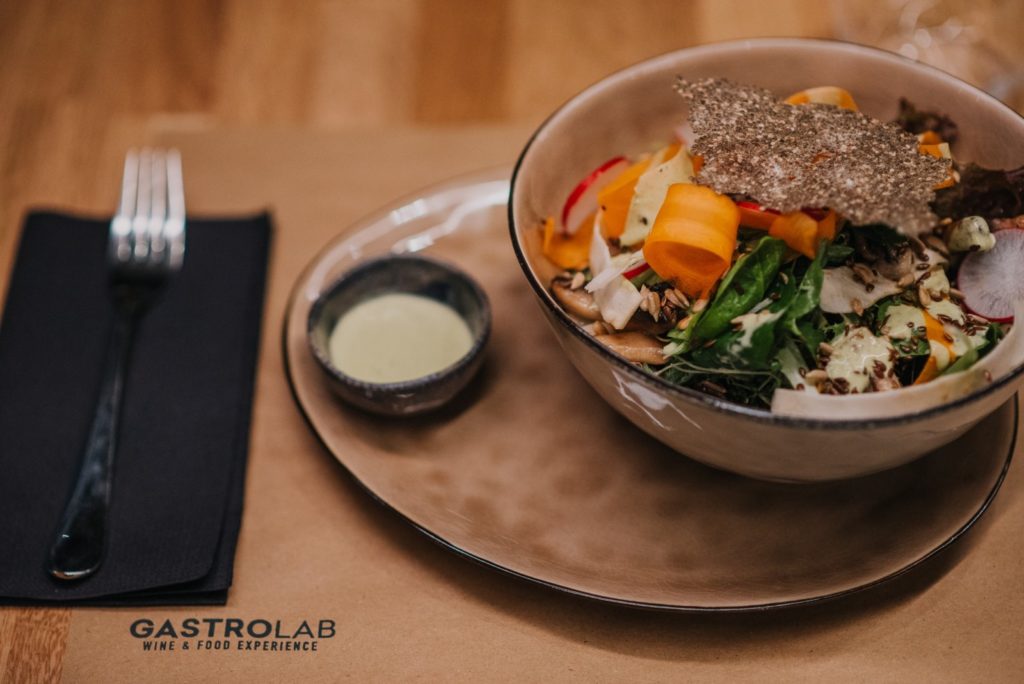 In 2019, the year the central Transylvanian city of Sibiu was the year's official European Region of Gastronomy, Gastrolab opened in central Bucharest. While far from the first place to offer traditional Transylvanian dishes, it was the first to redesign old recipes to feature modern haute cuisine touches. Let's start with some appetizers to give you the idea: polenta with cheese, Mangalita pork crackers with roast pepper sauce, traditional skinless sausages made from game, and homemade dumplings with lavage pesto and smoked trout.
Some other reimagined favorites from their menu are wine leaves stuffed with beef in goulash sauce, or Mangalita pork neck in smoked plum sauce with baked pumpkin and pickled beet. The owner and head chef, a native Transylvanian, believes that "Romanian gastronomy is a treasure that must be preserved and developed, but also exposed as much as possible in restaurants with an ethnic or regional theme." Et voila — Transylvanian fine dining!
Address: Bulevardul Aviatorilor 8, Bucharest 011861 Romania
---
Aria TNB – modern design and food atop the National Theater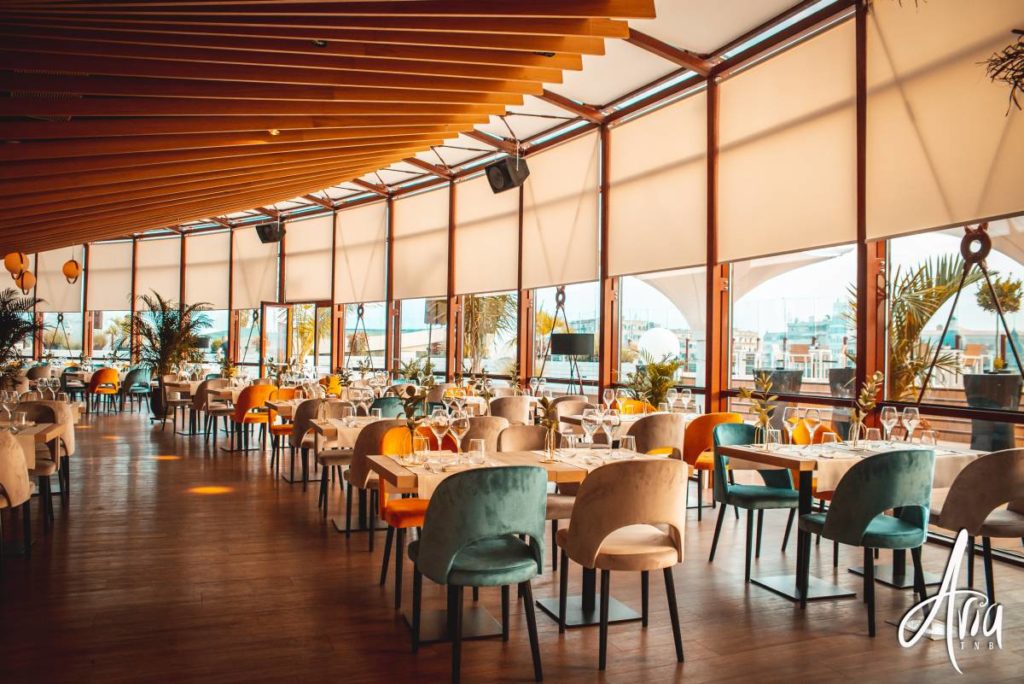 Another newcomer from last year, Aria's design is fascinating, but the food is top notch too. Located atop the National Theater and offering great views of the University Square and its surrounding monuments, Aria is a great choice for lunch, dinner, or even for a simple afternoon coffee or cocktail, thanks to its layout and design. The indoor restaurant is shaped like a huge curved gallery, with floor-to-ceiling windows to increase the visual wow factor. The outdoor terrace has two levels and various design elements like shades shaped like futuristic palms. When it comes to food, Aria features creative international cuisine, such as an adana kebab made from beef, mutton, red lentil pate, coconut milk, and mint yogurt foam. More simple yet creative examples are the wild shrimp with citrus, honey, kefir, and chorizo, or the salmon with a nut-and-raisin crust with parmesan biscuit, beet cream, and tangerine sauce. Since Aria is within walking distance of Bucharest's Old Town, offers great views of a major historical square, and boasts an interesting design and creative dishes, this restaurant should be on your bucket list.
Address: Bulevardul Nicolae Bălcescu 2, Bucharest 010051, Romania
Amalgam – new Romanian urban cuisine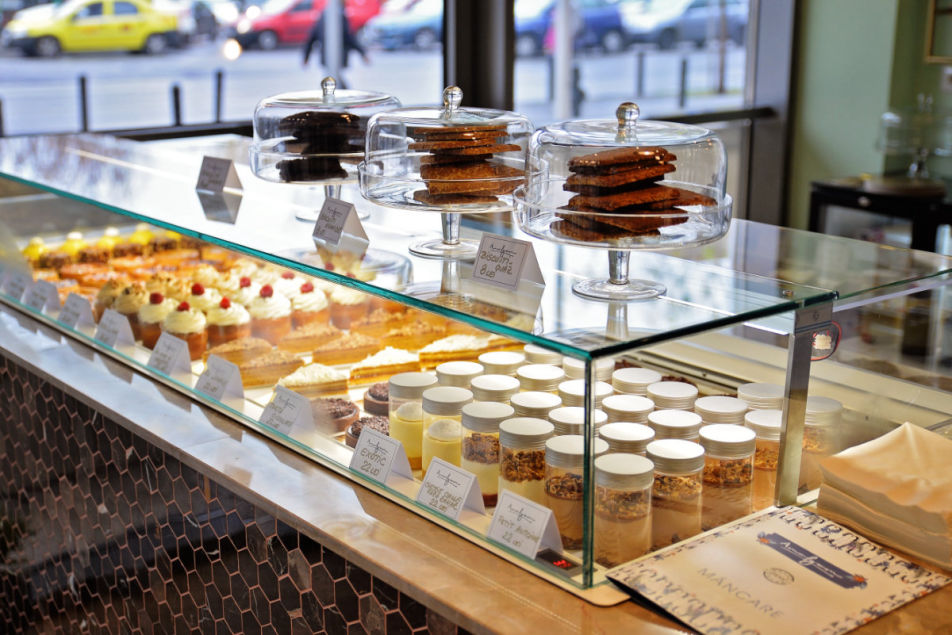 Just as much a combination as the name implies, Amalgam (which also means "mixture" in Romanian) was founded by the owner of the Zexe restaurants. The Zexe pair specializes in "mancare boiereasca," or "nobleman's food," delicacies served to nobility in the 18th and 19th centuries, focused on wild game, special cheeses and pates, and "exotic" spices. Over time, this food filtered down to the increasingly prosperous populace. The average 18th century peasant could never have imagined that the once luxurious ingredients used would become affordable and available in any market.
Amalgam seeks to bring these traditional noble recipes into modern life, adding "urban" ingredients and spices. While this restaurant brings a modern twist to traditional recipes, unlike some other places in this article, it is by no means fine dining or even fancy. Still, it's absolutely delicious! It's very simple, yet you won't stop asking for more. Example dishes include pike egg salad, elk pancakes with tomato sauce and sour cream, smoked duck breast, beluga (great sturgeon) soup, and beef stew with boletus mushrooms and polenta. Oh, and be sure to try the pasta with goat butter and traditional Burduf cheese, a brilliant combination!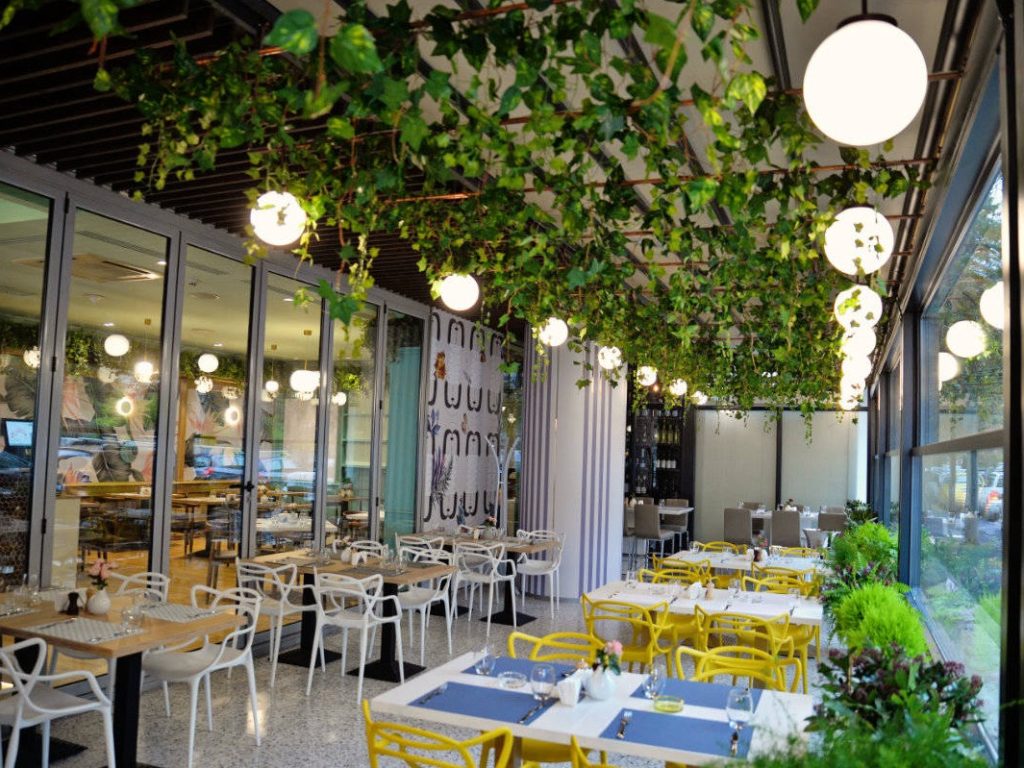 Bucharest is brimming with new ideas, propelled by an audacious new generation of chefs. From new combinations of traditional favorites and exotic new flavors, to literal new perspectives on the city from above, the city is enjoying a new wave of dining concepts. Visit Romania with us, and we'll be happy to help you explore the country's cuisines, from coastal Constanta to the mountains of Maramures.

Address: Calea Dorobanți numărul 239, Bucharest Romania

Olivia is our woman in Bucharest. With experience in running her own travel management company she's an accomplished travel planner and also provides on-the-ground assistance for our guests visiting her beautiful country.